Today, on the annual organic blueberry run to Richmond, I stopped to walk the pooch by the Fraser River and found some huge, ripe blackberries that practically leaped into a little beach pail that I picked up for the occasion. I always snicker a bit when I see blackberries on sale around here as they are pretty easy to get a hold of here in BC.  But I guess many folks are too busy to get out and pick blackberries if they want them. 
The Himalayan Blackberry (Rubus laciniatus)  is an invasive intruder that can be found by the side of the roads nearly everywhere there is still green space.  There are brambles of the arm-stabbing, leg-slicing, nasty ass blackberries all around my community garden, but I'm fairly cautious about what I get from there given the transient nature of the neighbourhood (I'm putting it lightly – there is quite a bit of prostitution and drug use at night).  I'd much prefer to get out in the woods somewhere as I did today and for my efforts I went home with a pail and a half.  Plus I had a great walk, very much enjoying the first rainy weekend we have had in about 5 weeks, even if I did have to pick around the local wildlife.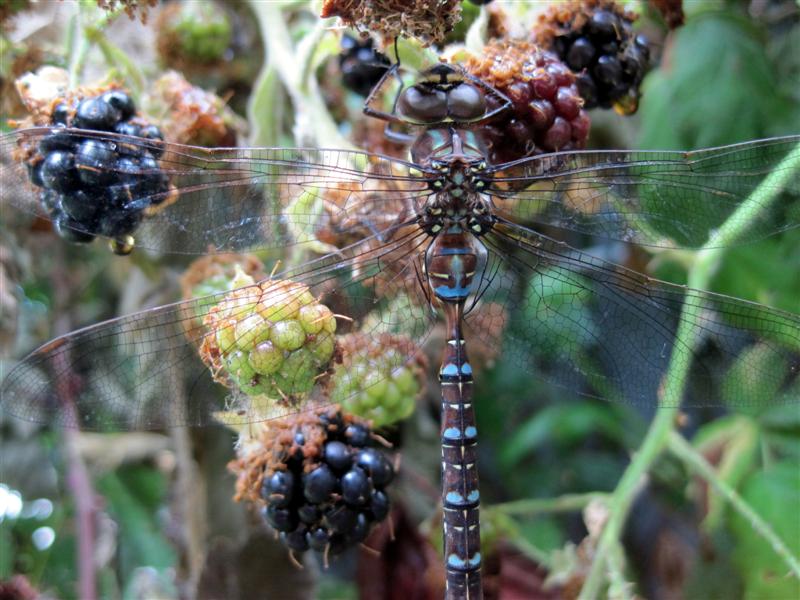 Once home, the blackberries were so ripe that really, the only way to keep a large amount is to preserve them.  I call this Stupendously Simple Wild Blackberry Jam because it only has 3 ingredients.  The whole experince was very entertaining so even though it took a whole day, it was a day well spent.
Stupendously Simple Wild Blackberry Jam
8 cups fresh wild blackberries
4 cups sugar
2 tablespoons lemon juice
Directions:
Lightly rinse the berries and put into a large pot.  Mash them up a bit with a potato masher or fork.  Add sugar and lemon and bring to a boil.  Reduce to medium low and keep it bubbling lightly until the liquid cooks down to the thickness you desire.  I cooked mine for 3 hours, stirring occasionally, to get a really thick final product.  This jam will sit piled up on a cracker if I want it too. 
Ladle finished jam into 12 clean, sterilized 125ml canning jars or 6 x 250ml (I think these are called 1/2 pints across the border).  Process in a boiling water canner for 10 minutes for the small jars and 15 minutes for the large jars.  Store for up to a year in a cool, dark place.