Nicky from Dirt and Martinis joins us today for a guest post on her visit to the 2012 San Francisco Flower and Garden Show.  We are so lucky to have her eyes and ears (and camera) to share all the trends and eye-candy she spotted.  Want to read more from Nicky? Check out Dirt and Martinis on Facebook and Twitter too.
~
I recently attended the San Francisco Flower & Garden Show that took place on March 21-25, 2012 at the San Mateo California event center.  With over 200 green exhibitors, garden displays, design seminars and cooking demonstrations, this event is one I will remember for years to come.  It was that spectacular!
Considering this was my first garden and flower show I've ever attended I had no idea what to expect.  As I stepped into the show entrance I was immediately overwhelmed with beauty, color and serenity, not only in the garden displays, but in the attendees faces. The mood of the show was calm, the lighting was perfect and the setting was relaxing.  One attendee described having a horticultural hangover after a day strolling through all the exhibits and I agree.
Thankfully I brought my camera and out of the hundreds of photos I took I'd like to show you some of my favorite parts of the show.  Enjoy!
Can't you just picture yourself here enjoying a glass of wine?  I love the use of old windows in this cozy setting.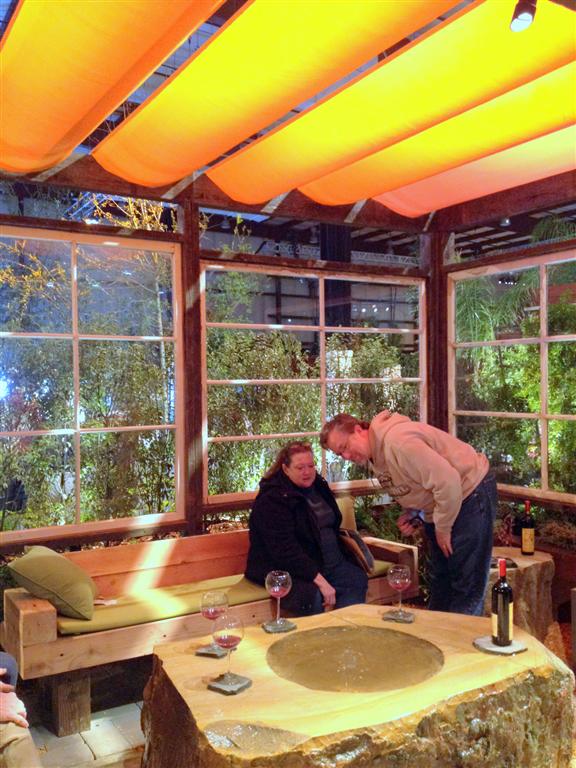 It's not a fantasy…any garden can be green.  Do you have some rusty shovels or garden tools?  Hang them on a garden shed as shown here at the Hillbilly Hilton garden display…