Weekend Project: Halloween Planters
For the Halloween weekend project we put together a variety of festive planters with bright colours and spooky touches.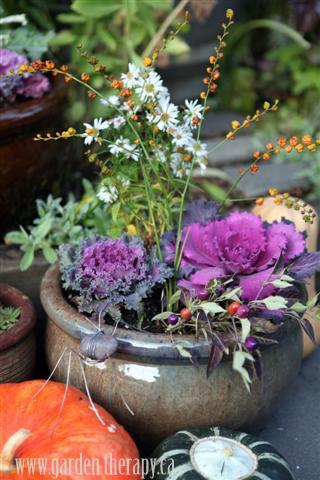 We designed our planters with a colour scheme of purple, white, and orange plants along with various spooky additions that are nods to the holiday season.  The supply list can vary depending on what you have or can find.  Hover your mouse over the photo for a list of what was used in each planter.
Organic materials showcased in the four photos are ornamental kale, Filius Blue hot pepper, heuchera, aster, crocosmia seed heads, Cinderella pumpkin, warty pumpkin, artists gourds, butternut squash, and buttercup squash.
Other items you'll see are a witch's broom, rubber hand, Boo sign, rubber bats, and DIY rock spiders.  Most of what we added was readily available in any store carrying Halloween décor.  When the holiday is over, we plan to take the kitsch out and leave the gorgeous planters for some festive fall colour.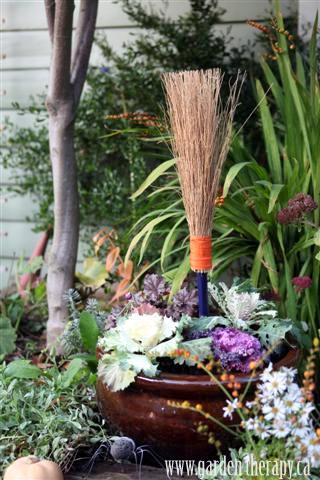 For more Halloween decorating ideas check out our Halloween Hop Wreath and Jack-o-Planterns.  Have a wonderful and festive Halloween; may it include some garden therapy.