A Smaller Harvest, But Just Enough
Since I gave up the community garden plot this year, I actually have a larger harvest than last year at this time.  A little care and attention to the home gardens is certainly paying off.  I've been enjoying the home gardens so much more, they are less neglected and full of beautiful flowers that I enjoy everyday.   I have 40 tomato plants growing in every nook and cranny, and that seems to be overkill.  It was hard to cull the seedlings, or even choose between the varieties when seeding them, but now that I have mountains of tomatoes ripening every day, I'll remember this and diversify next year.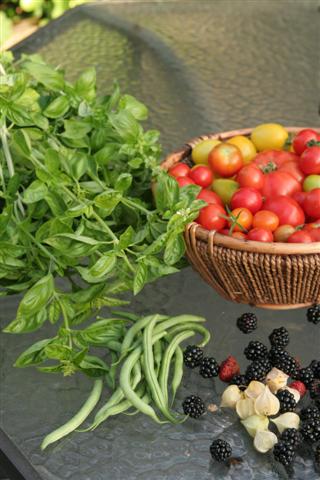 This week I cut all the basil to make pesto which I freeze for the winter.  With the high price of pine nuts, I'm now using walnuts.  I also have just enough beans, blackberries, alpine strawberries, and ground cherries for snacking on and meals.  I pick the numbers shown (except the basil) every day right now, so certainly there is no wanting for fresh fruit and veg around my house!