~
UPDATE: The reviewers have been chosen for the first book.  Please read the full post (or click "continue reading" if you see a break).  At the end you will find out how to keep in touch with Garden Therapy so you can be the first to hear about the next call for reviewers.
~
Would you like to participate in Garden Therapy Book Club?  I'm looking for reviewers to read  the selected book, try a project or concept, and share it on Garden Therapy.  The goal is to get some rich discussion and different perspectives on popular gardening and garden-related craft / project titles.  
Four reviewers will be chosen each month to receive a copy of the book that will be sent to you free of charge.
Whether or not you like the book, you will be asked to send a short review with photos of your projects.  Again, you don't have to like the book, you just have to read it.  And your project doesn't have to be a huge success, you just have to try.
You may also write a longer review with more photos on your blog or website which we can direct readers to.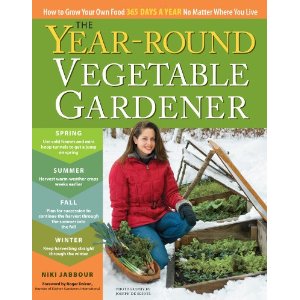 The first group book will be The Year-Round Vegetable Gardener: How to Grow Your Own Food 365 Days a Year, No Matter Where You Live.
While only 4 people will be chosen each month to be sent a copy of the book and have a review published, a different 4 reviewers will be selected in each subsequent month.  Reviewers will ideally be from different geographical areas and backgrounds to ensure diversity.
Even if you haven't been sent a copy as an official reviewer, you can still participate in book club!  Grab a copy at the library or bookstore and joining the discussion on the review date.  If you write up something  on your website or blog, we will link to it here as well.  Participation is a great way to get chosen as a reviewer for future books.
Garden Therapy Book Club will run monthly with reviews published on the third Wednesday of each month starting with April 18, 2012.
Keep up to date with what's happening with book club and all other Garden Therapy projects through facebook, twitter, pinterest or subscribe to never miss an update:
 Subscribe in a reader