Essential oil perfume allows you to enjoy the fragrance of natural botanicals without any of the icky potential toxins. Plus, it just takes minutes to put together these pretty roller ball recipes.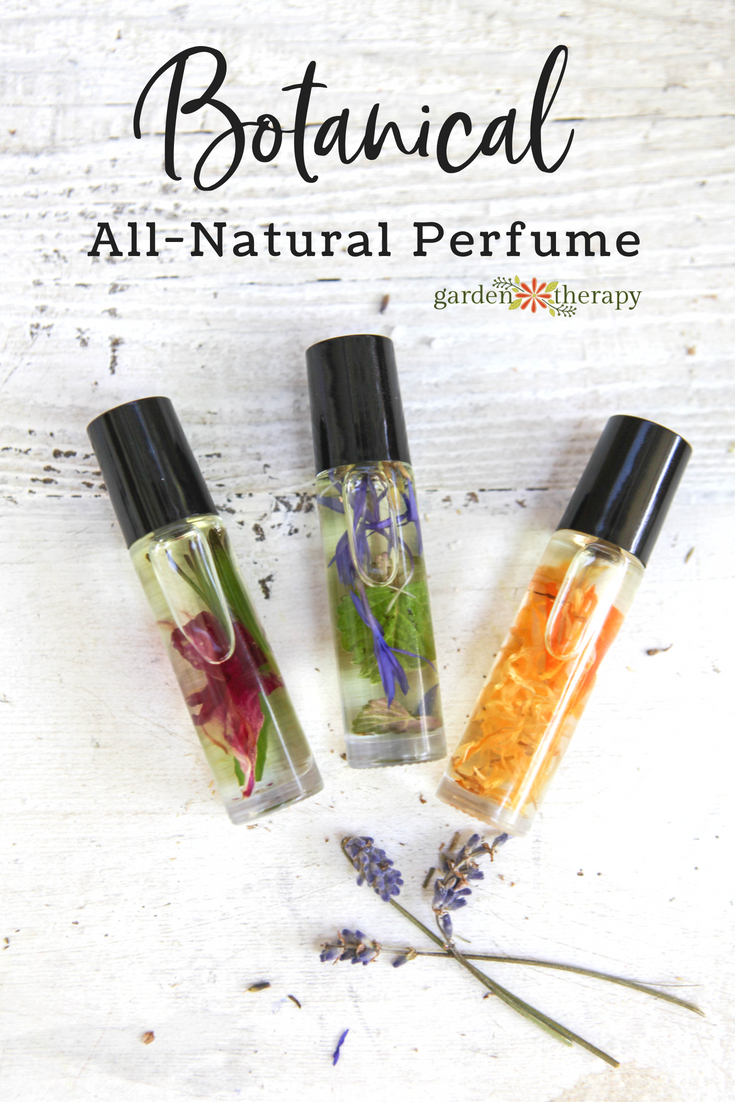 Roller bottles are popular in aromatherapy as a way to apply an individual dose of herbal benefits for a variety of different moods and ailments. Roller bottles can also make beautiful perfume bottles. By replacing lab-created fragrances with naturally occurring essential oils you'll not only smell good but you'll feel pretty fantastic too.
How to Create the Perfect Essential Oil Perfume Blend
Blending essential oils is a skill that takes practice. To get started, take a few of the scents you are usually drawn to and hold the open bottles to your nose. When you breathe in the combination of fragrances, you'll learn what you like and what you will want to give a pass.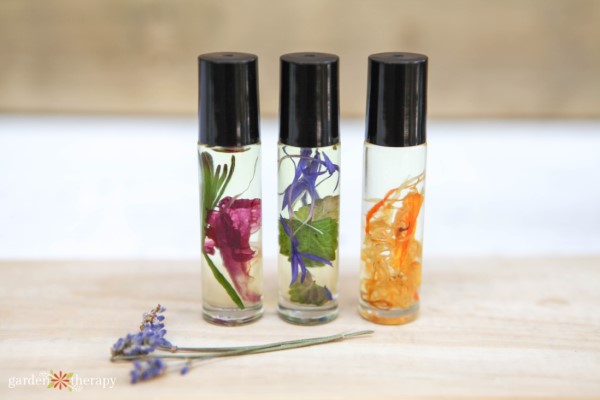 Understanding Fragrance Notes
Essential oils' fragrance characteristics are classified as "notes". Specifically, top notes, middle notes, and base notes. Here's a bit about each one so you can start to identify them as you create essential oil perfume recipes.
Top notes are light, fresh, fast-acting, and tend to evaporate very fast. This is usually the first scent you smell in a blend.
Middle notes help to balance the blend. You might not smell the middle note right away, but the soft fragrance may become apparent after a few minutes.
Base notes are very strong and heavy, grounding the blend with their long-lasting diffusion. Balance your perfume creations by blending different notes together to make the end result complex and alluring.
Some examples are:
Top notes: bergamot, lemongrass, grapefruit, orange, geranium, peppermint, eucalyptus.
Middle notes: lavender, rose, mandarin orange, cypress, cinnamon bark.
Base notes: patchouli, cedarwood, sandalwood, frankincense, ginger.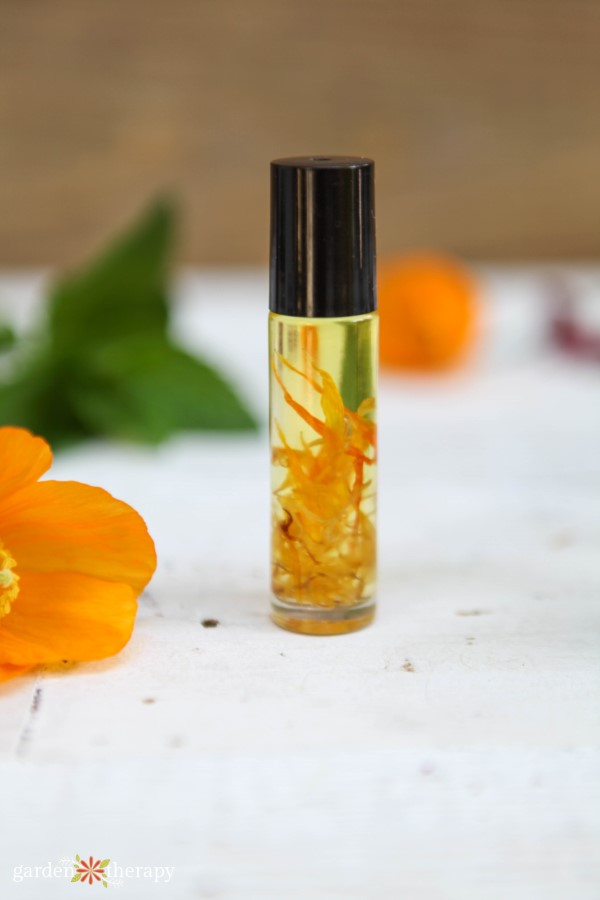 Essential Oil Perfume Recipe Blends to Try
There is a world of fragrances that you can create with essential oils. Here are a few combinations to get you started:
Carrier Oils
Carrier oils are oils used to suspend and deliver essential oils. They are the base that you add essential oils into so that they are properly diluted before applying to your skin, which can prevent irritation. Good choices for carrier oils are thin oils without a strong fragrance, as you want the essential oil scent to be the star.
My favorites are fractionated coconut oil, grapeseed oil, sweet almond oil, or jojoba oil for making essential oil perfume.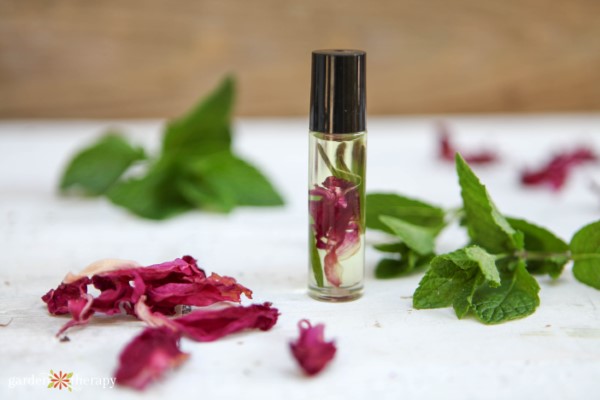 Great Flowers for Long-Lasting Color
Part of the fun of this recipe is adding colorful pops of botanicals. Unfortunately, not all of the flowers that are beautiful in the garden hold their color well when they are submerged in oil.
You can test out flower petals and leaves that you have available, or use some of these tried-and-true varieties.
Blue and purple –Centaurea (bachelor's button) petals
Pink- Dried peony petals
Yellow- Sunflower petals
Orange –Calendula petals
Note: lavender and rose flowers would be an obvious choice if they held their colors well. Unfortunately, both quickly turn brown in oil applications and don't look that attractive. For that reason, I do not recommend those for clear vials like this.

How to Make Essential Oil Perfume
Now the fun part! Here's how to make a one-of-a-kind essential oil perfume in just minutes.
Ingredients & Materials
9 ml carrier oil of your choice
0.5 ml (10 drops) essential oils of your choice
Fresh and dried flowers and herbs
Makes one 10 ml aromatherapy perfume
Make it!
Spend some time blending essential oils to come up with a fragrance that works for you. Collect fresh or dried petals and leaves to use in the bottles. Prepare the roller bottle by removing the lid and rollerball.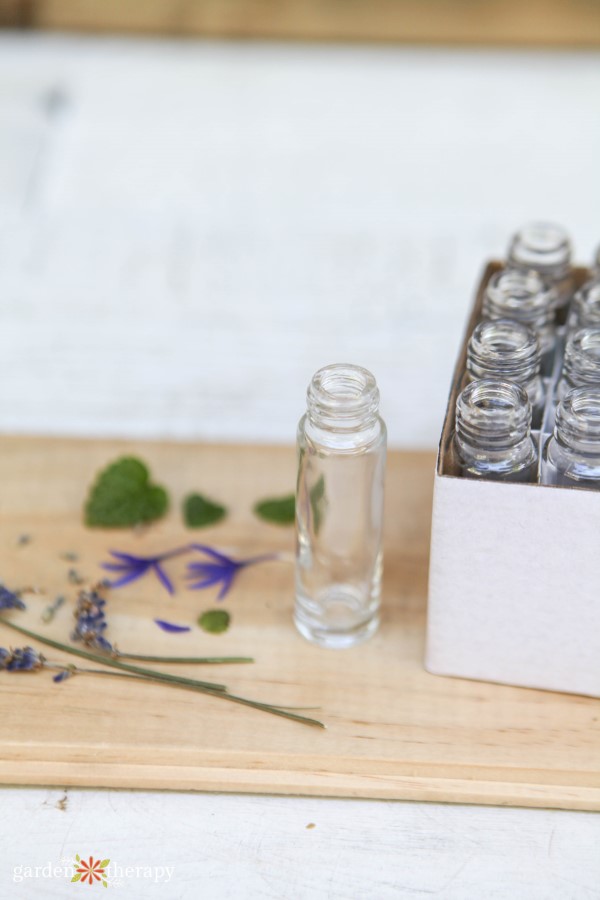 Fill your perfume bottle with a carrier oil. Choose fractionated coconut oil if you don't want your perfume bottle to have any color. The other oils will be in various shades of amber and green (grapeseed oil is shown here).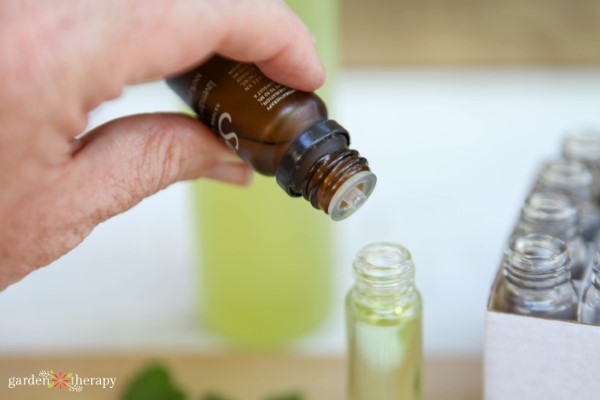 Add 10 drops of essential oils per 10 ml bottle. With the strongest scented oils, start with only one drop and move up if it's not strong enough. There are some scents—like lemongrass and cinnamon—that are so strong that they can take over the entire blend.
Add a combination of fresh and dried flowers, leaves, or petals into the oil to decorate the bottle.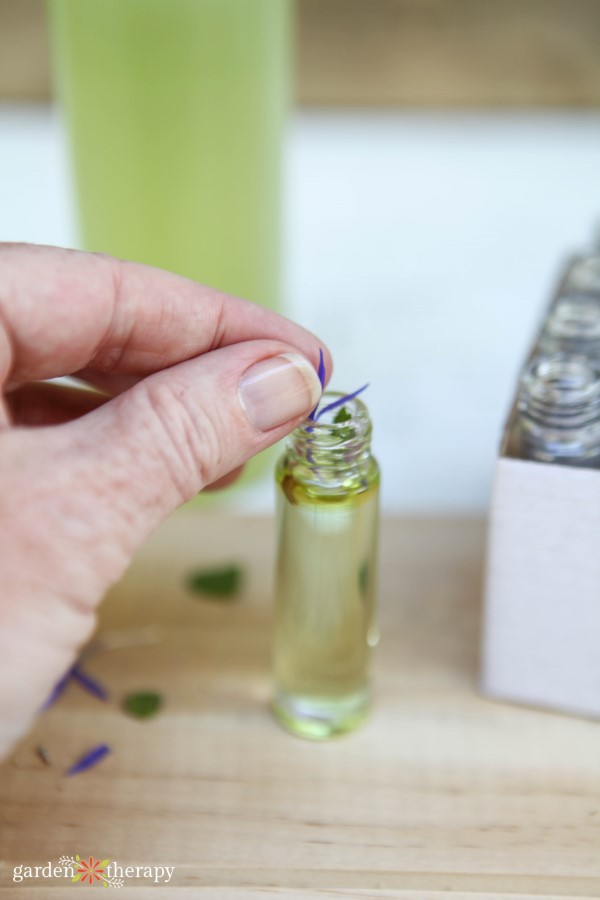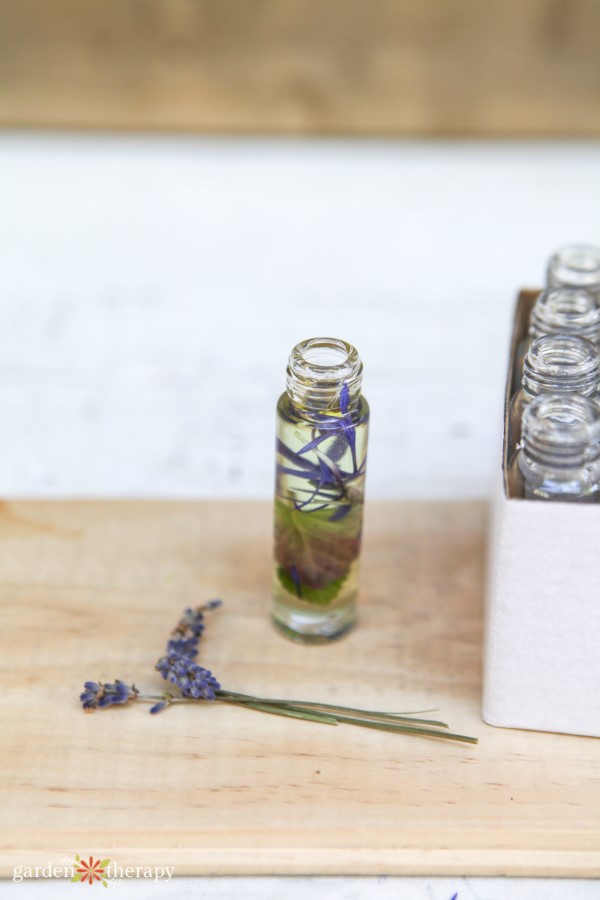 Pop the roller ball lid onto the glass vial. Shake well to combine the oils.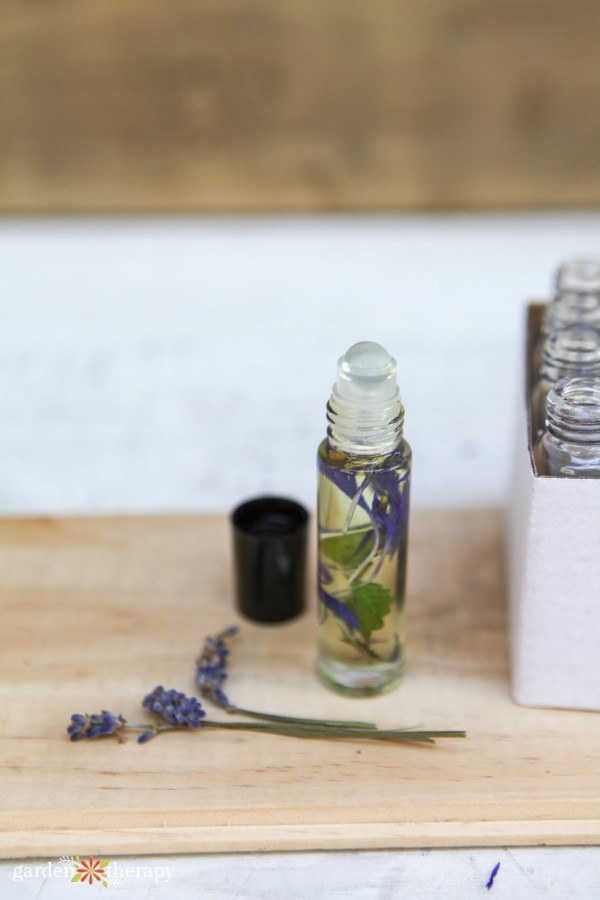 Leave the blend for 24-48 hours to develop. As the oils work together, the scent will change. You may even be surprised at how different it is!
Give it!
Package up a collection of four different scents in a kraft paper jewelry box. Use washi tape with a message (I used some that say "With Love") to create a band on the box lid.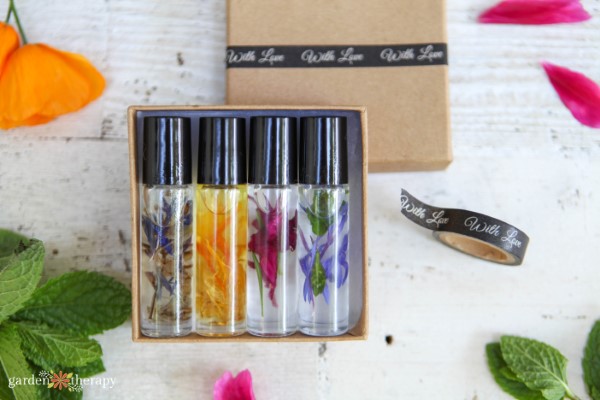 That's it! Whether you keep it or gift it – or both – essential oil perfume is simple to make and will leave you feeling (and smelling!) great all day.
You Might Also Like:
DIY Essential Oil Perfume
Learn how to make a custom essential oil perfume blend using botanicals and oils. This diy makes a great gift too!
Instructions
Remove the lid of the rollerball.

Fill the rollerball bottle with the carrier oil.

Add up to 10 drops of essential oil per bottle. Stronger scents like cinnamon will only need 1-2 drops as they are powerful.

Add the fresh or dried botanicals for some color and additional fragrance.

Place the rollerball lid back on, then shake well to combine.