There is always a wreath on my front door. Something seasonal and festive, never too themed or traditional. Making a different wreath each season, or sometimes a few different wreaths, is one of the ways I get my garden therapy. I'm not usually at a loss for ideas. The inspiration is all around me and there is just so much you can do with a wreath! If you are looking for ideas this year, look no further. A bunch of us Canadian Bloggers are having a #wreathhop and you're invited!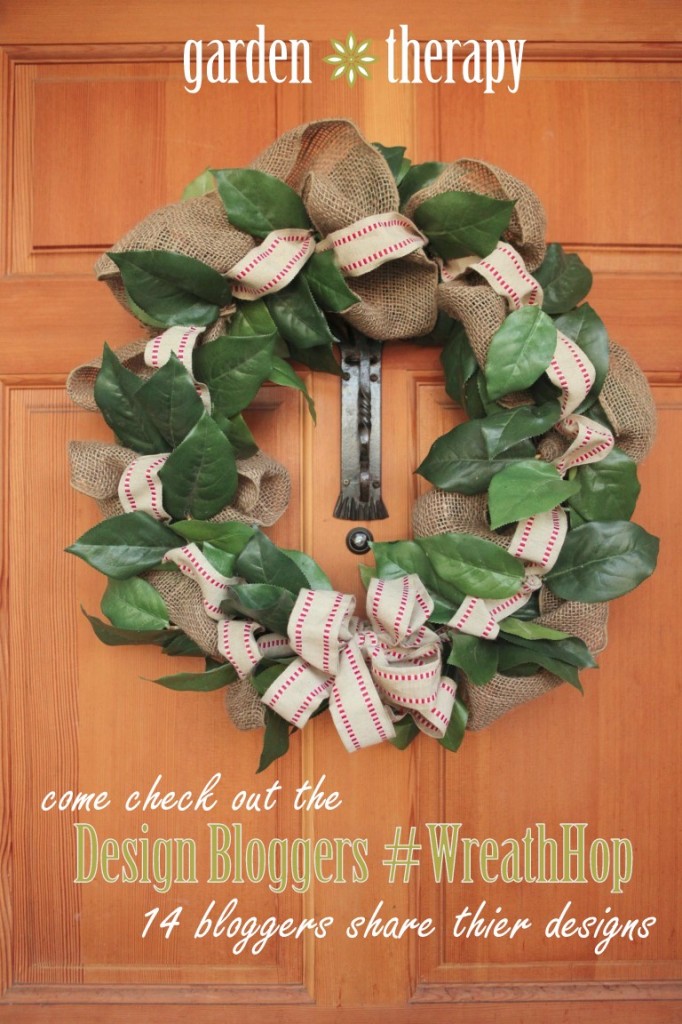 The spark for this little tour was from Tara from Suburble who organized the whole thing. The best part? May Arts Ribbon sent us all ribbon to decorate our wreaths with.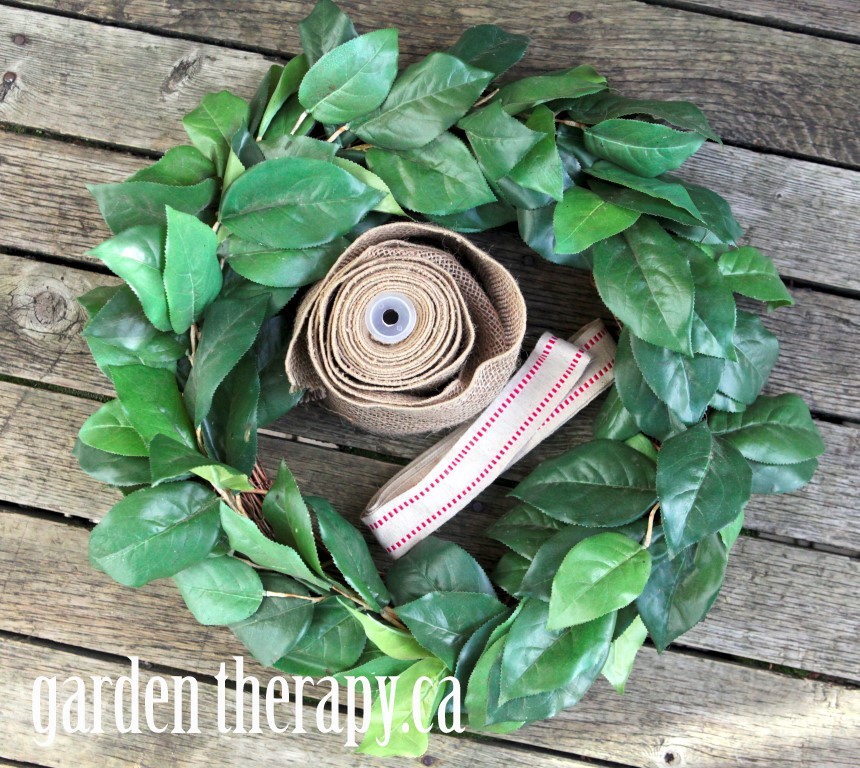 I chose to use 4 Inch Burlap / Wired Ribbon and 1.5 Inch Natural Burlap/Stripe Edge/Wired Ribbon to transform a faux laurel wreath. Here is how to transform this basic wreath…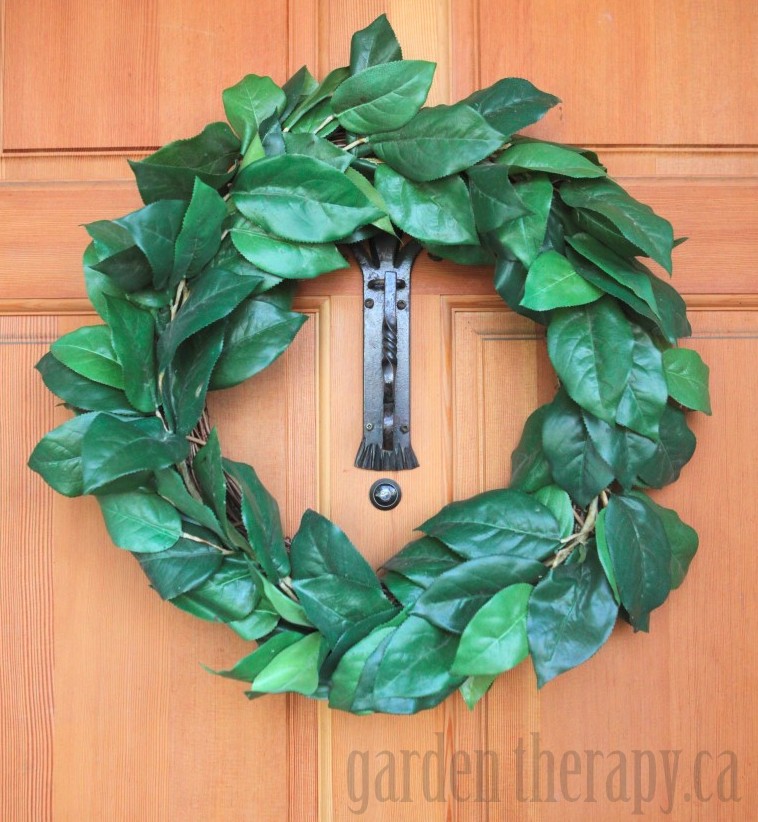 Start with a faux wreath with wired foliage. You could just as easily use one of the plastic evergreen ones but I had this one that was perfect.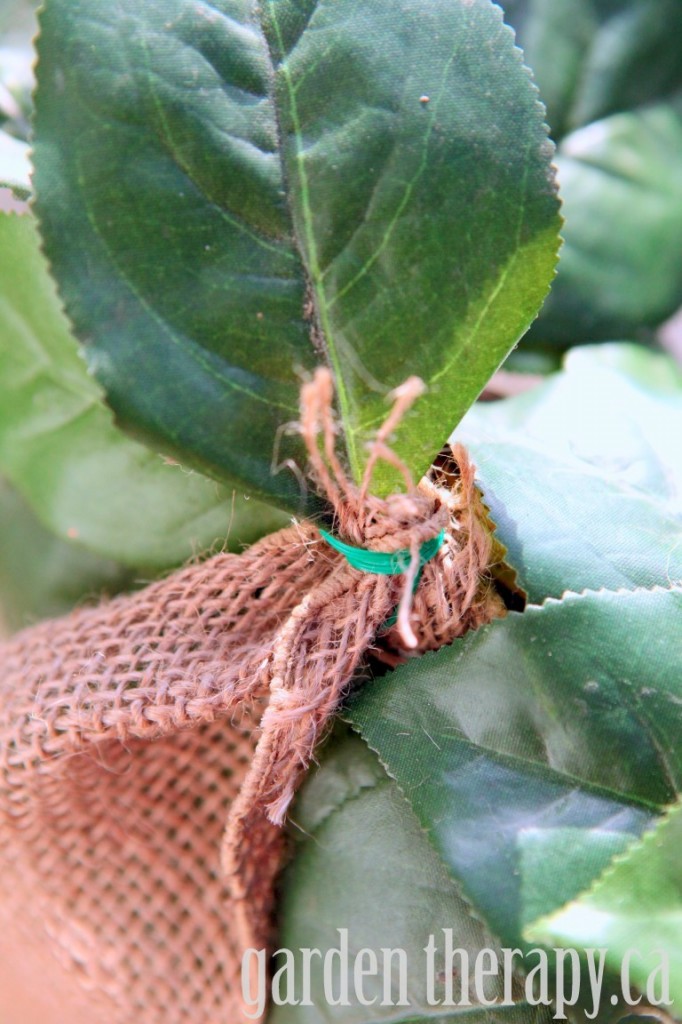 Tie the 4″ burlap ribbon on to one of the leaves with some garden wire.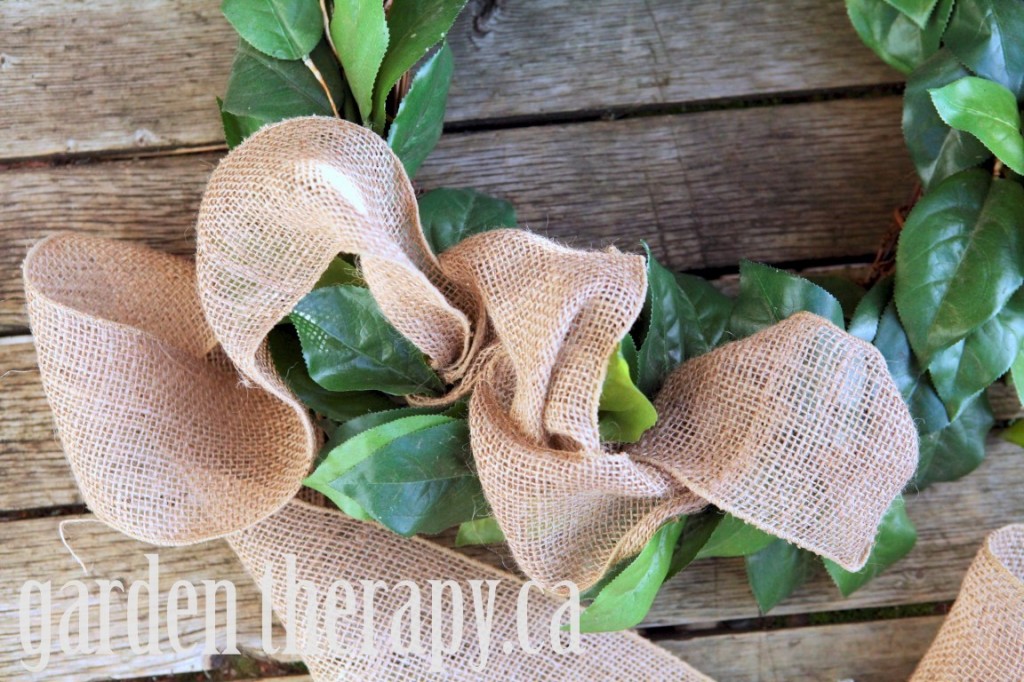 Loop the ribbon in a bit of a puff and tie another bit onto another leaf.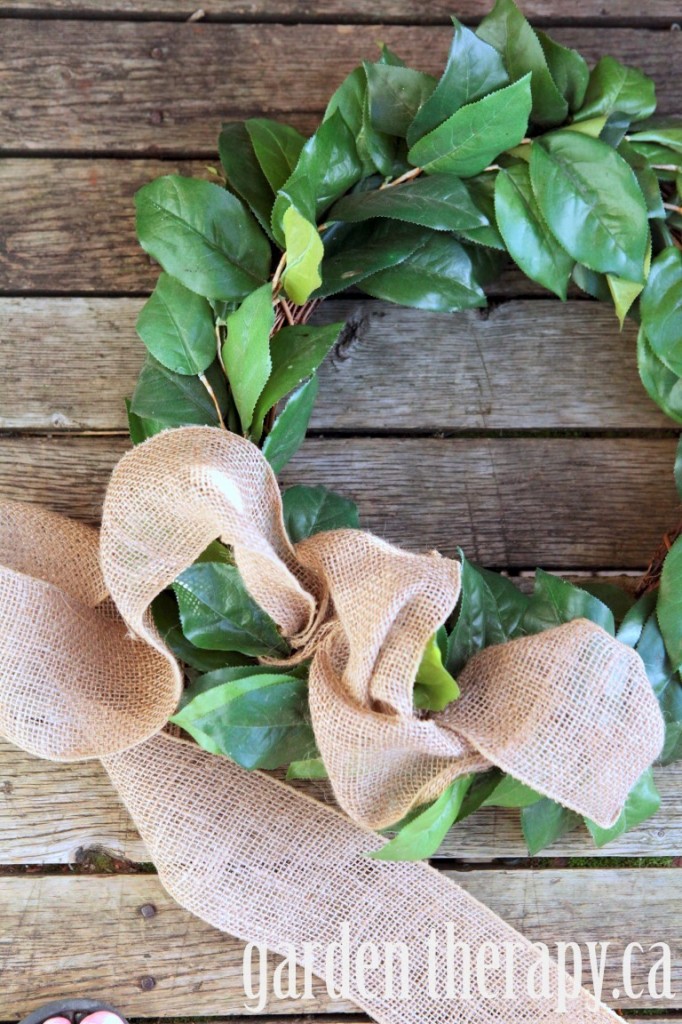 Keep doing this until you have puffs of burlap ribbon around the whole wreath.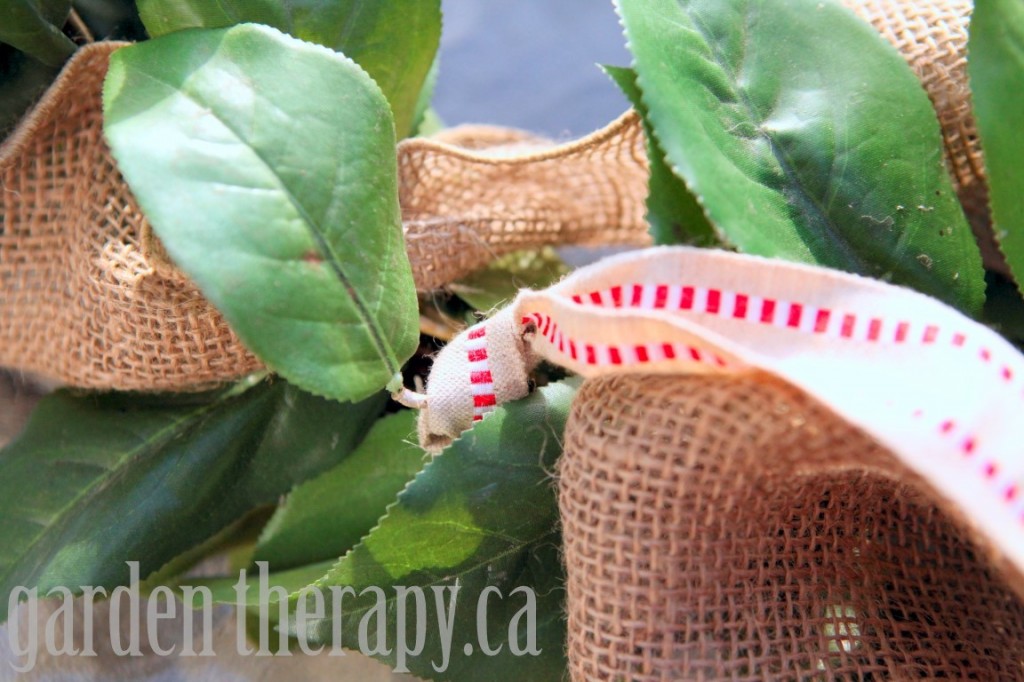 Using the 1.5″ ribbon, do the same thing, but leave enough room at the starting end to tie in a bow when you complete the circle.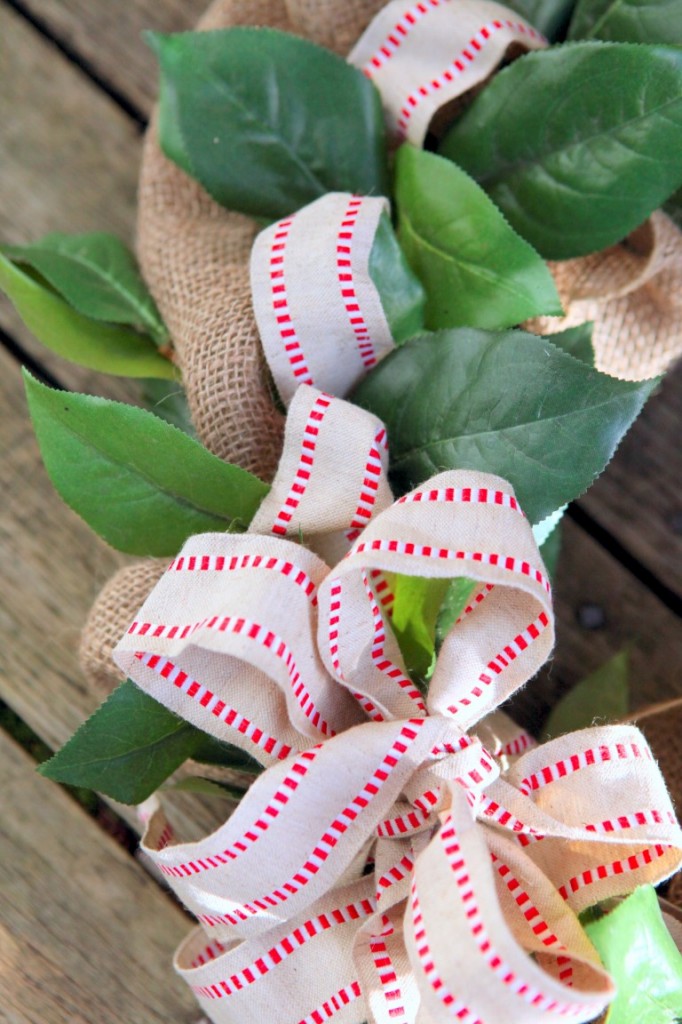 Tie a bow and hang on the door! I was short on time this weekend (hey, it's the holidays!!) so I didn't add anything extra. I was planning to snip some holly branches from my tree and add those as well as a few ornaments. I may very well still do that, but when the ribbon was on I thought it looked pretty darn good. I was pleased when I opened my door to meet guests today and saw it smiling at me. What do you think? Would you have added more pizzaz or is it just enough?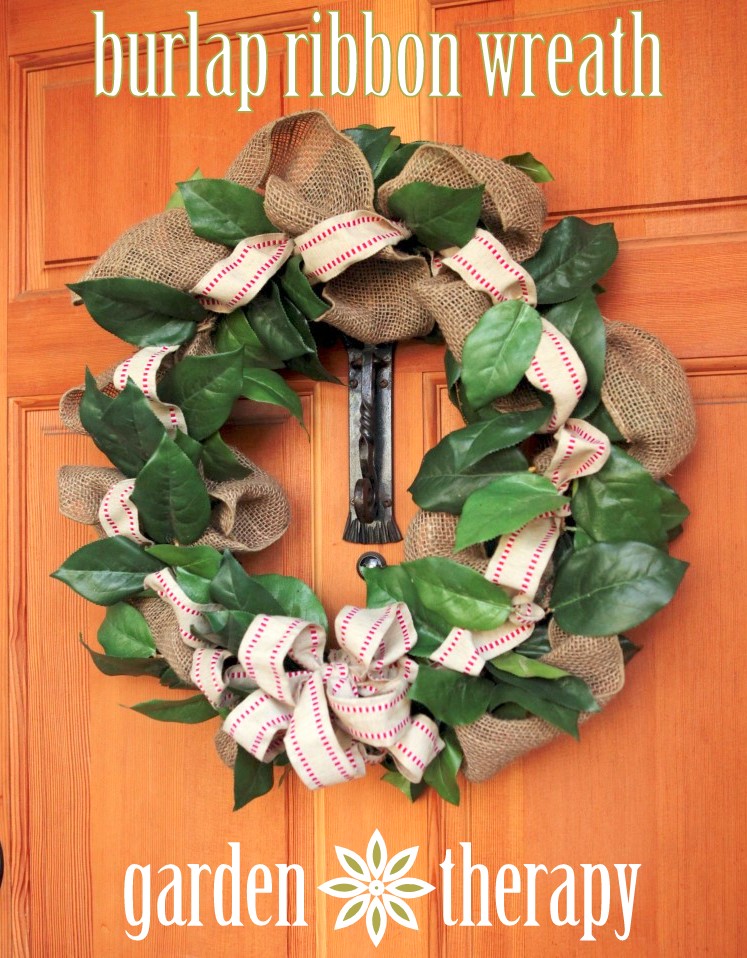 Now if you are ready for some more inspiration, check out what the other 13 wreaths in the Wreath Hop. I'm so excited to see what everyone came up with. As we are all launching our wreath at the same time, I will be just as surprised as you!!
To get even more holiday wreath inspiration, check out these 14 incredible wreaths created by my fellow bloggers.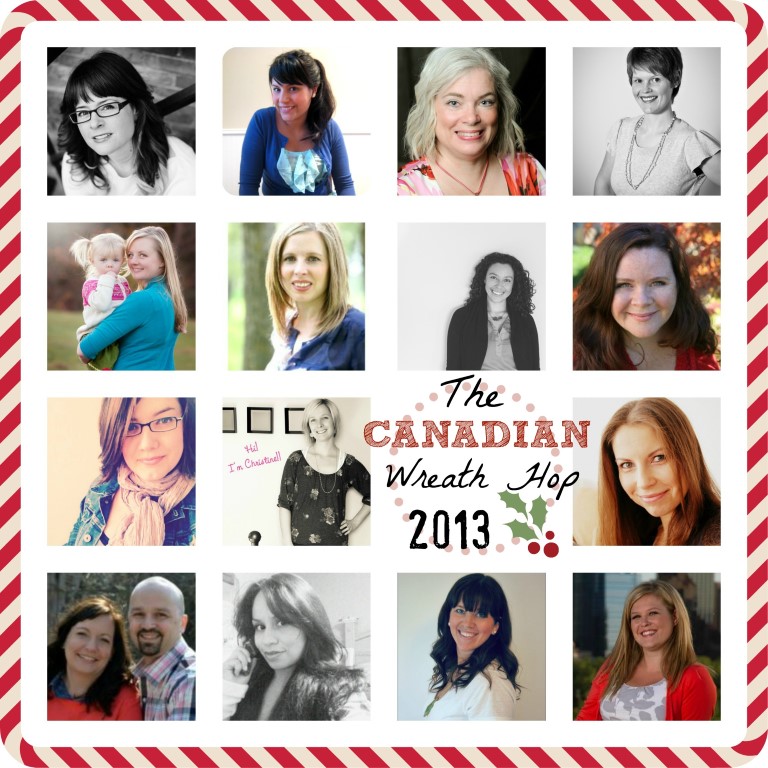 From left to right, they are:
Jo-Anna from A Pretty Life In The Suburbs
Thalita from The Learner Observer
Angie from Echoes of Laughter
Virginia from Fynes Designs
Tara from Suburble
Shauna from Satori Design for Living
Kelly from A Swell Place to Dwell
Stephanie from Garden Therapy – that's me!
Becky from Sketchy Styles
Christine from DIY Dreamer
Alex from Northstory
Shannon from AKA Design
Ingrid from Now At Home Mom
Gemma from The Sweetest Digs
Brooke from Brooklyn Berry Designs