What seeds should I grow this year?  Hmmmm.  In true garden hoarder style I've collected way more seeds than I can every possibly plant in my tiny gardens.  Who can blame me!?  Seed companies send me catalogs all winter long.  And West Coast Seeds has the most delightful (and addictive) storefront in Ladner.  This outward brainwashing / mind-control has sucked up my free will sending me into zombie-like spending sprees.  I now have seed packets jumbled all over the place.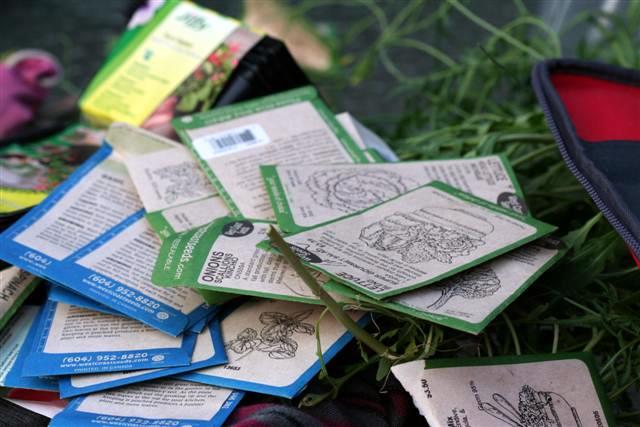 I better get organized.
Me:  Little paper envelopes.  So pretty and so full of possibilities. What will you become if I plant you little seeds…

Reason: Stop that!! Get a yourself a CD organizer, create dividers out of cardboard, and file seeds by the month they should be planted.  Group them by type of seed (i.e.: all tomatoes together) and by like growing conditions (i.e.: tomatoes with peppers and basil).

Me: little paper dolls…

Reason: Snap out of it!  Get those packets organized and thinned out.

Me: <gasp!>
I don't like thinning seedlings (Sophie's Choice flashbacks) much less culling the planting options. But it must be done. I have a tiny urban garden not a farm <lost in dreaming of life someday on a farm>.  Ahem, yes, I can only plant so many seeds.  Let's choose them.
In the last few years I grew about 100 different varieties of fruit, vegetables and herbs in my tiny urban gardens and my community garden plot.  This year I am paring that wayyyyy down.  I've given up the community garden plot  <sniff> and will be growing only the following (read: serious and strong tone):
Herbs:
sweet basil, Thai basil, rosemary, sage, chives, parsley, cilantro.
Vegetables:
snap peas and snow peas, heirloom  tomatoes, French filet pole beans, giant garlic, hot peppers, rhubarb, salad greens.
Fruit:
blueberries, raspberries (red and gold), alpine strawberries, ground cherries, apples, plums.
Me:  But I want fennel and beets and carrots and squash!

Reason: Sorry, no room.  Buy them at the farmers market.

Me: Ugh.
So there we have it.  I have my plan for the year.  I'm just so absolutely certain that I won't add another thing.  Well, maybe artichokes and kale in my flower beds if …clearly I have a problem.