Outdoor living and entertaining are a big part of my summer and early fall, so I want my back deck to look welcoming and pulled together. All the BBQ stations and cabinets I have seen are functional wood, steel, or tile, and look like they are meant to go with the BBQ. Hey, there is nothing wrong with that! Except on my deck, the BBQ cabinet is the first thing you see as you approach the French doors at the back of the house.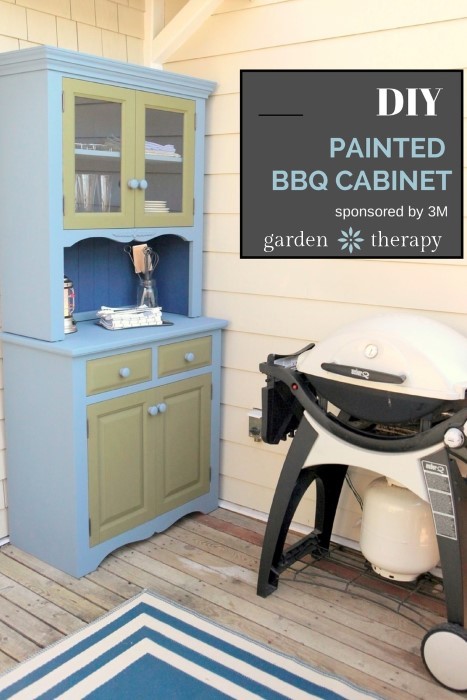 Unfortunately all the stuff that amasses for the outdoors—BBQ tools, patio cushions, lanterns, and more—just ends up like clutter on a small deck without proper storage. This BBQ cabinet now holds all the essentials that are needed to make an outdoor space into a living space, it gives the Grill Master everything he needs at arm's reach, and it looks pretty snazzy to boot!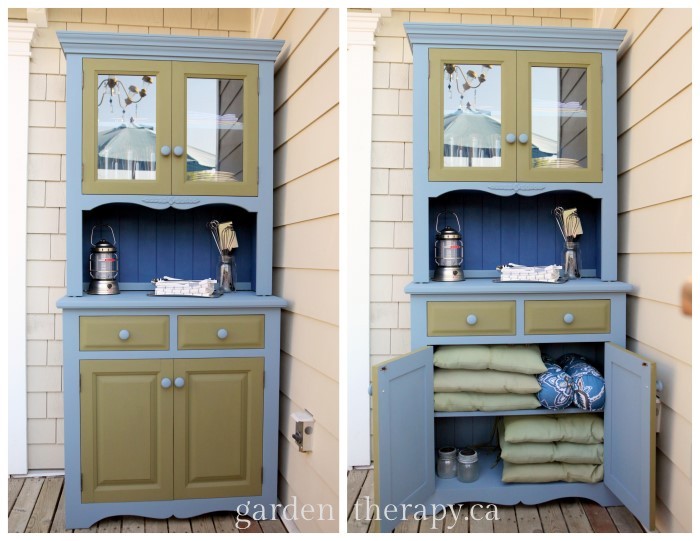 What a big transformation this second-hand kitchen cabinet has undergone. Check out this before photo: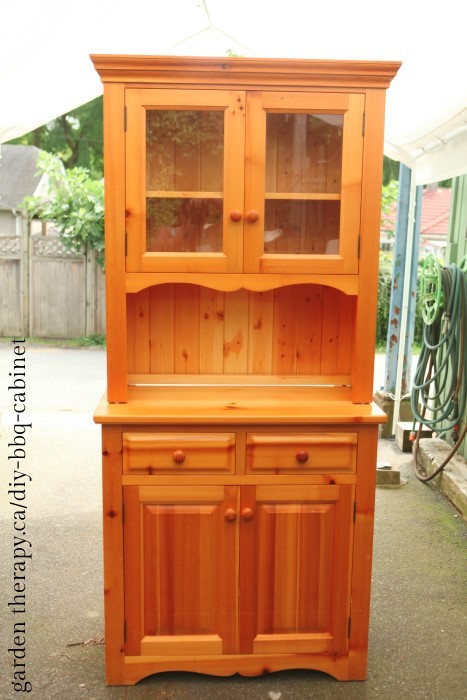 Clearly this is a quality piece of furniture; it's solid wood and in great condition. Alas, the honey pine finish is not a fit with my decor so it was DIY time. I enlisted The Grill Master (also The Guru of Power Tools) and we dug into the box of goodies I was sent as a 3M DIY sponsored blogger. You will see how we used it in the instructions.
Here are the steps that the Grill Master and I used to DIY this cabinet.
Materials
Wood cabinet
Screwdriver and drill set
Palm sander
Shop vac (optional)
Rags
Wood glue
Wood appliqué
Chalk paint, or other flat paint suitable for outdoors
Paintbrushes
0000 steel wool
Instructions
First, it's time to prep! Remove all doors, drawers and hardware such as knobs, hinges and latches. Everything. Remove it all. It's better this way, trust me.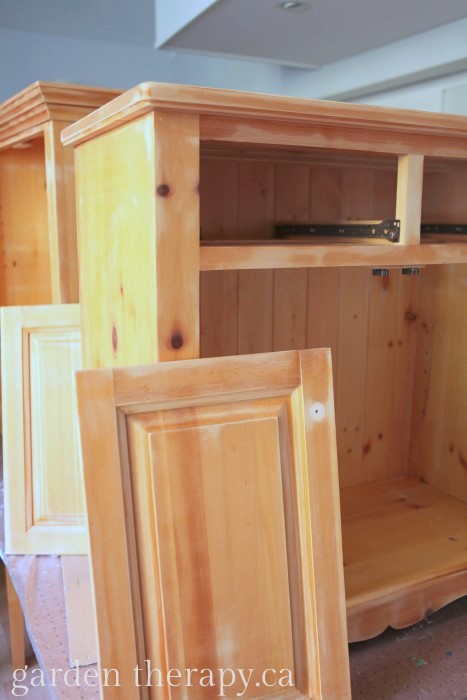 Sand the cabinet enough to scuff up original finish. We used 3M™ Advanced Abrasives 80-grit with No-Slip™ Grip Sandpaper. The Grill Master really liked this sandpaper because it did seem to last and the no-slip grip allowed it to stick to my palm sander without sliding around. Also, when folded in half for hand-sanding, the no-slip grip helped to ensure the folded piece maintained its shape. (Note: the safety eyewear come in handy when using sandpaper, you do not want that dust in your eyes!)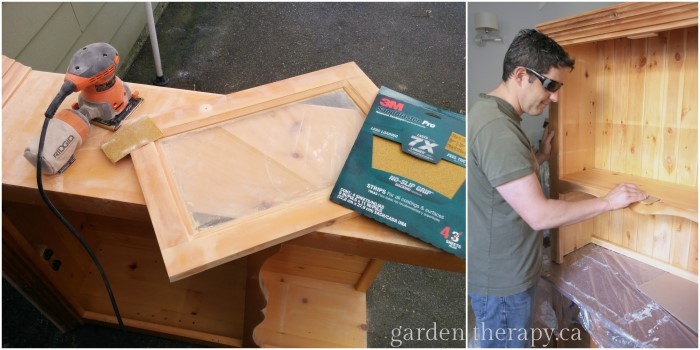 Remove the sanding dust with rag or use a shop vac to speed it up. Make sure it's completely dust-free by giving it a once over with a clean, damp rag.
Glue and clamp cabinet door. We used the Scotch® Tough Duct Tape – No Residue because we didn't have a bar clamp that was big enough. Mr. GM fit the pieces together after gluing and tightly wrapped the door in the duct tape. When he removed the duct tape after the glue dried there was absolutely no residue. Woohoo!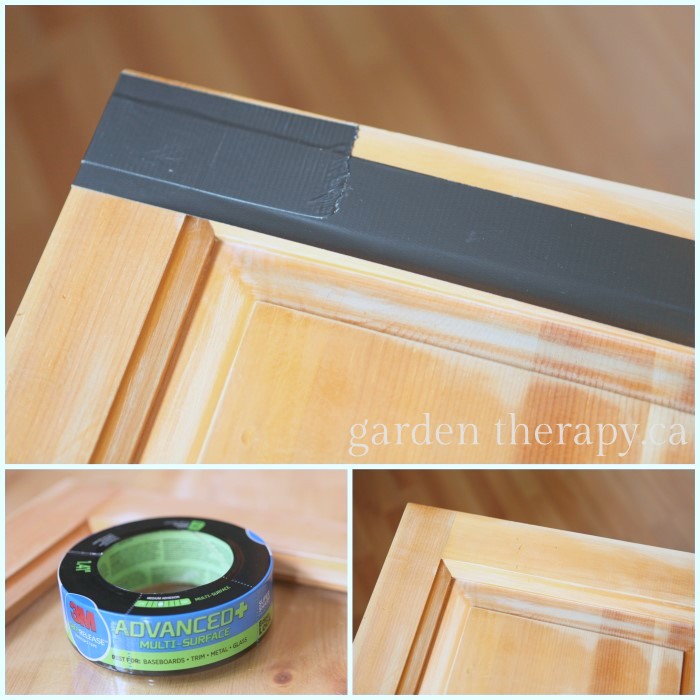 Tape the glass doors with painter's tape. We used the 3M™ Safe-Release™ Painter's Tape Advanced+ Multi-Surface with Edge-Lock™ Paint Line Protector which does a great job at resisting paint bleeding.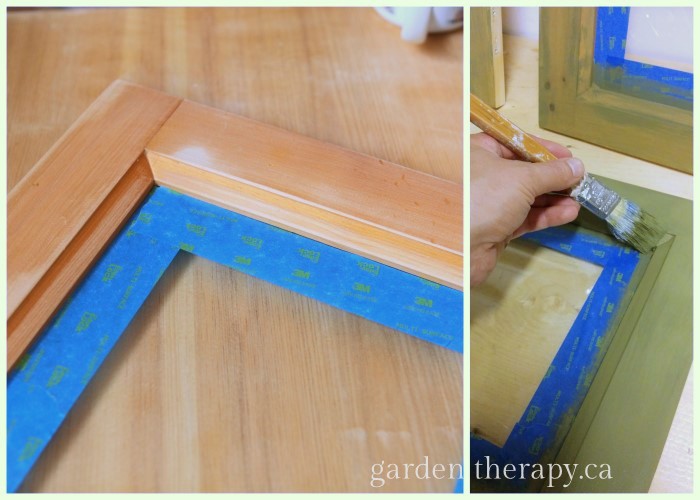 Next, we attached a wood appliqué on the front of the cabinet as it seemed to just need a little something extra. Wood appliqués are a simple way to customize furniture before painting or staining. We used wood glue and held it in place with the painter's tape which worked like a charm!
Now it's time to paint. Choose colours to compliment your decor, but don't be afraid to use more than one colour. One colour can be used on the inside of the cabinet, a second colour on the doors and drawers, and a third as the base colour for all other parts, including knobs. As this BBQ cabinet is the standout piece on the deck, we coordinated the colours to go with the outdoor rug, umbrellas, and chair cushions, pulling it all together. I used a chalk paint finish that is durable for outdoors in Old Violet, Napoleonic Blue, and Olive. The chalk paint doesn't need a sealing coat for outdoors, just a buff with 0000 steel wool (that's 4 x 0, four zeros, not 3 but 4).
Now, move cabinet into place; replace doors, drawers and hardware; and touch up any scuffs or missed spots.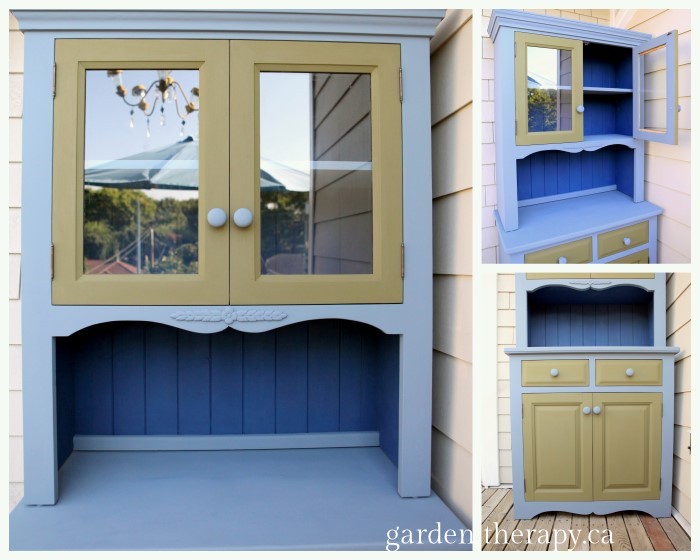 Fill up the cabinet with all the essentials: BBQ tools, plates, beer glasses, napkins, tablecloth, outdoor cushions, and some lighting for late night grilling.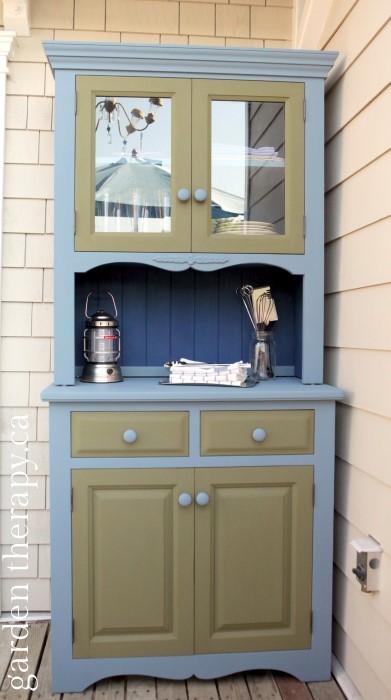 What a great improvement!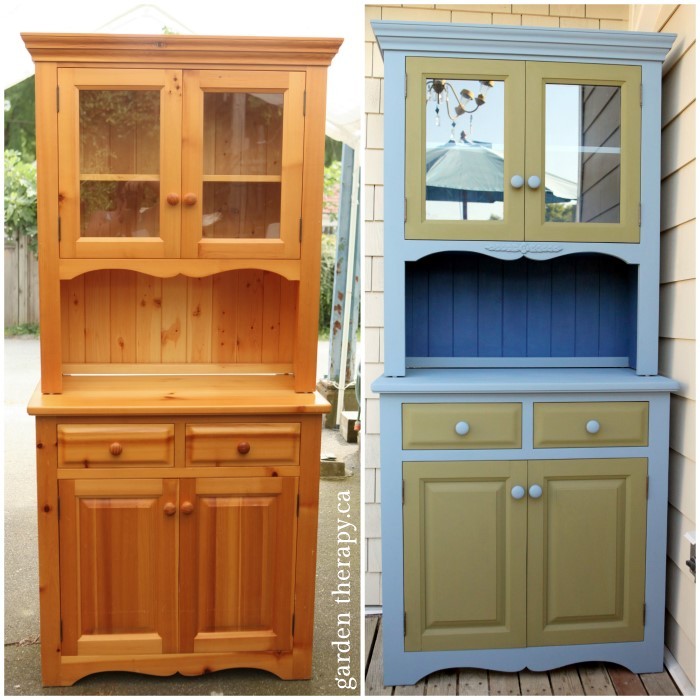 I am proud to be a 3M- sponsored blogger, and, as part of my responsibilities, I get the opportunity to evaluate products from 3M DIY. Opinions are my own and additional product used in the project were selected by me.
Follow 3M here:
Instagram: 3M DIY Instagram
Twitter: 3M DIY Twitter
Facebook: 3M DIY Facebook
Pinterest: 3M DIY Pinterest