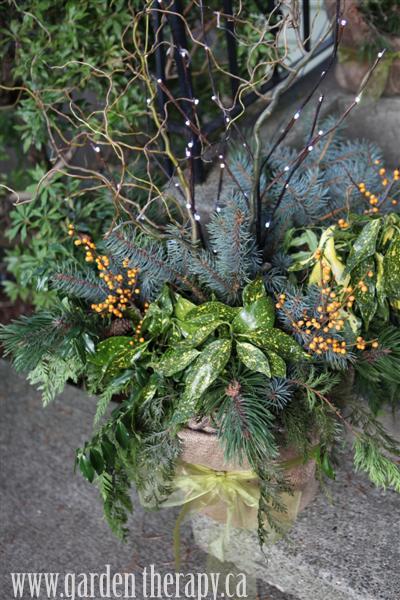 Ready for your weekend project? It's holiday planters this week and a quick tour of our front door, decorated for the season in non-traditional but natural tones of deep green, eucalyptus blue, and golden yellow.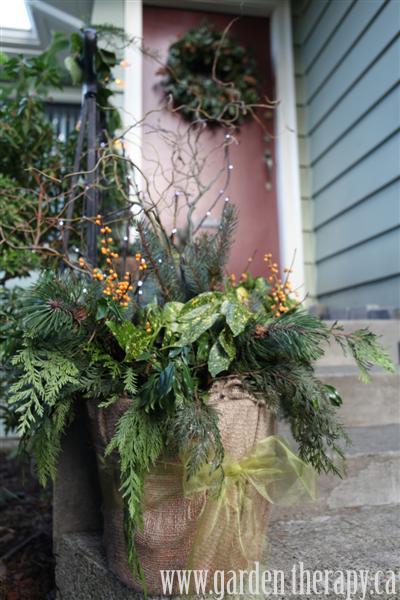 It just didn't feel like a red and green year for the holiday planters and wreath. This year's decor was somewhat inspired by the golden berries and seeded eucalyptus stems that were found at the garden center, but also a unique contrast to the Bloodgood Japanese Maple-colored front door, the pale green of the house, and the rustic tones of burlap.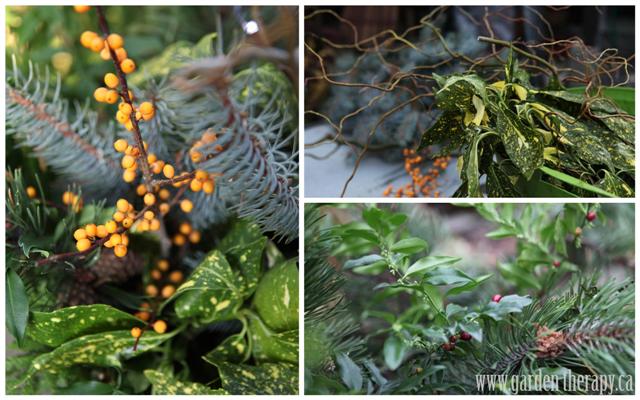 The glossy deep green tones that create the base notes for the planters and wreath come mostly from pine, yew, cedar, and sarcococca branches. Some blue spruce and eucalyptus adds that calming grey-green-blue color that lifts the green and adds amazing texture. Aucuba, stems of yellow berries, and dried hops (from the Halloween Hop Wreath) add the accents.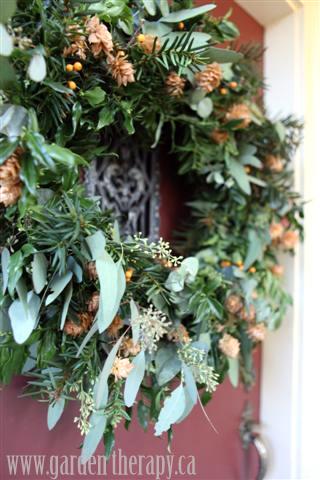 Of course, no holiday display is complete without lighting. Cool white LED branch lights were added to the planters and champagne-colored pinecone lights were wrapped around the banister, tangled with a blackberry branch.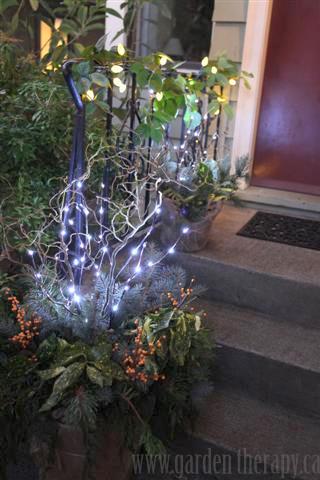 Ready to make your own? Here are the instructions.  PS: If you still need to make a wreath check out the instructions here. 
Materials:
evergreen foliage
plant pot with soil
pruners
gloves
twine
burlap
branch lights
berries, twigs, pinecones, ribbons (optional)
Make it!
Step 1: Start with a planter filled with soil. We used one of the self-watering pots that previously held a tomato plant. Begin to build your base by tucking in cedar or an evergreen that will gently hang over the edge of the planter around the perimeter of the pot.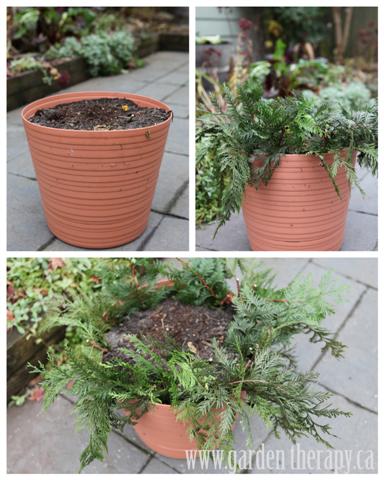 Step 2: Gather a variety of foliage, berries, twigs, pinecones, ribbons, and anything else you want to add to your wreath. Prune the stems into a point for easier inserting into the soil. Continue to build the foliage up by working from the outside towards the center of the pot. Here, pine boughs and sarcococca make up the base structure of the planter.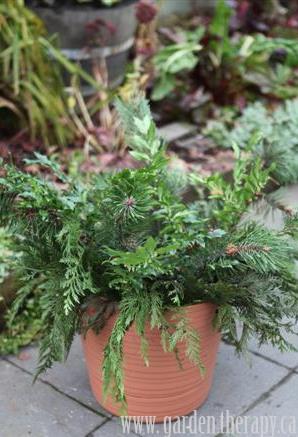 Step 3: Continue to add color and foliage to the planter until you get the look you were hoping for. Adding interesting branches and twigs like the curly willow shown here can create height and more interest to your holiday planters.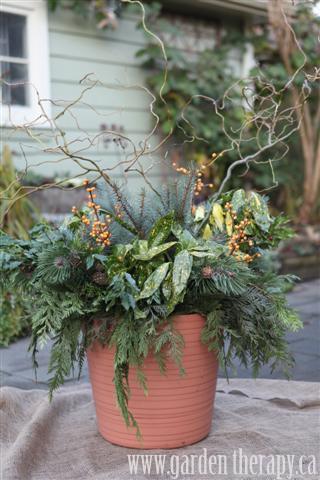 Step 4: Cut a square of burlap large enough to be folded up and around the planter. Set the planter in the center of the burlap square, lift the edges up and tuck into the edge of the planter, just under the cedar you added first. Tie securely with a length of twine or ribbon.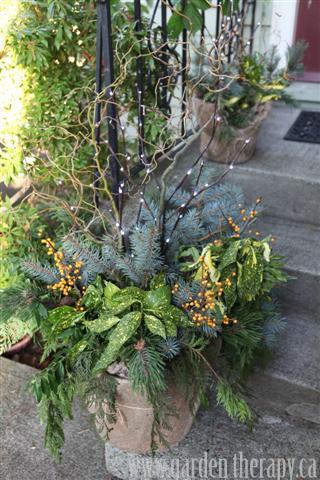 Step 5: Add lighting and c'est tout! Head on inside for a rum and eggnog because the front entryway is now ready for the holidays!