While shopping for interesting foliage to add to my holiday planters and wreaths, I was stopped in my tracks by this interesting beauty: Euonymous europaeus.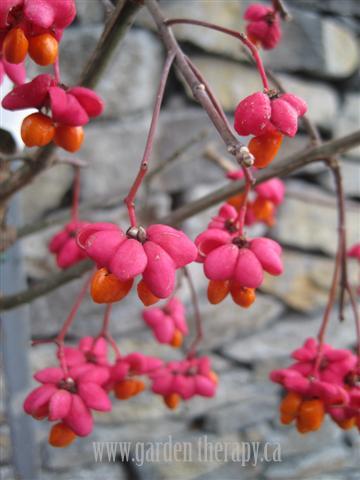 There are some really fascinating winter blooming plants that I have seen, like witch hazel 'Diane' and white forsythia, but I wasn't familiar with this one. Turns out these aren't the blooms at all but the fruit that has set seed. Regardless, the show was splendid and completely stood out in a sea of holiday green and red.
Here is some more info on it from Wikipedia:
"Euonymus europaeus grows to 3 to 6 m tall, rarely up to 10 m, with a stem up to 20 cm diameter. The leaves are opposite, and are lanceolate to elliptical, 3 to 8 cm long and 1-3 cm broad, with a finely serrated edge. In autumn they often show a beautiful bright red colour.
The hermaphrodite flowers are produced in late spring and are insect-pollinated; they are rather inconspicuous, small, yellowish green and grow in cymes of 3-8 together. The capsular fruit ripens in autumn, and is red to purple or pink in colour and approximately 1 to 1.5 cm wide. When ripe, the four lobes split open to reveal the orange seeds.
The fruit is poisonous, containing amongst other substances, the alkaloids theobromine and caffeine, as well as an extremely bitter terpene. Poisonings are more common in young children, who are enticed by the brightly-coloured fruits. Ingestion can result in liver and kidney damage and even death."