I've recently been embracing my uncommon gardener. I've never been one for traditional planters or formal gardens, but as the seasons change and the garden is forever on my mind, I like to have a quirky project or two to work on when the weather is not tempting me to the yard.
I also think that a garden should be full of whimsy. Teeny tiny plants tucked into a miniature garden make you pause and contemplate perspective. Succulents turned into art via wreaths, frames, or vintage planters turn plants into the paint for your garden art canvas. And colourful feeders for bugs, birds, and other desirable wildlife that take on the unexpected, like a bird cage feeder, with the door left open of course!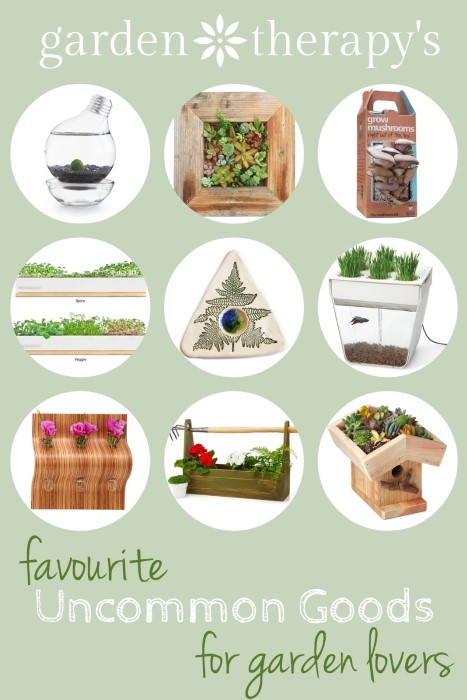 I am always looking for unique projects or garden-y art to add to my crazy garden and I was delighted to be contacted by UncommonGoods to introduce their unique products and handmade wares. How did I not know about this shop? Seriously!? Unique / handmade / garden/ food stuff galore? These folks are after my own heart!
It's UncommonGoods mission to support and provide a platform for artists and designers with half of the goods for sale being made by hand. Most are locally made (lots of Made in USA and Canada here) and  there is a large portion of the collection incorporating recycling and/or upcycling.
They have a huge product catalog so I have scoured through it page by page to find the absolutely coolest UncommonGoods that get the Garden Therapy stamp of approval. Once you have read through them all and visited the UncommonGoods website yourself, check out how you can WIN a $50 gift card to buy ANYTHING you want. Anything. (Contest entry at end of this post).
Marimo Moss Ball Light Bulb Aquarium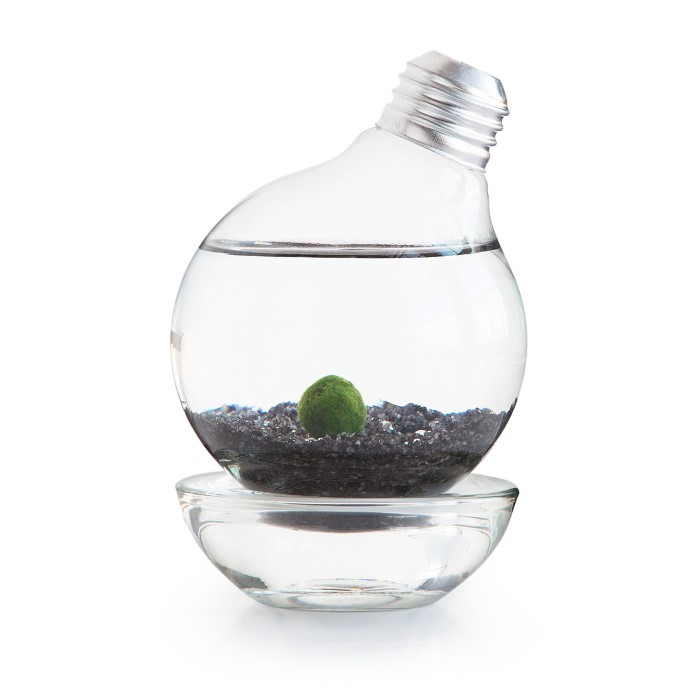 Sara Reynold's light-bulb-turned-ecosystem is probably one of the most adorable things on the site. I was immediately smitten as I have wanted a marimo ball aquarium for a while now. These living moss balls are naturally occurring in lakes around the world. The gift of a Marimo ball is said to bring good luck. Not bad for something that only requires a water change every 2 weeks. Get one here.
Aquafarm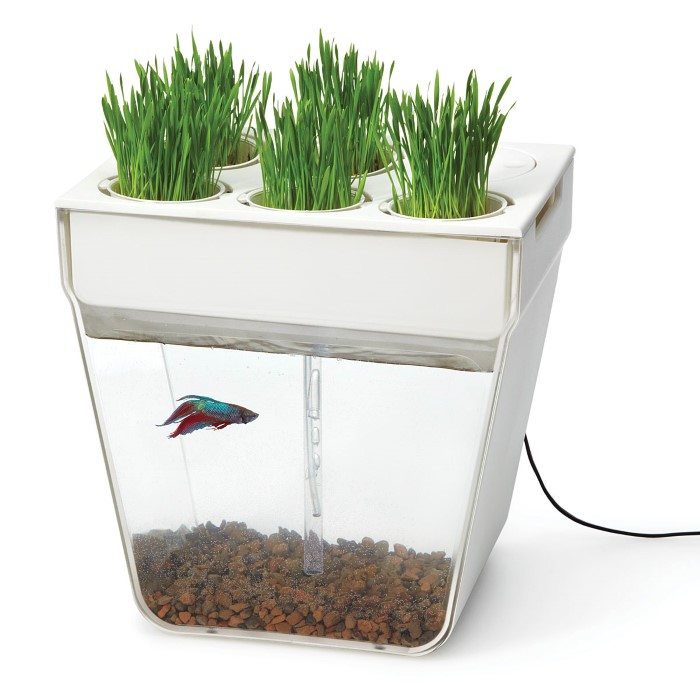 This fish bowl / planter is the embodiment of a symbiotic relationship that brings new meaning to fish food. The plants growing in the top tray thrive on the nutritious water below, while the plant roots purifies the water for the fish living below. This would be a fabulous planter to grow herbs in, and a fun project to do with kids.
Butterfly Puddler

This pretty "puddler" is handcrafted in Canada by Amaranth Stoneware using recycled glass & highfired stoneware. I had no idea what this was until I read the instructions:
Place the butterfly puddler in a sunny, protected place in your garden. Fill the well with sand, & then cover with water. Butterflies crave the minerals & salts left behind as the water evaporates. Refill with water when needed. You can also place overripe fruit on the puddler, or add a pinch of salt to the water to allure the butterflies.
Now I can't live without one.
Garden Tool Box Tote
I love how craftsman, Beau Lyday's, tool box tote is made of solid wood with bevel details. Since it's covered in milk paint you know the finish will be durable. But more importantly this tool box is sturdy enough to carry tools inside and the handle is a removable rake that you can use to loosen soil before you plant. If you have a small space, you don't have to hide your tools, the tote is decorative enough to leave out. Find it here.
Succulent Living Wall Planter Kit
Succulent Galore designer, Heather Auchter, created this kit to take the garden off the ground. If you live in the US, the kit comes complete with the rustic wood frame and 20 succulent cuttings. When your creation is complete, it can be hung on the wall or set on a table.
Mushroom Kit
Not long ago we had a guest post on growing gourmet mushrooms in your back yard. Now that project looks amazing but if you want to get your feet wet with a starter kit, then this is just the thing. In as little as ten days you could be enjoying fresh pearl oyster mushrooms. What a fabulous gift this would make.
Trio Bud Vase
This beautiful zebra wood wall vase was designed by Nani Cabada of Working Class Studio, a venture project supporting students and alumni of the Savannah College of Art and Design. It's hard to believe that this refined piece of art was created while she was a student. I think it is the perfect set of vessels to decorate a wall. Plus you can change up the design by adding flowers or foliage to suit your mood.
Micro-Greens Kit
These stylish window planters come with either a spice kit (containing Shungiku Chrysanthemum, Japanese Mibuna Mustard and Daikon Radish) or a veggie kit (conatining Red Acre Cabbag, Mini-Carrot Greens, and Tom Thumb Pea Greens). The recycled steel box looks a whole lot nicer than the salad box I've been using to grow micro-greens.
Living Roof Birdhouse Kit
This living roof birdhouse kit is another creation from Heather Auchter. The kit comes with everything you need to give your feathered friends the hippest house in the 'hood: birdhouse, succulent cuttings, moss, and soil.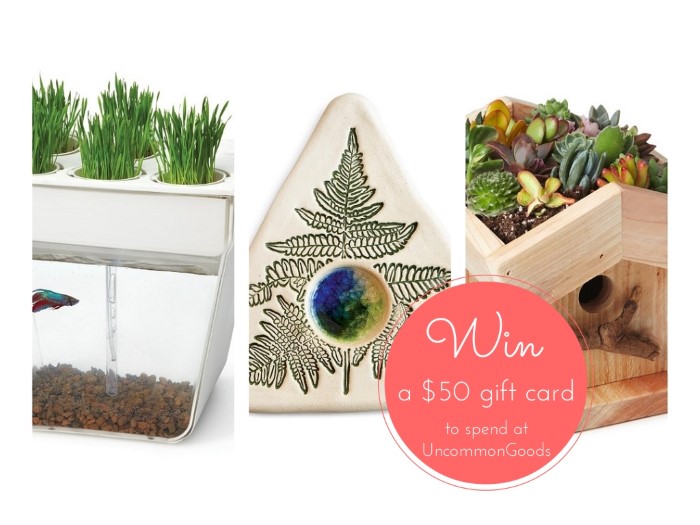 Did you fall in love like I did? Well then let's get you entered into the contest to win a $50 gift card to UncommonGoods! They also have a pretty fabulous Mother's Day collection you can see here.
Disclosure: This post has been sponsored by Uncommon Goods however all of the opinions are mine. I wouldn't support a company that I didn't love and think that you would love them as well.