The Garden Alchemy Workbook will help you take notes, log experiments, add recipes, and take charge of your garden as you work your way through the Garden Alchemy book. Even better? The gardening worksheet PDF set is yours FREE with your purchase of Garden Alchemy.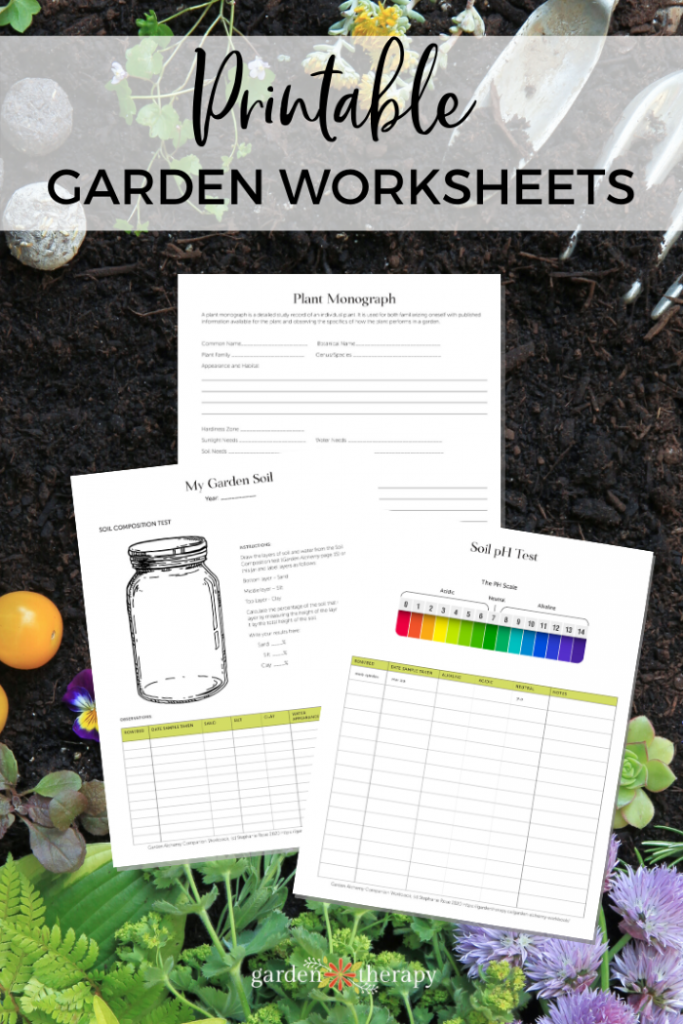 It's time to start a new year, a new gardening season, and a new way of gardening! There is no better time than the spring to gain the skills to grow a natural, healthy, greener garden with confidence. Garden Alchemy is filled with over 8o recipes, projects, and experiments to teach you how to get to know your garden, so that you have the skills to nourish the land and the plants the way Mother Nature intended. There is nothing else out there like it! It's a gardening recipe book and a perfect hands-on guide for do it yourself gardeners who want to grow green.

Garden Alchemy Workbook

Garden Alchemy is not the kind of book that is meant to sit on your shelf in pristine condition. That would make me so sad! Instead, it's a fun, get-your-hands-dirty kind of book. It wants to get to work with you and help you grow the best garden ever.
My hope is that this book will be smudged, marked, and soiled as it's dragged out to the garden. I want you to use it over and over again to make concoctions, elixirs, and more from the bounty nature provides.
Writing a book is always a hard task. Many people think it's finding enough content that's challenging, but for me, it's the process of narrowing it down that's difficult. I packed so much into the book that there wasn't a lot of extra room for some of the worksheets and note spaces that I wanted to include as well.
But as it turns out, it's a good thing the worksheets are not in the book! If I included the worksheets, then you could only use them once.
So after the book went to print, I created the Garden Alchemy Companion Workbook as a digital download that you can print and use over and over again to log your experiments, recipes, and growing notes. Yay!
AND, I'm giving it away for FREE. Jump to How to Get the Garden Alchemy Workbook!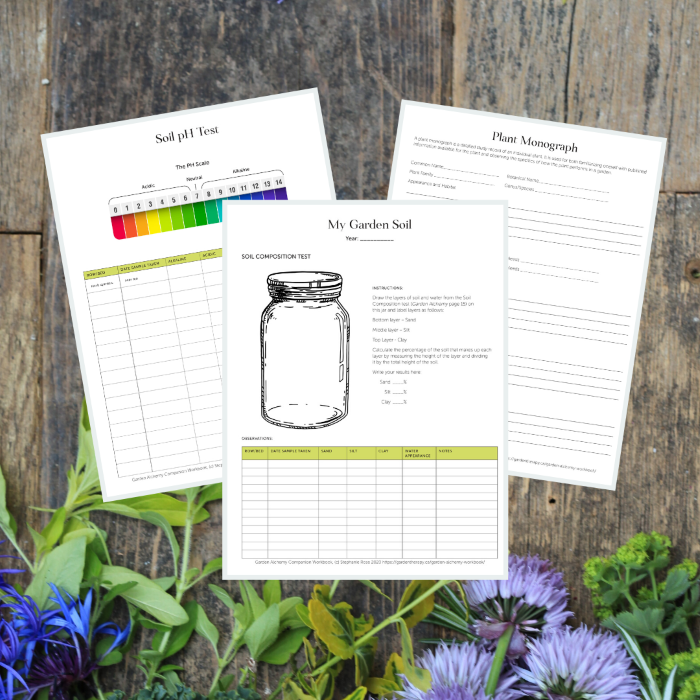 What's Inside the Garden Alchemy Workbook
I'm so excited about this workbook! I know this resource can become an invaluable tool to use as you experiment with the techniques in the book.
The Garden Alchemy Workbook has 10 printable worksheets. Each is used to log your progress in the garden or jot down notes about your recipes and experiments. The worksheets go along with the chapters in the book and include:
Seasonal tasks for spring, summer, fall, and winter
Garden soil experiment notes for the soil composition test and soil pH test
Seed-starting journal
Propagation journal
Soil amendments log
Plant monograph
Concoction and elixir log
Pest and disease management worksheet
Backyard wildlife sighting journal

Instant Access PDF
The workbook is a PDF so you can instantly download it and save it to your computer. You can then print the pages and put them in a binder or keep them with your Garden Alchemy book.
The pages can be printed as many times as you need. This is the perfect thing to have as you continue to fill the sheets up.
One helpful tip: be sure to date all the pages and add as much detail as you can. It can be helpful and go back and review the notes after a few months or even years to see how the garden has changed over time.
Overall, just have fun as you experiment! As you work through the projects and recipes be sure to stop and enjoy the fun and beauty of the garden. Write how you feel in the margins, doodle on the pages, and add quotes that inspire you. Feel free to add garden cuttings, pressed flowers, and photographs to the pages as well.
How to Get the Garden Alchemy Workbook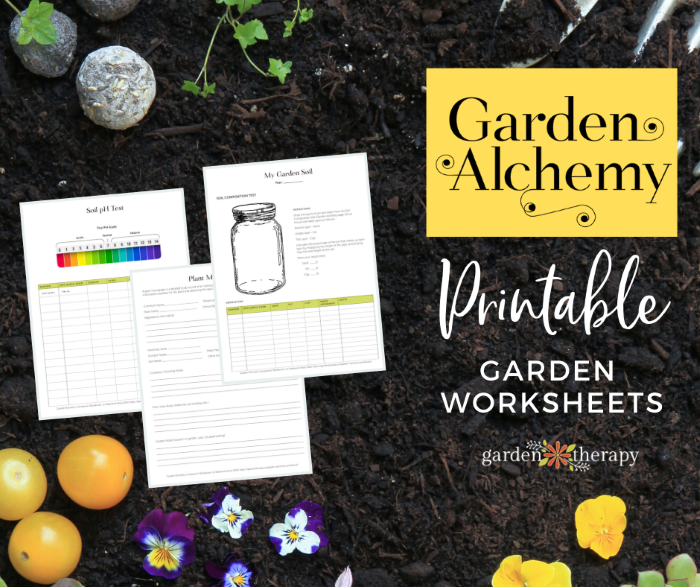 Want a copy of the workbook? The only way to get it is to order a copy of Garden Alchemy.
Once you get your order number through the online retailer of your choice, come back to this page and enter your order number in this form. I will email it to you instantly! 

This special workbook was put together beautifully by the art department at Quarto/Cool Springs Press. It was specifically designed as a handy accompaniment to go alongside Garden Alchemy. It truly is stunning! I know it will serve as an excellent tool for you to utilize over the years in your garden.
Still on the Fence?
I hope that you are as excited as I am by Garden Alchemy and the potential to radically change your garden using nature's processes and tools. However, if you still aren't sure if this book is right for you, check out some of the early reader reviews on Amazon and GoodReads.
You can also grab a 12-page sneak-peek of the book right here!