This month I have been delighted by the two Sarcococca confusa that inhabit my shade garden just off the side of the front door. While I'm always quite pleased with their glossy green leaves, white flowers, and black berries, the fragrance the plants are throwing off these days is phenomenal.
The sweet, perfumey smell of the flowers in bloom wafts around my entrance way welcoming me everything I get the mail or greet a visitor. It's especially fun to watch the neighbours sniffing the air trying to sort out where the aroma is coming from.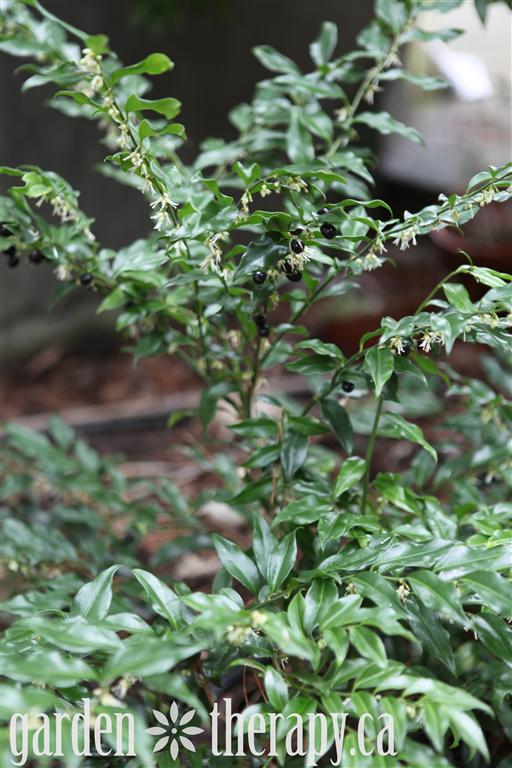 Sarcococca confusa (sweet box) is easy shrub to grow in many light situations, particularly in shady areas under trees. Growth is slow, reaching a mature height of 3′-6′ and width of 3′.
The plants have a tidy habit which makes them a good choice for background foliage to showcase other plants in summer and fall and really becoming a star in winter. While Sarcococca confusa prefers a nice organically enriched soil, it will do well dry soil in the shade, and also in sunny spots if not allowed to dry out. For a wonderfully comprehensive growing guide on Sarcococca confusa  check out this post at Rainy Side Gardeners.
It's been a while since I posted for Garden Blogger's Bloom Day. I did post regularly for more than a year and while my garden has changed somewhat, what's blooming is generally the same. Please check out those posts for close up photos of the garden. This year I'll write up a wee something  to feature my favorite plant that is blooming on the 15th.