I learned to garden at the library. Well at least that's where the guidance came from: the books. When I was forced to stop working due to illness, both budget and boredom had me leaving the library with an armload of books on some gardening-related topic to learn about. Then through multiple trials and failures and successes, I started to get my feet (or should I say thumbs?)  Now, as I sit in my Master Gardener's course I'm surprised and delighted at the knowledge that can be gained through self study and practice.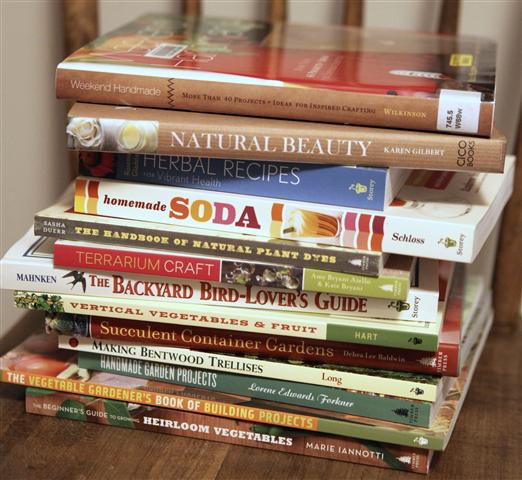 Even though my gardening knowledge has a great foundation and soon you will have to call me "Master" (which I swear is not the only reason I'm taking the course), the library trips haven't stopped or even slowed down. Just today I picked up a bunch of new books with sewing projects as I hone my skills at my machine. Plus I have a great big pile of wonderful gardening and garden-related craft books that I've been sent to review.
This is the inspiration that brewed the new Garden Therapy Book Club that will be launching, heck, let's launch right now!

DIY VIDEOS
I'm not totally sure what the book club will look like in a few months time, but for now I'll start with this: I'll select a book every week or so to feature and review. I've spent a fair bit of time out there searching for great books and interesting projects so I have a large selection to get us started. If the book has projects in it I'll give one or two of them a try and post the results. Then, you can get a feel for if the book would be a fun for you as well, and maybe inspire you to get out for a little garden therapy. All the books I recommend will be on this Pinterest board so you can find them easily.
If you decide to get a book on the reading list, get in touch with your review, thoughts whatever. You can leave a comment, send some photos, or send a link to a project you tried from the book and I'll post them up here.
Here's a Disclaimer:  I do fully support using the library or buying the book wherever you prefer. That being said, I will add links to the books on Amazon and if you buy the book from there I will get a small commission. No pressure. Anything that I make will just to help pay for new books and materials for my projects, the tutorials on this site for which I provide for free. Some of the books are sent to me for review as well, which will not affect my review of the book. If I love the book or hate it, I'll disclose either way. Never fear, I'm not doing this to generate great gobs of income (ha!) and will not be "pushing" books. The goal is to have fun and I hope you will join me.
Now, for our very first book club selection check out A Green Guide to Natural Beauty: 35 step-by-step projects for homemade beauty by Karen Gilbert. Based on the popularity of the Natural Skincare Series of recipes that were posted before the holidays, I though this would be a great place to start. Look for a review to come next week, with a project tutorial from the book.
 Please chime in if you plan to grab a copy and want to share your thoughts.