There are many home remedies you can easily make and have on hand when minor ailments arise. These holistic recipes use garden herbs and natural ingredients to stock your herbal medicine cabinet.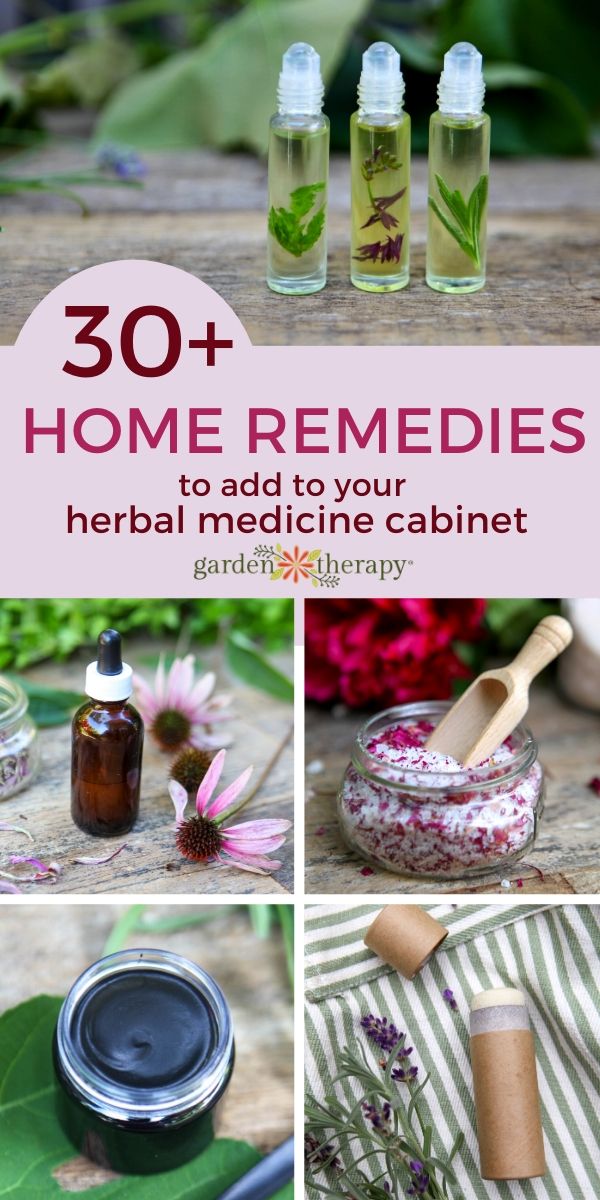 If you have ever wondered how to create an herbal medicine cabinet, this is a great place to start. I'm thrilled to share some of my favorite home remedies that I use with my family.
Personally, I like to keep my medicine cabinet stocked and ready. As you can imagine, the last thing you want to do when you are sick is to make a bunch of DIY projects, no matter how great the outcome! This list will help you be prepared and ready to fight a wide variety of common ailments. I also am sure to keep my home apothecary stocked up with the ingredients I need in a pinch. Read more here on what I stock in my Home Apothecary.
Before we go any further, I have to stress that I'm not a medical professional. If you have a serious condition and think you need to see a doctor, please stop reading this and go right now!
Of course, not all ailments need a doctor. In many cases, learning how to make some of these home remedies is helpful as a first treatment for minor and common issues like colds, sore throats, cuts, bruises, sunburns, and muscle aches. And we all have those, right? I choose home remedies as go-to relief for minor things that pop up. If the condition worsens or persists, I may look a bit further for help, but in many cases, I can find the healing support I need right in my garden and home apothecary.
Home Remedies From Your Herb Garden
Whether you are fighting itchy eyes or a congested chest, there are herbs in your garden that people have relied on for centuries. When you are trying to use all-natural ingredients, these should be the main things you keep in your holistic medicine cabinet.
These recipes are not intended to diagnose or treat any disease and you should always check with your health care professional before trying any home remedies. Use your common sense and please be well my friends.
Home Remedies for Body Aches & Pain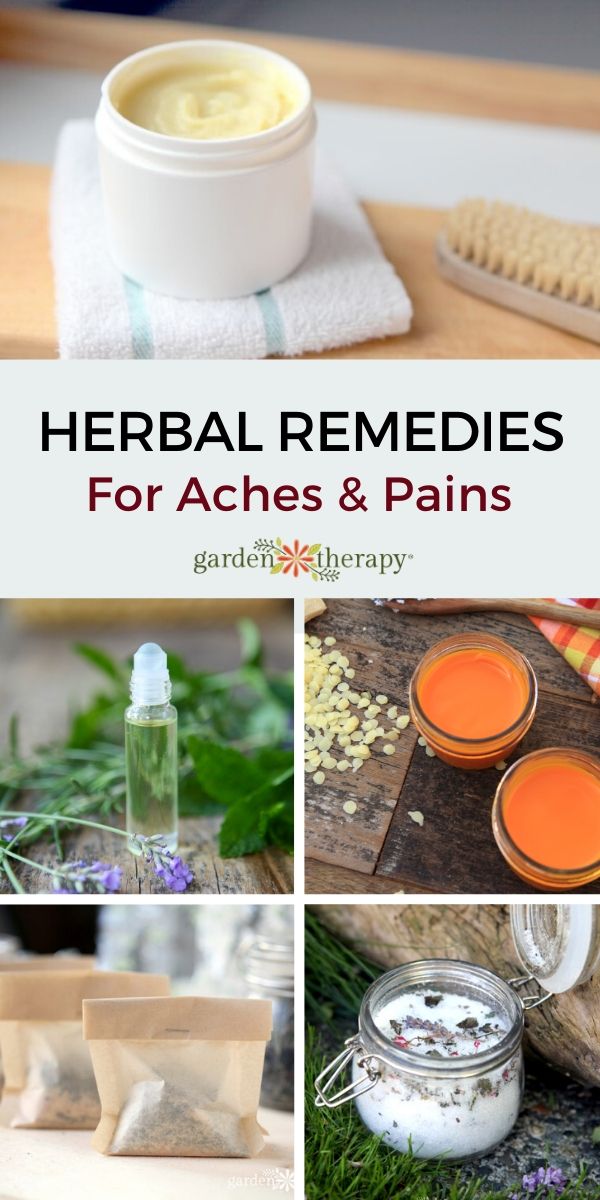 Natural Pain-Relief Balm
This balm soothes sore muscles with the magic of turmeric and cayenne pepper. It actually feels warm when you apply it to your skin. Turmeric eases inflammation in your body while the cayenne pepper warms the tissues and fights the pain you feel. I use it after I get a sore back from gardening.
Follow the easy recipe for turmeric and cayenne pain relief balm.
Tub Tea
An Epsom salt soak is a great way to soothe the aches of the day away. Adding herbs and other botanicals can also be skin soothing, but it's not that much fun to clean up after the bath. Make tub teas for a bath soak that is healing and requires no clean up afterwards.
Herbal Foot Soak
Sometimes you just feel under the weather. When this happens, adding a few scoops of this to a bowl of warm water and soaking your feet helps you feel better. The steam from this healing foot soak also helps with congestion. Pamper yourself with this homemade foot soak made from herbs out of your garden.
Find the complete recipe for the herbal foot soak.
Pampering Peppermint for Feet
Cooling peppermint is made for sore feet.  Exfoliating sugar and dried herbs will scrub away rough skin, coconut oil will soften cracks, and soothing peppermint essential oil has a cooling, pain-relieving effect.
See the steps to make your own peppermint coconut foot scrub and peppermint healing foot balm
Roll on Headache Relief
When I first feel a headache coming on, I use a roller bottle with essential oils to catch it before it gets momentum. Usually this is all I need to send the headache packing. Roller bottle remedies are a great thing to keep on hand in the medicine cabinet.
Here are three herbal roll-on remedies for headache, sleep, and cold & flu
Home Remedies for Topical Skin Relief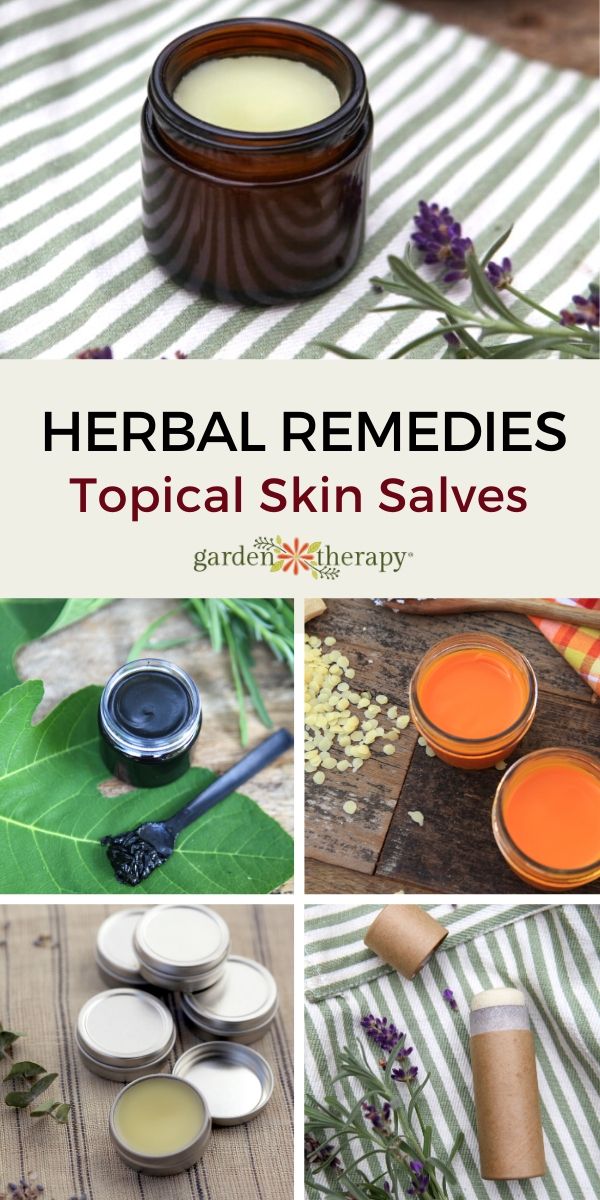 First Aid Salve From Calendula
I use this salve in place of a petroleum-based antiseptic cream. I use my all-natural calendula salve on minor wounds and cuts. It's mild and perfectly safe to use on pets and children. Plus, it smells wonderful!
Find this all-natural first-aid ointment recipe.
Topical Antifungal Treatment
This homemade tea tree oil antifungal treatment stick helps to soothe red spots and rashes in a gentle but direct way. It's packaged in a handy tube so you can treat the itchy, painful spots quickly.
Have treatment on hand using this recipe for tea tree oil antifungal treatment stick.
Drawing Salve Recipe for Bug Bites, Blisters, Splinters
A drawing salve is a mixture of oils and herbal ingredients that work to draw toxins from your skin and can be used on mosquito bites, wasp or bee stings, blisters, boils, slivers, and minor infections.
Make your own with this recipe for activated charcoal drawing salve.
Dandelion Salve
Don't kill the dandelions in your yard – they could be used to make a pain-relieving salve. These yellow weeds actually have pain-relieving and anti-inflammatory properties. Use this salve on achy muscles and other pains you have.
Follow the recipe on Grow Forage Cook Ferment to make salve
And make lips kissable with this honey dandelion lip scrub.
Cold Sores and Little Red Spots
Lemon balm's antiviral properties make it a popular herb for the treatment for cold sores, chicken pox, bug bites, and other little red spots. This recipe for lemon balm lip balm not only has a bright and cheery lemon fragrance but it also is a great way to prevent and treat cold sores.
Make lemon balm lip balm for cold sores.
Protecting Cuticles
This soothing cuticle balm is packed with an herbal blend that will mend those cracks and make hands soft again. It's essential to treat dry hands when doing a lot of hand washing.
Craft up this healing cuticle balm recipe.
Hand & Body Lotion
Lotion may seem like a beauty product choice rather than a herbal remedy, but this one is made from skin soothing floral water and nourishing oils that help to repair and protect dry skin. Keeping skin soft helps to keep it healthy, and so I'm never without this recipe.
Stock up on ultra moisturizing natural lotion.
Natural Skin Soother
Use calming witch hazel to soothe razor burns and rashes, and cool down inflammation. It's made from the branches of the witch hazel tree and can also be used as a face toner.
Make homemade witch hazel toner + skin soother from scratch.
Home Remedies for Summer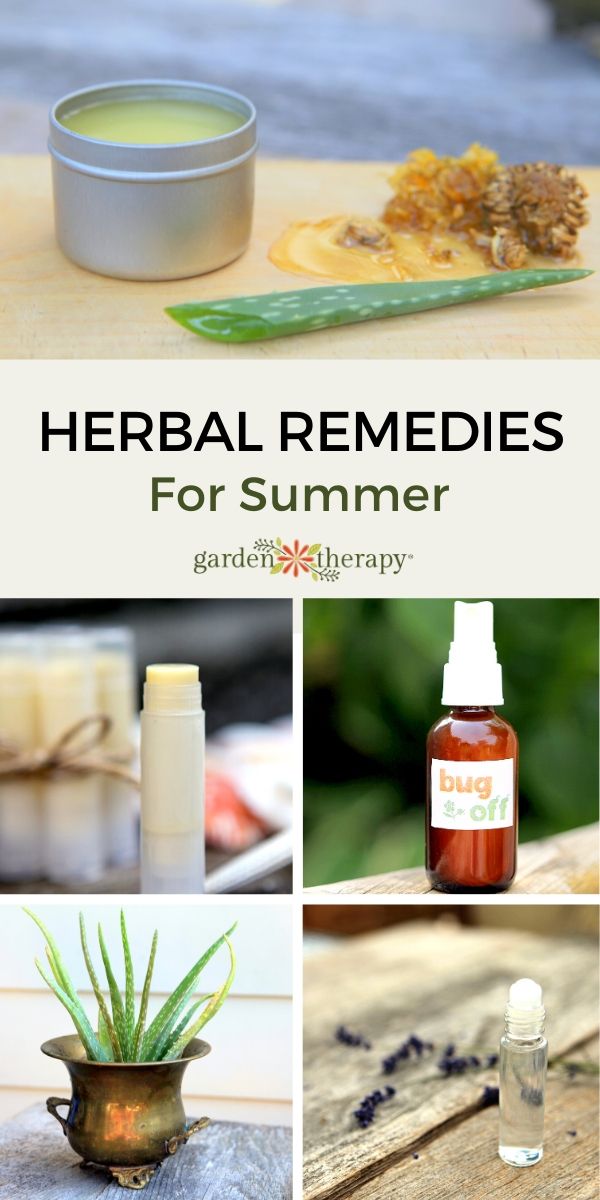 Summertime brings a whole host fun things that require some seasonal home remedies. The blazing sun can unexpectedly burn your skin and bugs love to come out to join the party.
Aloe Vera for Sunburns
Aloe is known as a sunburn cooler, and there is no better way to use it than straight from the plant! This remedy wont fit inside your herbal medicine cabinet, but you can set it in a pot beside it.
How to use aloe vera for sunburns.
Protect Your Lips
Your lips can get sunbured too! Be sure to protect them with this all-natural sunscreen lip balm recipe.
After-Sun Care
This salve is made with skin-healing aloe vera. It's perfect for helping heal minor burns or skin that's just feeling itchy and dry. I also love to apply it after a good scrub in the shower. It removes all the sunscreen residue my soap leaves behind. Find the recipe for homemade after-sun salve.
And if you did burn your lips, use this healing after-sun lip balm.
Bug Off Naturally
Send mosquitoes away with skin-soothing ingredients that won't make you cringe to apply. It's easy to make this all-natural bug spray recipe.
Insect Bite Roll-On
This little roller bottle is filled with a concoction that will ease the itchiness and swelling you get from bug bites. In fact, if you catch the bite right away and add the roll-on immediately to it, you might even avoid getting any bump on your skin at all. If you scratched it a bit, then you might need to add a few applications of this stuff to help it feel better.
Made with witch hazel, lavender and tea tree essential oils. Get the easy recipe so you can make your own insect-bite roll-on.
Home Remedies for Cold & Flu Season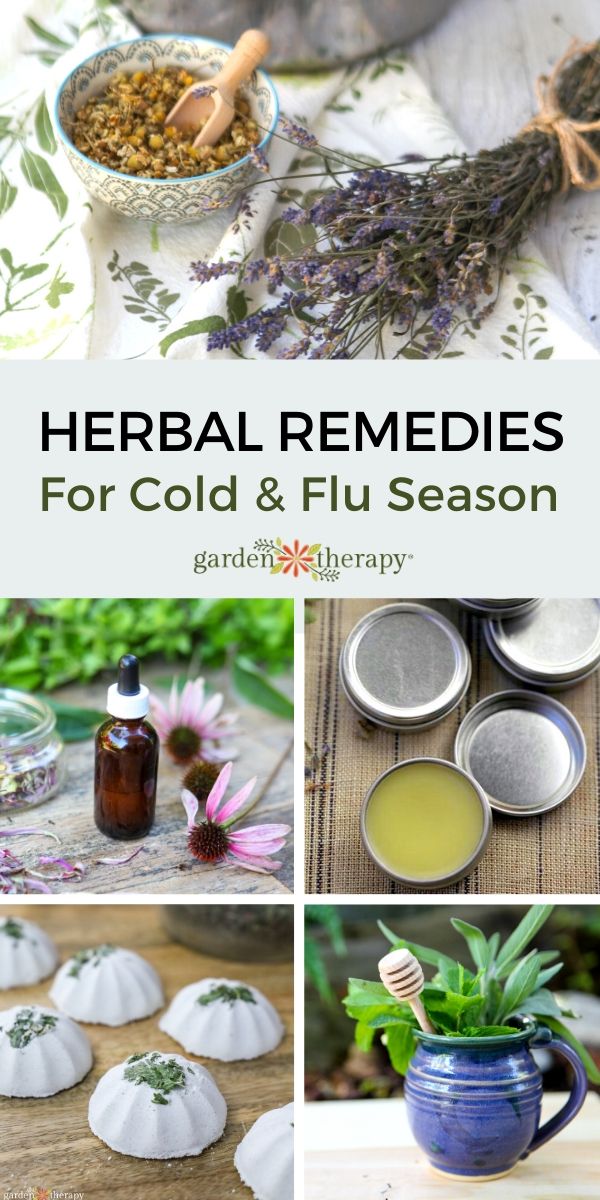 Cold and flu symptoms can also get some relief from home recipes using herbs. First things first, try to prevent getting them using hand sanitizer and boosting your immune system. After that, treat the symptoms with herbs to help get through the virus.
Hand Sanitizer
This natural hand sanitizer recipe packs a big punch at cleaning while softening my hands. I have used it for years when I can't wash my hands. Make the gentle herbal hand sanitizer recipe.
I also formulated a 70% alcohol based hand sanitizer to use when viruses are prevalent. Make a DIY hand sanitizer spray (alcohol based). 
Immune-System Boosting Elderberry Syrup
Elderberry syrup is another herbal remedy lots of people rely on during cold/flu season. It boosts your immune system and helps you fight the symptoms faster. This recipe also has rosehips and astragalus for even more power.
Follow the Recipe on Nitty-Gritty Life.
Ease Congestion With DIY Shower Steamers
After my doctor suggested I sit in steam to clear out my sinuses, I started to experiment with adding herbs to it. These steamers are amazing. They have lavender and eucalyptus in them and work for me every time.
I love eucalyptus during cold and flu season. A 2010 study found that eucalyptus essential oil has "antibacterial, antiviral, and antifungal components and a long history of use against the effects of colds, influenza, other respiratory infections, rhinitis, and sinusitis."
Find the recipe for Eucalyptus Shower Steamers.
Best Tea For Sore Throats
Lots of home remedies for sore throats and cold symptoms include a tea of some sort. This is my favorite recipe: a combination of ginger, honey, lemon, and sage. All of them are all-natural anti-inflammatories.
This recipe is one of several on my list of holistic cold remedies you should check out.
Sage Candy For Sore Throats
These really do taste like candy. Plus, I have yet to find another way that's as effective for treating a sore throat. The herb sage is commonly used to combat sore throats and inflamed gums. If you have sores inside your mouth, this can help that as well. It's a very soothing herb.
Find the recipe for this all-natural sore throat lozenge.
Echinacea Tincture: Boost Your Immune System
Echinacea is an herb that almost everyone associates with boosting the immune system. It's even been proven to shorten the duration of colds and flues. I love these flowers in my garden, too. I make a tincture from this herbal flower and take it when I'm feeling the first signs of a cold – that itchy throat or stuffy nose.
Find the complete recipe for your own echinacea tincture.
Congestion Relief Chest Rub Recipe
I use this instead of a store-bought vapor rub. It works just as well and is made with essential oils. I love how moisturizing the olive and coconut oils are.
If you have dry, painful skin under your nose, rub a dab of this on it. It'll make it feel so much better. Coconut oil also has natural antibacterial and anti-fungal properties too!
I created this recipe and it works great for me and my family, but please test a tiny amount on yourself before using it. If it's too strong, use less of the essential oils. This recipe is for adults only since some of the essential oils are not recommended for children.
Find the recipe for this holistic congestion rub recipe.
Herbal Cough Drops
These cough drops aren't just good at helping your throat feel better. They also help calm your cough and even fight the germs that are making you feel under the weather. These antiviral herbal cough drops are made with honey, sugar, herbal tea, and peppermint extract.
Follow the recipe on The Nerdy Farm Wife.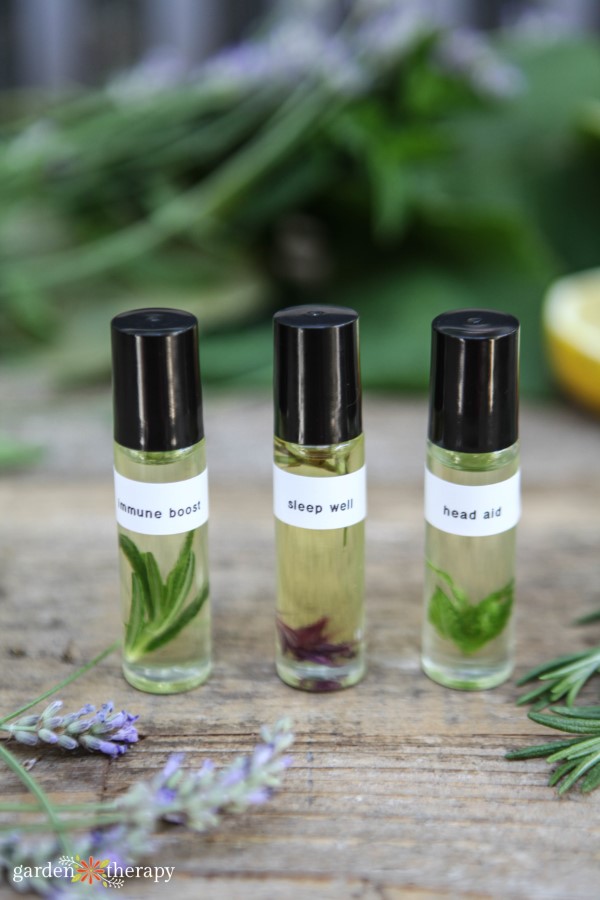 Holistic Remedies: Final Thoughts
I hope you found something – or even a few somethings – that you can add to your herbal medicine cabinet. It's pretty impressive how many things plants in our gardens can do. From soothing a sore throat to easing congestion, plants are powerful.
Please check out some of my books for more information about how to grow the herbs you read about in this post.