If you are having a New Year's Eve bash this year, infused vodkas make a festive base for some fabulous cocktails. Or perhaps you are lucky enough to be attending a soiree held by someone else? A fruity infused vodka makes a perfect hostess gift and is much more original than wine. Start them now and they'll be perfectly flavor-infused by the big night.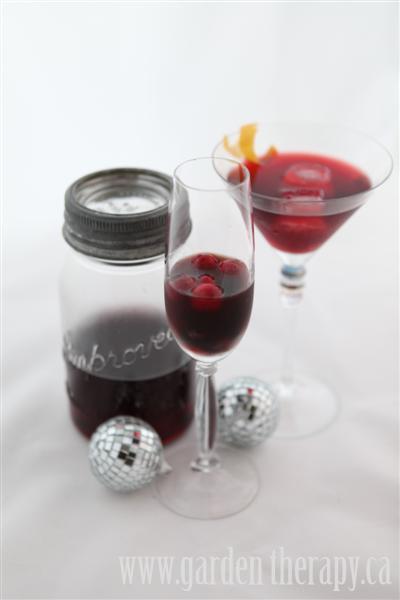 Berry-Infused Vodka Recipe
Ingredients:
3 cups of berries such as blueberry, blackberry, raspberry, strawberry
1 lemon
1 whole vanilla bean
1L (750ml) of inexpensive vodka
Make it!
Using a vegetable peeler, peel off 3-4 strips of lemon rind. Use the back of a paring knife to remove as much pith (white stuff) as you can. Pith = bitter. Add rind to a large Mason jar.
Add berries to jar and mash lightly. Spilt vanilla bean in half and add it as well.
Pour the entire bottle of vodka over the mixture, seal with a lid, and shake. Leave in a cool, dark place for 3 days.
After 3 days, strain the infused vodka through a fine strainer or medium cheesecloth into a bottle. Repeat straining in a finer cheesecloth for a clearer liquid (optional).
New Year's Eve Cocktails
Blueberry Nights
1 oz blueberry-infused vodka
1/2 oz brandy
1/2 oz ginger syrup
3 oz soda
Blackberry Royale
6 oz champagne
1/2 oz blackberry-infused vodka
1/2 oz simple syrup
Garnish with floating cranberries
Strawberry Refresher
fresh mint leaves, muddled at bottom of glass with…
…the juice of 1/2 a lime
top with 2 oz strawberry-infused vodka
3 oz ginger beer
3 oz soda
1 1/2 oz Midori melon liqueur
1 1/2 oz raspberry-infused vodka
1/2 oz elderflower liqueur
juice of 1/2 lemon
sugar for rimming
melon ball for garnish
Happy New Year!
If you liked this post, you might also like these: