It's hard to believe that it is summer already. It feels like it was just winter and yet before my eyes the garden has bloomed and the last frost date has sailed past.
It's summer!
Time for late night entertaining, sipping cool drinks, and cooking from the garden. Which brings me to the theme of this month's free printable calendar: garden grown veggies!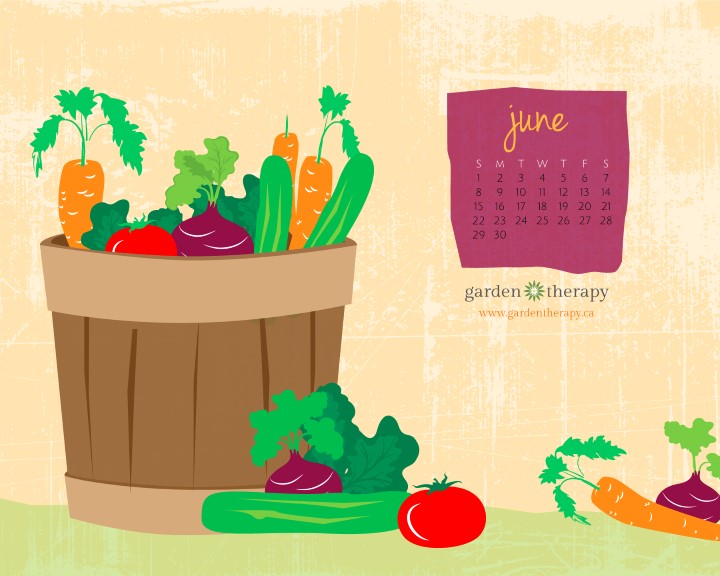 Click the links to open the calendar you want to download. The file will open in a new window that you can then save to your computer.
Garden Therapy June Vegetable Calendar 8×10
Garden Therapy June Vegetable Mobile Calendar
Garden Therapy June Vegetable Desktop Calendar
If you want to take a stab at growing your own veggies, here are some posts to get you started:
Multi-Level Strawberry Tower
Starting Veggie Seeds: Root Vegetables and Heat-Lovers
How to Build an Edible Rooftop Garden
Turning Lawn into a Vegetable Garden with Raised Beds
Painted Stone Vegetable Garden Markers
Broad Beans: Grow it! Eat it!
Garlic Scapes: Grow it! Eat it!
Edible Wildflowers: Grow it! Eat it!
Swiss Chard: Grow it! Eat it!
Three Tier Hanging Herb Planter
Square Foot Planting Guide
DIY Tomato Cages
Growing Basil from Cuttings
How to Harvest Rhubarb
Heirloom Tomatoes
Hanging Strawberry Planter
How to Plant an Upside-Down Tomato Planter
How to Build a Woven Bamboo Trellis
12 Edible Gardening Hacks: Delectable Edibles You Can Grow Indoors!