What's a miniature garden? Janit Calvo, the author of Gardening In Miniature and Guru of Two Green Thumbs Miniature Garden Center, describes mini gardens as:
…miniature garden plants are combined with in-scale accessories and patios to make real, living mini garden scenes that can grow and weave itself together for years in a container or in-ground with minimal care. When planted correctly, the plants and trees stay in scale with each other to create a sustainable, true garden in miniature.
Not to be confused with fairy gardens, which are little worlds created around fairies and their abodes. This hobby is more mystical than miniature gardening (although just as fun) and certainly there is a place where the two overlap. But if you are looking for a way to garden on a small scale that doesn't involve fairies, have a look at this round up of the creative miniature gardens that can be found on Hometalk: 23 Magical Miniature Garden Ideas.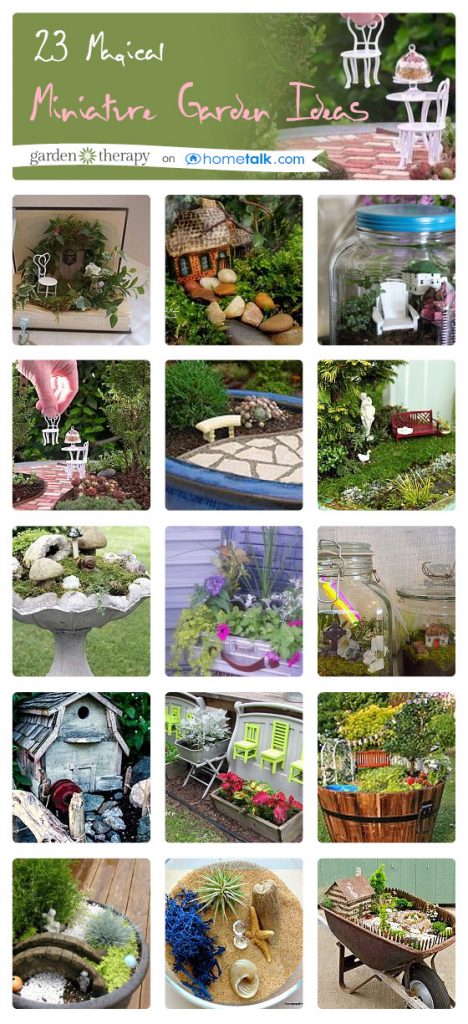 If you haven't been to Hometalk yet, you will be delighted to find professionals, bloggers, homeowners and renters who share information, questions, and more in an online community. It's like having an army of advice right there at your fingertips, and it's a fun place to show off your hard work around the home and garden. Follow Garden Therapy on Hometalk here.