These mosquito repellent plants are equal parts pretty and practical. I'll show you how to arrange them into a pretty container garden that you can proudly display on your patio. Here's which plants that keep mosquitoes away I recommend you use, and how to keep them thriving all summer long.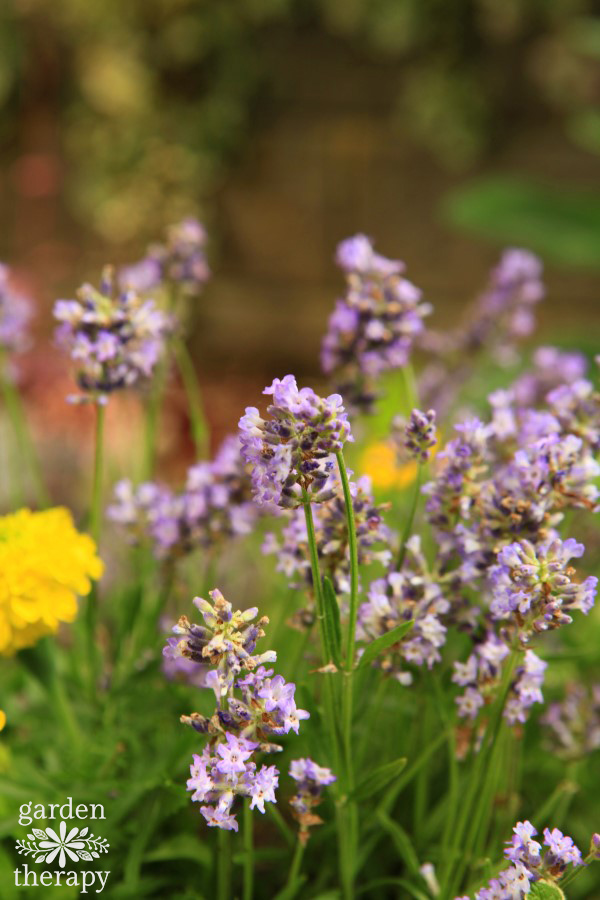 Keep mosquitoes from crashing the party by creating a gorgeous herb patio planter that will keep pests away. There are a number of plants that mosquitoes and other biting insects dislike, mainly strong-smelling herbs and flowering plants. Creating a mosquito-repelling container garden that can be set in the entertaining space, like a patio, deck, or lawn allows you to move the planter to pretty up the party while keeping mosquitoes from ending it early.
This recipe was created for a location that gets at least 6-8 hours of sun a day. The plants will grow big and wild in the container, they will flower at different times, and have many different textures of foliage to keep it interesting.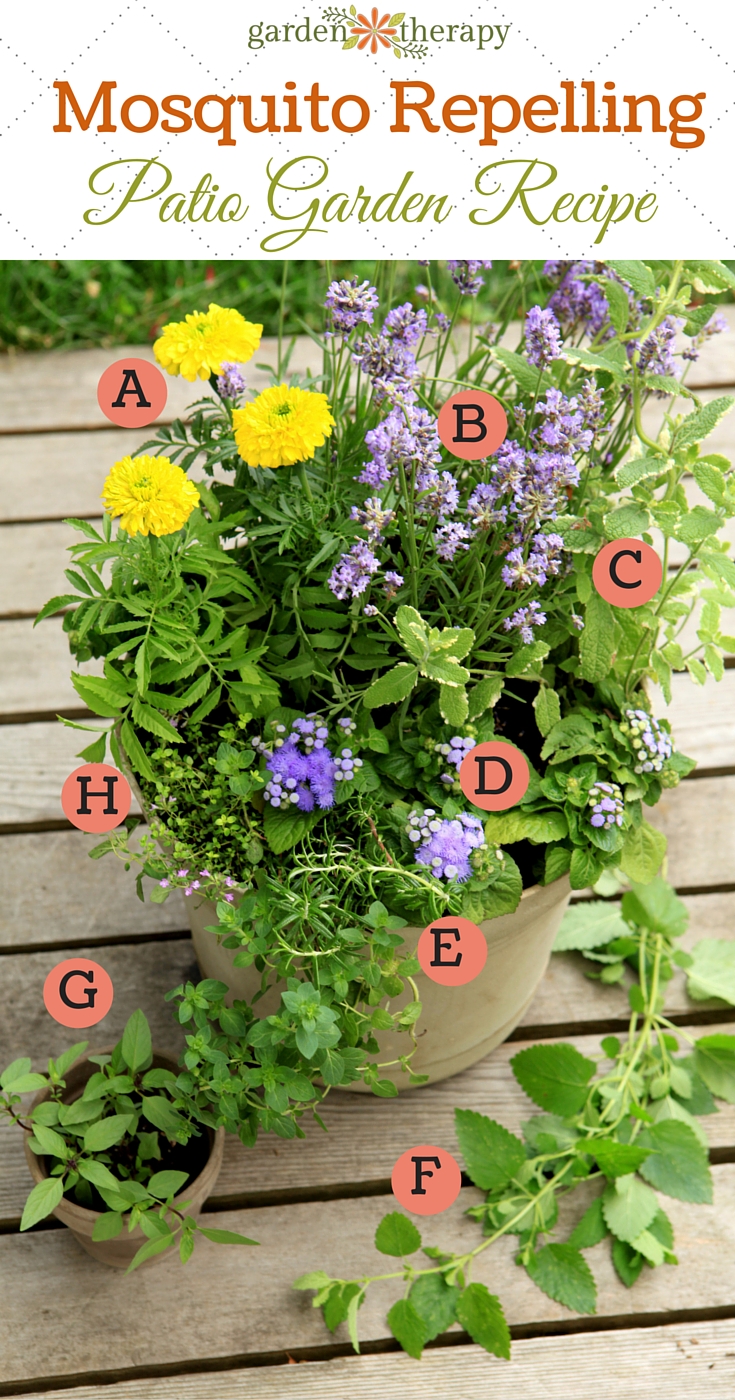 Mosquito Repellant Plants to Use
A. Marigold
Calendula 'Bon Bon Bright Yellow' for decorative yellow pom-pom style flower heads that are only 12″ high and suitable for containers. Marigolds contain a compound found in many insect repellents. In flower form it isn't going to hurt insects, just deter them.
B. Lavender
Lavandula angustifolia 'Thumbelina Leigh' is a compact 6″-12″ plant, perfect for containers. This profuse bloomer will flower up to three times a year if cut back by half after flowering. Lavender's heavenly aroma is decidedly unpleasant to mosquitoes.
Wondering how to grow this lovely herb? Check out this post filled with tips and tricks about how to grow lavender.
C. Pineapple Mint
Mentha suaveolens 'Variegata' is a decorative mint with white-edged leaves and a wooly texture. It has a pleasantly sweet mint aroma on highly decorative leaves, making it an attractive addition to a container. Members of the mint family all act as mosquito repellent plants, but I chose this one in particular for its decorative appeal.
Here's a handy guide to how to grow this (and other) mint varieties.
D. Flossflower
Ageratum 'Artist Blue' contains coumarin, which is widely used in commercial mosquito repellents. Whether or not it emits enough to keep pests away from the flower is up for debate. The blue-purple, low-growing flowers are a welcome addition to this pretty arrangement.
E. Oregano
Origanum vulgare 'Hot & Spicy' has fuzzy leaves and a bit of a kick on rounded green tresses that will spill over the pot as they grow.
F. Lemon Balm
Melissa officinalis is one of my favorite mosquito repellent plants! It's fragrant, lemony, and large. If your container isn't big enough to house this prolific plant, you should be able to find some nearby to rub as you stroll through the garden. It can be quite invasive so I allow a small patch to grow in a controlled manner near my fence (and by "controlled," I mean I rip it all out periodically before it grows back!).
G. Thai Basil
Ocimum basilicum has pointed green leaves and purple new growth. The flavor has more anise, or licorice, than sweet basil. It is an attractive herb as well as being delicious with coconut milk and red curry. Like mint, it is basil in general that mosquitoes dislike. I chose Thai basil in particular for its appearance and flavor, but any basil will deter pesky mosquitoes.
As an added bonus, if you find yourself with too much basil, you've got to try some of these incredible basil recipes!
H. Lemon Thyme
Thymus citriodorus is a pretty yellow and green variegated evergreen thyme that smells and tastes like lemon. The pops of yellow compliment the marigolds and add an extra bit of brightness to the planter. Lemon thyme is said to be more effective at repelling mosquitoes than other thyme varieties.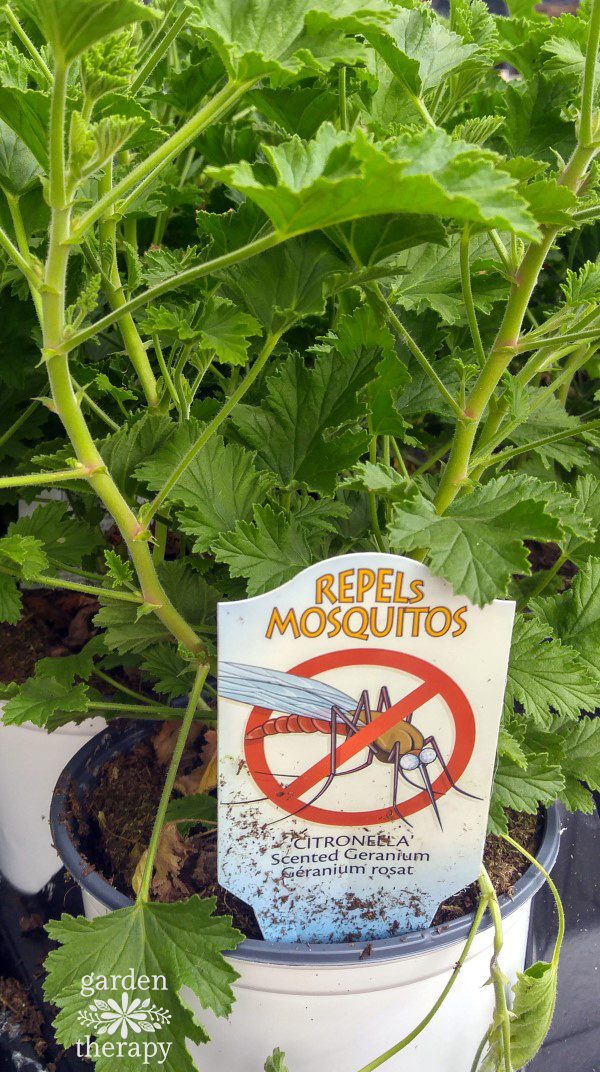 What About Citronella Scented Geraniums?
It's true that mosquitoes don't like citronella, although it is the citronella GRASS they don't like. The "Mosquito Plant," is a type of geranium that is scented like citronella and in my experience is not a good deterrent for mosquitoes. It is very pretty to have in the garden, with a delightful citrusy aroma, but there is very little evidence that it actually repels mosquitoes despite how it is marketed.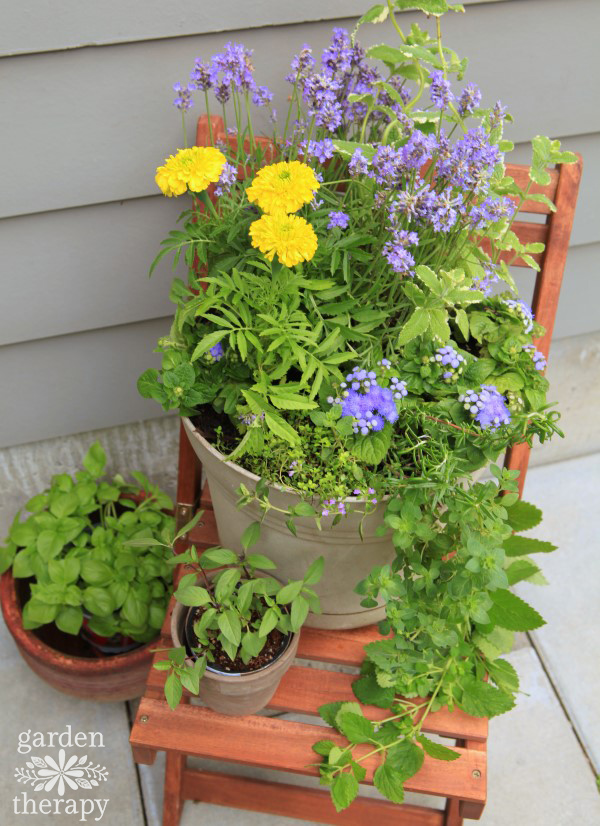 Location, Location, Location
Simply creating the container and placing it on your property won't be enough to give mosquitoes the message. The best way to use a mosquito-repelling container garden is to place it near the gathering area at entry to the garden or lawn. Setting the container beside a walkway or on steps leading up to the deck will allow people and pets to brush up against the scented foliage and release the scent into the air. Rub the plants with you hands and rub the scent on your body as well while you are outdoors to keep the scent flowing and clinging to your skin.
Read More About Mosquito Repellent Plants and Ideas Here: