These oven-dried grape tomatoes make me feel like I've been transported to Italy, and they're a cinch to make. I love tomatoes no matter what, but one of my favorite ways to eat them is when they're dried. Drying the tomatoes brings out their flavor, making them taste bolder and more rich.  You don't need a food dehydrator to make these tasty dried grape tomatoes. Just toss them in the oven with a few simple ingredients, and a few hours later you'll have a pan full of luscious dried grape tomatoes. They make a great addition to pasta, pizza, focaccia bread, or your favorite sandwich.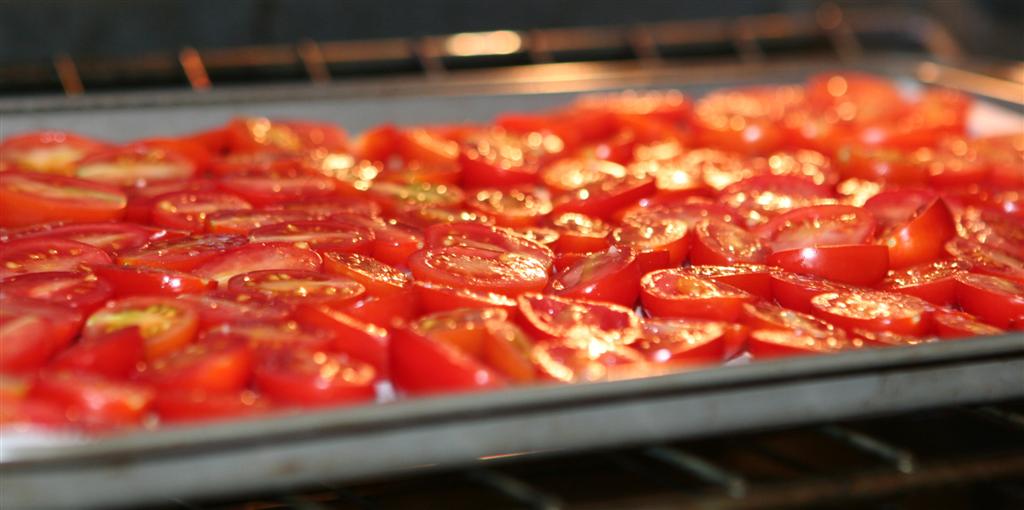 Ingredients:
grape or cherry tomatoes
coarse salt
olive oil
fresh herbs
Make it!
Wash, dry and halve the tomatoes.  Arrange tomatoes cut-side up on a baking sheet lined with parchment paper.  Sprinkle with coarse sea salt.  Dry in the oven at 175 degrees F for 6-8 hours.  After you have done it a few times, you'll know how long it takes and you may be able to leave them overnight safely.  I find mine take about 8 hours.  Pack into a jar with some fresh herbs & olive oil.   Refrigerate and start enjoying.  Note: these aren't meant for long term storage, so eat 'em up (like that will be hard).