This past weekend we served up freshly harvested apples as mini pies topped with dulce de leche ice cream and caramel sauce. Personal-sized pies offer modern take on apple pie and ice cream that adds just enough flair to top off an elegant autumn dinner. And, really, who doesn't like getting a whole mini pie all to themselves? Here is the recipe for 12 of them: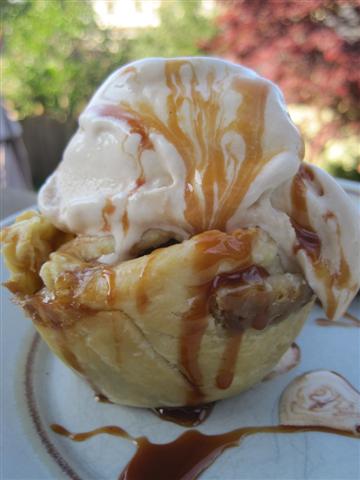 Basic Pie Crust 
Ingredients
2 cups all-purpose flour
1 cup salted butter, cut into small cubes
approximately 1/2 cup ice water
Directions Cut up the butter into cubes, lay them on a small plate, and stick them in the freezer. The longer in advance you do this, the flakier your crust will be. We like the butter to be fully frozen when we use it. In a food processor, pulse the flour to mix, then add the butter and pulse about 10 times (until the mixture resembles a coarse meal with chunks of butter still visible). Add ice water, a tablespoon at a time and pulse to mix. Combine just until the dough holds together when pinched with your fingers and there are still butter bits visible although no larger than small peas. Turn the dough onto a floured surface and gently form into a large square and cut into 16 evenly-sized pieces. Gently and quickly so that you do not melt the butter or overwork the dough, form the 16 pieces into disks and wrap each in plastic. Refrigerate for at least 1 hour.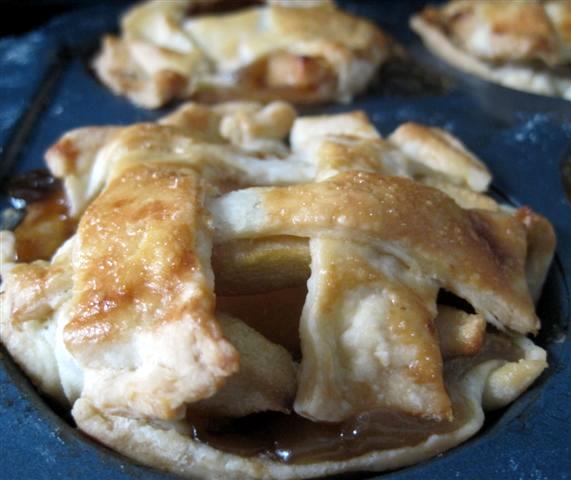 Mini Apple Pies Ingredients
1/4 cup all-purpose flour, plus more for rolling
2 tablespoons fresh lemon juice
8-10 mixed apples (some tart like Granny Smith, some sweet like Gala)
1 cup brown sugar
1 teaspoon ground cinnamon
1 egg, beaten
Directions Preheat oven to 375 degrees. Roll small disks of dough on a lightly floured surface, into an 8" circle, handle lightly and keep cool in the fridge until ready to roll each piece. Carefully fit 12 of the disks into jumbo muffin tins or wide mouth canning jars, gently lowering dough into bottom and sides of pie plate without stretching. Gently fold and pinch the dough so that it creates a cup form with a thick edge. Refrigerate. Place lemon juice in a large bowl. Peel, core, and slice apples 1/8 inch thick, tossing them in the bowl as you work. Add sugar, cinnamon, flour and toss to combine. Transfer apple mixture to pie crust, pressing in firmly. Roll out the remaining 4 disks of dough and cut into 4" strips. Layer four strips per pie in a lattice pattern and brush with egg. Bake until golden and bubbling, approximately 25-30 minutes, Cool before serving.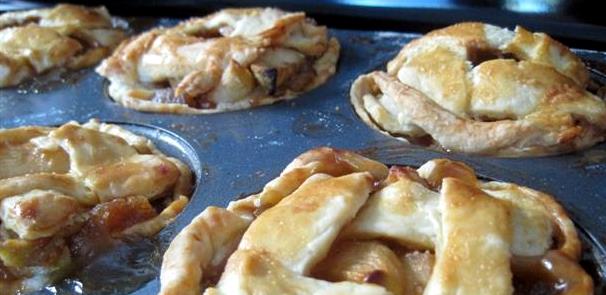 We also made the dulce the leche  ice cream and sauce, but those recipes will have to wait for another day. In the meantime, try out our absolute favourite vanilla ice cream recipe.