Last week I visited the Pacific National Exhibition with my nephews. The kids had been wanting to visit a farm so I suggested we go to the PNE instead to see Safeway Farm Country, a set of  indoor exhibits with farm animals, vegetable plants, honeybees and mushrooms. I've been going to the PNE for Farm Country (and the Superdogs) every year for the past 15 years but this year I found that the displays were much less populated (the petting zoo has been reduced to 3 animals, a bunny, a donkey, and a miniature horse, each being held/supervised by a PNE worker, and there were far fewer ducks, bunnies, pigs and hatching chicken eggs).
Until this year, the one area I had never been into was the Kidz Discovery Centre which, according to the website, "allows kids to become a farmer for an hour and learn about where their food comes from". Here is a brief summary of our experience:
First, they gave the kids aprons and buckets to collect plastic farm produce from the displays on their discovery tour. The next stop was at a trough of soil where they gave the kids bean seeds to plant and told them they were tomato seeds. The staff broke the beans seeds in half and told them they were carrot seeds, and let them plant those as well. Next, they collected white plastic eggs from brown plastic chickens and vise versa before moving to more troughs of soil to harvested their fully grown plastic tomatoes and carrots. Here is a quick snap I took on the display that taught the kids how vegetables grow: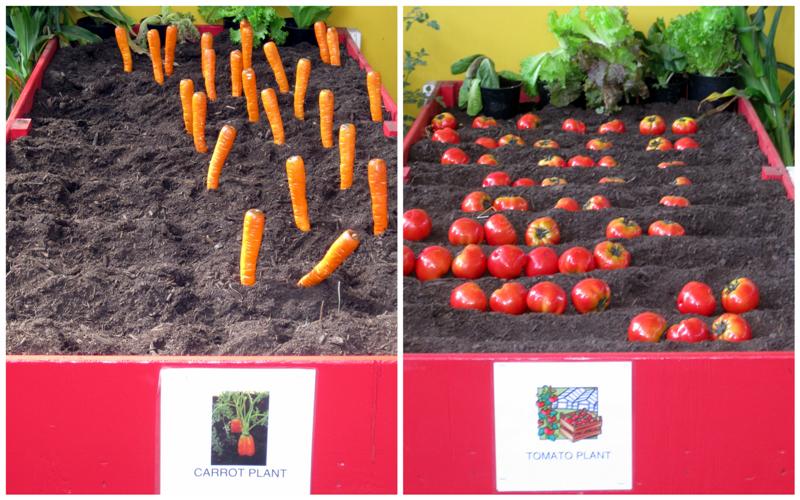 DIY VIDEOS
The kids continued around the displays collecting empty boxes of milk, perfect red plastic apples, little bags of wool and a few other things. At the end the staff took their kids' harvest back and gave them a coupon to use at the mock store at the exit. The only thing available in to buy at the 'store' was chocolate milk   Not vegetables, fruit or plain milk, just chocolate milk.
Apparently Safeway believes that hyper and miseducated children are our future.
I don't. I feel that kids are smart and should be taught what a real tomato seed or carrot seed or bean seed looks like. That carrots are fun to pull out of the soil by their greens because they are totally hidden in the soil, that tomatoes grow on bushes and that they can be many colours, sizes, shapes, and flavours. That you get white eggs from white chickens and brown eggs from brown chickens. And that farmers don't sell their harvest to buy chocolate milk at Safeway.
I had a few days to shake off the frustration but in the end I was so disappointed with the Safeway's Kidz Discovery Centre that I invited my nephews (and their parents) to a few farms in Abbotsford. We spent the day feeding lettuce, apples, carrots and corn to all sorts of farm animals, picked real apples and learned to sort through the fallen, diseased and wormy ones, watched cows machine-milked on a conveyor belt, got lost in a corn field and climbed all over antique tractors. It was a great day and a much more honest representation of where food comes from.
We went to the Birchwood Dairy and the Apple Barn Pumkin Farm on the Abbotsford Circle Farm Tour. I've done all of the Circle Farm Tours available and have enjoyed them so much that I plan to do them all again. If you decide to do a tour yourself, bring a cooler to pack all your farm fresh goodies in, start early in the day, and pick up a tour brochure at your first destination. The kids will still end up with a sugar rush from fresh ice cream and a bushel of apples eaten while picking, but at least you can feel good about what's going into their heads.