Description
Here's what you get!
The superfoods seed collection includes 7 annual vegetable plants, including: Lunchbox Pepper Mix, Indigo™ Blue Berries Tomato, Tasti-Lee ® Tomato, Lacinato Kale, Rhubarb Swiss Chard, Bull's Blood Beet, and Honeyboat Delicata Squash. You can find in-depth descriptions of each one in this blog post.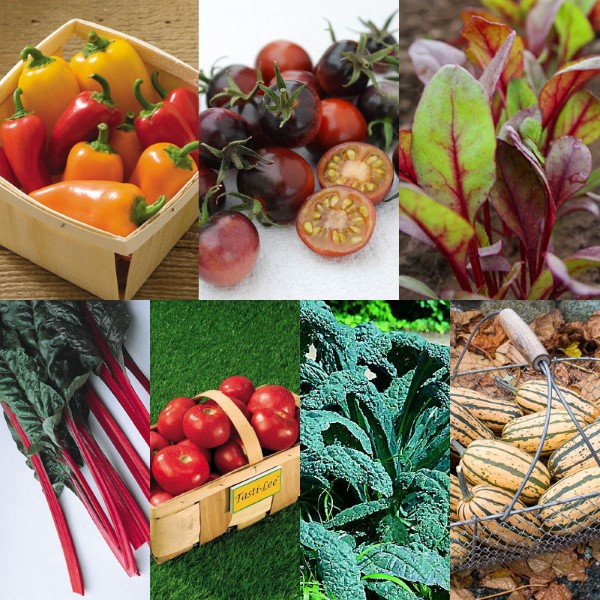 Each variety was hand selected for its flavor, unique appearance, and added health benefits so that you get the most flavor AND nutrition possible from every bite!
Lunchbox Pepper Mix is a mixture of red, orange, and yellow snack-size peppers that contain beta-carotene and vitamin C to boost your immune system and help you ward off colds and flus.
Indigo™ Blue Berries Tomato is a deep purple cherry tomato that has great flavor and contains healthy expressions of anthocyanin so you are adding more healthy color to your diet.
Tasti-Lee ® Tomato is a large-fruited, slicer tomato that is certified by the American Heart Association as a Heart-Healthy food for being 50% higher in lycopene than most other tomatoes so you can take care of your heart and your taste buds at the same time.
Lacinato Kale is also known as "black cabbage" or "dinosaur kale" because of its dark color and extra-large, crinkled leaves that are packed in vitamins A, C, and K, and fiber which helps you feel more full on a food that helps your digestion and iron absorption.
Rhubarb Swiss Chard produces dark green leaves with bright red veins and stems; eat the stems and leaves for extra calcium, magnesium, potassium, and vitamins so you can garden longer with strong bones and muscles.
Bull's Blood Beet is another plant where you can not only eat the delicious beets, but also harvest the Cabernet leafy greens for added potassium, beta-carotene, and folic acid that speeds metabolism and lowers blood pressure so you can eat more of what you love.
Honeyboat Delicata Squash produces sweet, coppery tan fruits with green stripes with flesh high in calcium, potassium, folate, and vitamins A and C that lets you replace bread or potatoes with a carbohydrate without guilt.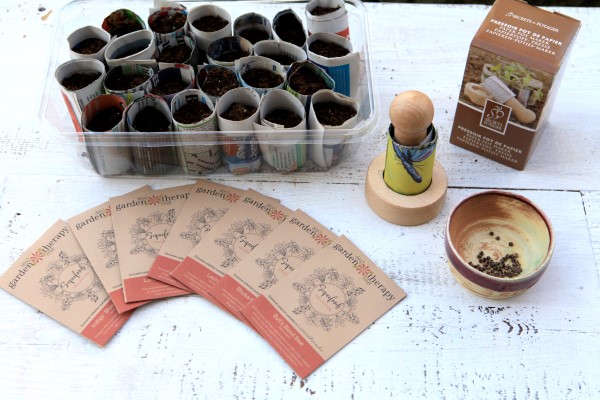 Use the Esschert Paper Pot Maker to make your very own biodegradable newspaper pots so you can feel good about your efforts towards the environment when you start your seeds.
Paper pots are an earth-friendly alternative to traditional clay or plastic pots, and making these pots is a family-friendly activity that teaches the importance of upcycling as well as general gardening and planting for all ages to enjoy.
When the last possibility of frost has passed, simply place your plant in its newspaper pot directly into the ground or in a container. The newspaper pot will slowly break down by itself after a short time, unlike others that can take a long time to biodegrade in the soil, so you know that your pot will not restrict plant growth. The roots of the plant will be able to push out and grow through the paper so you don't have to disturb the roots by removing the pot either.
Newspaper is both biodegradable and widely available so you can feel good about recycling and wont have to hunt for supplies.
Most newspaper ink is soy-based so there is no need to worry that the ink will contaminate your soil or the vegetables.
The pot-making tool comes with simple instructions which allow you to quickly and easily make a lot of pots! Watch me make them in this video.
For each of my kits I include a seed-starting and culture guide that shows you how to plant the seeds so you'll know exactly how to do it in your garden. The guide also provides a ton of detail on each seed variety like season, soil temperature, and days to germination so you don't have to guess how to grow them.
See a copy of the seed-starting and culture guide.