I was so excited to get a review copy of Terrarium Craft: Create 50 Magical, Miniature Worlds , probably more excited than is considered 'normal'. Flipping through the 50 projects, there was clearly lots of inspiration. After a brief introduction on materials and techniques, Terrarium Craft stunning photography showcases forest, beach, desert, and fantasy terrarium ideas.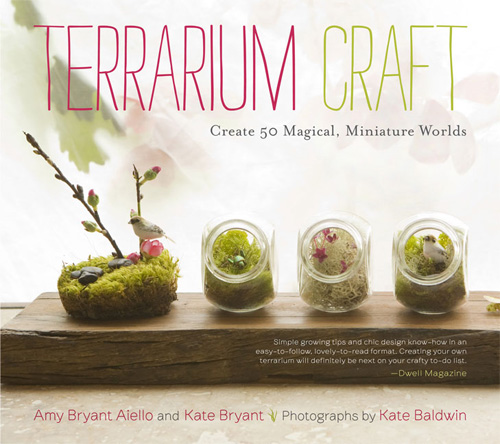 After reading the book cover to cover, I was so inspired to try some projects I have all but put my seed starting on hold and transformed my corner window grow-op into a terrarium building site. Air plants, succulents, shells, rock and found objects abound as terrariums are a nature lover's doll house. For my first project I fashioned a woodland-inspired terrarium out of a salad bowl, moss, Aeonium, Sedum, Bromeliad and a tiny felted owl.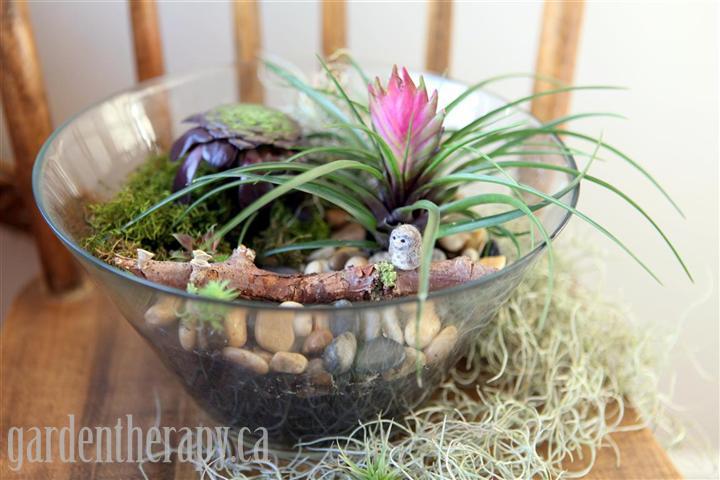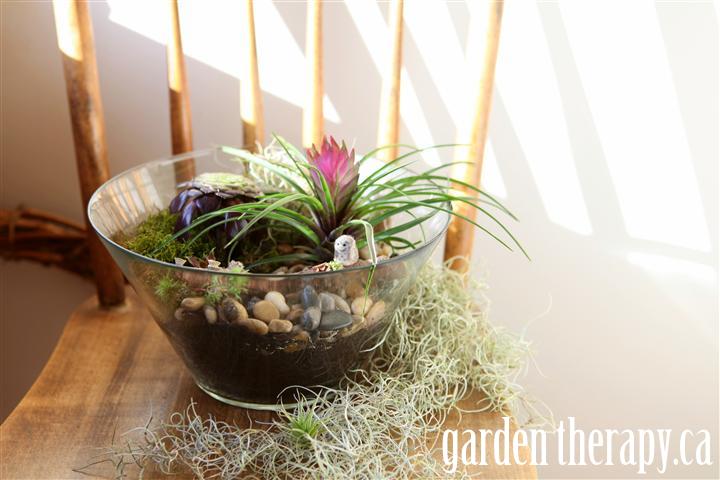 Materials:
Glass salad bowl
Indoor cactus soil
Polished river stones
Branches, lichen, found objects
Plants:
Aeonium
Sedum
Bromeliad
Spanish Moss (epiphyte)
True Moss (bryophyte)
Instructions:

1. Fill the bottom 1/3 with cactus soil (note: the book suggests using sand or moss balls to plant your terrarium, but I don't mind the look of soil and I'm not worried about drainage because I'll carefully. The book's projects do look cleaner with the sand so it's all personal preference).
2. Place true moss around one side of the bowl. Shake soil gently off the root ball of the aeonium, sedum and bromilad. Dig little holes in the cactus soil and place plants. Back fill with soil and place moss around plants on the moss side. Add some river stones to the other half to cover the soil up to the moss level.
3. Add fun personal elements that will add personality to your "mixed salad". Shown here are Spanish moss (which is a type of Tillandsia or air plant so it should float above the soil), a twig with bird's nest mushrooms I collected back in the mushroom foraging days of autumn, and a felted pocket owl that I bought from Etsy which has it's own story.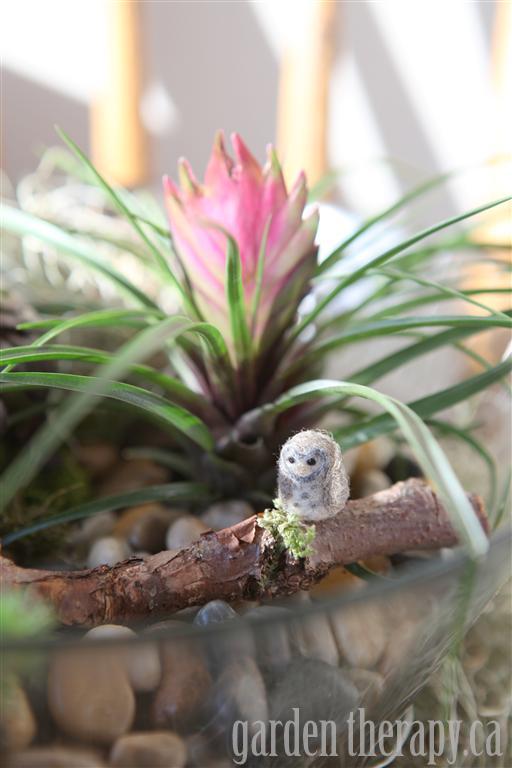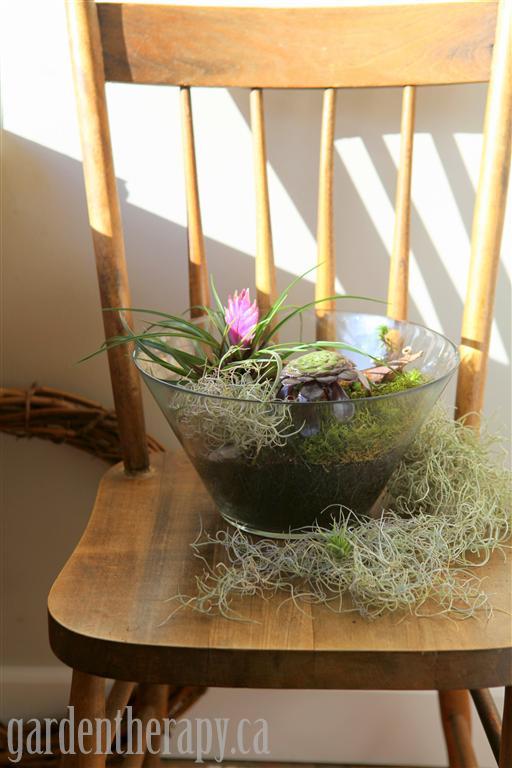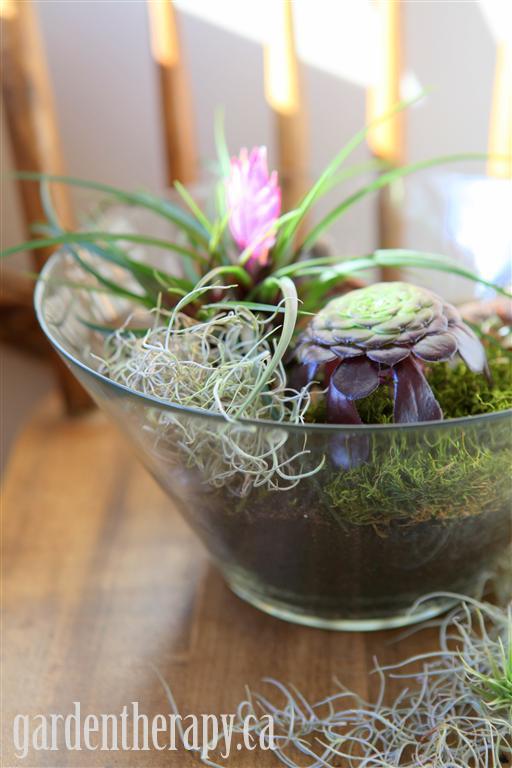 The final result is a quirky terrarium that reminds me of days waking thought the woods with the dogs, hoping to spot a real owl like these, and collecting gems from the forest floor.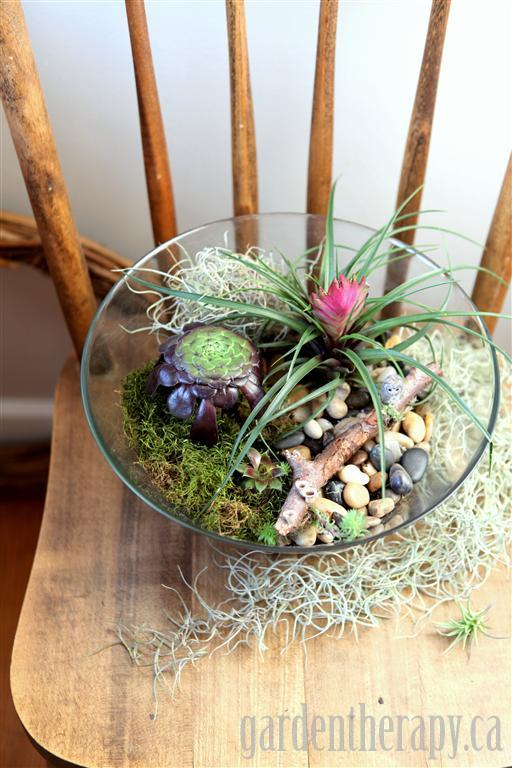 There are a few other projects that I'd like to try from the book, like suspending plant roots in a moss ball inside the terrarium, but for now I best get on my seed starting or I'll be very sad and/or broke come heirloom tomato season.
If you have tried a terrarium, or plan to try one, please let me know. I would love to see photos of this very personal art form.