I happy to say that a few weeks ago I received a SodaStream Soda Maker to review.  It couldn't have come at a better time as I had just made another batch of fruit cordial from fall's bounty and I'd been buying bottles of soda like it was going out of style.  Truth be known, it IS going out of style.  People love their bubbles but not all the waste: cans, bottles, and flat soda are a drain on the environment and on our wallets.
It was a wonderful treat to open the box and find a SodaStream Crystal – a sleek looking machine that makes up to 60 liters of sparkling water in beautiful glass carafes.  Within minutes of putting down the box cutter I had my first SodaStream soda.
How it Works:
Pretty simple.  Fill the carafe with water to the fill line.  Insert the carafe into the SodaStream and press the top button in short bursts until you hear a buzz.  I usually push the button until I hear 3 buzzes and this gives me wonderfully fizzy water.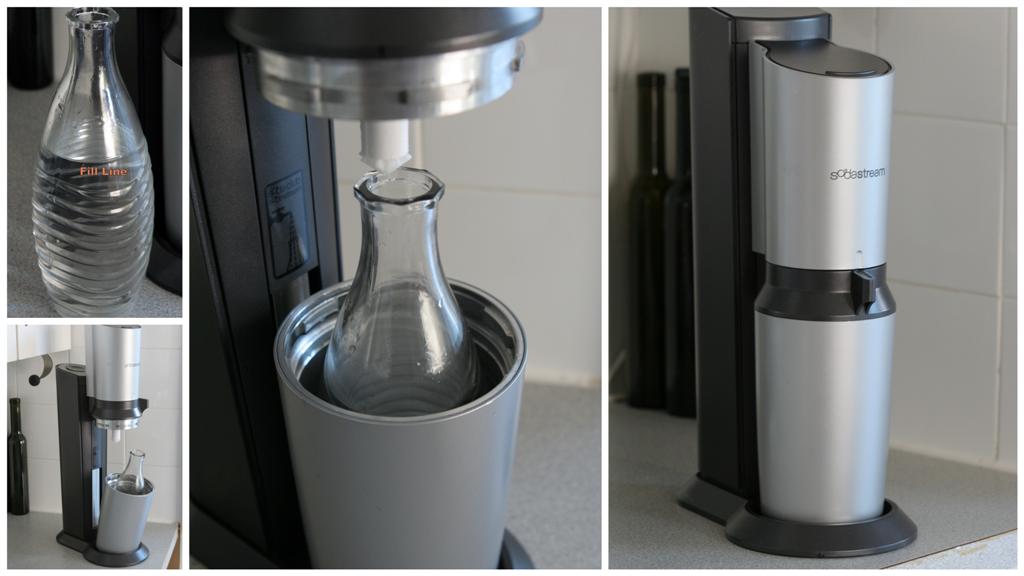 Review:
Taste  I was actually shocked at how good the sparkling water tasted.  I expected club soda which tastes fine but it's meant to have something added to it.  SodaStream sparkling water doesn't need anything added!  It has a crisp bite and a fresh flavour that is delightful on its own.  I've tried it with both tap water and spring water and the results are equally as strong (we do have great tap water here in Vancouver).
Soda  I like that you can add as much carbonation as you can handle.  I add 3 pumps for sparkling water straight up, and 6 pumps for soda with added juice or syrup.  Here's a tip though, add the soda to your glass first, then add the juice or you will get a volcanic explosion of fizz.
Machine  The unit is made from plastic mostly and is quite tall (on the countertop it just clears standard height upper cabinets) but it is very thin so it takes up little room if you want to tuck it away.  I keep it on my counter right near my spring water dispenser so it's easy to whip up soda in seconds.  The plastic casing is lightweight but can be a little rickety.  When I pump the button the casing will pop right off, so I need to hold the unit down with one hand so that it doesn't come apart and a couple of times it has malfunctioned (my fault maybe?) in that water exploded in the machine on the first pump.
Carafes  Included with the crystals are two glass carafes.  Each carafe holds 620ml (about 2 cans of soda) and comes with a fizz-preserving closure which I've had mixed reviews with.  Sometimes I put a half-full (or half-empty if you are a cynic) in the fridge and find it flat a day later.  Other times it still has some fizz after a few days.  I'm not sure why the variation but I'm sure I'll figure it out in time.
Worth the price?  Given the price of the starter kit I wasn't sure I would have bought a SodaStream for myself (it would've been a great Christmas gift though), but now that I have used it, served friends, and invented all sorts of recipes, I'm sold!  I think if you drink a lot of soda, want a healthier option, and want to reduce waste, then it is definitely worth the start up price.  Like many gadgets, I can't imagine going back to the olden days of lugging heavy packs of bottles home and recycling, recycling, recycling.
Soda Stream vs. Soda Siphon:
When I was first thinking of getting a home soda maker, I questioned whether the old fashioned soda siphons (think Italian Soda) would be a good option.  This is the lower cost alternative to the SodaStream out there on the market however the soda siphons require a new CO2 cartridge for every liter of soda.  Here is a comparison:
| | | | |
| --- | --- | --- | --- |
| | Soda Siphon | SodaStream | Perrier 1L bottles |
| starter kit | $44.00 to $89.00 USD | $99.99 – $249.99 CAD $79.95 – $199.95 USD  | $0 |
| CO2 cost per first 60 L of soda | $60.00 for 60 CO2 plugs + shipping costs | Included in starter kit | prices vary so approx. $90.00 (at $1.50/L) |
| CO2 cost per additional 60 L of soda | $60.00 for 60 CO2 plugs + shipping costs | $19.99 for canister refills for 60L + shipping costs | ~ $90.00 |
| carbon expense / waste per 60L | 60 empty CO2 plugs | shipping (if necessary) | 60 empty bottles |
Mixology
Now comes the fun part.  For the creative barkeep, chef or foodie there is no limitation to the flavors you can amplify with bubbles on the tongue.  At your next cocktail party, try serving preserved fruit or pickles in an equal mix of sparkling water and canning liquid.  When my amaretto figs are ready in a month, I plan to serve them this way – with some bite!
If bubbles in your drinks is more your style, below are a few recipes that are part of my fizzy drink repertoire.  (There are also some great recipes here submitted by SodaStream fans.)
1. Make natural soda by mixing one of these flavoured cordials or syrups to sparking water – a refreshing change from cola.
2. Forget chemically flavored water, there are plenty of ingredients in your garden and fridge that'll make delightfully unique flavoured water.  Most brands don't use real anything in their flavouring so be wary of even the gourmet lemon or lime waters.  Try these instead:
Squeeze of lemon, lime, orange, or grapefruit
Sliced cucumbers, beets, or celery
Herbs like basil, thyme, mint, lemon balm, vanilla bean and cinnamon stick.  Try interesting herbs like thai basil or chocolate mint and sweeten with a drop of stevia.
Floating fruit like cranberries, strawberries, blueberries  – these add no flavour but make wonderful garnishes.
3. If, like me, the cocktails in Bon Appetite magazine have you excited to try thier alcoholic concoctions, then raid the liquor cabinet for cocktail ingredients and make 'em fizzy.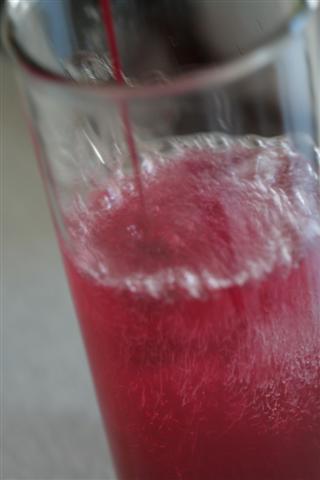 The Final Word
Overall, after testing it out for a few weeks, I would definitely buy a SodaStream.  I probably wouldn't invest in the glass carafe "Crystal" machine at $239.99, instead opting for the less expensive and functionally the same "Jet White" for $99.00.  Although I must admit I do love having glass bottles as I use very little plastic at home to store food.  Whichever one you choose, the SodaStream is economical, environmentally-friendly, healthy, and fun.  Plus, you get to plan for new recipes.  Next on my "To Make" list: blueberry infused vodka, pear syrup, and limoncello to mix with my ohsofizzybubblingsparkling water.
Note: This products have changed since this review was written and the prices are now much lower!