It's still summer, technically, and so I'm still going to eat summer salads. This one is a variation of my Festive Black Bean & Quinoa Salad Recipe using freshly picked produce from the garden – I used purple carrots, french filet beans, leeks and snow peas.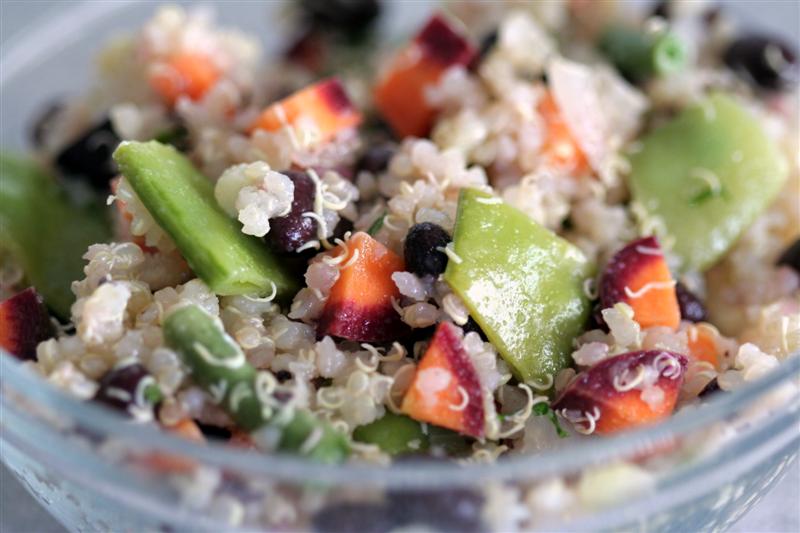 Ingredients:
1-1/2 cups of quinoa
1-1/2 cups canned black beans
1/3 cup carrots, finely diced
1/3 cup snow peas, finely diced
1/3 cup snap beans, finely diced
1/3 cup feta cheese, chopped into small cubes
1/3 cup kalamata olives, pitted and rough chopped
1/2 cup leeks
1/4 cup apple cider vinegar
1/4 cup lemon juice
1/3 cup extra virgin olive oil
Salt and pepper to taste
Cook the quinoa according to package directions, taking care to rinse at least five times before cooking to eliminate bitterness. In a separate pan, saute leeks in olive oil until soft and set aside to cool. Meanwhile combine apple cider vinegar and well-rinsed black beans together in the salad bowl you will be using. Let the beans marinate until the quinoa is cooked and cooled, then drain the beans and assemble the salad by combining the beans, quinoa and chopped veggies. Stir to combine and drizzle with a dressing made of lemon juice and a good quality olive oil. Add salt and pepper to taste. Store in the refrigerator and serve as a healthy lunches or a side dish to chicken or pork.