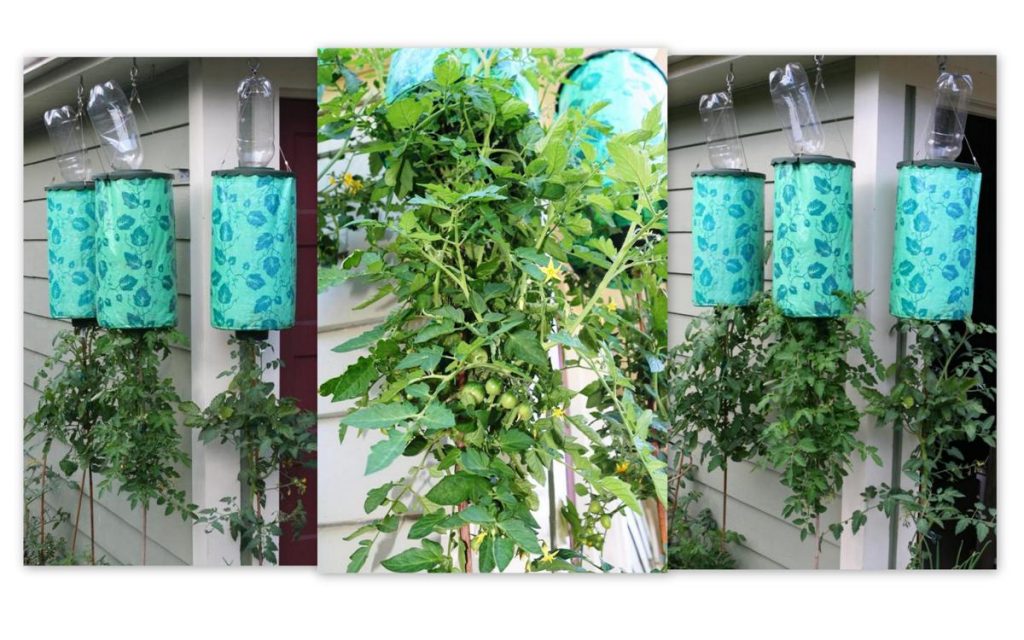 I grew Topsy Turvy Tomatoes last year on my garage.  I put 2 tomato plants (as they recommended) in each of my 3 planters and got only about 15 cherry tomatoes and 4 regular tomatoes. I also tried a zucchini plant which didn't grow any fruit.  I think that there were a number of factors working against me last year: weather, soil, type of tomato, staking, and watering.
Here is how I did it differently this year:
Weather: Last year it was a cold and rainy summer, this year, so far it has been warm and sunny.

DIY VIDEOS
Soil: Last year I used coconut coir and topsoil with a bit of manure, this year I have used ½ compost from my garden, 1/2 organic vegetable mix, and a handful of complete organic fertilizer for each planter.
Type of Tomato: Last year I used 2 types of cherry tomato and a beefsteak.  This year I bought tomato seeds meant for containers because they produce on small plants (Tumbler Cherry, Sweet Heart Grape tomatoes, and Gold Nugget Cherry).  I still have 2 tomato plants in each planter, but this is working a whole lot better this year.  The Tumbler is setting a lot of fruit, and the gold nugget is nice and bushy with small leaves.  The only one that is too leggy and not setting fruit yet is the Sweet Heart Grape.  I got these all at West Coast Seeds.
Staking: Last year the tomatoes grew up towards the sun then got heavy or wind blown and the main stalk would break or crack.  This year, I've staked the plants downwards.
Watering: last year I would water from the top of the planter as recommended, and the water would run right through, taking all the soil nutrients with it and getting soil all over the leaves and fruit.  This year I have put pop bottle watering spikes filled with sand to slow release the water over 12 hours.
The result: so far so good.  After a sunny and average temperature June, I have lots of little tomatoes and steady healthy growth.  No yellowing or drooping, the leaves are bright green, and they are setting fruit in healthy clusters.  My next step will be pruning them.  And the final step? Bruchetta, and salad, and salsa, and pasta, and omelets, and…