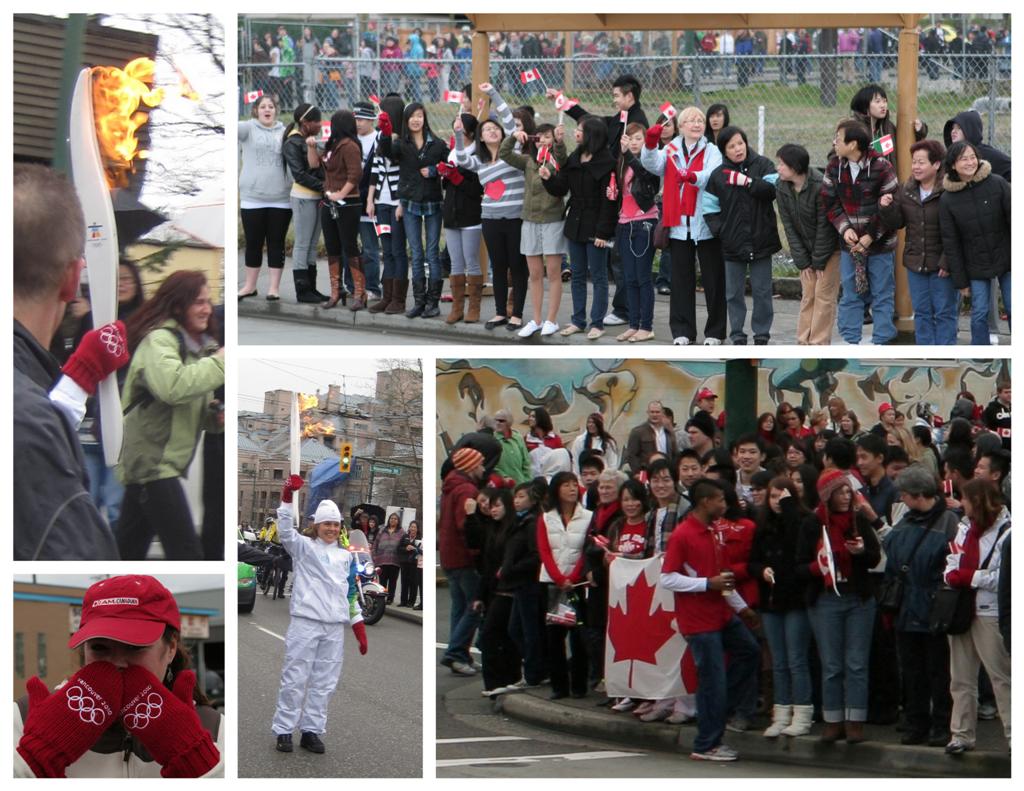 Today is officially the first day of the 2010 Olympic Winter Games here in Vancouver and the energy around town is off the charts.  There are people here for all over the world buzzing with excitement, waving Canadian flags and ready for an amazing party.  The weather has been really warm here, so there has been some concern over the snow levels on the mountains (it is a WINTER games after all) and so while many are braving storms in the East, we are hoping for lots of snow.  Organizers are reporting that they have the snow under control so let's hope so for the athletes' sake.
I did brave the rain today to see the Torch Relay which went through my neighbourhood yesterday and again today. All the kids came out of school to cheer on the torchbearers and the Olympic Flame.  Many wore patriotic red and white, including the famous red mitts which it is altogether too warm for.
Unfortunately some nasty protesters caused the relay to change routes this morning, so I missed it the first time (and so did many of the school kids) but I was able to catch up to it later.  I do hope that protesters aren't going to hamper anymore fun in the city, as most everyone here is ready for a great time.  I know I am and I have my red mitts to prove it!
I'm going to try to find garden related Olympics stories for the rest of this month, but since gardening is pretty much on hold so I can zip line through downtown Vancouver and be part of a Flash Mob on Robson Street, Garden Therapy may just become Olympic Therapy for February 2010.