We had a great start to Garden Therapy Book Club with lots of readers visiting and commenting on the recipes from A Green Guide to Natural Beauty + Mango Citrus Body Butter Recipe and Hemp & Honey Lip Balm. The selection is a book that I've been very excited about reviewing: Weekend Handmade, by Kelly Wilkinson.
On the jacket, it describes Kelly Wilkinson as a "craft designer and journalist" with projects appearing in many stylish blogs like Apartment Therapy and Design*Sponge. Since the title and cover reminded me of the Weekend Project that I post here each week, I was pretty jazzed to dig in.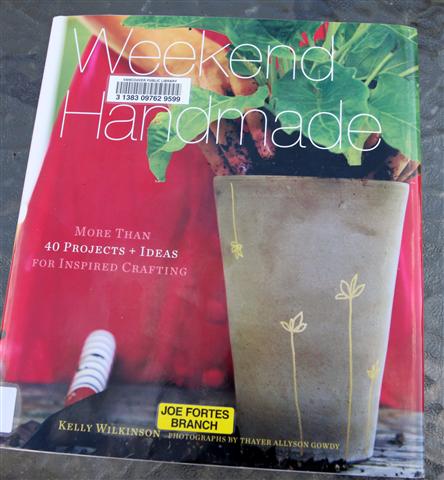 The project tutorials look clearly written with all photos staged with professional models. I thought the photography was beautiful and engaging. The use of models, however, didn't allow me to get much of a sense of who the author is beyond the crafts projects she has created.
The 40 projects are divided into three sections: Make (crafting, sewing), Grow (garden, skincare), and Gather (repurposing items). All three sections seem to be right up my alley but as I read through the book I found that I was really only interested in one project, partially because many of them I have already done like making marmalade and pillows. From my count there are only 30 or projects to choose from, the rest are ideas like "make sun tea" and "forage for supplies".
A couple of projects that I thought looked good but it wasn't the right timing for was making clay plant stakes & the painted pot shown on the cover for gifts (I may do this when I need to give a gift in the future, maybe Mother's Day) and pressed flower candle lanterns called luminaria (would better in summer). There were also a few projects that I didn't like such as the paint chip postcards and foot pocket picnic blanket. In the end, I chose to try the Winter Marsh Trivet given the beautiful photos of the completed project and my past enjoyment with concrete projects.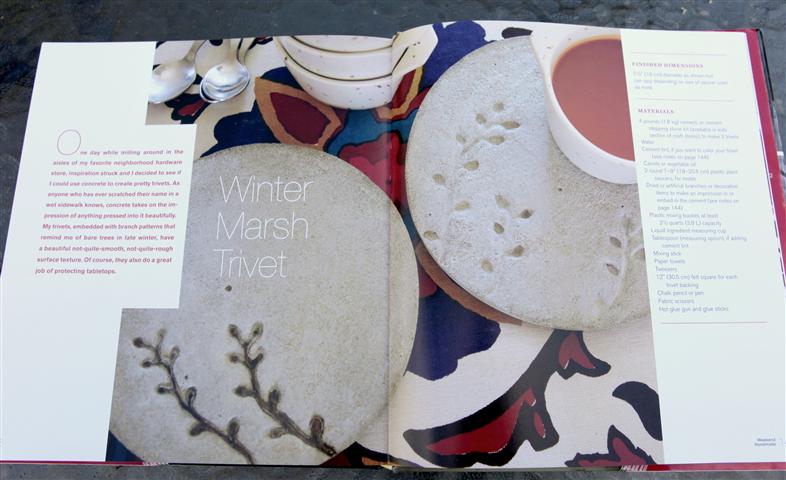 Now, despite my huge success in working with concrete last year, this project, sadly, was a fail. I followed the directions: mix concrete, pour into greased plant saucers, press branches into concrete to imprint twig, let dry, cut a felt circle and glue to bottom = trivet.
The type of concrete was not specified in the materials list, so unfortunately I just bought what I used for the planters, standard concrete, which has various sizes of gravel in it. Since I don't use concrete often, I didn't realize there were other kinds with less stones, and that's what was needed for this project.
In the end, I couldn't really press a twig, pinecone, or leaf into the rocky concrete so I did my best and let it dry. Here is how they turned out.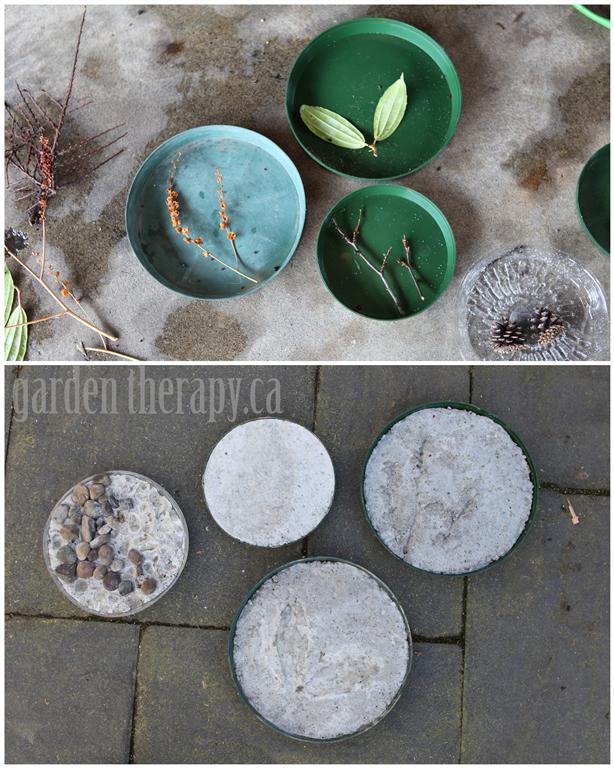 The back sides look a bit better, but not much.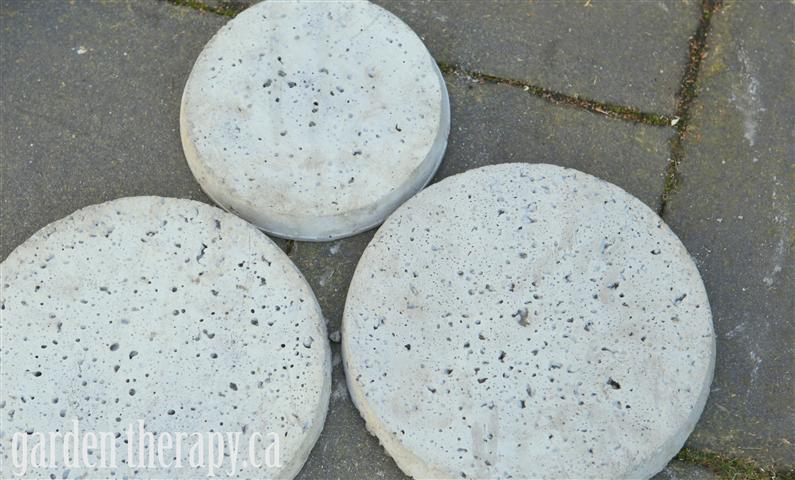 So I've stored them away to use as garden stepping stones when I need some.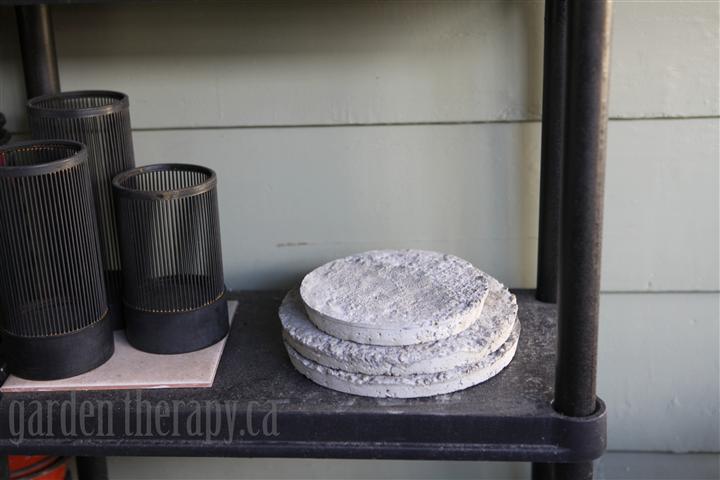 I did end up pressing some river stones into one of the moulds and while they all didn't stick, I don't mind the look. I thought that it would look pretty nice with some moss growing on it so I set it into the garden bed to await inoculation.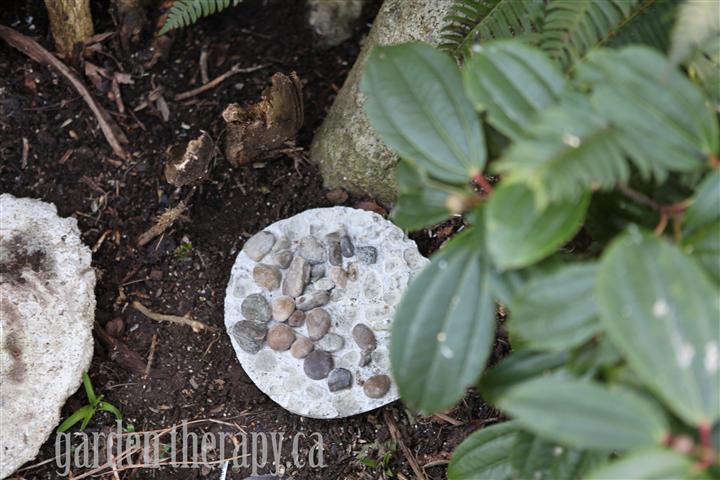 It can keep the big leaf hosta stepping stone company until then.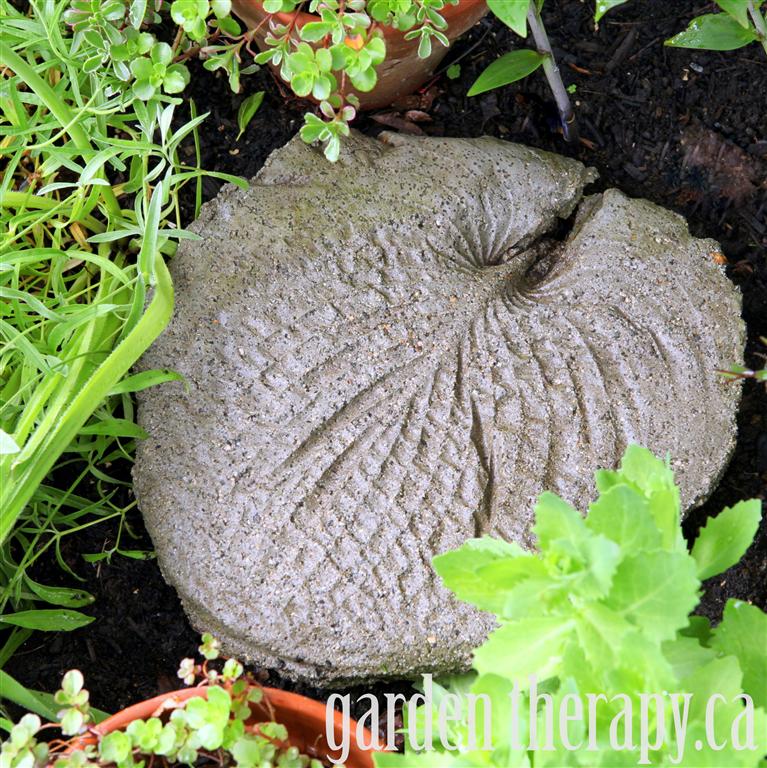 I'm sorry that I don't have dazzling project to show for you from Weekend Handmade, but that's life, not every project is a winner. And it's from our failures that we learn to be great. The next book is Terrarium Craft which I have been super jazzed about since it arrived. Please grab a copy from your library or bookstore and join me in a project or two.