For this weekend's project, we took a bunch of golden hops and tucked them into grapevine wreath. With a crow nestled in it has just the perfect balance of "festive" and "ominous" to become Halloween décor.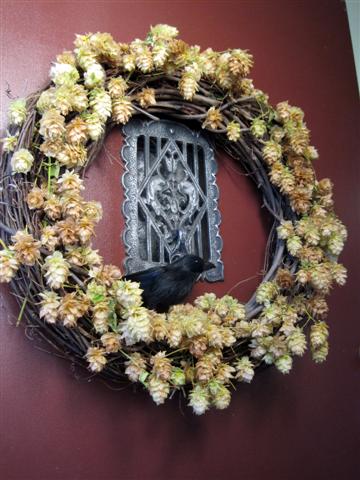 Without the space to grow hops in our small, urban garden, we were excited to receive a gift of freshly cut hops from the country. the Golden Hop Vine (Humulus lupulus 'Aureus') is a vigorous-growing deciduous vine and the prettier sibling of the common hops used to make beer. The cone-shaped flowers are green in the summer but when it's time to cut the vine back in the fall, the flowers start to turn. The flowers arrived a pale yellow, but have dried to a rich golden colour. If you are lucky enough to get your hands on some hops, here are the instructions on making your own Halloween Hop Wreath.
Materials:
grapevine wreath
golden hop stems
scissors
Halloween decoration (crow or other)
Step 1: Pick out strong stems  3″-6″ long with clusters of hops at the ends. Snip off the leaves and flowers at the base of each stem, enough so that the stem can inserted into the wreath and hold.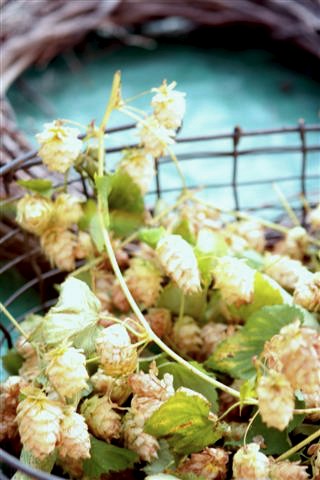 Step 2: Starting at the inner bottom edge of the wreath, tuck each stem into the web of grapevine branches, enough so that when the wreath is hung they will not fall out. Insert the stems around the grapevine wreath from inner bottom edge of the form to the upper top edge. As the hop flowers will hang once mounted upright, this will ensure that the wreath will look symmetrical. A good practice is to periodically lift the wreath to its finished position to check the arrangement. Give it a light shake at the same time to remove any flowers that are loose.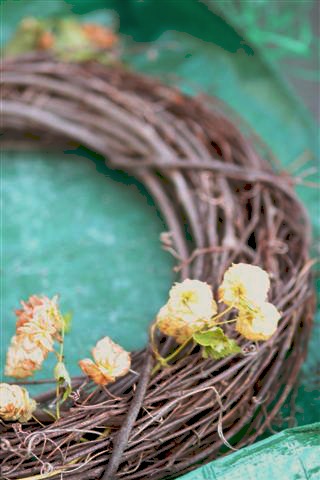 Step 3: Use your creativity to decorate the wreath for the season. We used a crow but a spider, rat, or even a severed hand would have been just as compelling.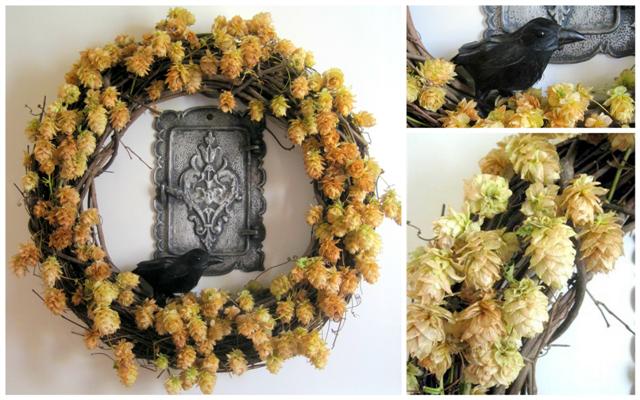 Step 4: hang your wreath and enjoy the flowers as they deepen in colour and release the most delicious hop aroma.