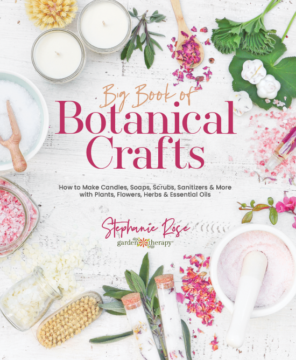 Big Book of Botanical Crafts
How to Make Candles, Soaps, Scrubs, Sanitizers & More with Plants, Flowers, Herbs & Essential Oils

In the Big Book of Botanical Crafts, find 30 recipes for easy and inexpensive natural cleaners, beauty products, and candles. With detailed step-by-step instructions and tips for branching off to make your own products, you'll quickly find your passion in self-care!
Replace the unrecognizable ingredients and chemicals from your skincare and cleaning products. Fill the air with the smell of natural essential oils, all while harnessing the healing power of plants. You're nurturing your body and mind by taking the time to destress with these products through creation and use!
Book available for Pre-Order at:
Join one of my Free email courses!
Natural skincare
made easy!
This FREE 5-day mini course will teach you the small changes you can make to your skincare practices that will make a HUGE difference in how you feel.
I want the free course!
Kickstart
your garden!
This FREE 5-day mini course will help you set up a thriving garden for wellness and joy, quickly and easily.
I want the free course!