Love what you see here on Garden Therapy? Guess what, there's more! In addition to the 800+ projects here on the website, I have a number of books available in either hard copy or digital eBook.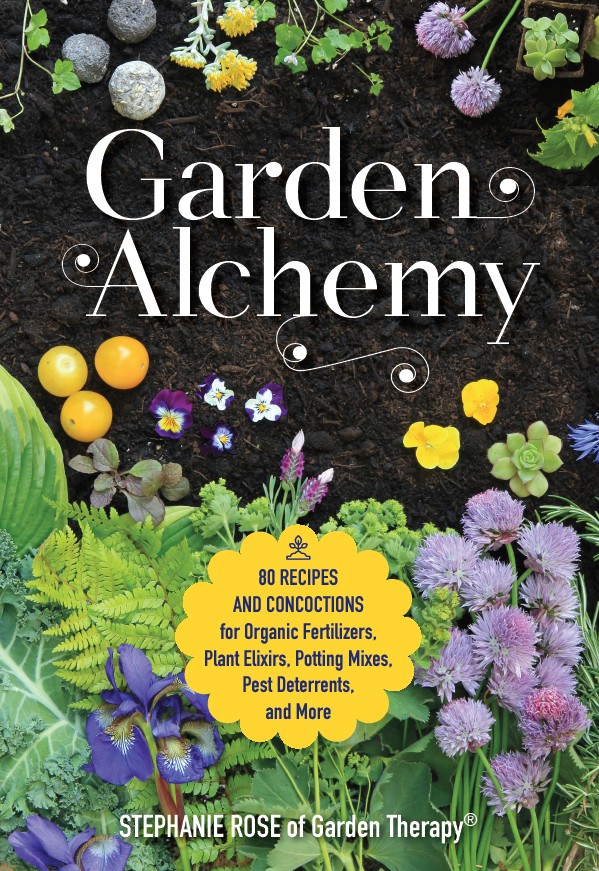 Garden Alchemy: 80 Recipes and concoctions for organic fertilizers, plant elixirs, potting mixes, pest deterrents, and more.
Garden Alchemy is a hands-on guide for do-it-yourself gardeners who want to turn their garden into gold using natural recipes and herbal concoctions (while saving both time and money!). This gardening recipe and project book is packed with over 80 ideas to naturally beautify your garden, using organic methods that regenerate your soil and revitalize your plants. By following the processes that are closest to nature, it brings the gardener in sync with the garden, allowing plants to thrive with less effort and less cost.
"Equipped with a copy of Rose's new book, gardeners will feel confident that they're ready to tackle any problems that come up. Soil or fertilizer recipes needed? Check. Pest control problem? Double check. Propagation or composting question? She's got you covered." —Shannon Cowan, EarthEasy.com
"I think this book deserves a spot on the bookshelf, or better yet, in the potting shed, where the recipes will soon be as dog-eared and annotated as any of your favorite cookbooks." —Gardener's Path
"Rose's comprehensive yet compact book will profit beginning and advanced gardeners alike." —Publishers Weekly
Read more about Garden Alchemy and see where to buy it in your country.

Calling all garden do-it-yourselfers! Garden Made: A Year of Seasonal Projects to Beautify Your Garden and Your Life is an award-winning book with over 40 down-to-earth project ideas. You'll be busy every season of the year with DIY's ranging from homemade seed paper to holiday wreaths. Every project is easy to follow, colorful, crafty, and all feature DIY projects made from the garden or for the garden. Express your love for the garden and have fun while doing it.
Garden Made was the Gold Medal Winner of the 2016 IPPY (Independent Publishers Book Awards) in the Home and Harden Category.
"Garden Made, by author Stephanie Rose combines her passion for gardening and crafting to create beautiful pieces that will liven up any indoor or outdoor space." —Made By You Magazine
"These crafts make garden art fun and functional." —Country Woman Magazine
Read more about Garden Made and see where to buy it in your country here.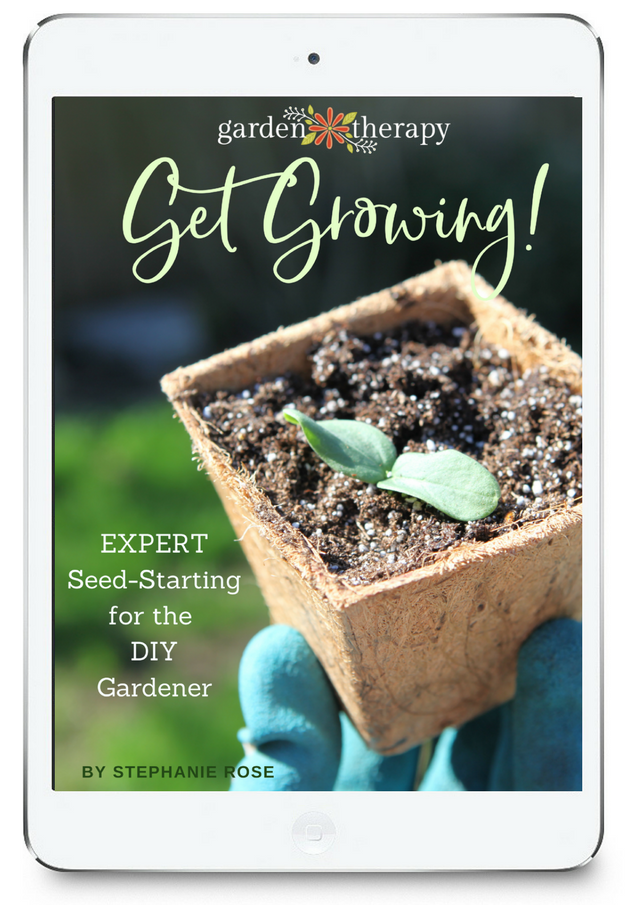 Every good gardener knows it all begins with a single seed. Inside Get Growing! Expert Seed-Starting for the DIY Gardener you will find everything you need to know about starting seeds both indoors and outdoors, with helpful advice every step of the way, from buying your seeds to germination to caring for your plants as they reach full maturity.
You'll also find out how to grow all sorts of different plants from seed, including vegetables, both annual and perennial flowers, and even lawn. Imagine all that you can create with just a tiny seed!
This guide is for seasoned gardeners and complete beginners. It comes from years of growing and trial and error so that all my readers can start their garden off on the right seed.
Read more about Get Growing! or get instant access to it on your computer now.
The Natural Beauty Recipe Book is your guide to creating your own organic beauty products!
Creating your own products is a pathway to healthier, more beautiful skin. Say goodbye to artificial fragrances, chemicals, and preservatives from store-bought products and hello to natural beauty. Replacing synthetic products with natural ones is better for your health, the environment, and your wallet.
Inside, there are 45 easy to follow recipes that are perfect for all ages and skin types. If you suffer from dry or oily skin, eczema, blemishes, or other common skin issues, trying out the natural recipes in this book may make a world of difference for you.
Read more about The Natural Beauty Recipe Book here.
Get instant access and purchase online here.
Buy a print copy at Amazon.ca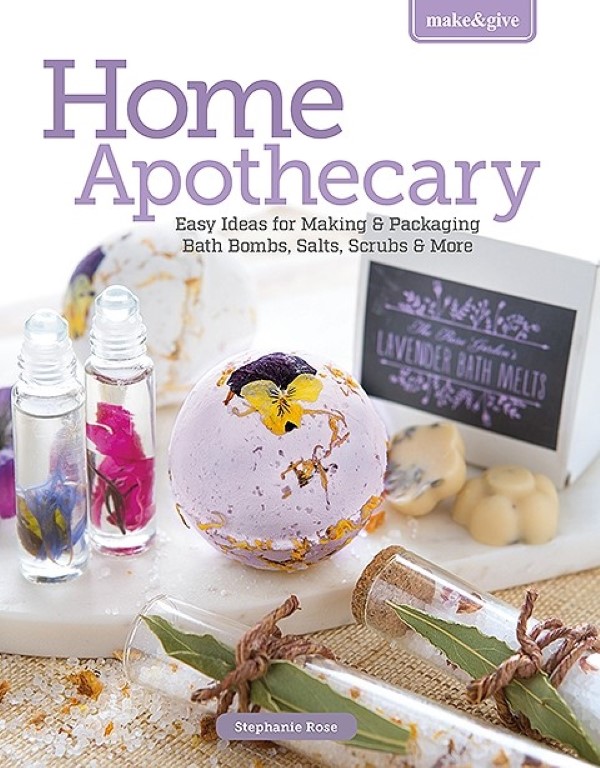 Want to make your own beauty projects? Make & Give Home Apothecary: Easy Ideas for Making & Packaging Bath Bombs, Salts, Scrubs, & More contains all-natural bath and skincare recipes that are easy to make and customize to your personal preferences. Using ingredients grown and harvested from my garden and supplies from my home apothecary, I came up with 12 gorgeous foundation recipes that can be used as the starting point for hundreds of unique creations. At the end of each recipe, there are also packaging ideas to create beautiful gifts. Friends and family would be delighted to receive these handmade gifts!
Read more about the book here and see where to find it in your country.
Get a print or digital copy worldwide from Leisure Arts.
Buy at Amazon.com, Amazon.ca
Are the holidays coming up? Try my Botanical Beauty Holiday Gifts Workshop! Throughout the course, I go through some of my favourite recipes from Make & Give Home Apothecary. Plus, you will get a free digital copy of the book!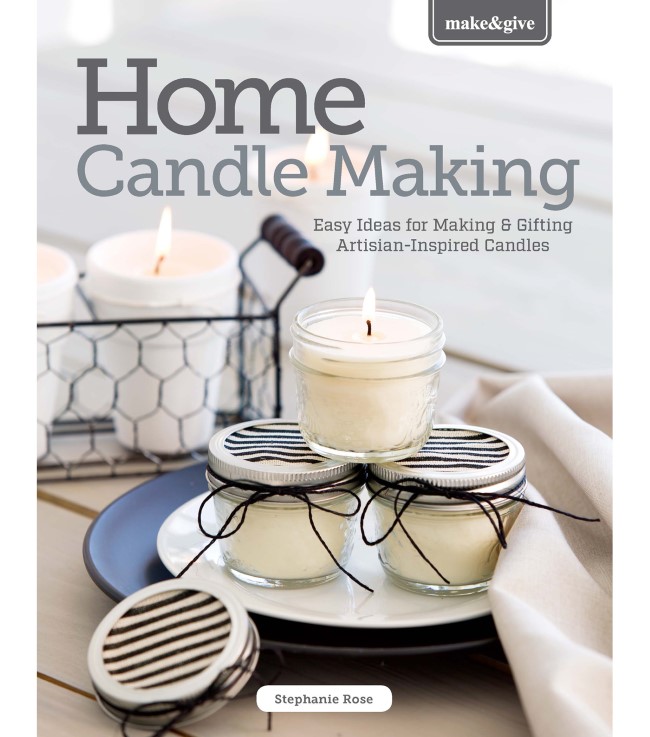 Make & Give Home Candle Making is designed for those who want to dive deep into the fun and warm world of home candle making. From wax and wick selection to melting techniques, this book takes you through the basics of candle making. Try one of the 12 artisan-inspired candle projects or learn to experiment with the different candle making techniques all on your own. Once you are finished crafting each stunning candle, there are also a ton of gift wrap ideas to personalize your candle gift. Of course, you can always make one for yourself as well!
Warning: DIY candles will become your new obsession and all your friends are going to ask for one.
Learn more about Make & Give Home Candle Making here.
Get a print or digital copy worldwide from Leisure Arts.
Buy at Amazon.com, Amazon.ca, Amazon.uk, Amazon.au
Yes, you can make stunning soaps right at home!
Good Clean Fun teaches you how to make your very own beautiful handcrafted soaps using natural ingredients. Throughout the book, you'll learn the basics of the melt and pour soap making technique. With 15 soap projects inside, explore a ton of techniques to make your very own artisanal soaps. You'll learn how to use botanicals, essential oils, and even wild animals to spice up your soap.
The soaps will look so amazing that people won't believe you crafted them yourself. Melt and pour soap takes away the complicated steps of making soap at home. If you have a knife, spoon, and microwave, you can make gorgeous soap at home!
Read more about Good Clean Fun: THE Idea Book for Creative Melt and Pour Soap Projects.
Get instant access and purchase Good Clean Fun here.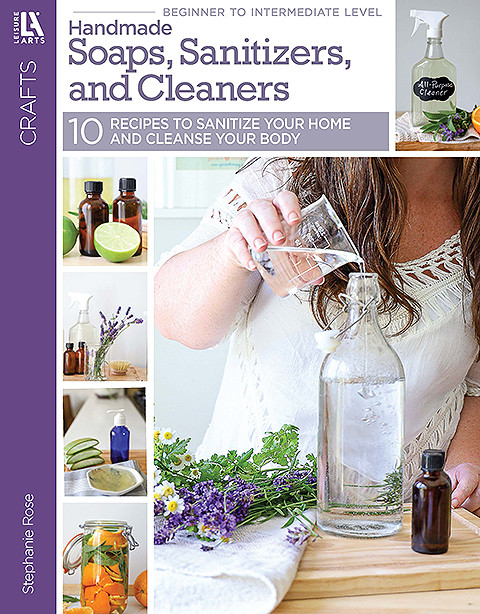 Powerful cleaners can be made right at home. Handmade Soaps, Sanitizers, and Cleaners: 10 Recipes to Sanitize Your Home and Cleanse Your Body is filled with ten recipes you can use to deeply cleanse throughout the home.
The plant world is powerful and we can utilize plants to naturally and effectively keep our home clean and sanitized. Add therapeutic scents and skin-soothing properties with your preferred herbs and essential oils all with my helpful guidance. Trust me, your homemade products are going to be so much more enjoyable than anything store-bought!
Buy it online at Amazon.ca or order a print copy from Leisure Arts.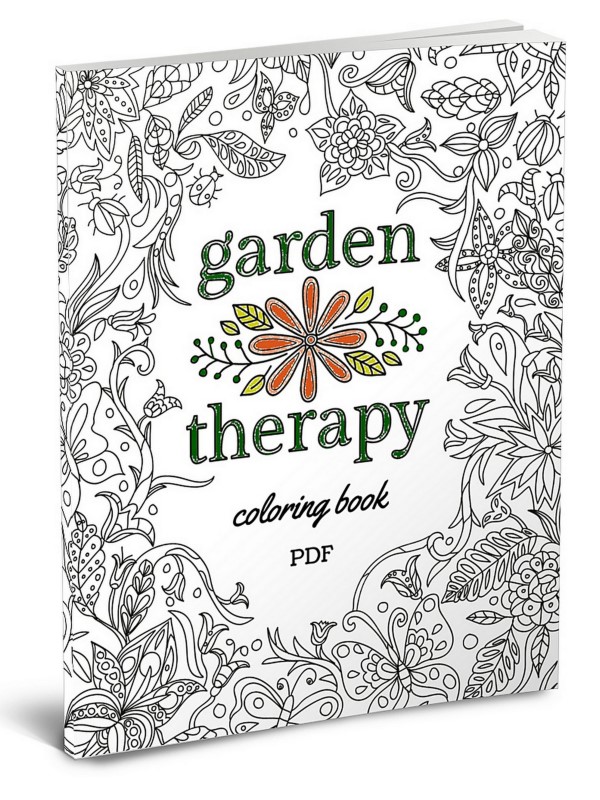 The Garden Therapy Coloring Book was created for all of the garden lovers out there who want to enjoy creating a beautiful garden when the sun has set or the snow has fallen. Working with a variety of artists, I commissioned ideas of scenes that would appeal to gardeners. The results are really interesting botanical designs, different artistic styles, and a really fun coloring experience.
You can even sit and color in the garden, using the blooms, sounds, and fragrances to inspire how you interpret each page.  There are 14 coloring pages to help you relax and unwind with beautiful flowers and foliage.
Read more about The Garden Therapy Coloring Book and how to print your own copy.
---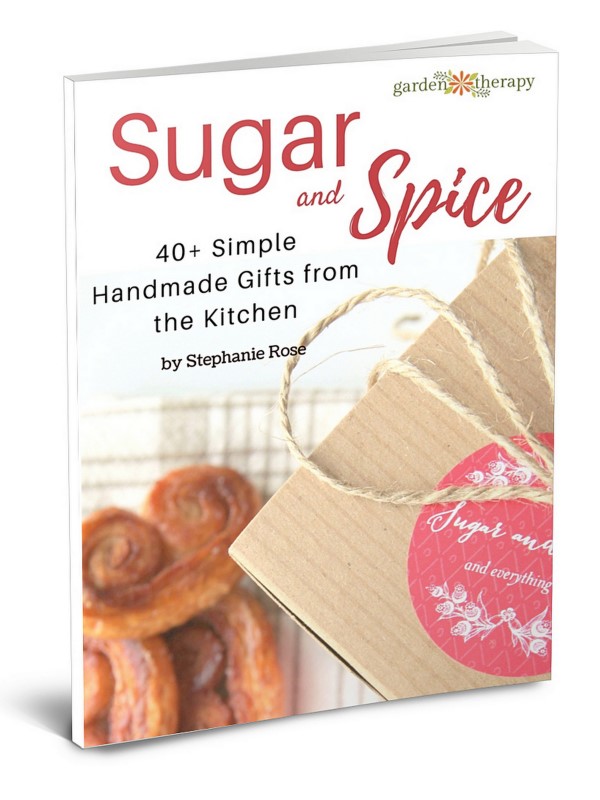 Looking for a gift idea for that special someone? The answer is right in your kitchen! Sugar and Spice: Handmade Gifts from the Kitchen is a comprehensive idea book that includes over 40 simple handmade gifts to cook up and give away.
Whether you're under a time crunch or can't seem to find a good gift idea, there are a ton of thoughtful edible gifts inside that anyone would be overjoyed to receive. All the gifts can be made quickly using materials and ingredients you already have in your kitchen or are available at the supermarket down the road.
Read more about Sugar & Spice here or get instant access and purchase here.
Want a sneak peek of what's inside? Get started with your kitchen creations and check out one recipe from each chapter here.
I hope these books give you some inspiration and help you find joy in the garden, kitchen, and craft studio. There are plenty more creative projects right here on the site as well! Take a virtual tour of Garden Therapy and sign up for our weekly newsletter for even more garden tips, crafty projects, homegrown recipes, and plant-based skincare.