These gluten-free, dairy-free, nut-free, vegan recipe for carrot cupcakes is so delicious you will want to gobble up the whole batch. Oh, and they even come with a recipe for frosting that is too yummy for words! Don't worry though, these are so healthy that you can snack away without the guilt.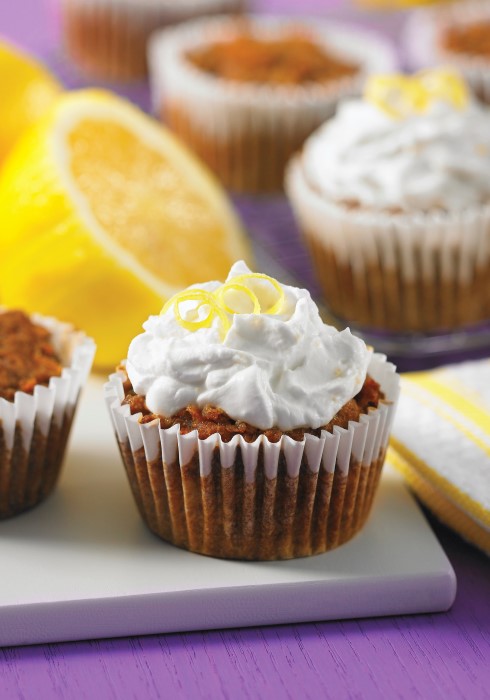 You can feel good about these cupcakes because recipe comes to us from the healthy cooking guru and author of The Complete Coconut Cookbook: 200 Gluten-free, Grain-free and Nut-free Vegan Recipes Using Coconut Flour, Oil, Sugar and More, Camilla V. Saulsbury.
It's time to eat cupcakes for beauty's sake — just make sure they are these carrot cupcakes. Carrots have high levels of beta carotene, which acts as an antioxidant to help repair the cell damage that occurs through daily living. Vitamin A further protects the skin from sun damage, premature wrinkling, acne, dry skin, pigmentation, blemishes and uneven skin tone.
Makes 12 cupcakes
Preheat oven to 350°F (180°C)
12-cup muffin tin, cups lined with paper or foil liners
Ingredients:
2⁄3 cup coconut sugar 150 mL
2 tbsp psyllium husk 30 mL
1⁄3 cup well-stirred coconut milk 75 mL
(full-fat)
1⁄3 cup melted virgin coconut oil 75 mL
1 tsp gluten-free vanilla extract 5 mL
1 tsp white or cider vinegar 5 mL
1⁄3 cup chickpea flour 75 mL
21⁄2 tbsp coconut flour 37 mL
2 tsp potato starch 10 mL
3⁄4 tsp baking soda 3 mL
1⁄4 tsp gluten-free baking powder 1 mL
1⁄4 tsp ground cinnamon 1 mL
1⁄4 tsp ground ginger 1 mL
1⁄4 tsp fine sea salt 1 mL
1 cup finely grated peeled carrots 250 mL
1⁄4 cup dried currants or raisins 60 mL
Whipped Lemon Coconut Cream*
Directions:
In a medium bowl, whisk together coconut sugar, psyllium, coconut milk, coconut oil, vanilla and vinegar. Let stand for 5 minutes to thicken.
In a large bowl, whisk together chickpea flour, coconut flour, potato starch, baking soda, baking powder, cinnamon, ginger and salt.
*Recipe for Whipped Lemon Coconut Cream:
Add 2 tsp (10 mL) coconut sugar, 11⁄2 tsp (7 mL) finely grated lemon zest and 1 tbsp (15 mL) freshly squeezed lemon juice to ¾ cup (175 mL) coconut cream near the end of whipping.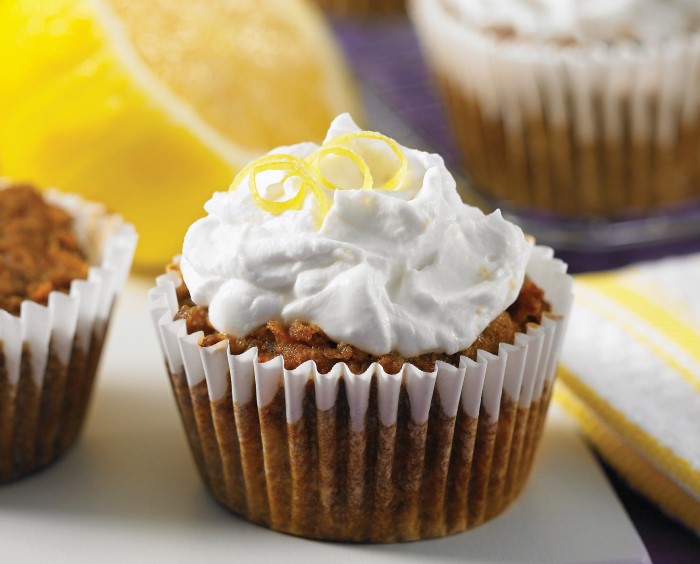 Tips:
An equal amount of parsnips can be used in place of the carrots.
Other dried fruits can be used in place of the currants, or you can omit them altogether.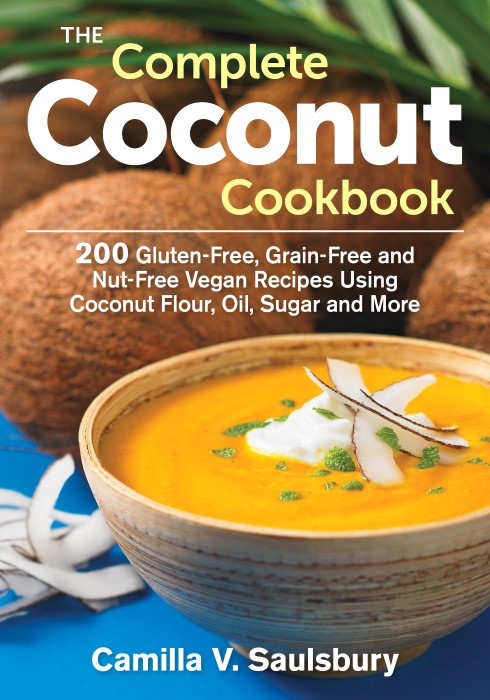 Reprinted with permission from The Complete Coconut Cookbook by Camilla V. Saulsbury, 2014 © Published by Robert Rose. Photography courtesy of Robert Rose.