Keep lips kissable and soft with this healing honey lip scrub. I make this recipe specifically for my lips when they get dry throughout the year. Summer sun, cold winter air, and everything in between can cause chapped, dry, or inflamed lips, but with this recipe you can say goodbye to dry, painful lips forever! Honey is a natural antibacterial that heals, sugar scrubs off any dry skin, and the oils moisturize.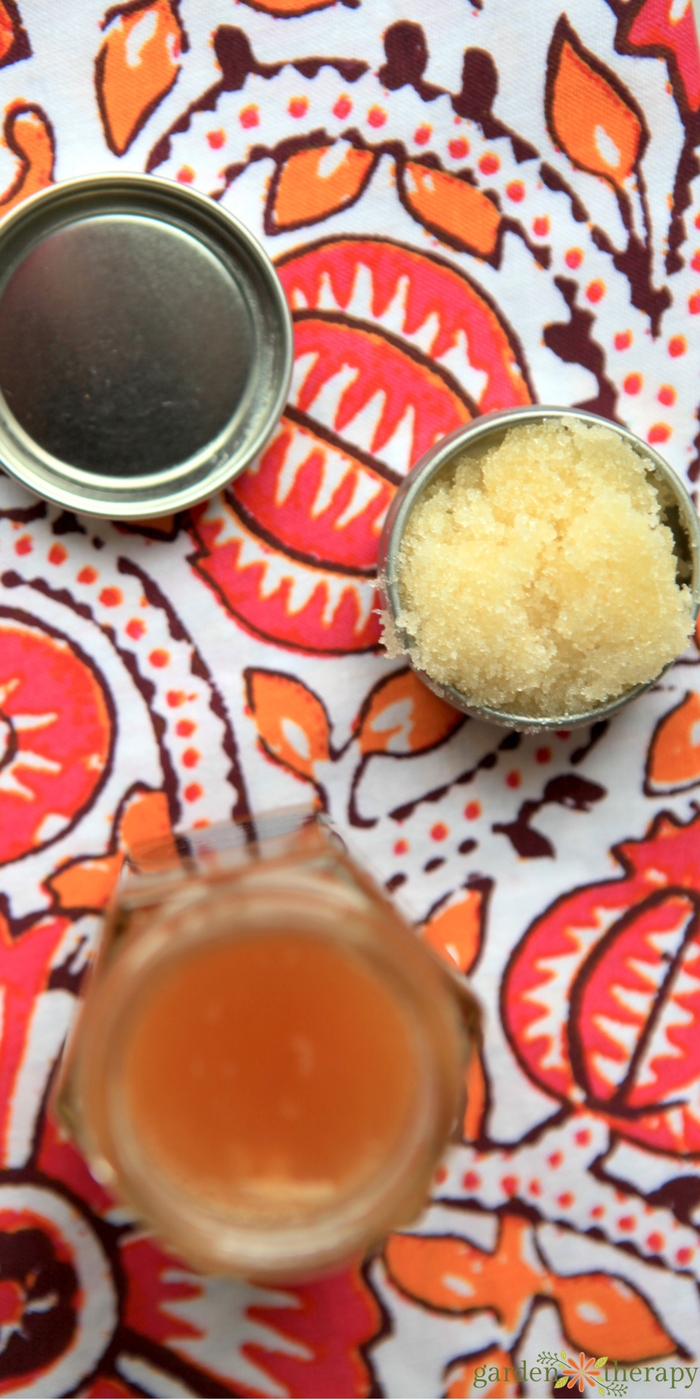 Manuka honey is collected from bees in New Zealand that pollinate manuka bushes. Look for raw organic honey with a UMF factor of 15 or more as this will have the most antibacterial properties. The antibacterial nature of honey comes from methylglyoxal (MG). MG is present in all honey but it can be found in much larger concentrations in manuka honey. Manuka honey is also a powerful anti-inflammatory, which is important when treating chapped or sun-damaged lips, and so I decided to make this honey lip scrub with manuka honey.
Manuka Honey is Antibacterial
There are three properties of manuka honey that make it so powerful against bacteria. It has hydrogen peroxide in it, osmotic pressure, and methylglyoxal.
Our bodies naturally eliminate hydrogen peroxide with an enzyme called Catalase that converts it to water and oxygen. This means that the antibacterial effects of regular honey are short-lived.
On the other hand, raw manuka honey has high osmotic pressure and the superpowers of methylglyoxal. The high osmotic pressure means the concentration of sugar to water is really high. It basically sucks the water out of bacteria and other organisms.
The really amazing thing about raw manuka honey is the methylglyoxal. This is an antibacterial action that is not blocked by the human body's natural defenses.
Manuka honey is also said to help prevent and treat cold sores for the same reasons described above. Lips stressed from sun or dryness are most prone to cold sore flare ups, so keeping your lips in good health will help to prevent blisters. Using manuka honey in a scrub and then a lip balm (see hemp and honey lip balm recipe here) can help to keep cold sores at bay. If you do get one, dab a little honey directly on it and take a tablespoon orally each day. This sweet treat will help you fight the virus.
Materials 
Make it!
Mix all ingredients together well and store in a small, airtight container.
Apply a pea-sized amount to lips and massage in until the sugar has dissolved. Rinse with cool water and a cloth. Apply the lip balm of your choice (many natural recipes can be found here).
Store in the fridge for up to 30 days.