It's important to label your plants so you know what's what in the garden, but sometimes plant labels can be distracting, flimsy, or just plain ugly. These charming metal tags are super practical and have a clean, sleek look that compliments plants but doesn't overshadow their natural beauty. Here is everything needed to make this modern take on metal stamped plant tags, which can also be used to label trees.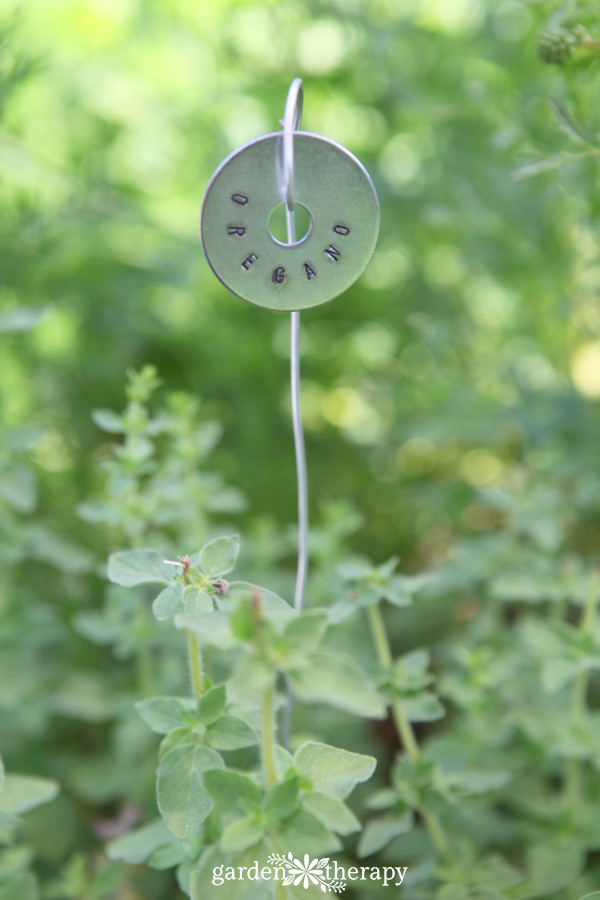 An espaliered apple tree is the perfect way to grow a number of varietals of fruit in a small space.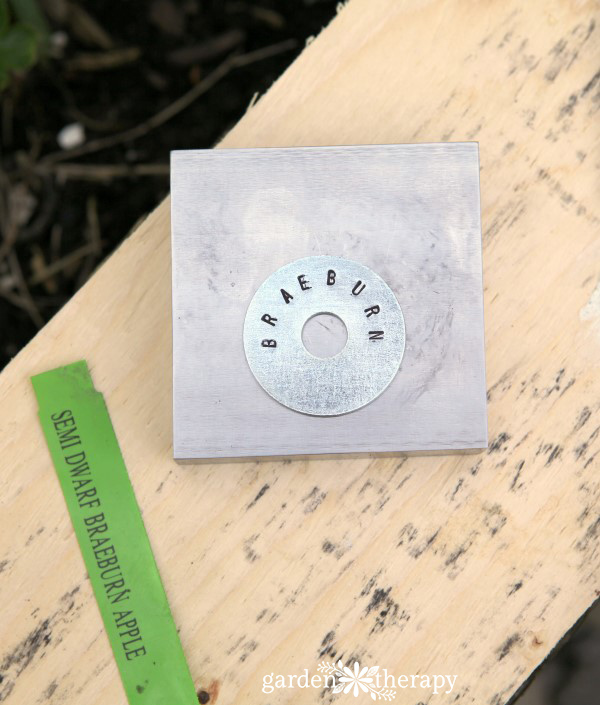 On my tree, there are 6 different kinds of apples on 6 different grafted branches: Fuji, Braeburn, Red McIntosh, Gala, Jonagold, and Gravenstein. In order to produce fruit, most varieties of apple require pollination by another variety that flowers at the same time. For example, McIntosh cannot set fruit by itself but it will pollinate other early-blooming varieties such as Gravenstein. So, while I may not be jazzed about Red McIntosh as an apple, I like having a branch grafted on my espalier because it serves its purpose well by helping the Gravensteins get the pollination they need.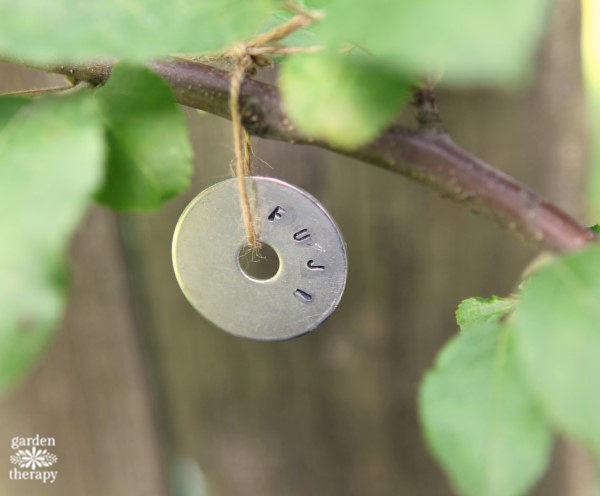 What didn't serve its purpose well were the brightly colored plastic tags that identified each branch. You can see them in the background of the pea trellis project. Ick! A trip to the hardware store provided the supplies and inspiration to make more modern and subtle tags with some washers, galvanized wire, and a metal stamp set.
How to Make Metal Stamped Plant Tags
Materials:
Washers
Wire cutters
Needle-nose pliers
Hammer
Black permanent marker
Steel wool
Twine
Earplugs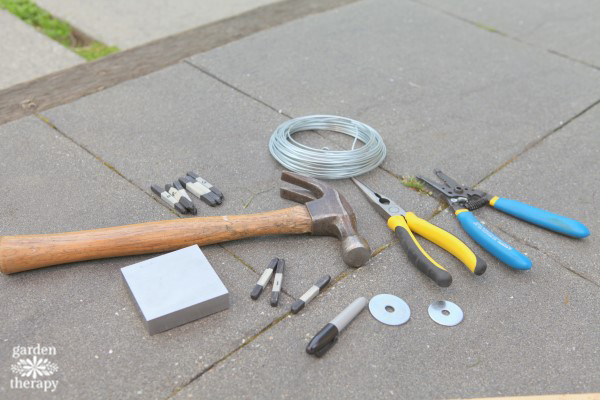 Make it!
Using the permanent marker, mark small dots on the washer where you want your letters to be. If you position the letters along the bottom they will read upright when hanging.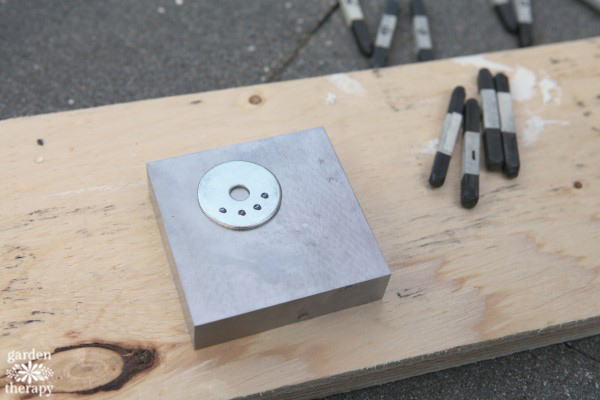 Don your earplugs (hearing safety first!) and put the washer on the steel block. Choose a letter stamp and position on the first dot. Hammer hard without moving the letters out of position for about 10 strikes. That was the magic number for me to get them deep enough.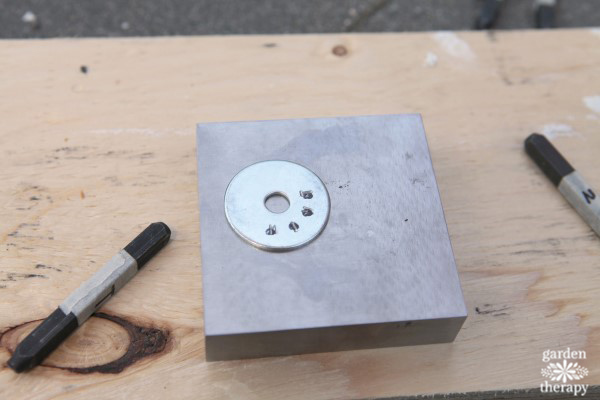 When the name is complete, color in the newly stamped letter with the marker and then scuff off the excess with the steel wool. This will darken the letter and help it to stand out.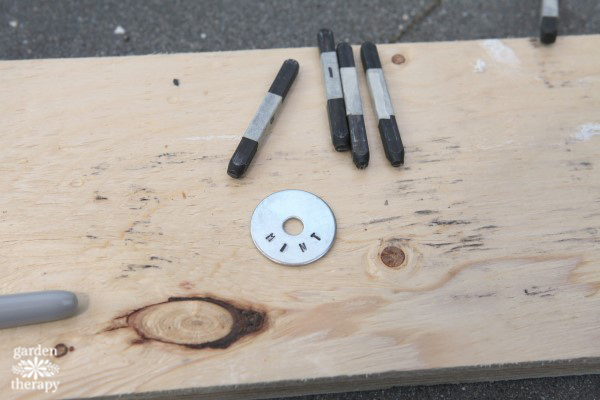 You can either hang the washer now with some twine or make a stake from the metal wire for ground plants: cut a length of wire 6″ longer than you want it to stand above the soil. Bend the bottom of the wire with the needle-nose pliers into a v-shape. This will create stability in the soil.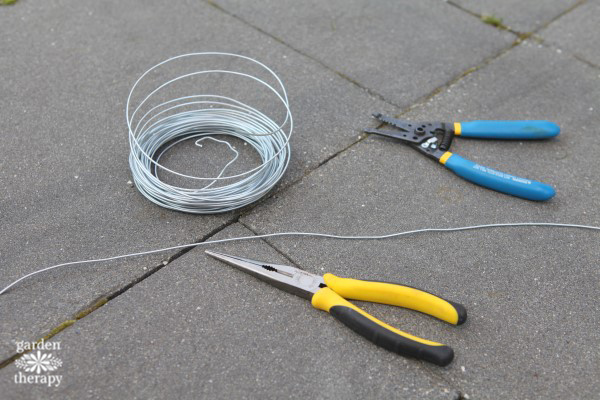 Curl the top of the wire around the washer into a decorative shape, again using the needle-nose pliers.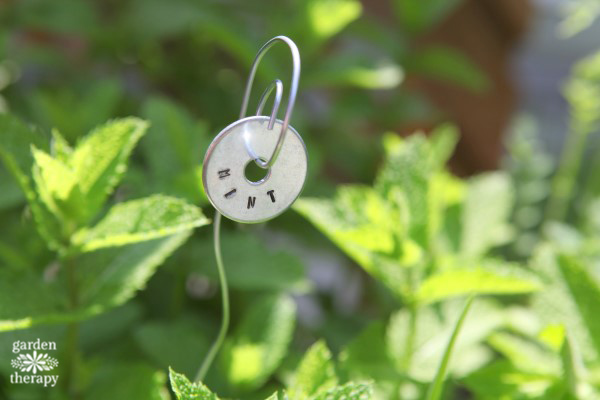 Use your plant tags to identify fruits, herbs, or just about any plant you want to remember the name of. To use these labels on a fruit tree, simply loop some twine through the center and hang from a branch.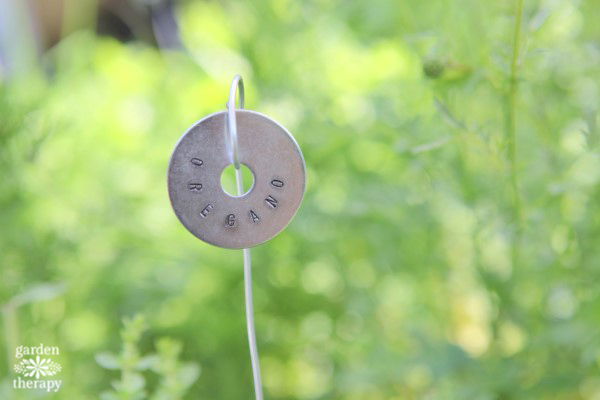 If you like the idea of growing your own espalier fruit tree, visit your local nursery in the winter (or when they are dormant). Since dormancy is the best time to plant a new tree, the stock levels will be more available. It will take a few years before you start getting fruit, but don't be discouraged. When they do start to produce it's a joy to have beautiful edibles as fences or on a trellis, to dress up a space and feed your family. Plus they are easy to pick and prune when kept low to the ground.