Ever had those pumpkin scones at Starbucks? Here is a recipe for a much healthier version that is so much better with a flaky texture due to the special mixing technique. These are best hot from the oven – so freeze half of them after baking, and warm in an oven at 350°F until just crunchy on the outside and warm on the inside. If you make this recipe I would very much appreciate if you leave me a comment and tell me how it turned out.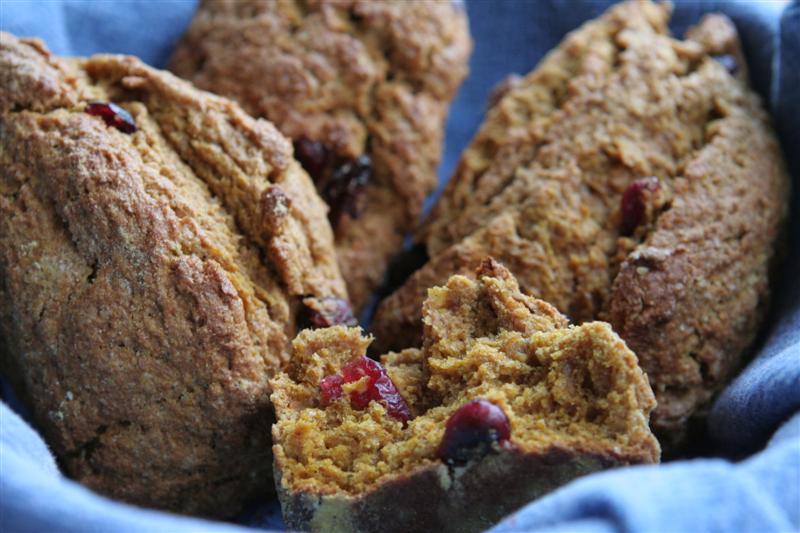 Ingredients
4 cups organic whole wheat pastry or all purpose flour
1 cup brown sugar
1 tablespoon baking powder
1 teaspoon ground cinnamon
1/2 teaspoon ground nutmeg
1/4 teaspoon ground cloves
1/2 teaspoon ground ginger
3/4 cup cold butter
1 cup canned pumpkin
4 tablespoons black strap molasses
6 tablespoons half-and-half
2 large eggs
1 cup cranberries
1 cup walnuts
Make it!
Preheat oven to 425°F and line a baking pan with parchment, then sprinkle it with flour. Combine the dry ingredients in a large bowl. Add the butter and with fingertips, pastry knife, or food processor gently cut the butter in until it is well combined and resembles course crumbs. Some lumps are fine. In a separate bowl, beat the eggs, cream, pumpkin and molasses. Add to the dry mixture and gently combine. Gently fold in walnuts and cranberries until just mixed.
Shape the dough into 2 equal balls and flatten to 3/4″ thick on the floured parchment or pan. Using a knife, slice each circle into 6 wedges and carefully pull the wedges away from the center to separate them to 1/2″ space around the outer edges. Optional: brush each scone with milk and sprinkle with  sugar for a sweet and crunchy top. Bake until golden about 16 minutes, or until a tester comes out clean when inserted in the middle.
Makes 12 extra large scones