A birdhouse is meant to last / to weather / to improve as it provides a nest outdoors for some lucky feathered friends. I decorated this wood birdhouse with those thoughts in mind as I participated in the Home Tweet Home charity challenge for the BC Home & Garden Show. (PS: This isn't my first year decorating a silent auction item for charity. Remember my Gnome from last year?)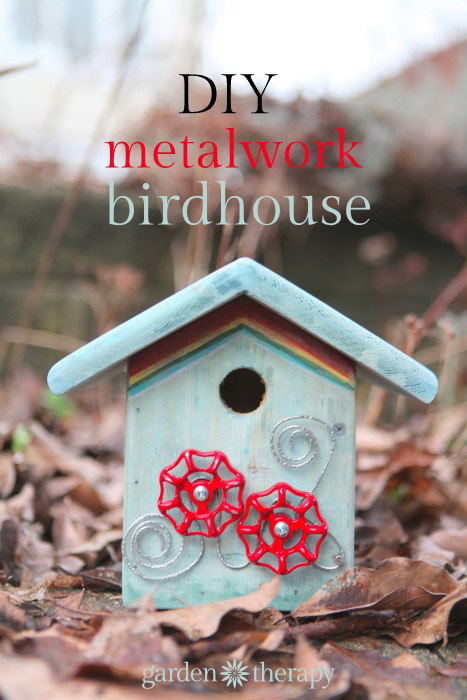 Visitors to the BC Home + Garden Show can participate in a silent auction of bespoke birdhouses, each handcrafted by a local influencer – and inspired by a drawing of a dream home as imagined by young beneficiaries of Ronald McDonald House British Columbia. All silent auction proceeds directly benefit Ronald McDonald House British Columbia.The designer of mis only 12 years old and I tried my best to interpret her vision by using hardware and metal elements that will stand the test of time.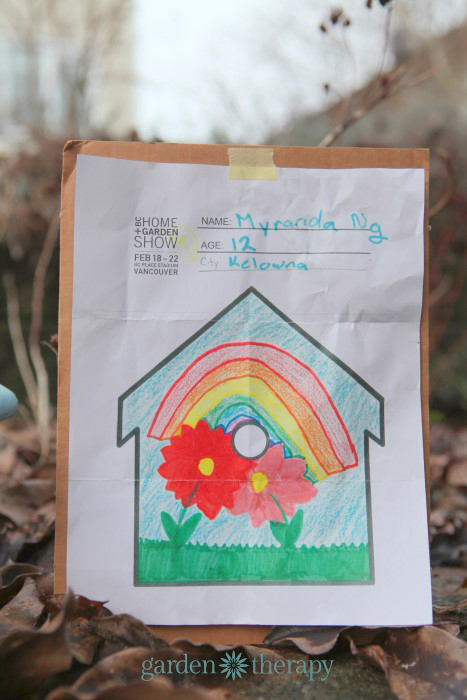 Here is the photo of the cheerfully-decorated, rainbow birdhouse designed by Myranda Ng of Kelowna. My aim was to make a practical birdhouse that would last outdoors but also stay true to the design. The wood was stained blue, white washed with paint, and then the rainbow was painted just under the roof. The finish was then sanded to give the wood a distressed look. I added metal faucets as flowers, so that the birds can perch on them as they come and go. The finishing touch was to add a hammered metal decorative vine.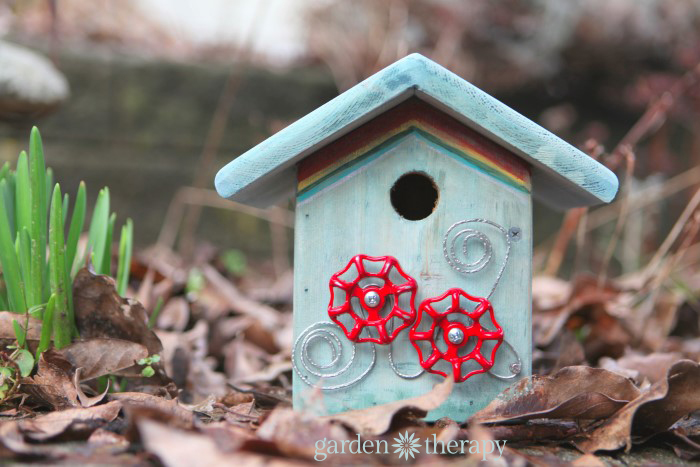 All the materials are meant to stand up the elements and become more beautiful as they weather outdoors making this a dream home not just for the birds. To make your own, follow these steps:
Materials
Wood birdhouse
Palm sander & sandpaper
Wood stain (blue)
Exterior latex paint (white)
Paintbrushes
Faucet handles (2)
Wood screws
Screwdriver or drill
18-guage wire
Staple gun
Hammer
Metal block
Craft paint
Instructions
Start with an unfinished wood birdhouse. Look for one make of an outdoor wood like cedar, and one that was well-made. A birdhouse should typically have the rough side of the wood on the inside so the birds can use it for nest-building and climbing. One that can open to be cleaned is also a plus if you plan to care for birds year after year.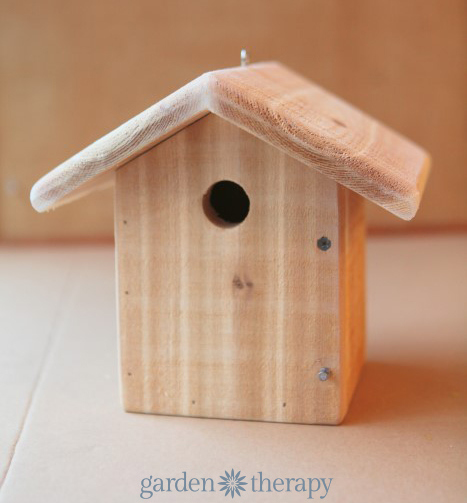 Sand the birdhouse using medium-grit sandpaper and a palm sander. You an certainly do this by hand as well, but it is much faster with a palm sander.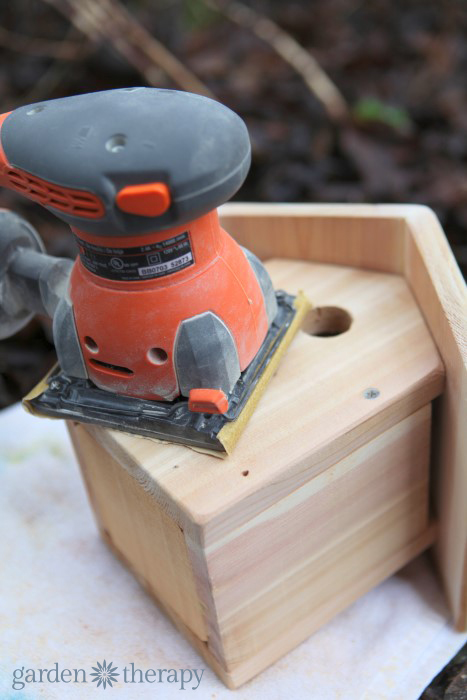 Stain the birdhouse blue first and allow to dry. Follow the instruction on the wood stain for more detail on this step. One coat will be enough, this should leave you with a lot of wood grain coming through.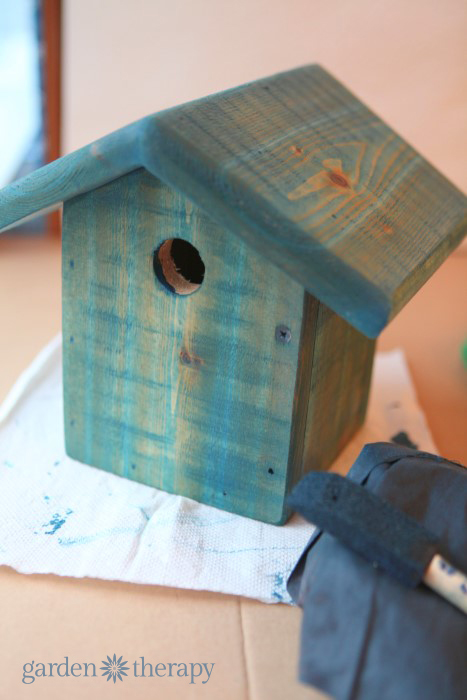 Mix a bit of the exterior paint with water in a 1:4 ratio (paint:water). Brush the paint on the birdhouse lightly, so that there is still plenty of stain and wood coming through. Allow it to dry completely.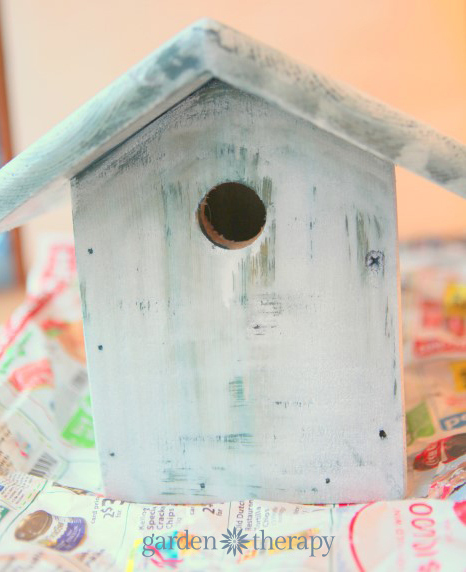 Sand the paint finish to reveal some of the wood grain and blue stain to come through. This will give the birdhouse its rustic appearance.
Attach the metal faucet handles with wood screws that have a big enough head that they will secure the faucet, but that are short enough to not go all the way through the wood. I found the screws I needed in my tool box so I'm sorry I can't list the exact size.
To make the metal wire decoration, bend the wire into curlicues and use a metal block and a hammer to flatten wire. The metal block gives a hard enough surface that it makes this job quite easy. A smooth head hammer will flatten the wire, and a stippled head hammer will give it a stippled appearance (while also being flat).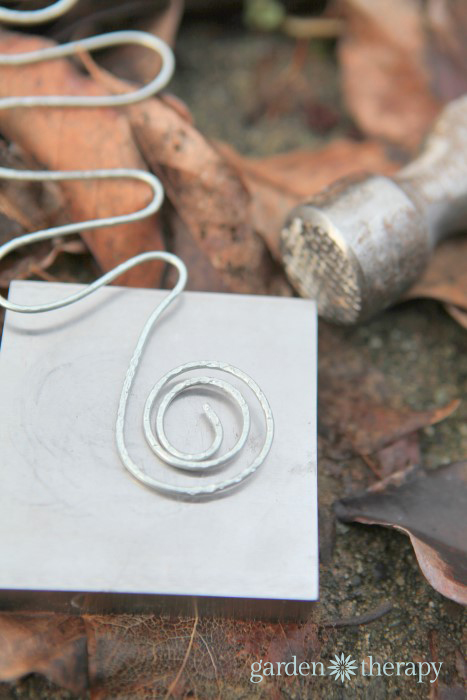 Attach the wire with a staple gun and through winding it around the faucet handles.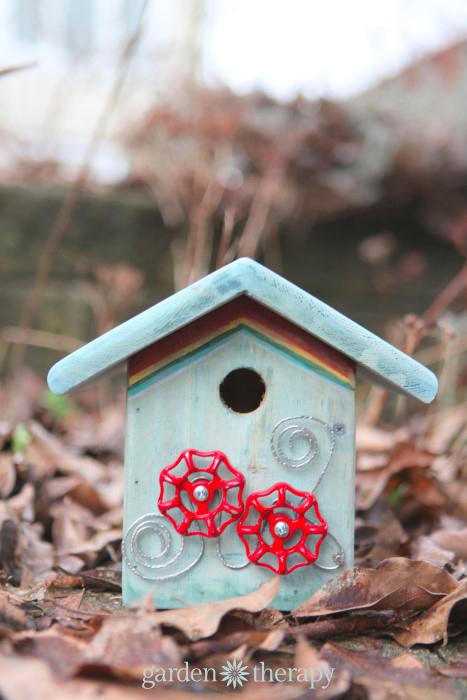 Use craft paint for any additional decorating, as I did with the rainbow under the roof line.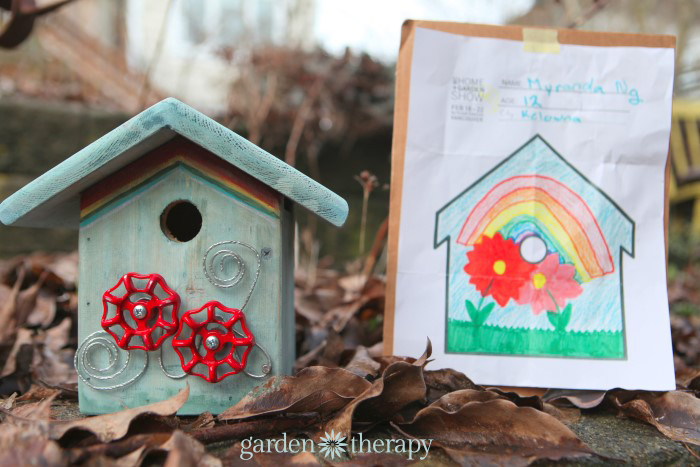 Ronald McDonald House British Columbia provides a home-away-from-home for 2,500 families from outside Vancouver each year, so they can stay close to their children receiving care at BC Children's Hospital. Providing this safe environment comes with an operating cost of $2.2 million each year; a $75 contribution covers the cost of one night's stay at Ronald McDonald House British Columbia.
"We are always looking for ways to get involved in the community and bring awareness to Ronald McDonald House British Columbia," Richard Pass, CEO of Ronald McDonald House British Columbia. "Partnering with the BC Home + Garden Show has allowed our families and children to dream, create, and most importantly, have fun."
Participants include:
Coleen Christie, Anchor at CTV Vancouver
Norma Reid, Anchor at CTV Vancouver
Keri Adams, Anchor at CTV Vancouver
Randene Neill, Anchor at Global BC
Dunia Tozy, Producer at SHAW TV
Karen Khunkhun, Host at C FOX
Ruby & Cruise, Hosts at Z 95.3
Stacey McLachlan, Associate Editor at Western Living
Kelsey Dundon, Blogger at The Anthology
Karin Bohne, Interior Designer at Moeski Design Agency
Christine Friend, Decorator at Friendly Decorator
Jamie Banfield, Interior Designer at Jamie Banfield Design
Kate Horsman, Blogger at Bullet with Butterfly Wings
Stephanie Rose, (that's me!)
Louisa Chan, Blogger at L for Life
Jennifer Pistor, Blogger at Prairie Girl in the City
Bria Lear, Owner of Digital Darlings
Paul Mon-Kau, Owner of The District Restaurant Group
Marisa & Rachel, Co-founders of Laneway Art Collective
Christina Lazeski, Creative Director at Paperclip Creative
Home Tweet Home will be open for bids daily from Wednesday, February 18 until Sunday, February 22 at the BC Home + Garden Show. I hope that you will stop by for a visit!