A bulb lawn is one of the most beautiful ways to usher in the spring. A wave of colourful flowers erupts across your lawn, creating a welcome display for your enjoyment and the pollinators after a cold winter. Follow along to see how I designed and planted my front yard bulb garden.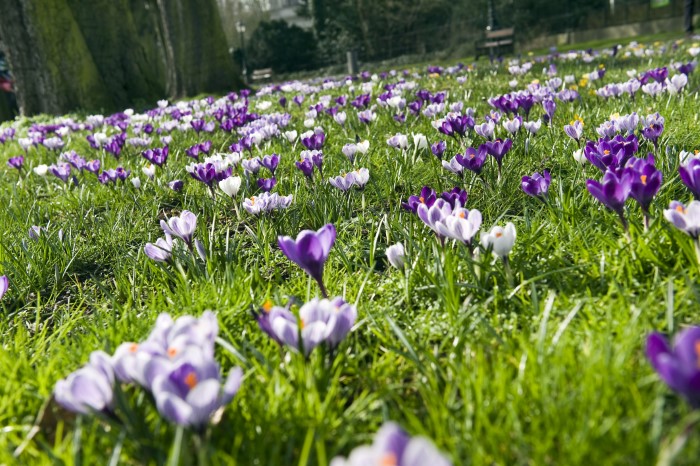 It's my first fall in my new house, and while I've been here for a couple of months now, I still feel like I'm just settling in. I've barely scratched the surface of the garden.
So, when flowerbulbs.com offered to send me 1500 bulbs to create a front yard pollinator garden, I leapt at the opportunity.
My front yard space is small, about 600 sq. ft., and very patchy. It currently consists of moss, buttercup, and a bit of turf. And after years of poor drainage and neglect, it's not level. So you could say that a bulb lawn makeover is very much needed!
Be sure to read all the way to the end because I have a great bulb giveaway for two lucky readers as well!
Follow along to see how I designed and planted my front yard bulb garden.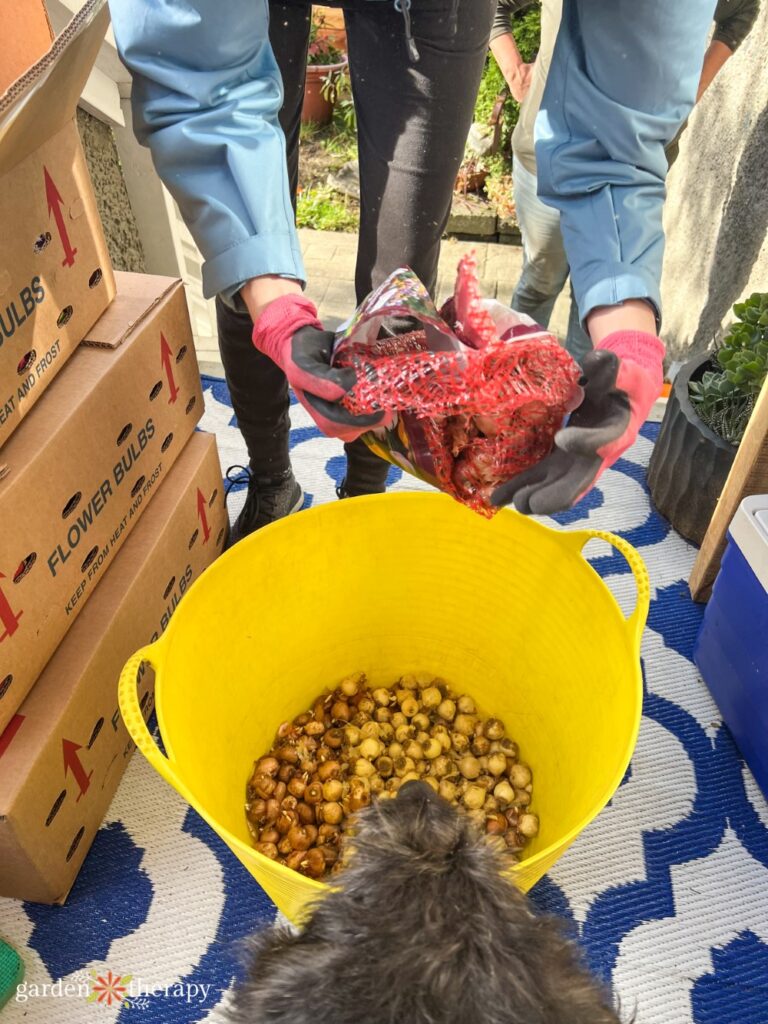 Sponsored Content: Thank you to flowerbulbs.com for sponsoring this post and providing the epic bulb giveaway. Flowerbulbs.com is an amazing resource to help you learn about all the different kinds of bulbs and how to plant them. Be sure to check them out!
What is a Bulb Lawn?
Bulb lawns are exactly what they sound like! You plant spring-flowering bulbs in the fall in your lawn, and come early spring, they begin to bloom across your grass. It's a practice that began in Europe hundreds of years ago and is popular in many botanical gardens today.
Most gardeners choose naturalizing bulbs. These are bulbs that you plant once, and then they return and multiply over the years, such as snowdrops, crocus, and daffodils. Over time, it will slowly cover your lawn into a spectacular display of spring colour.
I've written an extensive guide about naturalizing bulbs that you can also read.
Front bulb gardens provide many ecological and aesthetic benefits. No matter the type of lawn, it's easy to start planting bulbs to spruce up an otherwise empty space.
The bulbs will provide early-season pollen and nectar for pollinators when little else is blooming. Spring-flowering bulbs are some of the first flowers to awaken, providing lots of colour and texture after a sometimes gloomy winter.
Bulbs in lawns are incredibly low maintenance. After planting, you only need to water them once to help them establish themselves. You don't mow in the spring, as the flowers bloom. Then, the naturalizing bulbs return on their own, slowly multiplying every following season.
Here's how my boulevard bulb garden project turned out last year!
Gardening With an Invisible Disability
Physically, I have not been doing well lately. I've had a flare-up of my disability that has made daily tasks incredibly challenging. So, while I was excited to get these bulbs and plant a front yard pollinator garden, I honestly didn't know how I would get the job done.
I know many people who read Garden Therapy also struggle with physical and other restraints that keep them from being able to garden. So, it was important to me that I tackle this project and get my own garden therapy while also sharing how I made it easier on myself living through this current flare-up that has really taken me down.
So, first and foremost, I asked for help. I started by calling in some local landscaping friends to see if somebody could come and help me with the planting. And they came through!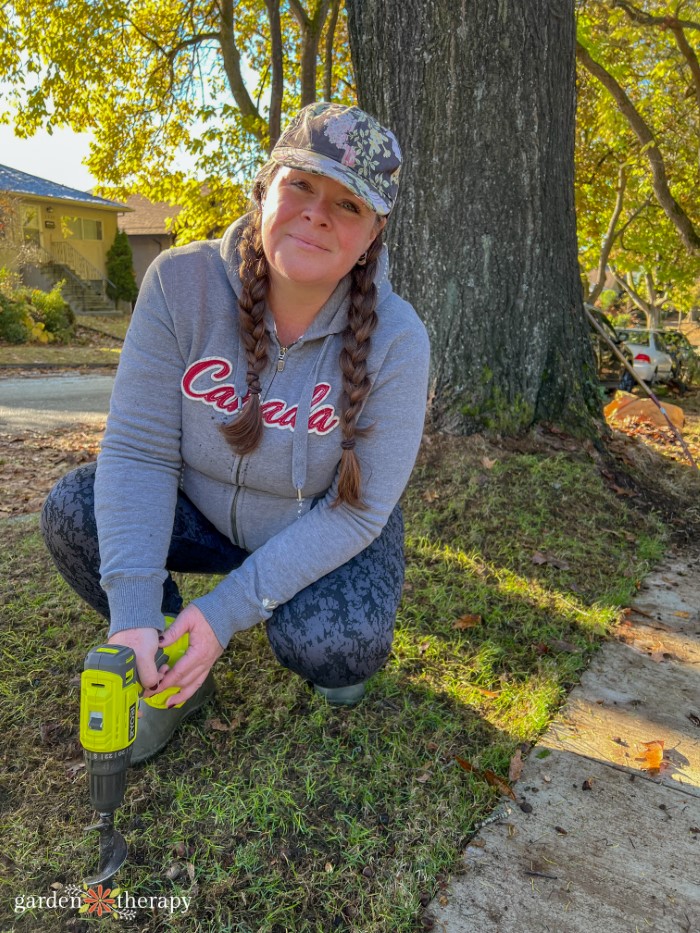 Preparing for Your Bulb Garden
Before you begin planting, you'll want to mow your lawn ahead of time so it's easy to dig into and map out a design.
If you haven't already grabbed your bulbs, then make sure you get them ASAP before the frost comes and the ground freezes.
For a front yard pollinator garden, make sure to include single flower blooms. Double flower blooms are beautiful, and you can certainly plant some, but pollinators need single flowers.
Here is the mixture that I ended up planting:
100 Narcissus "Tete a Tete Tops"
200 Anemone "Blanda"
50 Chionodoxa luciliae "Alba"
100 Dwarf iris "Alida"
100 Dwarf iris "J.S.Dyt"
100 Dwarf iris "Louise"
100 Snowdrops "Floreo Plena"
400 Muscari
200 Crocus Large Mix
200 Tulips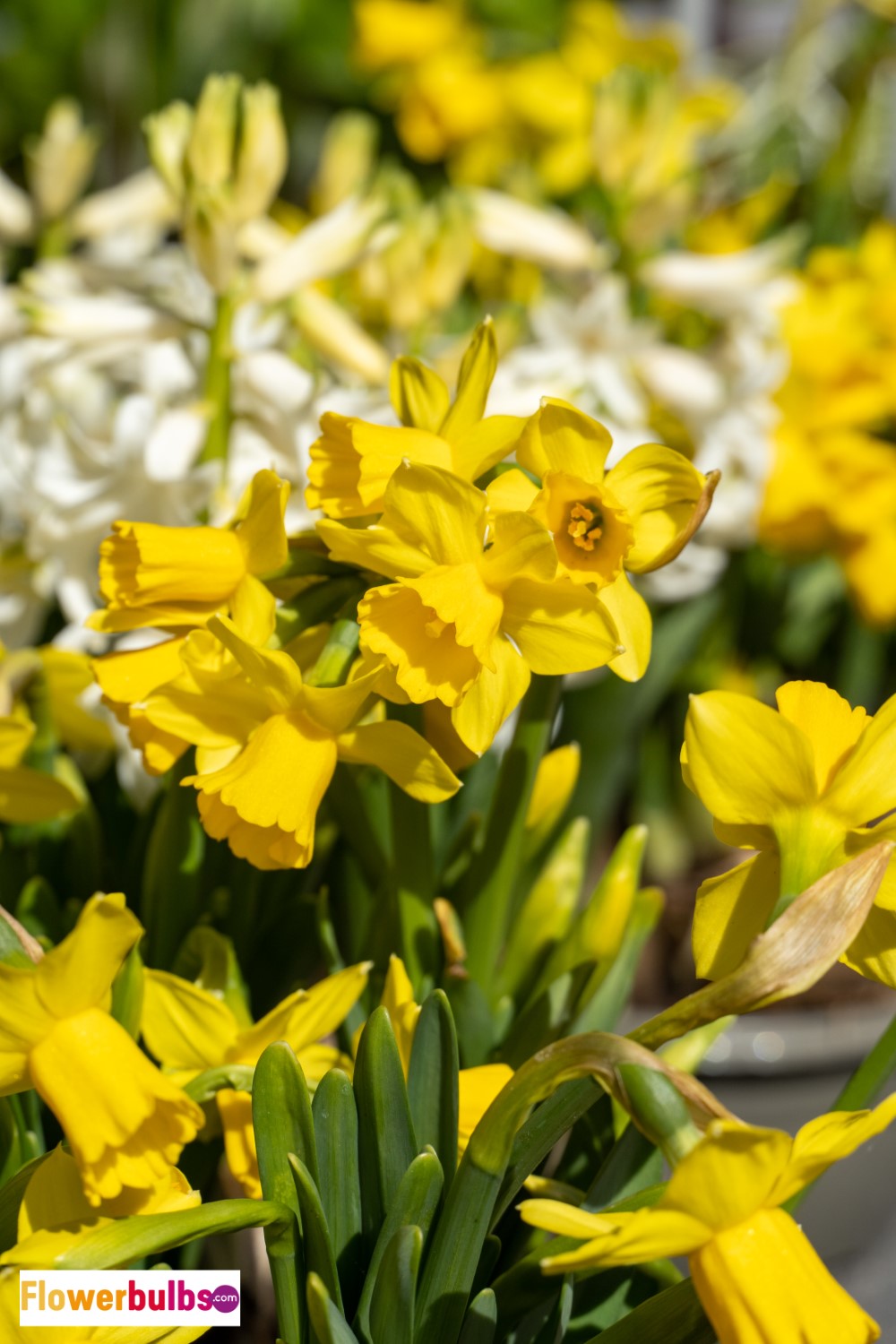 Narcissus "Tete a Tete Tops"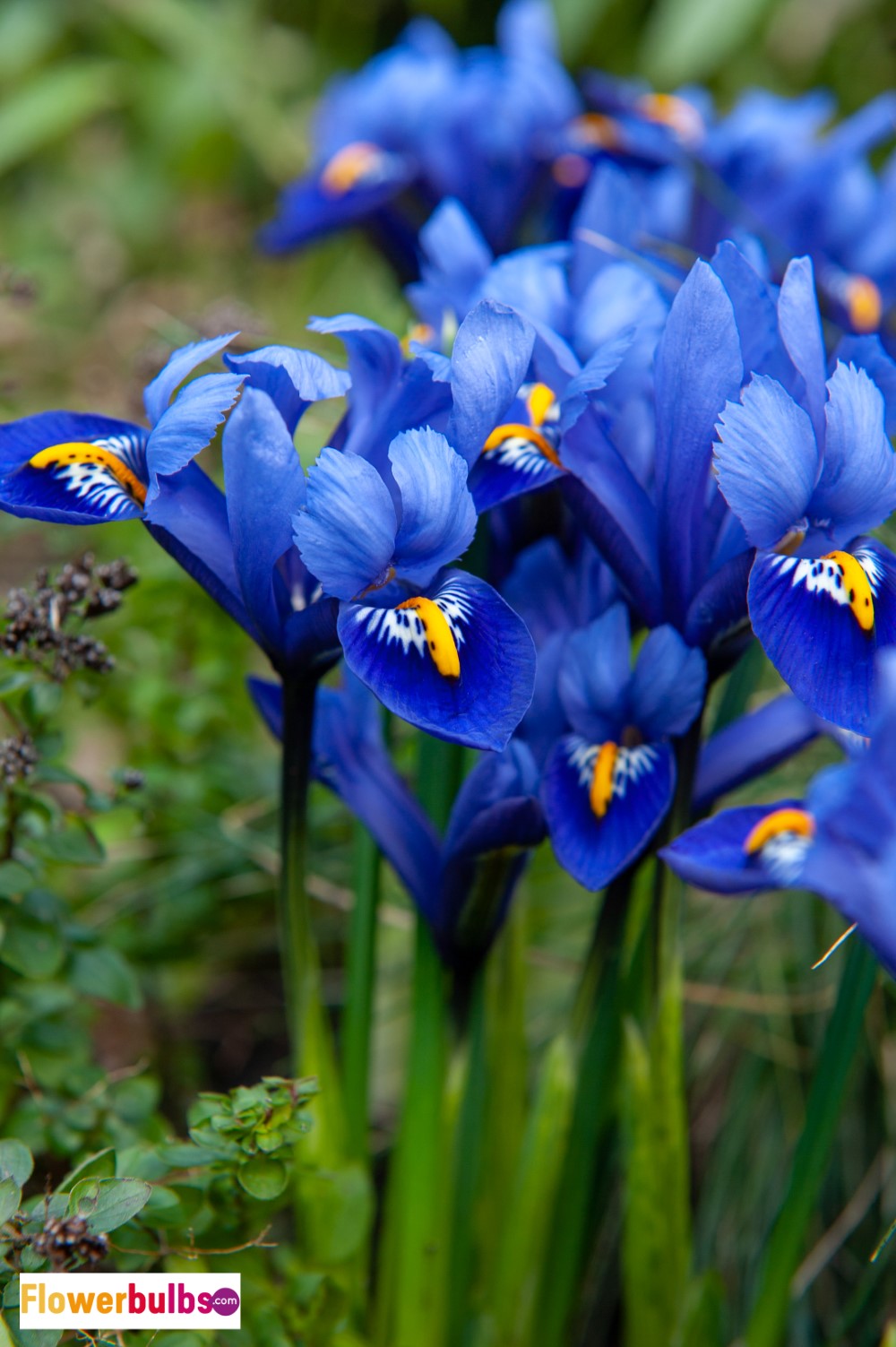 Dwarf iris "Alida"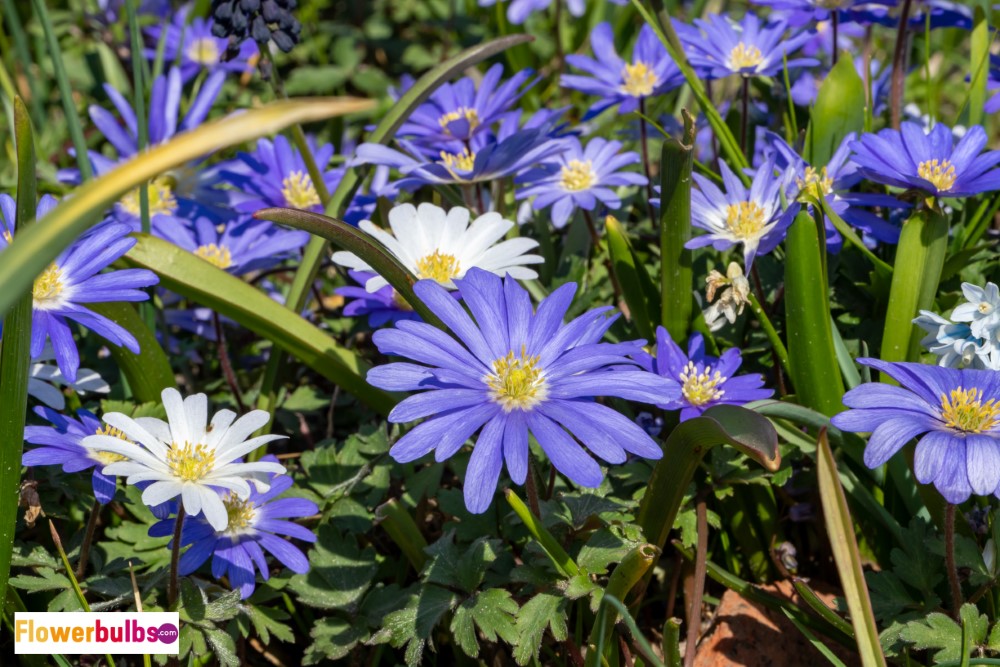 Anemone "Blanda"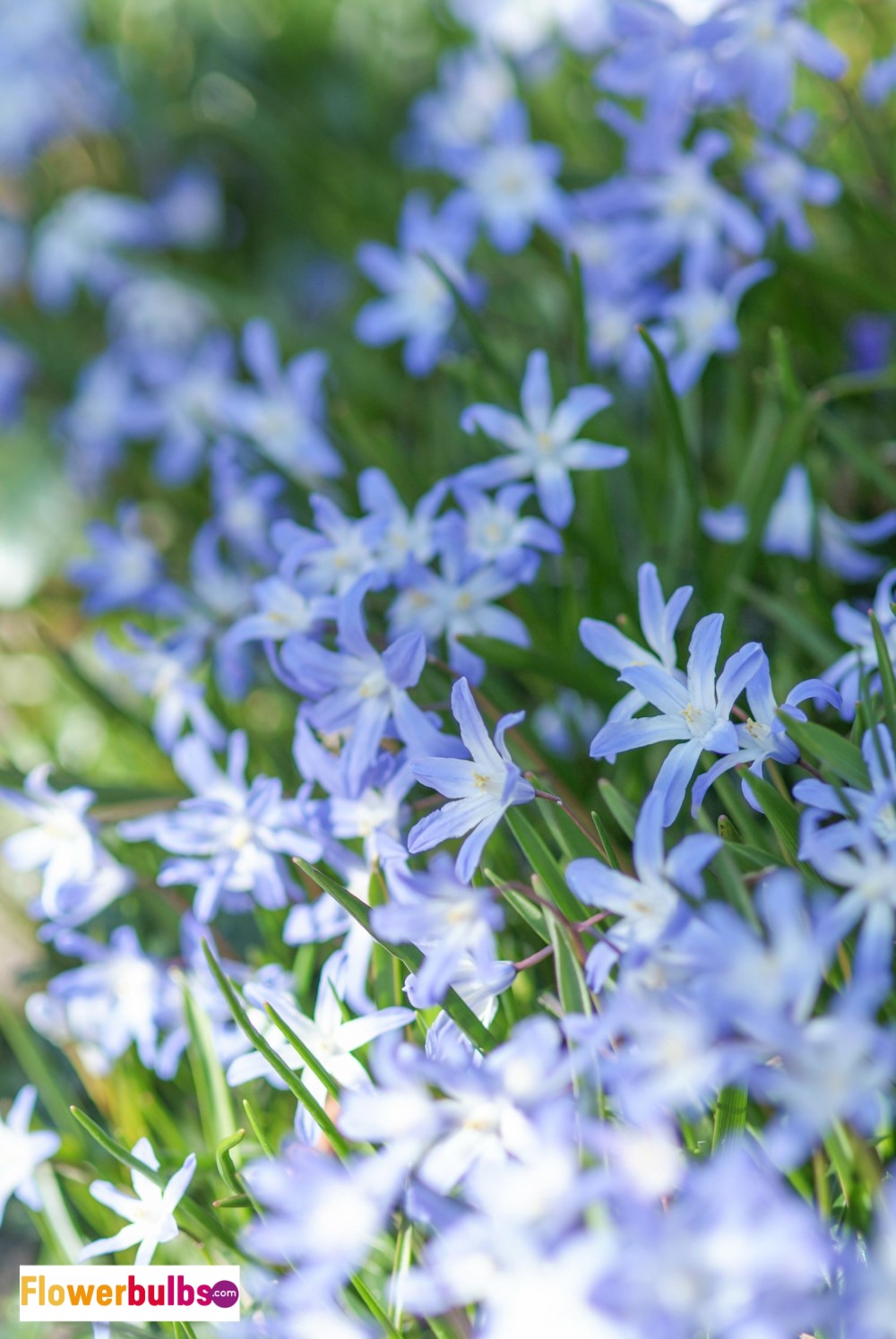 Chionodoxa luciliae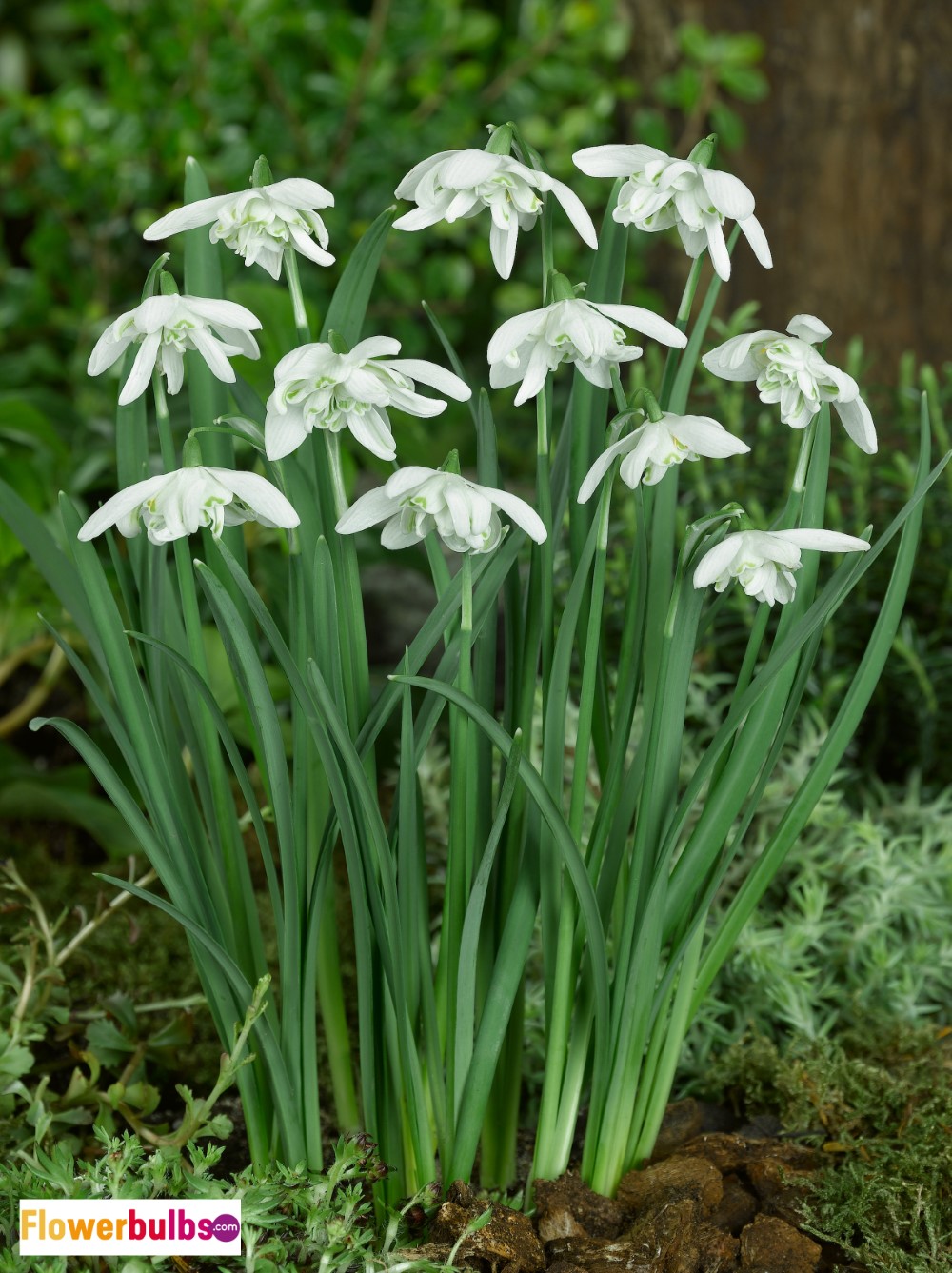 Snowdrops "Floreo Plena"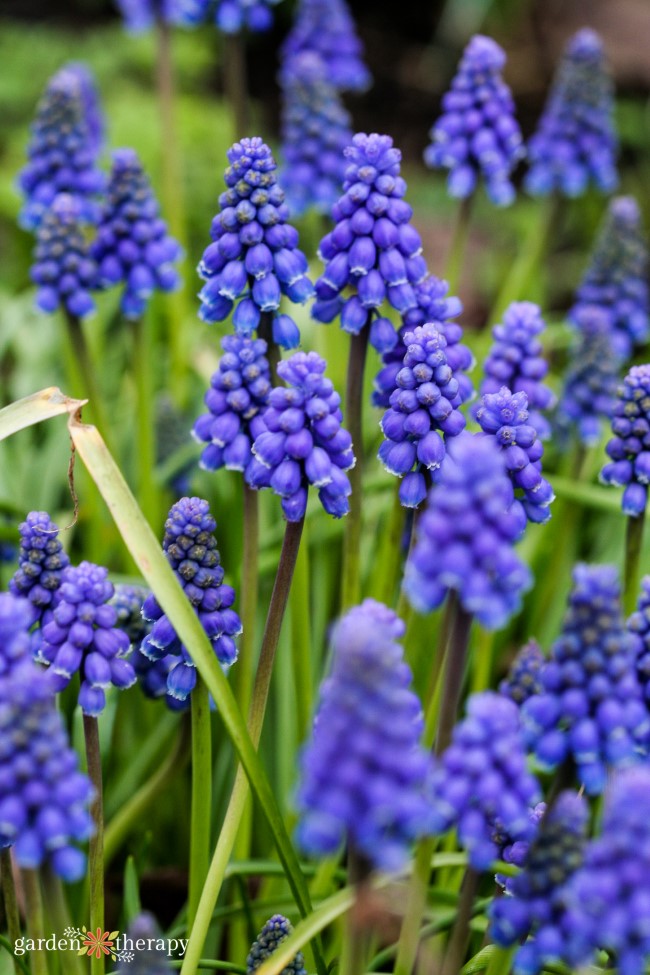 Muscari Grape Hyacinth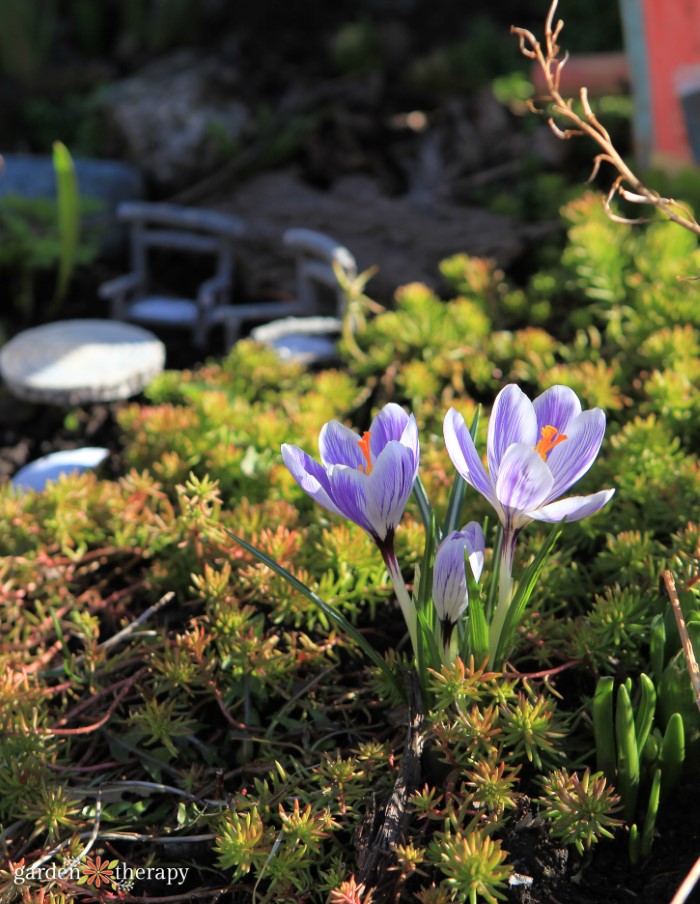 Crocus
Make Your Design
My front yard is a small south-facing space. In front, there are two large trees on the city property, plus a 3-foot tall fence surrounding the yard.
With my friends, we chatted through some design ideas. I originally wanted to do a muscari river through the centre of the lawn and then plant a mixture of low-growing bulbs to naturalize on either side of the river.
But there were two big challenges with this plan. First, I thought it would look slightly contrived in the front yard. Two gates come into the yard; one gate has a pathway that goes into the backyard, while the other has a pathway to the front door. With a muscari river between those two paths, it wouldn't have the natural flow I was looking for.
The second challenge was that lots of digging would be involved to get 1500 bulbs in the front yard. In my previous stinzen planting project at my rental house, we used a power planter to drill holes for all the bulbs individually.
If I did that for this project, I would have 1500 holes in the yard, and that just didn't seem like the right strategy for such a small space.
So here's what we did…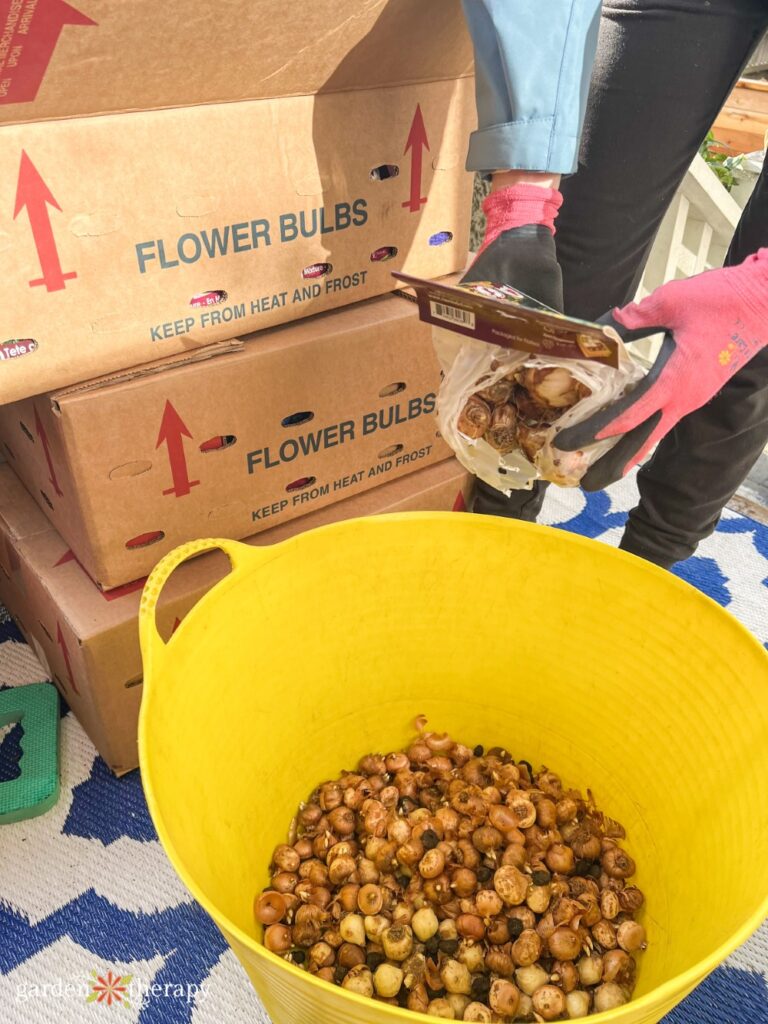 Mixed Bulb Pockets
To achieve the naturalized look I wanted, we decided to do little pockets of mixed bulbs throughout the lawn. We mixed all the bulbs together to create a much more natural appearance.
When planning out your design, you want to ensure you can still access the garden if you need to. You also want to place them in a low-traffic area so the bulbs aren't disturbed when blooming.
For my pocket design, you can still walk across the lawn between all the bulbs that will grow like lily pads popping up in the spring.
This design also allowed me to level the lawn. We found small natural depressions in the lawn (like the heart shape below) and lifted the soil. Once we placed the bulbs, we could put chunks of the lawn on top. This helped to lift the area so that the lawn is now semi-graded.
When planting a bulb garden, you want to try to place it in full sun. While the bulbs can grow in partial shade, they thrive with lots of spring sunlight.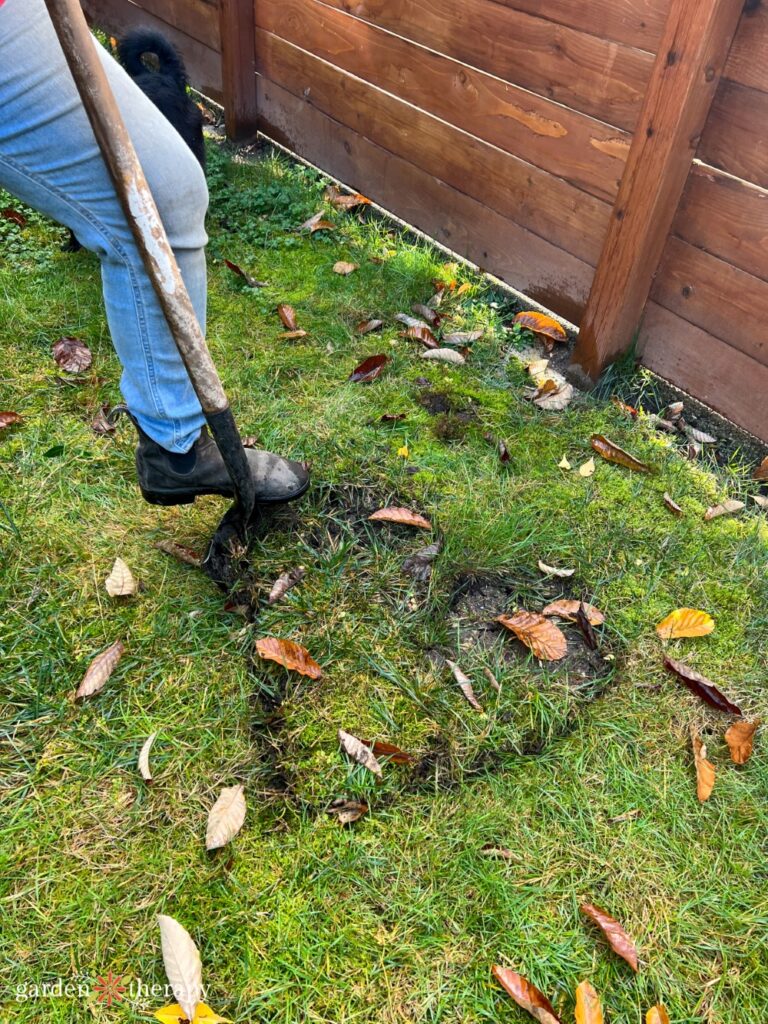 Tulip Border
In my bub garden design, I also included a tulip border. For this, I mixed 4 varieties of tulips in a wave along the fence. You can use spray paint or a hose to help you map out a design. We just went freehand and dug it up. We will see how it looks in the spring!
Here are the varieties of tulips I planted:
"Couleur Cardinal"
"Purple Prince"
"Continental"
"Sunny Prince"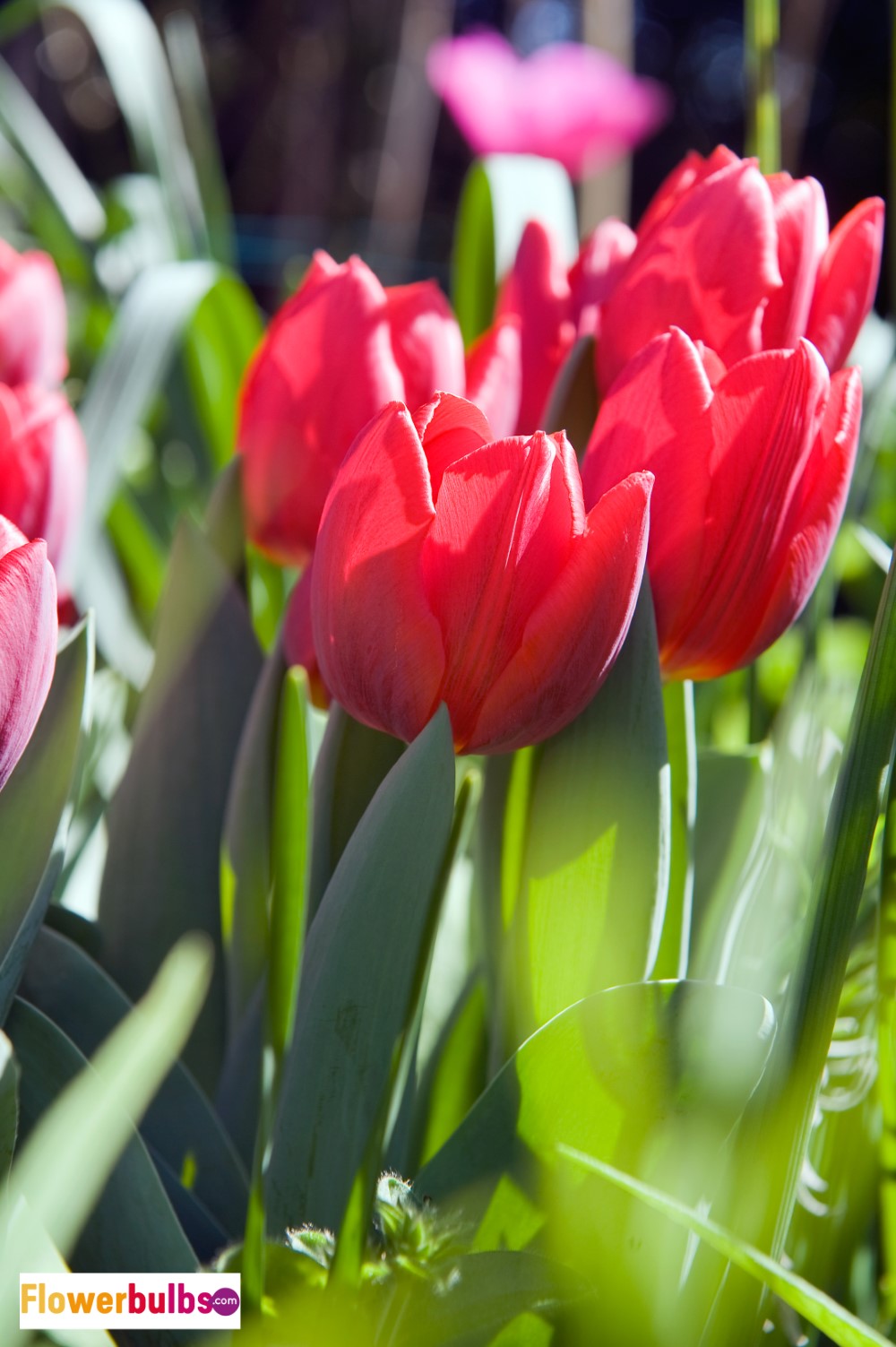 Couleur Cardinal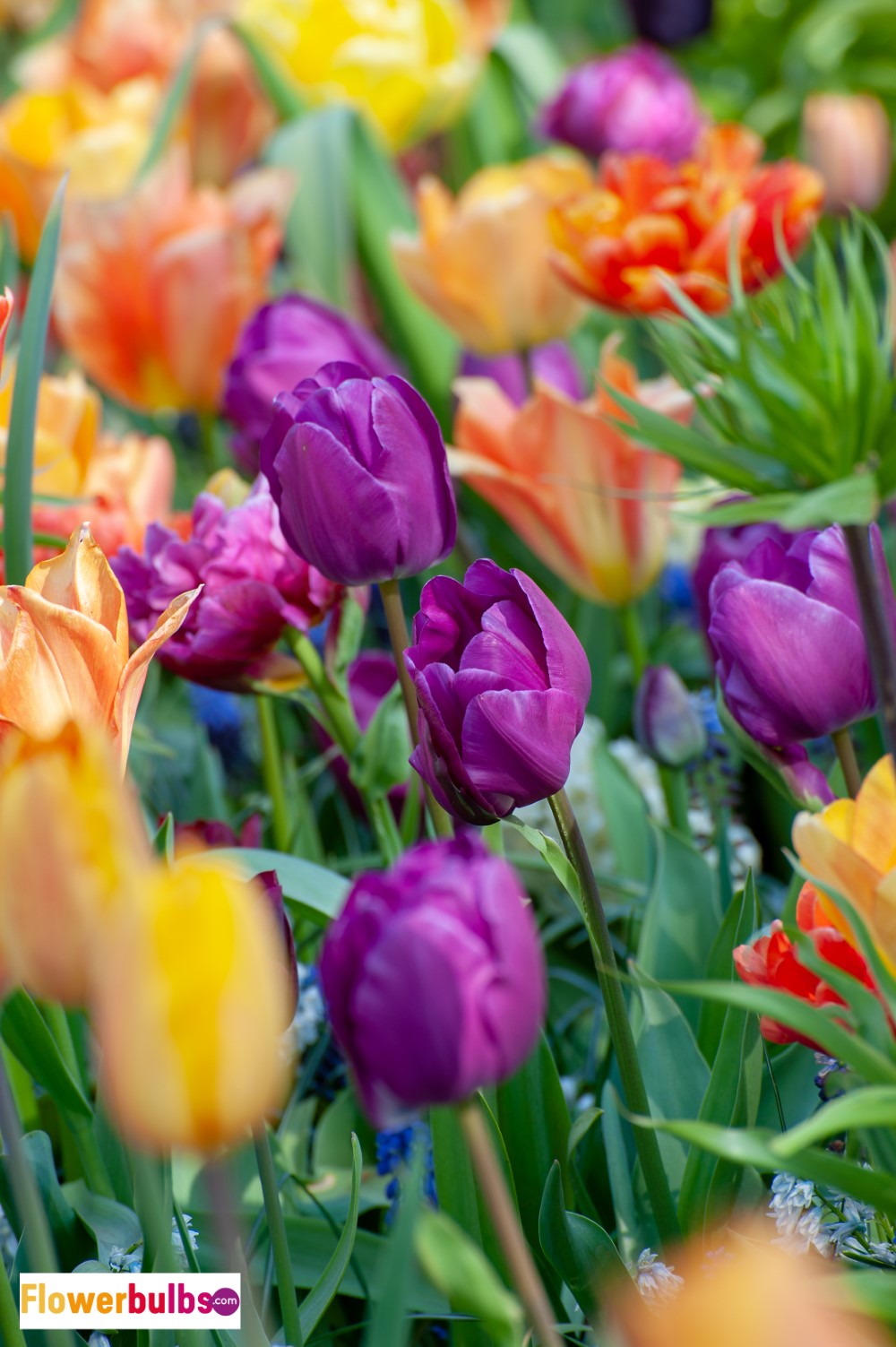 Purple Prince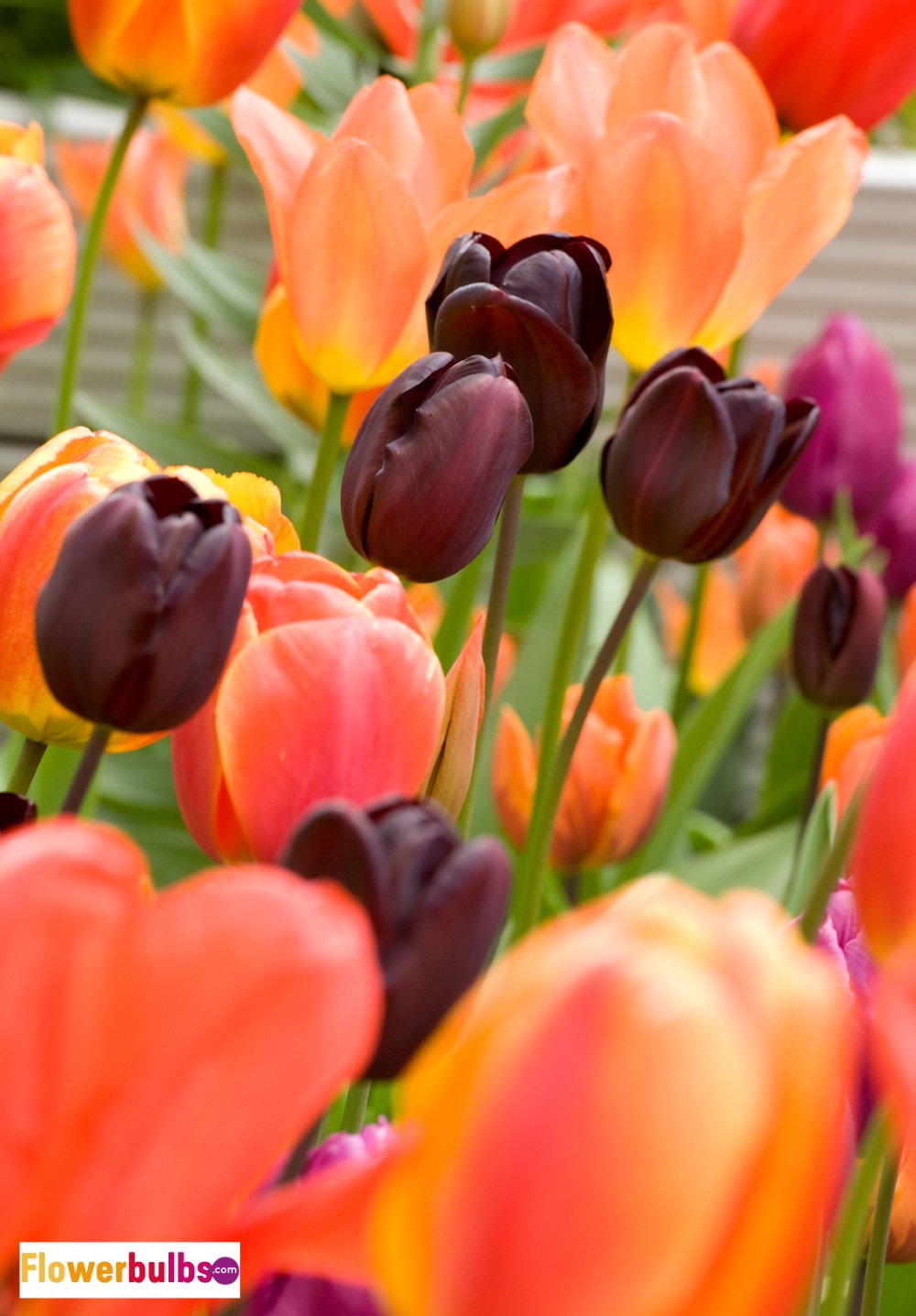 Continental
(dark burgundy)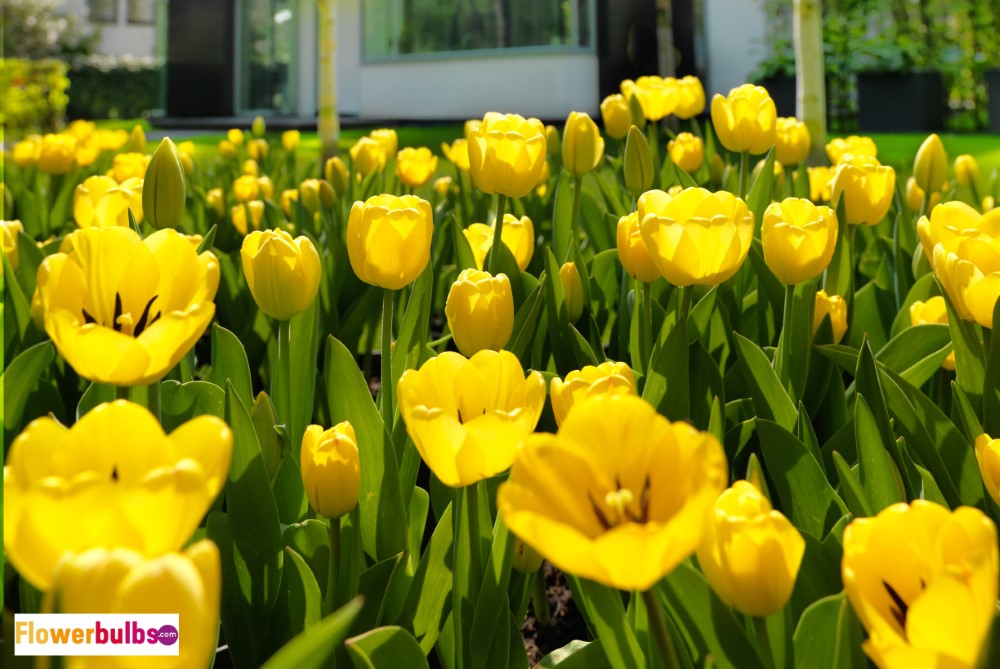 Sunny Prince
Plant Your Bulbs
Finally, we were ready to plant! With the tulips separate, I mixed together the 1300 remaining bulbs and dug about 20 different-shaped pockets.
With so many bulbs to plant, we didn't worry about careful placement. We dug down about 6 inches deep into the soil.
I then tossed in a couple of handfuls of bulbs, so it looked like they would fill the space quite nicely. Then, we turned them all around so that the roots were pointed down and the tips up while laughing and shouting, "Bums down!"
Then, we backfilled with the soil and placed the turf back on top. Of course, the turf was falling apart due to the heavy percentage of moss and weeds. Not enough turf roots were there to hold the structure together, so it became a mishmash of placing as many of the puzzle pieces back in as possible and topping the rest off with new soil and seed.
Yes, the lawn won't look the prettiest after the initial bulb planting, but it does bounce back quickly. I started my project a bit later than I would want the lawn to recover well before winter, but I'm still confident it will look fabulous in the spring!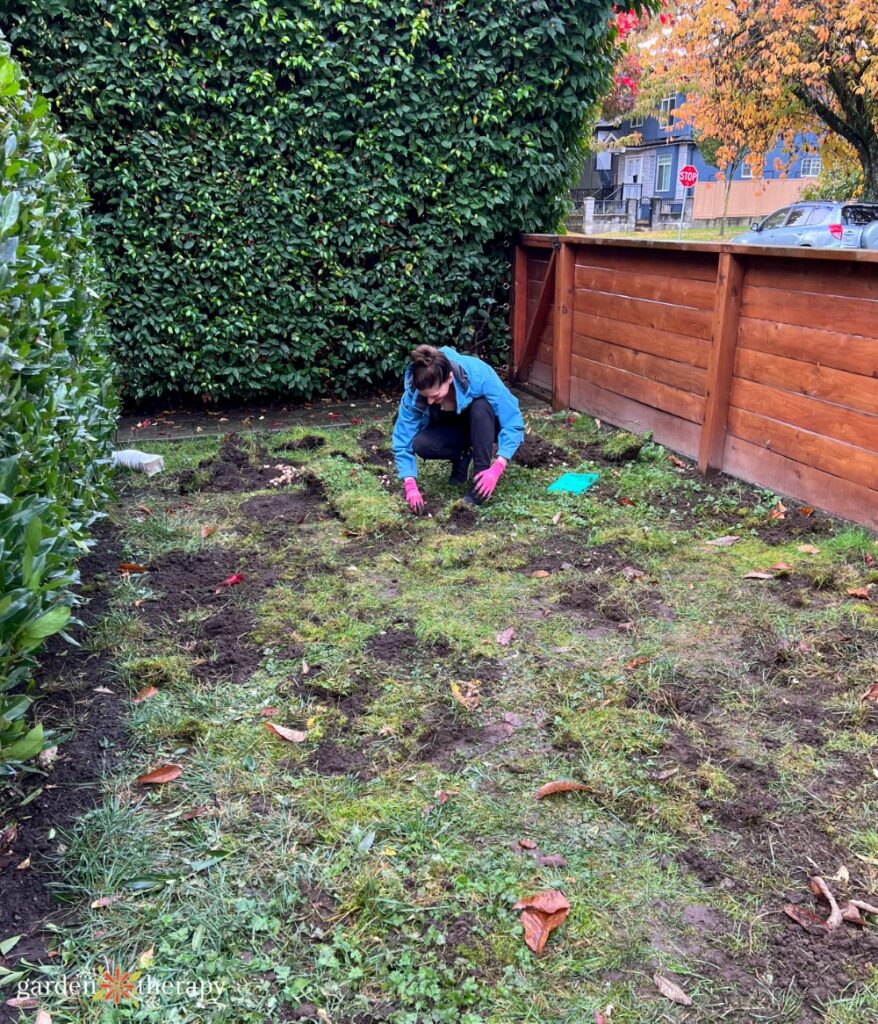 A Note on Depth
As you can see, I didn't fuss too much about the planting depth for all the different bulbs. But typically, you want to plant the bulbs 3X as deep as they are tall.
For instance, daffodil bulbs are 2 inches tall, so you'd plant them 6 inches deep. Meanwhile, you can have really small bulbs that only get planted 2 inches deep.
If you don't have as many bulbs as me, you can be a little more careful about your planting depths. You can also group the bulbs based on their size when mixing them. This way, you can dig deeper depending on what mix you're currently planting.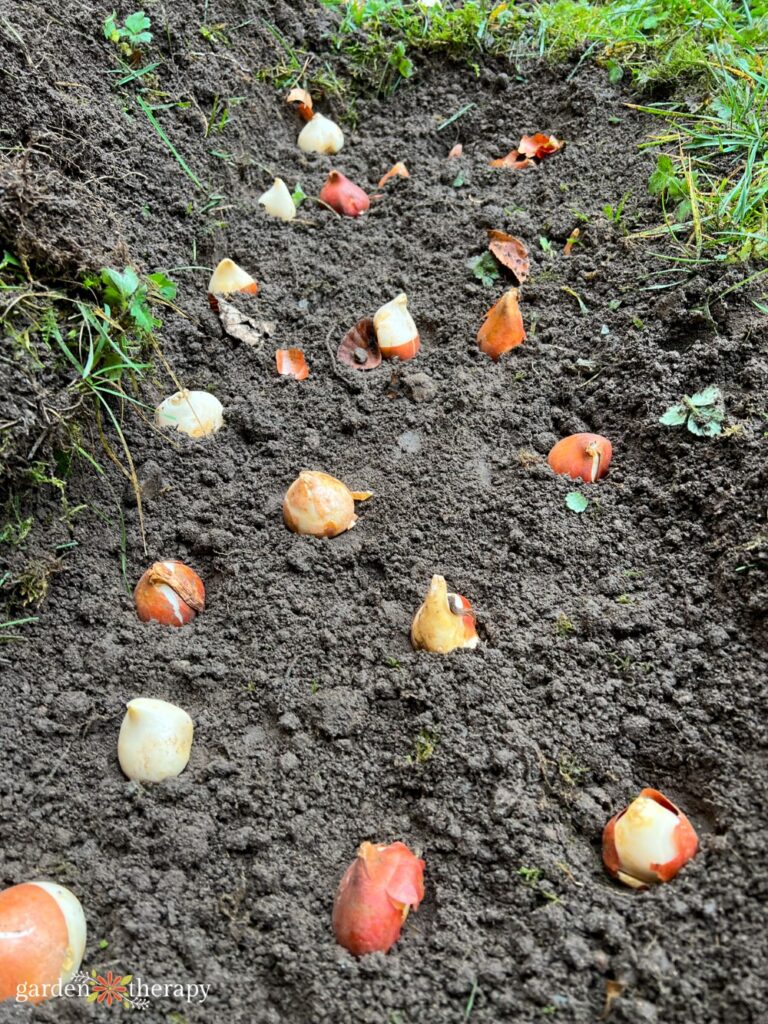 Repairing the Lawn
After planting, my lawn looked a little patchy, but truly, if you hadn't seen us plant all those bulbs, you would never have known. I watered my lawn to help settle everything and help establish the bulbs.
Since my lawn needed some TLC in the first place, the next step will be to top the entire lawn with more topsoil and then reseed it. I'll be seeding my lawn with a mixture of microclover and turf grasses that do well in the shade—even though my lawn is south-facing, it does get a lot of shade because of the structures around it.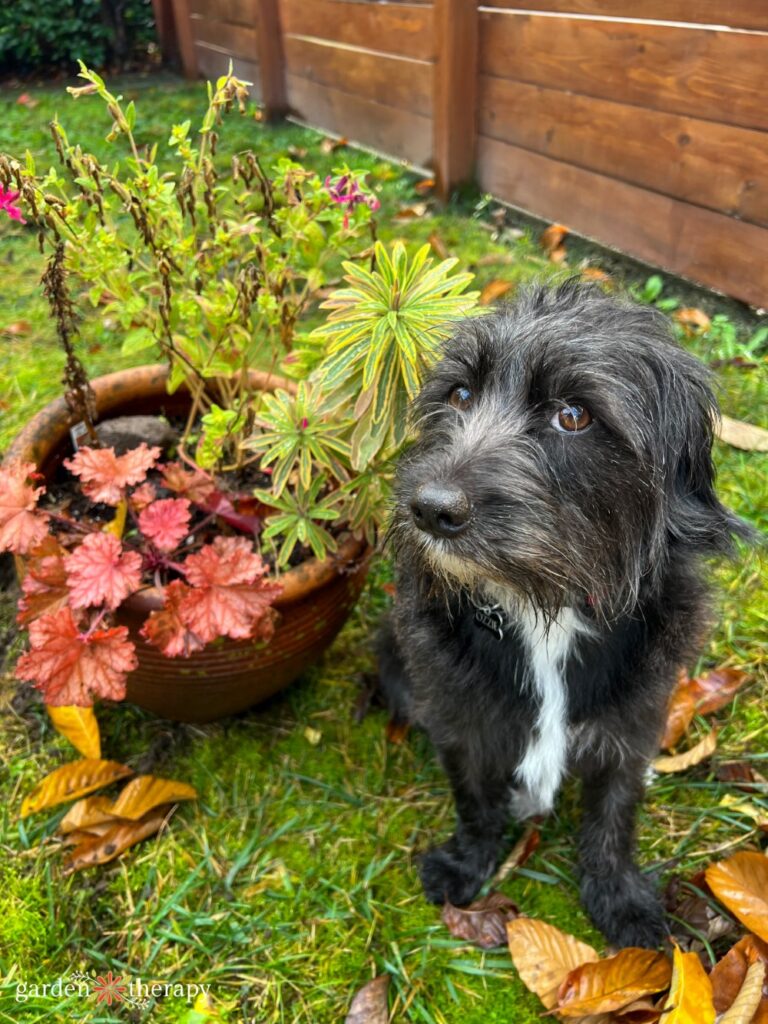 My Methodology
While planting my bulb garden, a friend visited for the weekend. While she doesn't identify as a gardener, she did agree to help me. Her previous experience with bulbs was buying a package from the garden centre, bringing it home, and letting a couple of years pass. She still has that package, although I broke the news that they were now compost (but most likely dust). She had the best intentions but became overwhelmed by the spacing and location and wasn't sure how to do it.
When we started planting, she was quite surprised that we dug holes and tossed in our bulbs willy-nilly before adjusting their direction. We didn't add any bonemeal; instead, we just topped them with soil. I explained that this freestyle planting comes with some experience.
Ok, so I just wrote that I didn't add any bonemeal. Let me explain. Generally, home gardens have enough phosphorous in our soil, so adding bonemeal isn't necessary.
Bulb fertilizers are often labelled as 'bloom boosters' because the high phosphorous levels encourage plant flowering. If you notice that your container plants aren't flowering as much as they should be, adding additional phosphorous could be the key to more blooms.
That being said, the ground soil in a home garden probably has adequate amounts of phosphorous. Adding more than the plants need can run off into water systems, creating environmental issues.
Even more concerning is that phosphorous is a finite resource, and humans are consuming it for agricultural purposes at alarming rates. While farmed land may need phosphorous to be replenished, in the home garden, it is only needed when a soil test shows a deficiency or when fertilizing plants in potting soil.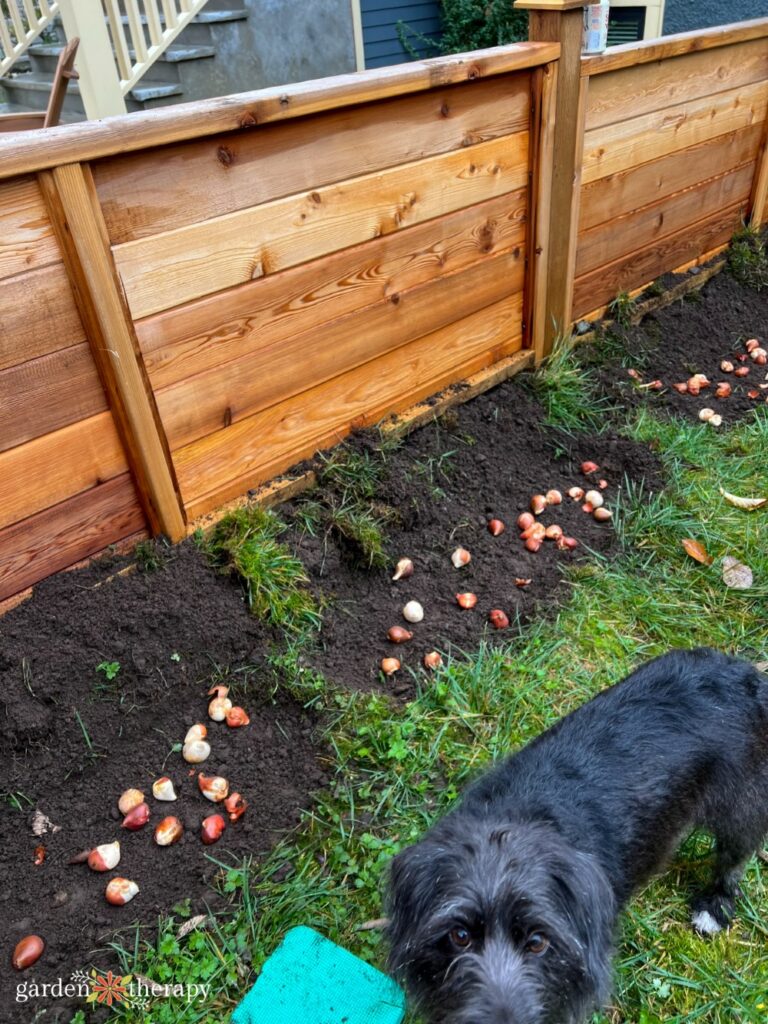 Growing a Natural Lawn
I was very surprised when I lifted the grass to see how healthy the soil was below. It was a beautiful surprise full of microorganisms and some organic matter. It was light and fluffy, dark black, and well-hydrated. What a treat!
Immediately, I was encouraged that this would make a beautiful garden because the soil was so healthy.
Since I garden from a permaculture standpoint, I try to make all my projects regenerative. Topping the soil would encourage plants to grow besides turf and bulbs. Those wild plants are great for the soil, improving the nutrient mixture to help the bulbs flower.
Over the years, I'll keep adding some nice compost and continue to support the soil health with the addition of microclovers and turf grasses. This will allow a mixture of wild plants, like buttercup, to grow and flower, providing even more pollinator food.
Then, the bulbs in the lawn will become more like a meadow space and naturalize in a way that looks effortless, all while helping out local wildlife.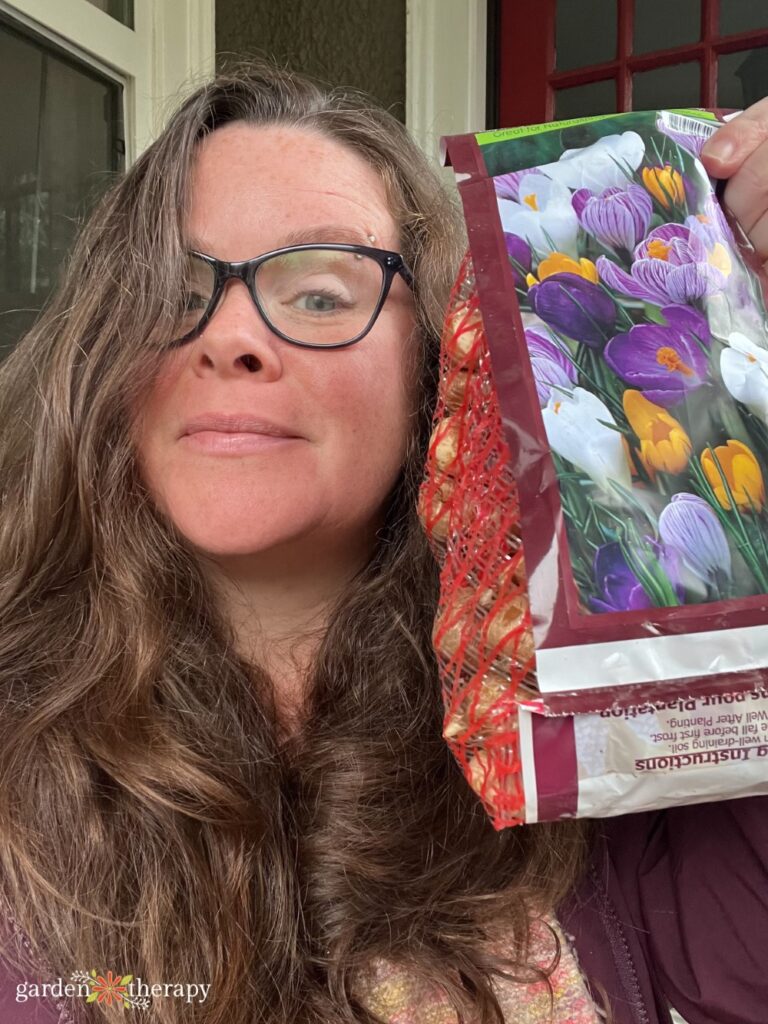 Bulb Garden Giveaway!
I've partnered with flowerbulbs.com to give away a stunning spring flowering bulb mixture perfect for creating a bulb lawn or garden. Not one but TWO lucky garden therapy winners will win $100 worth of bulbs for planting.
To enter the contest, leave a comment down below letting me know which bulbs are your favourite to grow. This contest is open until November 23, 2023, when I will use a random number generator to select the winners. This contest is only open to US residents.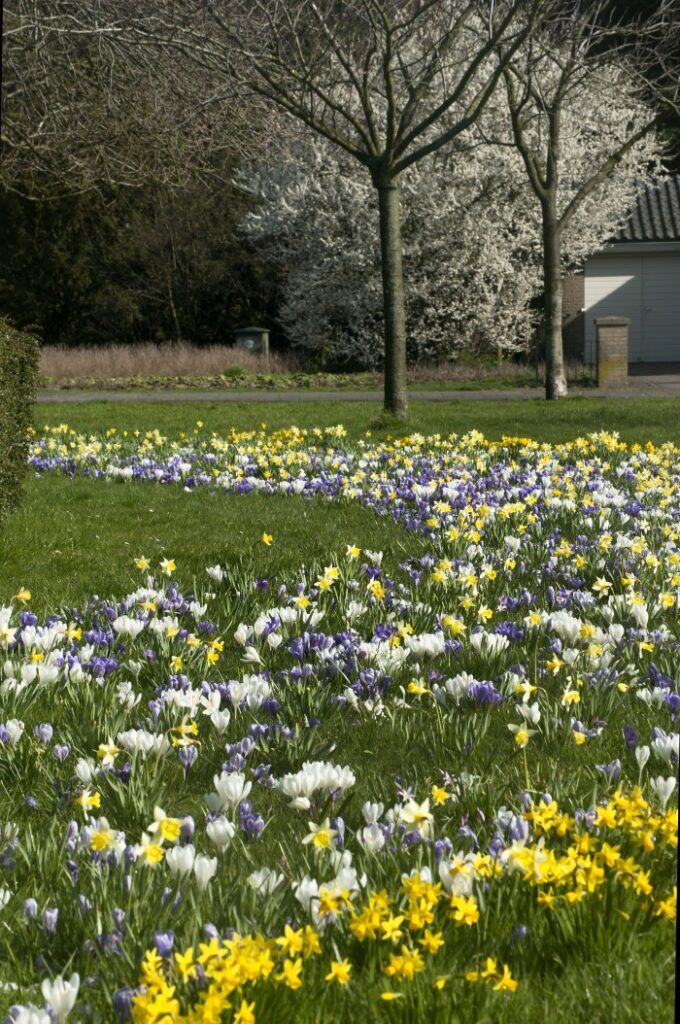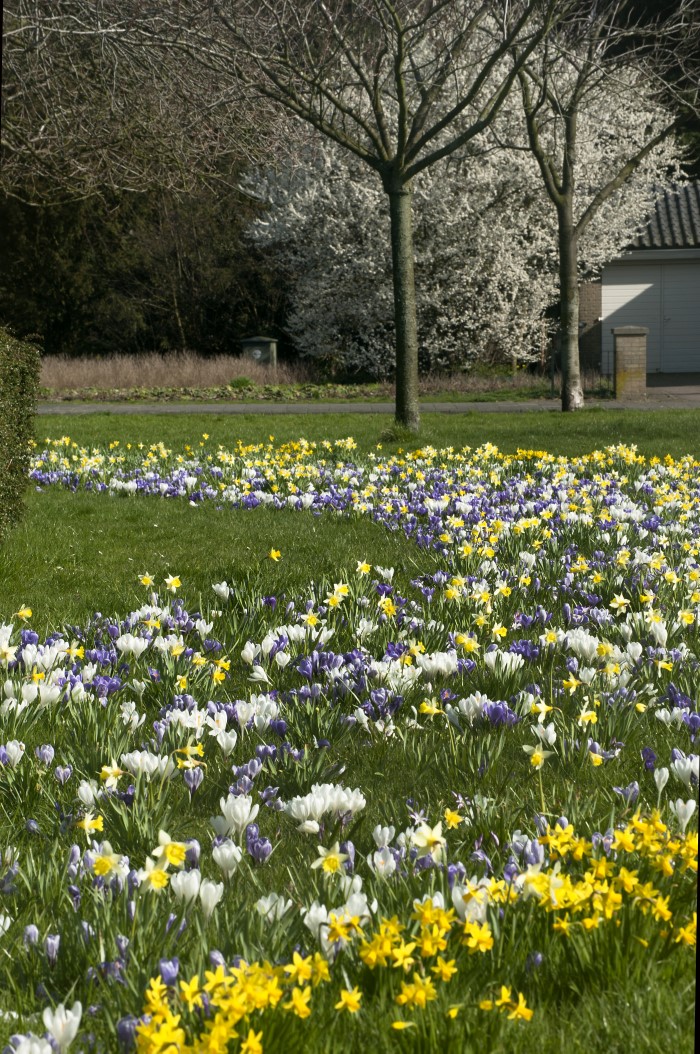 FAQ About Bulb Gardens
When should I plant my bulb lawn?
You want to plant your bulb garden before the first frost and the ground freezes. Here are some recommendations for zones from flowerbulbs.com.
Zone 4-5 — September to October
Zone 6-7 — October to early November
Zone 8-9 — November to early December
Zone 10+ — late December to early January
How do I mow a bulb lawn?
In the spring, do not mow. Wait as long as you can until your foliage turns yellow. Then, you can mow normally. You want to avoid mowing until the plant dies, as it needs to gather energy to store in the bulb so it returns the following year. After blooming, your bulb lawn will look like a regular lawn.
How do I stop squirrels from digging up my bulbs?
Squirrels love dirt and loose soil. So, after planting bulbs in lawn, you'll notice that squirrels might come flocking to your garden. You can peg chicken wire down over your lawn for the first few weeks until the grass appears normal again. You can also sprinkle grass seed over the top to help encourage the grass to fill back in quickly.

Planting at the right depth also means the squirrels might not dig that deep. I have a hard time picturing squirrels digging down 6 inches!

Watch this video to see how I handled the squirrels in my bulb garden last year.
More Tips for Growing Bulbs