Have you ever wondered what on earth to do with that little piece of struggling grass between the sidewalk and the street? If you're looking to beautify your front yard space and the public sidewalk, why not give stinzen planting a try? You can create successful sidewalk strip landscaping by naturalizing bulbs in your garden.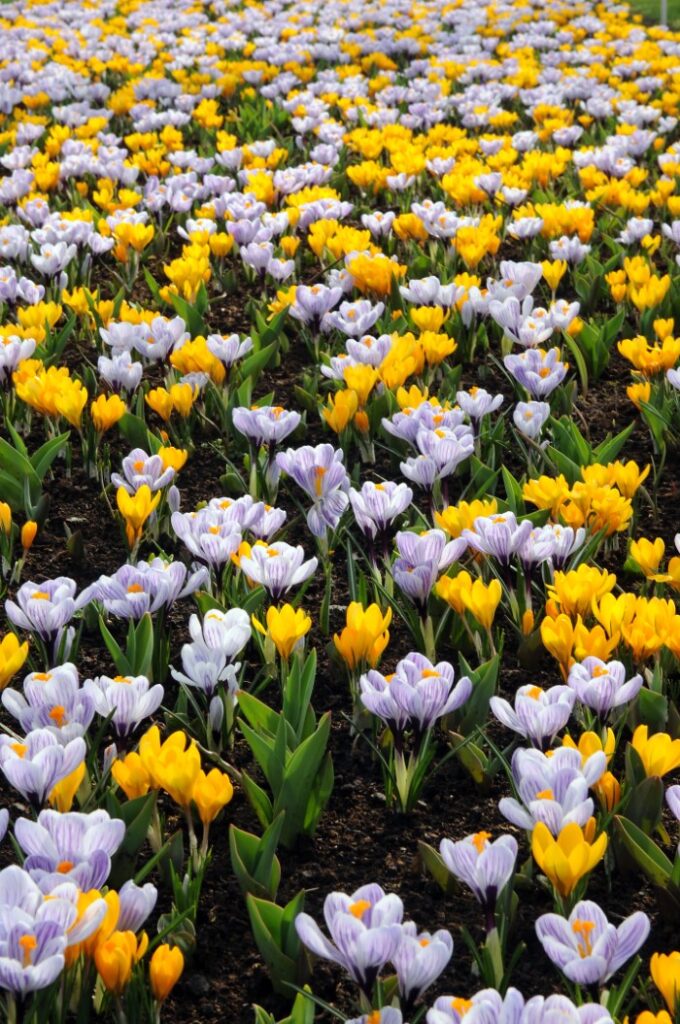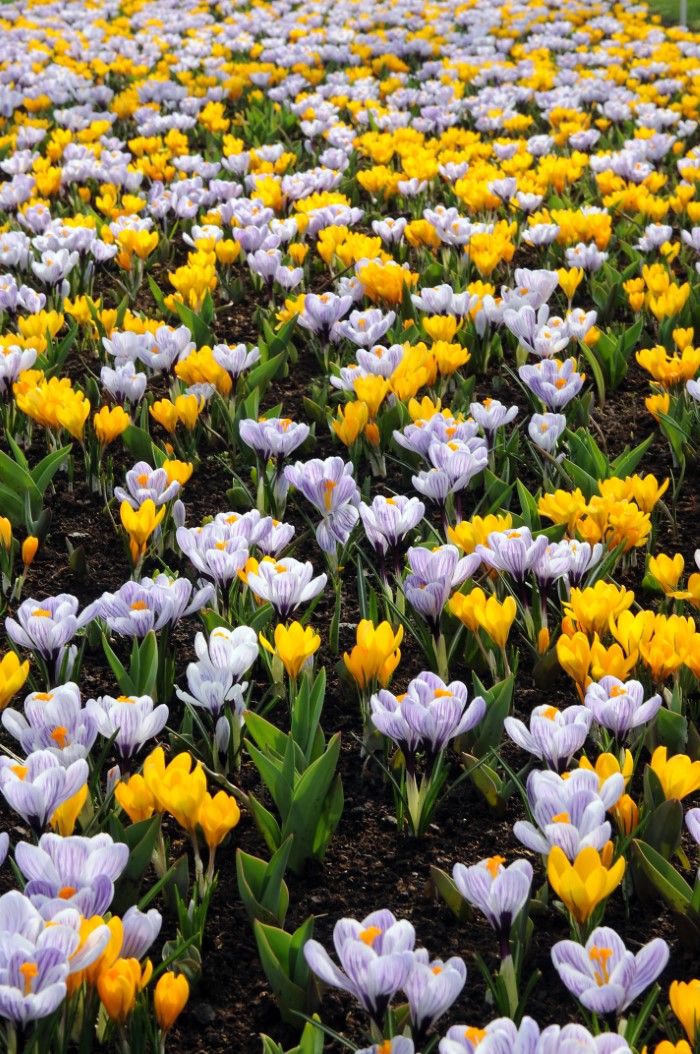 My new house is ready for all kinds of greenery. If you haven't heard, I've recently moved into a brand new rental home. As a front half of a duplex, I have access to a small front yard space. I've been filling it with pots from my garden, but it remains a blank canvas.
The fence is low and see-through, so it's not a private space in the least! On the other side, I have a public sidewalk with grass underneath grand and beautiful oak trees.
When flowerbulbs.com approached me about doing a new project together, I just knew I wanted to beautify this space in front of my house and perhaps give a little bit to my new community as well. So I decided to do stinzen planting with all the bulbs!
No clue what that is? Don't worry! I'll dive deep into stinzen planting and how you can achieve sidewalk strip landscaping.
This post will cover…
Sponsored Content: A big thanks to flowerbulbs.com for providing this amazing giveaway! Flowerbulbs.com is an awesome resource to help grow bulbs that also support bulb growers in the EU. At the end of the post, we have also teamed up for an amazing giveaway of bulbs to plant this fall. Check it out!
What is Stinzen Planting?
Stinzen planting is when you naturalize bulbs in your front yard. With different bloom times, you have a huge display of flowers that wash over your lawn in early spring and last for many weeks.
Stinzen planting originated in Holland, referred to as stinzenplanten. You'll see many 17th-century homes in Holland that use stinzen plantings. There are still some stinzen gardens remaining, especially in the north.
Traditionally, stinzen planting was originally used to show wealth. It was a decorative and impressive display of flowers that only the wealthy could afford to plant. Anyone who practiced stinzen plantings showed off their prestige to all passersby through their front yard flowers.
And it comes back year after year! When you naturalize bulbs, they emerge every spring and slowly multiply for an enormous wave of colour.
Not only is this array of bulbs beautiful, but they're also an excellent source of pollen and nectar for those early-season pollinators. At this time of year, there are usually very few flowers blooming and it allows the insects to find a vast supply of food.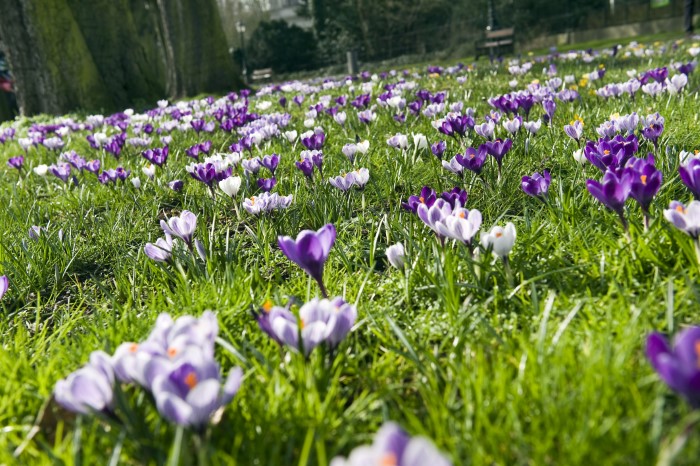 Modern Day Stinzen Plantings
While I love the idea, I wanted to go for a modern take on stinzen planting. Rather than planting to show off affluence, I'm using my flowers as a community-building project in my new neighbourhood. So what better place than the little area of grass between sidewalk and street!
This project aims to naturalize all kinds of bulbs outside my front yard and plant them up the street as far as possible. Come spring, the whole street will be lit up with flowers!
I reached out to the neighbours and got a work crew together. We prepped the city property in front of my house and the neighbours' and then got to work with my design!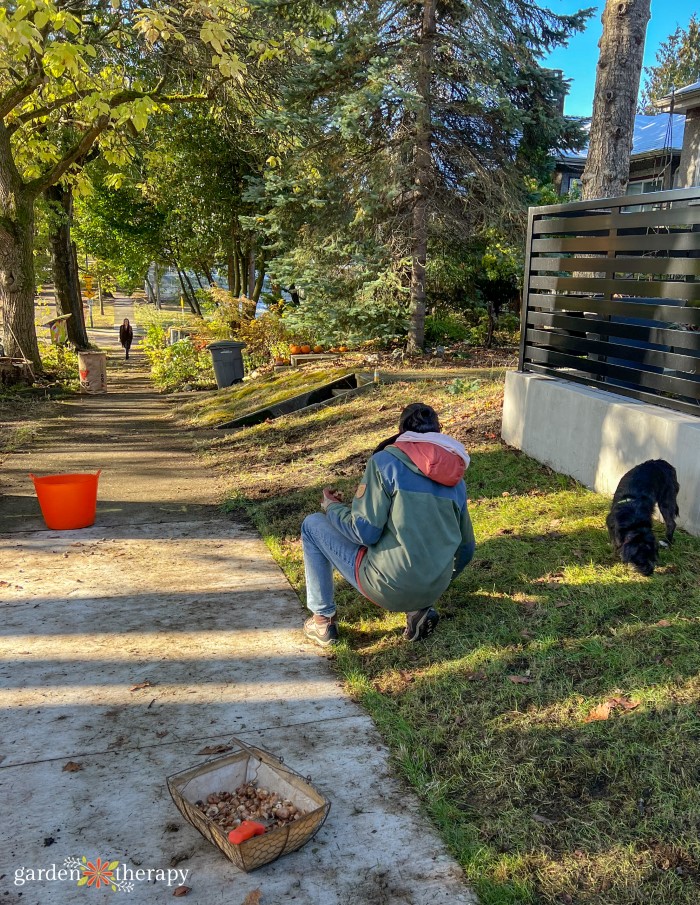 The bulk of the design was to create a mix of early-blooming flowers that naturalize in lawns. The design will take us through No-Mow May (delaying mowing until June each year to encourage biodiversity and healthy landscapes), after which the lawn can be mowed as usual.
The base mix I made included:
Around the base of the trees, along the fence border, and throughout the gardens, I also planted a mix of 2 months of blooming daffodils and some fritillaria. Those who live on my street adore the flowers, but everyone who walks through next spring can enjoy the show that these will put on.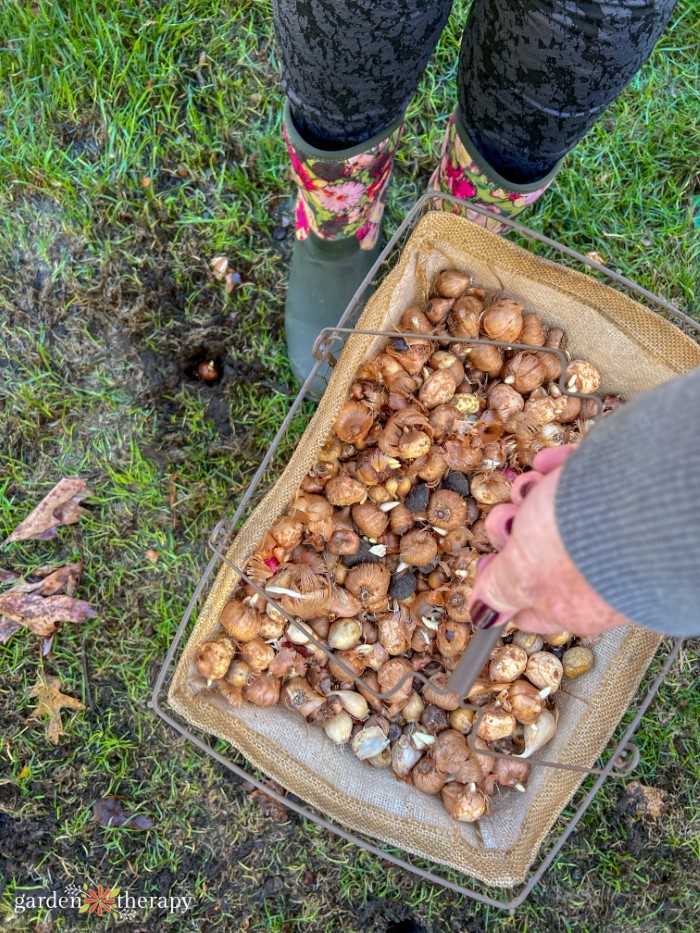 Stinzen Planting Tips for Sidewalk Strip Landscaping
The little bit of grass between the sidewalk and the street is one of the best places to grow bulbs. I know many people struggle with sidewalk strip landscaping, and bulbs are one of the easiest things to grow. And low maintenance too!
For stinzen planting, green and healthy grass isn't necessary. Scarce grass will do just fine! Bulbs aren't ideal for lawns with irrigation or where pre-emergents and other chemicals are commonly used.
So yes, they will work in that sparsely seeded grass you normally see on sidewalk strips. Dappled sunlight also works for bulbs, meaning they don't mind being under trees.
For planting instructions, refer to your bulbs package. You can also read my guide on naturalizing bulbs. My biggest recommendation, however, is to invest in a power planter. Creating a boulevard garden with bulbs takes a lot of bulbs, and a power planter can help lessen the time and strain on your wrist.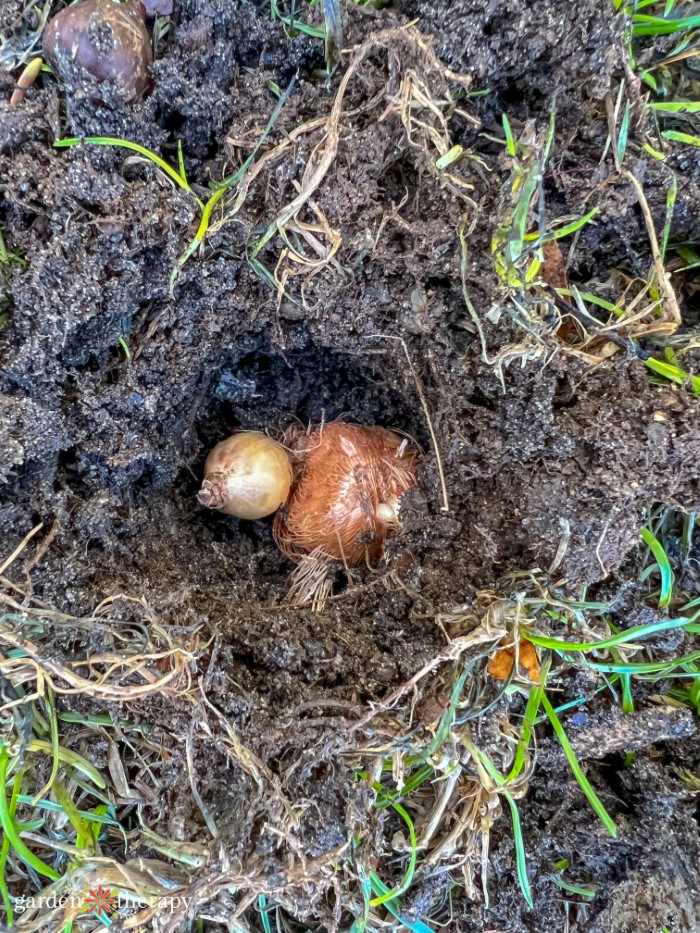 Planting Under an Oak Tree
On my street, I'm met with an extra challenge. Oak trees.
Oak trees are notoriously very difficult to grow under. They're enormous and create such huge root systems. Anyone with oaks on their street probably plants in raised beds to avoid those roots! FYI, raising the soil height on top of tree roots is a bad idea since it can suffocate the roots.
Grass also has a hard time underneath oak trees. Since my rental is a new build, there's currently new sod thriving atop new topsoil. Right now, it looks amazing. But down the line, not so much.
Oak trees are so prevalent and shallow that they take up all moisture and nutrients. In the end, you're left with thin and short grass.
Because of all these reasons, these early bulbs are the best bet for thriving under oak trees. They don't need fertilizer or any water in the summer. They'll take the most moisture and sunlight in the spring, blooming before the oak even has its leaves.
Bulbs are different sizes and need to be planted about 3 times as deep as they are tall. Due to their typically small size, they won't cause issues for the oak's shallow roots. However, be careful where you drill while planting. I hope it creates a symbiotic relationship between the bulbs and the oak. I'll be sure to update you in the spring!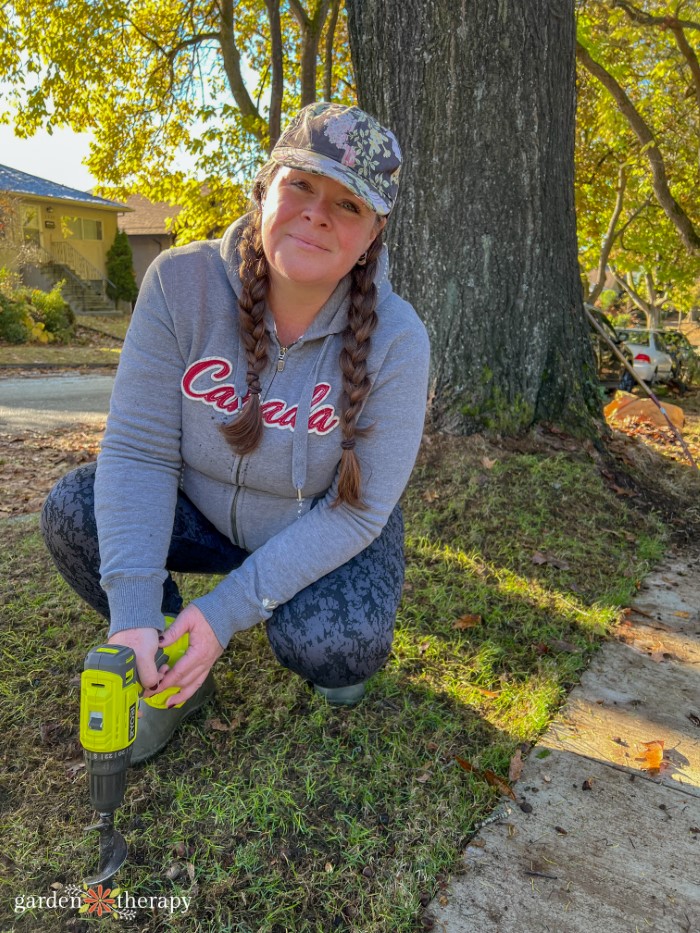 Maintenance for Bulb Boulevard Gardens
When I asked the landlords if I could attempt stinzen planting, they were concerned about what it would look like once the flowers had finished blooming and died back. Will there be bare soil?
Not all! Once the bulbs are finished blooming, you mow it like you would any other lawn. You want to wait about six weeks after it has finished blooming, though new research from Cornell says you may be able to do it sooner.
The bulbs need to gather energy for the next year, and you want to give them time to store up. Around mid-June, you should be able to mow your sidewalk strip.
Bulbs are actually great for turf grass since they aerate the soil and help to draw nutrients back up. When the bulbs die, their leaves will help feed the shallow turf grass. Ultimately, this creates less maintenance for the yard while also making your turf grass look amazing.
I did give my landlords some warning…people are going to stare! People will stop and take photos of the stinzen planting because it will make the front yard and street look so beautiful.
Over time, the bulbs will multiply on their own. Baby bulbs, known as bullets, grow alongside the mother bulb, thickening the front yard flowers over time. They may self-seed too!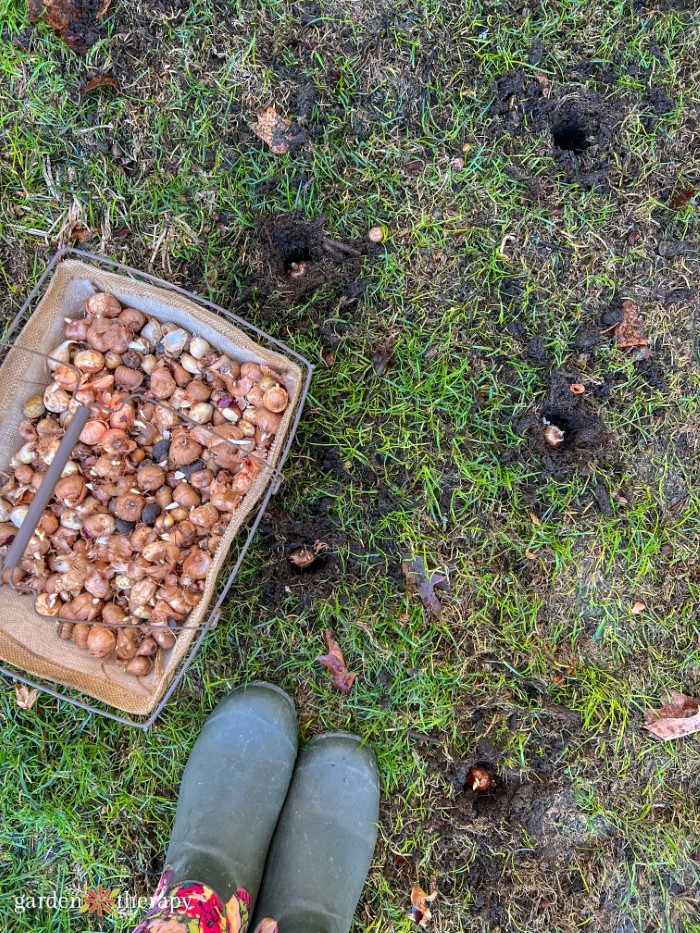 Stinzen Planting Giveaway!
Depending on the size of your lawn or sidewalk strip, landscaping with stinzen planting can take quite a few bulbs. I want to help one lucky Garden Therapy community member foster their own community with a giant giveaway.
This contest is now closed. Congratulations to the winner, Cris Mardres!
Frequently Asked Questions About Stinzen Planting
Are you allowed to plant in a sidewalk strip?
In most cases, you should be able to! Cities will want to support you in beautifying the streets with boulevard gardening. However, some cities or towns may not allow it, so you need to confirm with your local bylaws before planting.

If they do allow you to do sidewalk strip landscaping, there may be certain stipulations you must follow, such as plant height, types of structures, and distance of the plants from the sidewalk and street.
What do you grow along a sidewalk?
Known as the hellstrip, this area is notoriously difficult to plant in successfully. You want to grow hardy plants that aren't too fussy. They shouldn't be too tall. Ornamental flowers work well since you don't have to worry about having waste and pollution on them as you would with something you would eat, like herbs or vegetables. This is why bulbs work so well!