Houseplants are wonderful. They look lovely, bring a dose of nature indoors where you need it most, and they purify the air. However, you might notice some unwelcome visitors making your houseplants their home. I'm talking about fungus gnats—those annoying little flies that appear whenever you water your plants. Do they plague your houseplants too? Don't worry, there are simple—and natural—ways to prevent and get rid of fungus gnats.
Disclaimer: I love living things and try to support natural insects wherever possible. In the outdoor garden, I try to create a natural ecosystem that supports predators for the pests that are attacking my plants. Indoor plants, however, have only a few natural predators that want to kill fungus gnats, those of us that they annoy! People and pets try as they might to swat at those little buggers and without fail, look like like they are practicing some weird new dance that involves flailing and grasping at the air. While I say it all in jest, the only reasonable way to control indoor pests like fungus gnats is to kill off the pests you have, and prevent future infestations.
What Are Fungus Gnats and Where Did They Come From?
Fungus gnats, also sometimes called soil gnats, are small dark insects that resemble fruit flies and infest houseplants. If you have them, you will notice them appear when you disturb the soil or water your plants. Fungus gnats can get into your houseplants when they are left outside, but usually they come straight from the nursery, where they hide in the soil until you bring them home unknowingly. Their larvae eat fungi and plant roots in the soil, which is why they suddenly appear in houseplants when the larvae hatch (after munching on the roots).
Although they don't do much damage to strong, healthy plants, they can cause yellowing, stunted growth, and even death in seedlings and more fragile plants. Plus, nobody wants a swarm of gnats flying in your face every time you water your houseplants. Yuck.
How to Get Rid of Them
Killing off the gnats is really not that difficult and thankfully you don't need to bug bomb your home. The first step is to reduce the natural habitat so that it is inhospitable. This means drying out the soil they live in. Fungus gnat larvae need moist soil, so if you let it dry out completely before your next watering, it will get rid of the ones that are already there and discourage new adults from laying their eggs.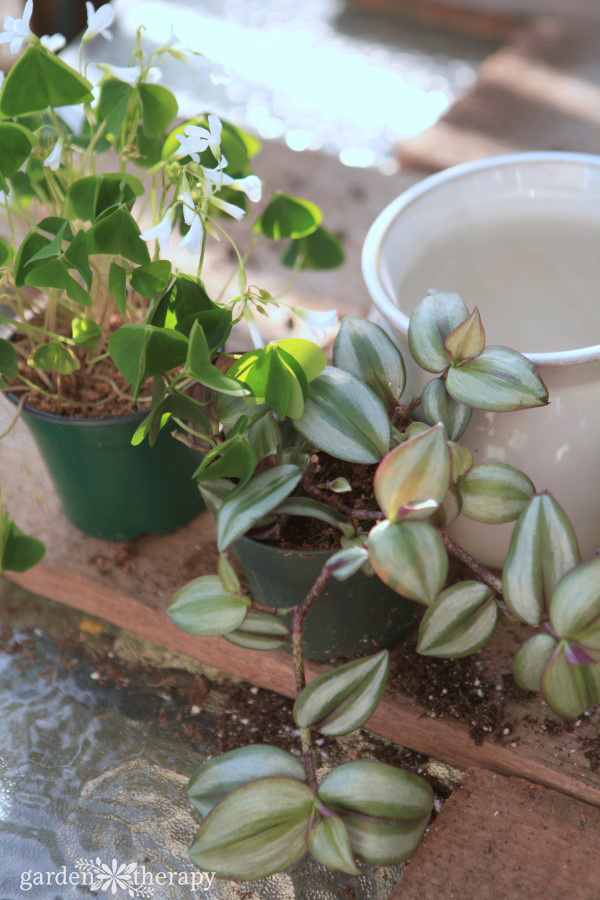 Next, spray the top of the soil with a soap-and-water mixture. Just a few drops of biodegradable dish soap or liquid Castille soap in a cup of water will do the trick. This will kill the larvae. Do it again in a few days to ensure that it gets all of the larvae.
Then, replace the top inch of soil with sand or gravel. Fungus gnats only lay their eggs in the top inch of soil, and replacing that top inch with sand or gravel creates a dry environment with no nutrient-rich fungus for them to munch on, so they won't want to lay their eggs there. Be sure that you dispose of the top layer of soil outdoors somewhere, as the eggs can still hatch and you don't want to just move your pests from one part of the house to another.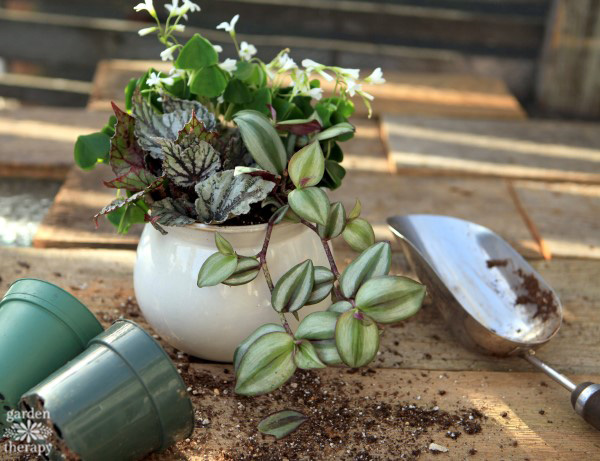 How to Prevent Fungus Gnats
Don't overwater your houseplants. This is the most important thing for preventing fungus gnats. They love moist environments and the eggs can't survive in dry soil, so let your soil dry out completely between watering as much as possible. When you do water, water from the bottom, as this will help the topsoil (where the gnats lay their eggs) stay dry while keeping your plant hydrated and happy.
Store extra potting soil in an airtight container. If you keep your potting soil in the bag it comes in, fungus gnats can easily get in and lay their eggs, but the eggs need air to survive so airtight containers like buckets with tight-fitting lids will keep gnat larvae at bay.
Now that handles gnats, but what about other houseplant pests?
Expert David Squire popped by as a guest of Garden Therapy to share information on 8 of the other most common indoor plant pests and how to get rid of them.
How to Prevent, Identify, and Get Rid of 8 Common Houseplant Pests
Love houseplants? So do we!