My 9th book baby, Garden Alchemy, is turning one! Not only am I immensely proud of this book, I'm also proud of how all of you have used it to better your gardens and the spaces around you! This post kicks off 12 weeks worth of gardening giveaways that you won't want to miss. Plus, I'm highlighting some of my favourite gardening books that you'll also want to check out!
It's Garden Alchemy's first birthday! Just like a proud mama celebrating their kiddo's first lap around the sun, I can say the past year has been full of many new experiences, both wonderful and challenging. It's now a whole year later and we've transformed a ton of gardens along the way. And we're not done yet!
GIVEAWAY ALERT!
In honour of Garden Alchemy's birthday, I have a HUGE (12 week long!) giveaway planned to celebrate with you and some fellow authors. Plus, a Garden Alchemy Grand Prize with the book, companion workbook, masterclass and a 30-minute, one-on-one zoom call with me. See how to enter at the end of this post.
But first, I wanted to talk a little bit about the year of Garden Alchemy.
The Birth of Garden Alchemy
On February 18th, 2020, I launched my 9th book baby, Garden Alchemy. While the looming pandemic would soon cut my book tour short, I was still thrilled to finally have my book in the hands of new and experienced gardeners alike.
The book came from many seasons working away in my garden and learning how to naturalize a barren space. With over 80 recipes and garden projects, it ended up being one of my biggest books and accomplishments yet.
Garden Alchemy was a tough book for me to write. While writing it, I really dove deep into sustainability and where our planet is now. I'm not going to lie, there were days where I sat at my desk and sobbed about the state of the earth right now. I wiped away my tears and used that passion as motivation to spread the good news: there is plenty we can do and it starts at home.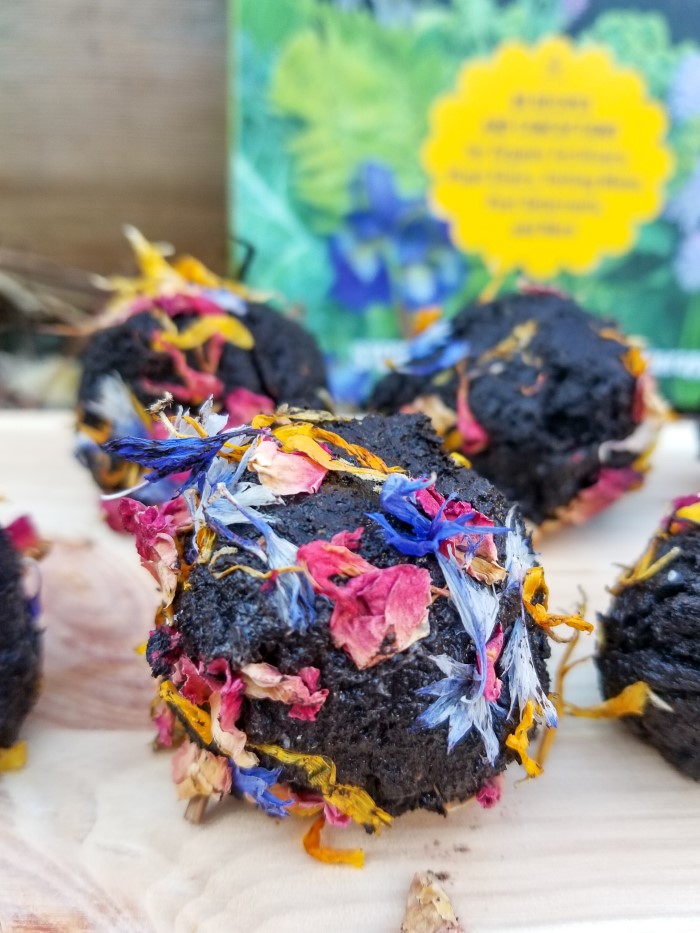 The return to organic, nature-led gardening is something that I deeply believe in. After testing these methods to heal my own gardens and bring them back to the way nature intended, I ventured out to other spaces to see how permaculture and herbalism practices are changing landscapes, farms, and home gardens. Through this journey, what shows up on the pages of Garden Alchemy allows more people to easily transform their gardens around the globe.
And I really mean around the globe! Garden Alchemy was originally printed in English and is available at major bookstores in Canada, the US, the UK, Australia, and more. This year we will also see Garden Alchemy translated into Estonian, French, and German! I'm so excited to have this opportunity to reach folks far and wide to encourage them to love their soil, plants, and gardens.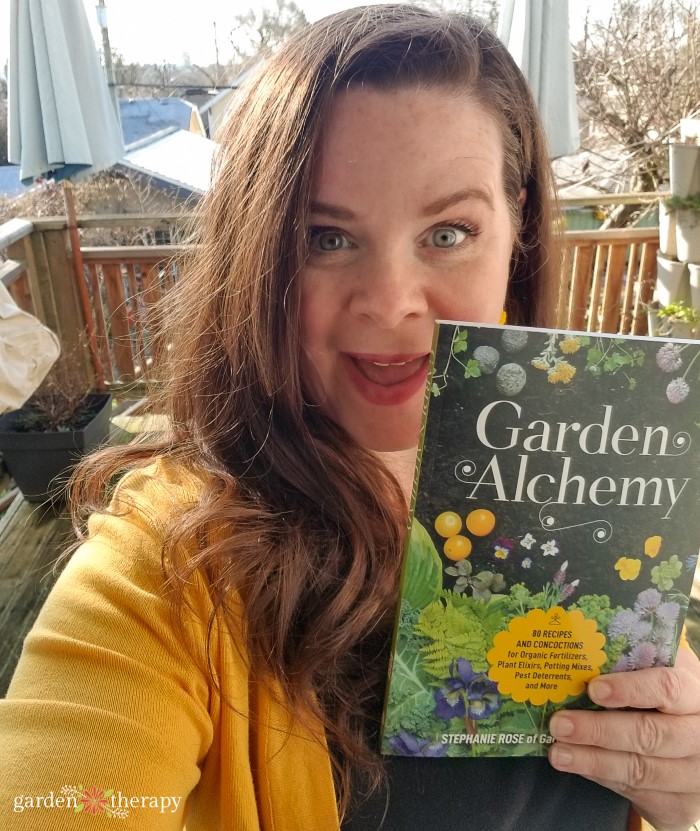 Raving Book Reviews
What I never anticipated, however, is how much Garden Alchemy has helped people in ways I never could have expected.
A Helpful Homeschooling Aid
I was surprised to learn that a bunch of parents started using Garden Alchemy as a homeschooling tool! As a parent who had to do a lot of unexpected homeschooling in 2020, I can say there is nothing cooler than providing some curriculum to help little folks fall in love with plants. The science and simple experiments in Garden Alchemy have proven ageless.
"…there's so much science fun and crafty stuff in here. Now I get to involve my science-loving homeschool mom side! There are simple experiments to test the acidity of your soil, instructions for making your own seed tape and seed bombs (and lots more), and all kinds of cool science-based crafty things to do — AND there are great color pictures of the whole deal."

—Alicia Bayer, Goodreads
A Book to Carry into the Garden
Others have loved having a physical copy of the book, which is unexpected in this increasingly digital world. My book really is meant to be out in the garden to get dirty with you as you experiment, and it's a great honour to see tattered, dirty copies out there.
"…This book is printed on heavy duty paper that will allow you to carry it to the work site for quick reference and if something gets on the book you can easily wipe away, I believe, without smearing the print and destroying the page…has almost a water repellent feel to it…I love it. In my opinion, this is a very well thought out, designed, and published collection of garden recipes and concoctions where the author considered book content, as well as, construction and publishing needs to best serve the customer. Looking forward to many years of use because of all the knowledge to be gleaned from this book."
—Douglas C. Meeks, Amazon
A Win for Experienced Gardeners
Even those who have been gardening for years and years have found use in it. I'm thrilled to be able to share new garden info with other experienced gardeners.
"This arrived today, can't put it down. Stephanie has put into words what I have believed in for so long. 60 years learning about and practicing eco gardening, feeding nature with nature. The joy in her book is that there is always something new to learn. This is already one of my prized possessions. Fantastic!"
—Elizabeth, Amazon
A Soil "Bible" for Beginners
And someone even referred to it as their soil bible! I have many books that I consider my "gardening bibles" and it's an honour to be that for someone else.
"This is a beginner edition soil bible. I am impressed with the amount of really useful information that is easy to understand no matter if you are a novice or expert. It explains soil types, mulches, how to do ph tests with everyday items and so much more…"
—Brake4Moose, Amazon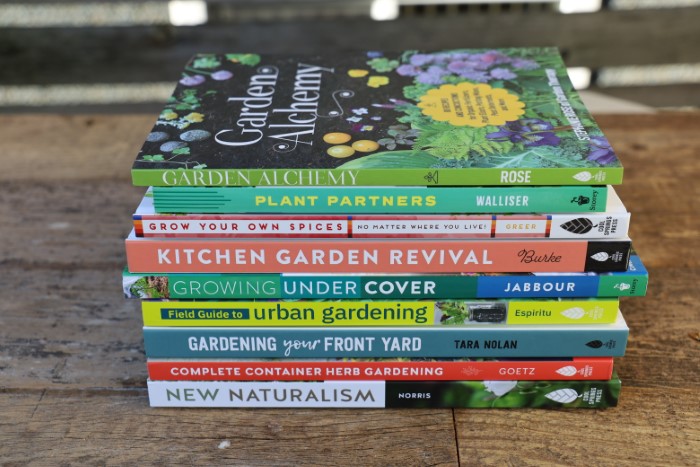 A Practical Way to Save Money
If there was one good thing to come from 2020, it was the resurgence of gardening for many. While people were stuck at home and looking for entertainment within the confines of their backyard, suddenly the garden was the star of the show.
So many new gardeners have picked up Garden Alchemy and learned how to care for and benefit from the garden. Plus, they are saving money by doing it all themselves too.
"Great, quick read! Chock full of interesting formulas to help your plants grow. Even though it is only December, I am looking forward to putting many of these ideas into practice this spring. No more buying pre-made seed starting mix, pre-made fertilizers, or pre-made plant disease treatments. Thanks to this book, I will be saving loads of money, plus have the enjoyment of doing it myself!"
—Randal White, Goodreads
Reading reviews and how people have used Garden Alchemy fills me with nothing but joy. It's one thing to share your knowledge and skills, but it is a completely other thing to go out and see it in action! THANK YOU to everyone who takes the time to leave a review. I read every one of them!
Other Amazing Gardening Books
2020 also saw the release of many other fabulous gardening books and there are plenty more coming out this year! This list of authors below have been bringing new and modern techniques to the gardening world, proving it is an old hobby that even Gen Z can get behind.
From growing food in your kitchen to designing a stylish and functional garden, these authors have taught people from every walk of life how to better their gardens this year. I am so honoured to share the year of gardening with them and push it forward into 2021!
Organic Gardening for Everyone
Organic Gardening for Everyone by CaliKim breaks down the idea that organic vegetable gardening is difficult. CaliKim is a organic gardening guru with over 400,000 YouTube subscribers.
In her book, she breaks down how to grow your own healthy vegetables in your own backyard gardens. The book is full of practical advice and step-by-step instructions with beginner gardeners in mind.
Follow her on Facebook and Instagram and be sure to check out her website here.
Giveaway begins February 12.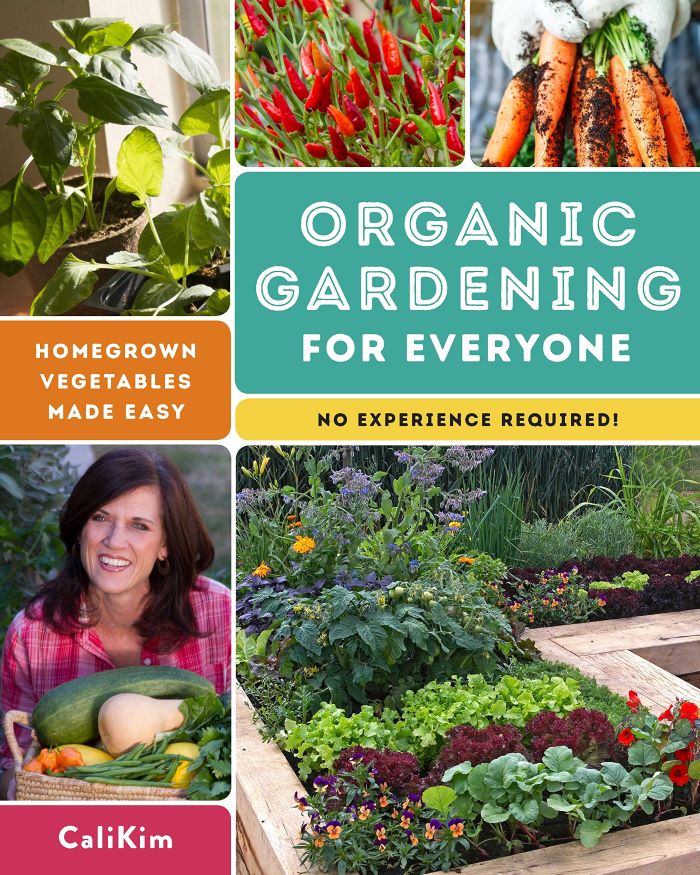 Complete Container Herb Gardening
Say goodbye to grocery store herbs by growing your very own herb garden with Complete Container Herb Gardening by my dear friend, Sue Goetz. This book is great for those with limited space or a small corner to fill.
You'll learn which herbs to grow, how to tend to them, and all the ideal containers from a herb and small space gardening pro and one of my favourite herb nerds.
Sue and I have done talks together in the past so it's a lot of fun that we can showcase our books together too! I've been to many of Sue's love talks and believe me, there is no better expert to learn about growing herbs from.
Follow Sue on Instagram, Facebook, and Twitter and follow her website here.
Giveaway begins February 19.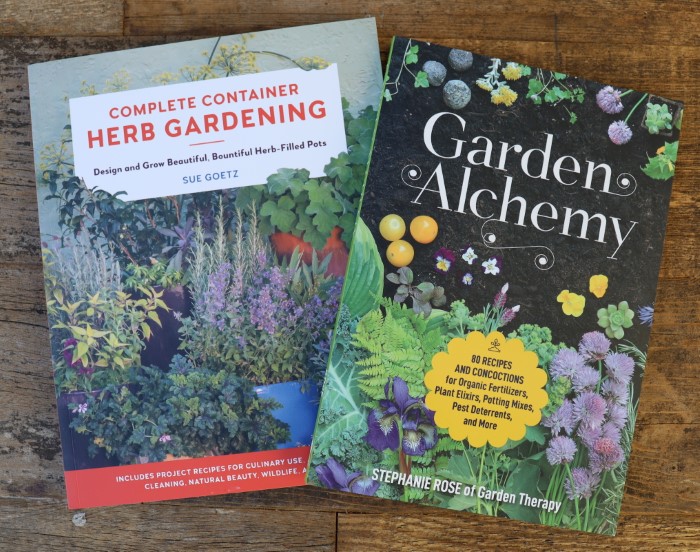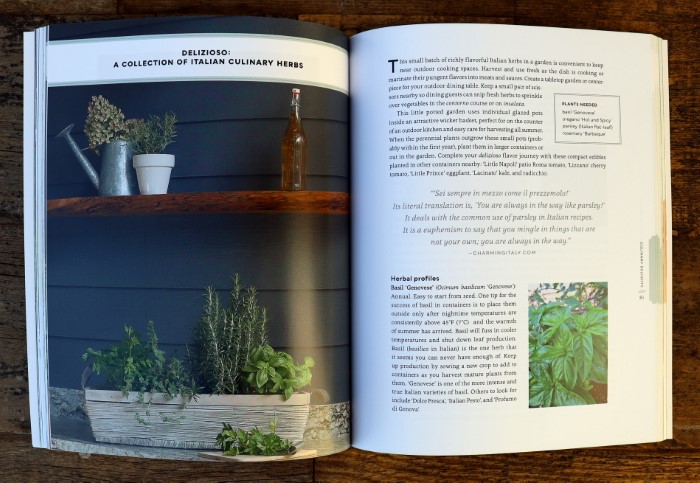 Plant Partners
Plant Partners by Jessica Walliser is a must-have guide for those interested in science-based companion planting. Co-owner of the website Savvy Gardening, Jessica walks you through this popular growing technique and how you can use scientifically tested plant partnerships in your own garden. Companion planting can help improve soil health, pest control, biodiversity, and more, meaning this book will help you grow a better garden with confidence.
Fun fact: Jessica was also the Acquiring Editor on Garden Alchemy and a huge reason as to why I signed on for the project. She is one of the most knowledgeable horticulturists out there and I deeply respect her advice.
Jessica helped me make Garden Alchemy the book it has become, and her new book is one of the most exciting new releases this year!
Check out her website here and be sure to follow her on Twitter and Facebook.
Giveaway begins February 26.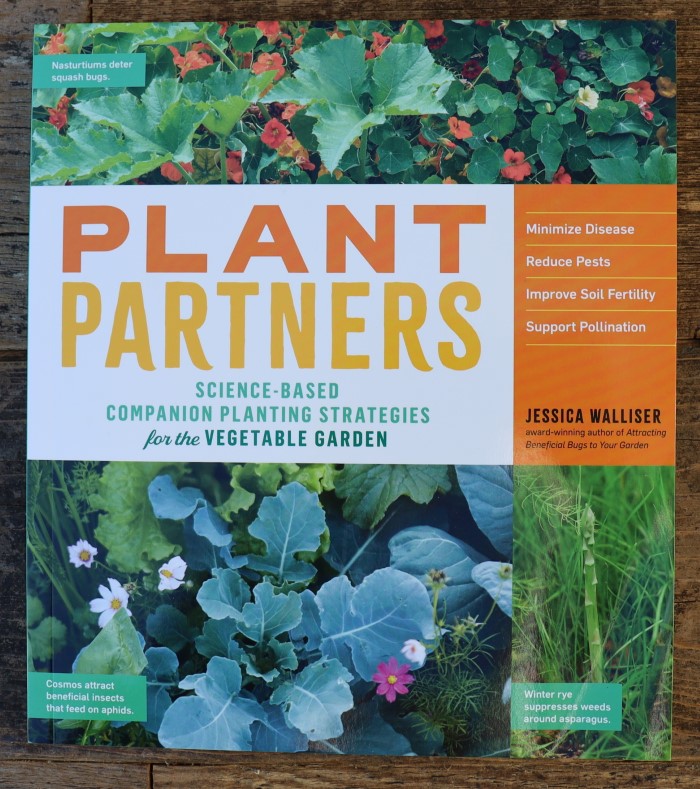 Growing Under Cover
Another amazing Savvy Gardening contributor and my vegetable gardening hero is, Niki Jabbour. I have gushed over her past books before, and could not wait for her brand new book, Growing Under Cover!
In it, she teaches you how to implement controlled growing spaces for your gardening. Ranging from small solutions like cloches and cold frames to larger structures like greenhouses and polytunnels, these covering ideas will allow your vegetable garden to thrive year round.
I've been watching Niki do this on social media now for a year, and I'm so excited to see the book in my hands. If you don't already, follow Niki on Instagram and Facebook to be truly inspired by one of the most gorgeous and productive edible gardens in the world…oh, and she does all of this in Halifax, Nova Scotia! It gives me so much motivation to see her thriving garden in a climate so much cooler than mine. Clearly this book will help us see some of the methods she uses to extend the season.
Giveaway begins March 19.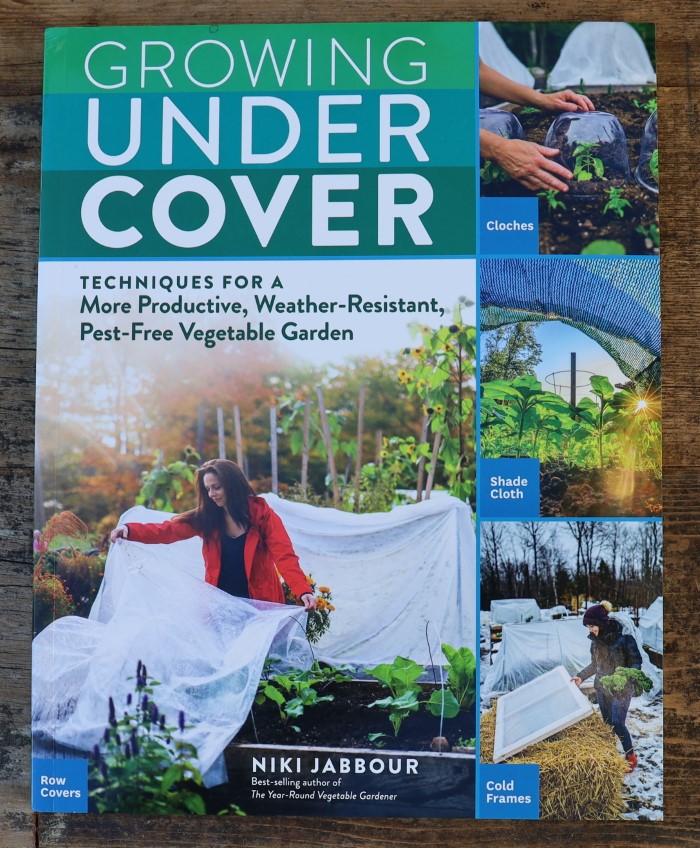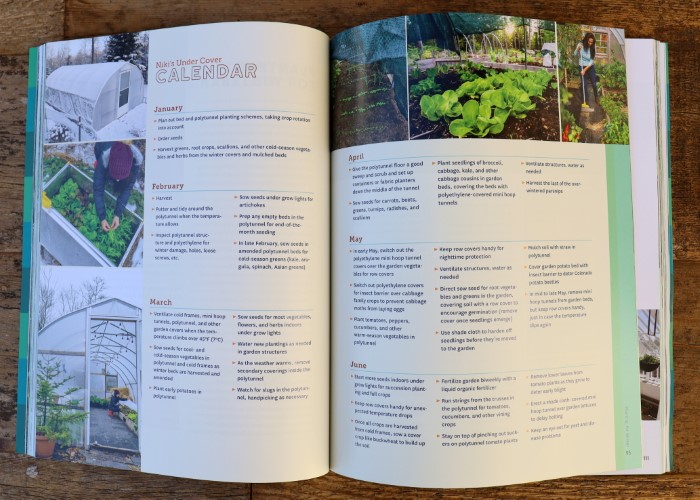 Gardening for Your Front Yard
The front yard can be a tricky space for many, trying to turn make it both functional and beautiful. Tara Nolan (another pro from Savvy Gardening and author of one of my favourite books, Raised Bed Revolution) shows you how to treat your front yard like the back while maintaining beauty for your home in her book, Gardening for Your Front Yard.
You'll find advice on different kinds of plants and different hardscaping and gardening projects suited for the front of your home. It's such a gorgeous book, filled with eye-candy and practical DIYs that can transform your front yard.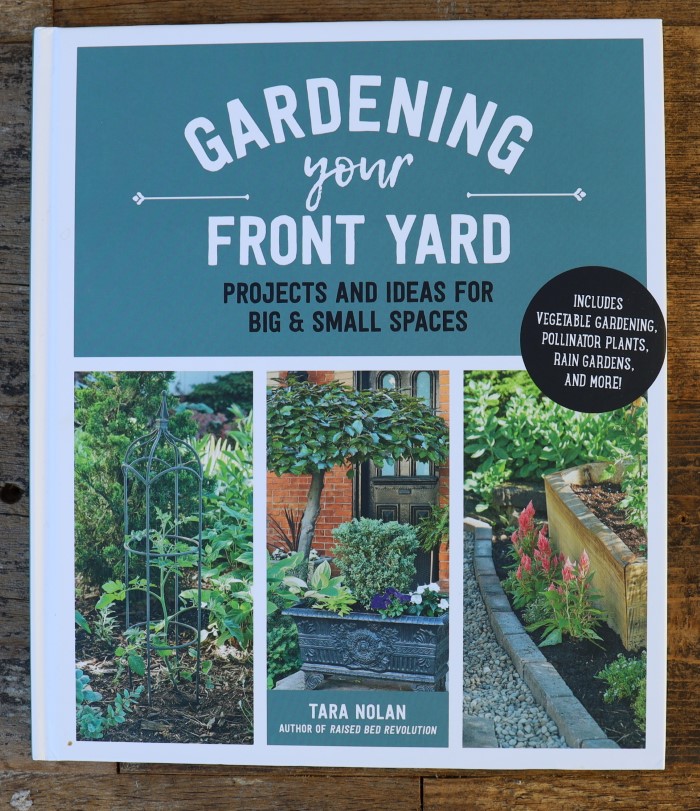 Page 166 even has the story of the house that is just a few blocks from my home in Vancouver, BC that I shared with Tara when she visited here a few years ago.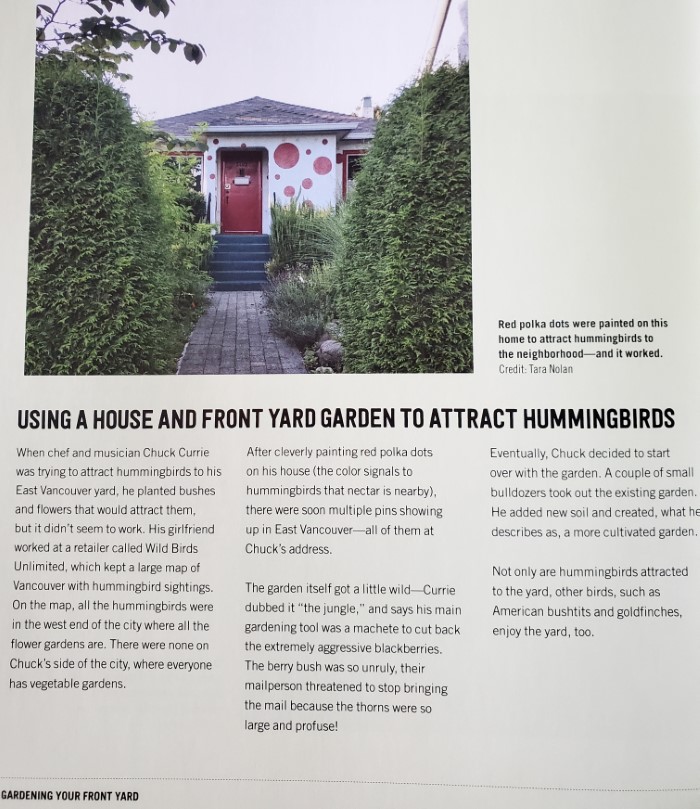 Here is another fun fact: When I was reading the book for the first time, I read the whole thing in one sitting. I got all the way to the end and saw my name in the acknowledgments! Tara and I may live across the country from each other, but we try to make time to have video calls.
When I was writing Garden Alchemy, she was writing Gardening for Your Front Yard and we would take breaks to chat and cheer each other on (writing a book ain't easy!). Of course, I've thanked her in the acknowledgments of my book as well.
Find Tara on her website here and follow along with her on Twitter, Instagram, and Facebook.
Giveaway begins March 5.
Field Guide to Urban Gardening AND Grow Bag Gardening
Kevin Espiritu is a self-taught gardener who is taking over the digital community to reach more and more gardeners through his website, Epic Gardening. He has a lofty goal to teach millions of people to garden, and he is truly committed to that goal.
You may know him from YouTube, Instagram, TikTok or Facebook because he has a gazillion followers. The one thing you should know is that he truly has the giving heart of a gardener. He will give a ton of his time to folks who have questions about gardening. Thankfully, he has compiled all of this Kevin-ness into two deeply informative books.
In Field Guide to Urban Gardening, Kevin shows you how you can change any space to grow your own food, no matter where you live. It's a fantastic book and the one I always recommend to new urban gardeners, looking to build some skills. It's jam-packed with ideas and solid advice.
Giveaway begins March 26.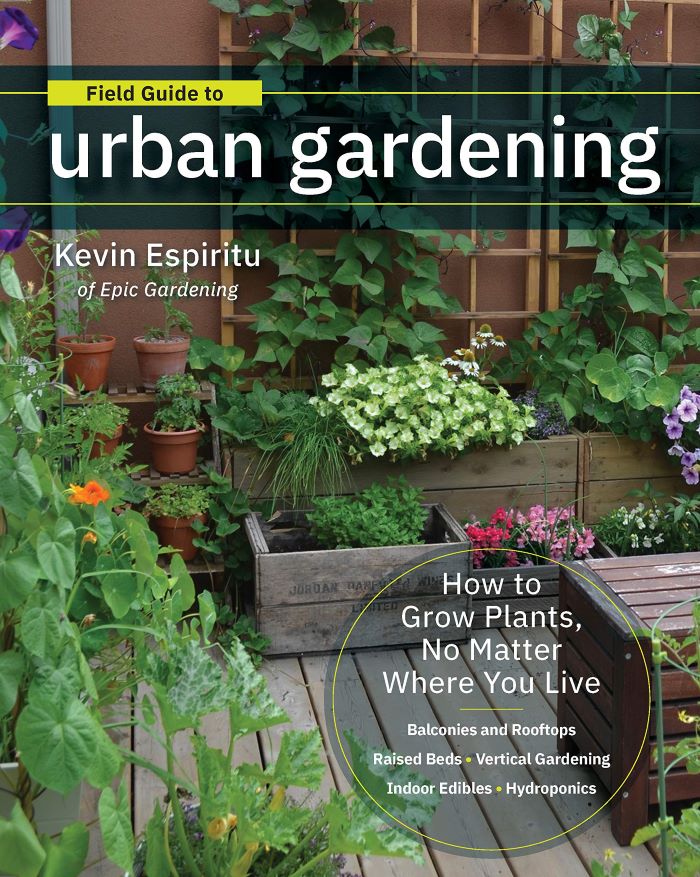 His latest book, Grow Bag Gardening, teaches this revolutionary method to grow herbs, fruit, and flowers in eco-friendly, fabric pots. You will even find one of my soil recipes and a few of my photos in the book!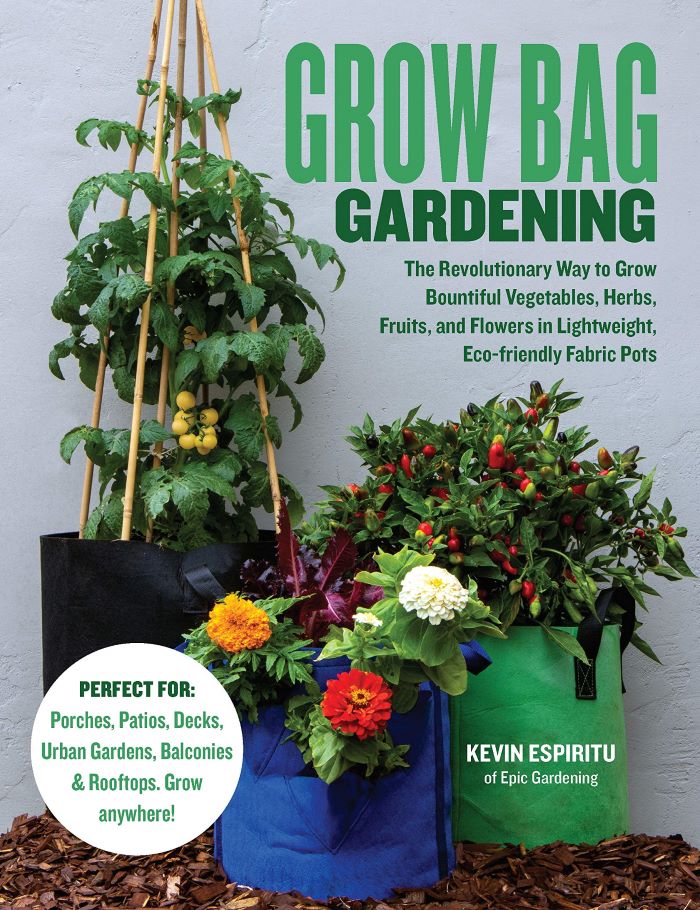 New Naturalism
In Kelly Norris' recent release, New Naturalism, learn how to create a stylish, yet naturalistic home garden. Kelly's approach to gardening is all about how our homes can be ecological systems that support positive environmental change, increase wildlife diversity, and create spaces that are self-reliant. It's beautifully written and photographed, a true joyful journey of gardening.
If you are looking to reconnect to nature, this one's for you. Follow Kelly on his website, Instagram, and Facebook.
Giveaway begins April 16.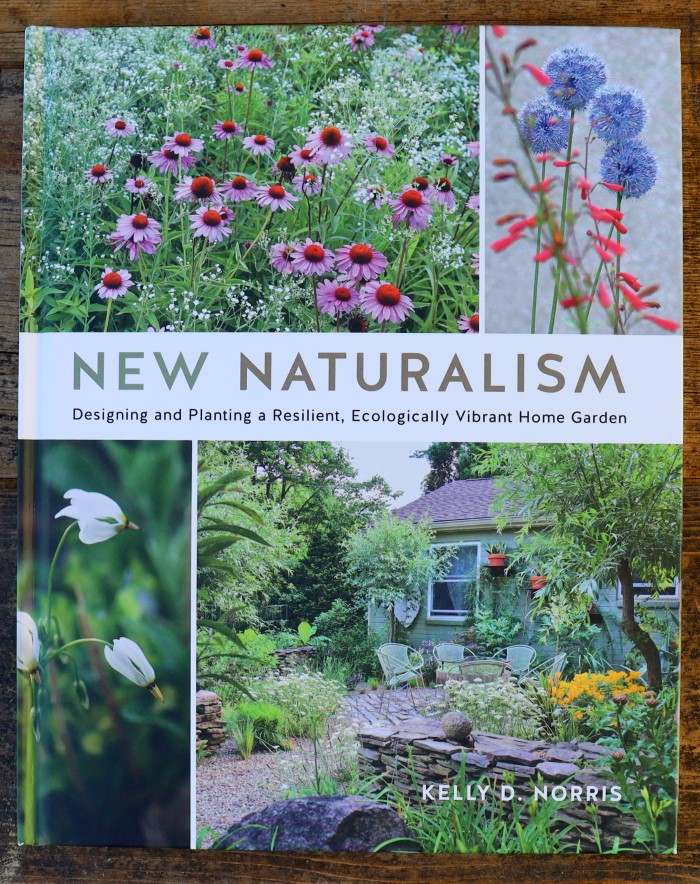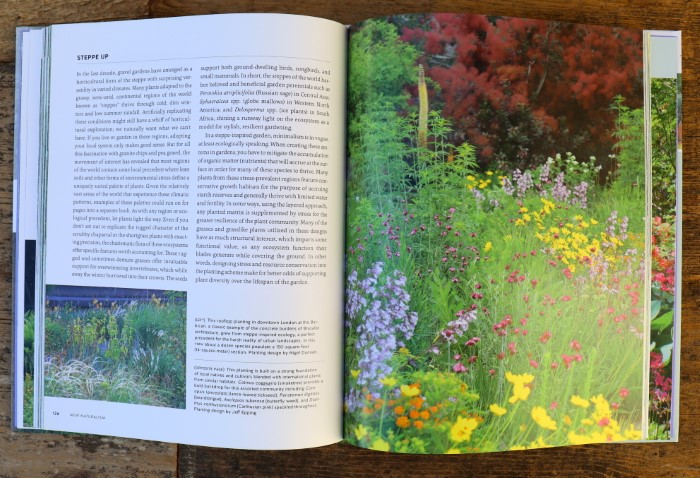 Grow Your Own Spices
Learn to cultivate over 30 spices in Tasha Greer's book, Grow Your Own Spices. Tasha shows you how you can grow spices as a health-boosting supplement and to amp up your culinary cabinet.
Having a thriving spice garden can be trickier than growing herbs, but Tasha knows how to start you off with easy spices until you can graduate to the trickier ones! I can't wait to try some of these out this year.
Find Tasha on her website Simplestead or on her Instagram or Facebook.
Giveaway begins April 2.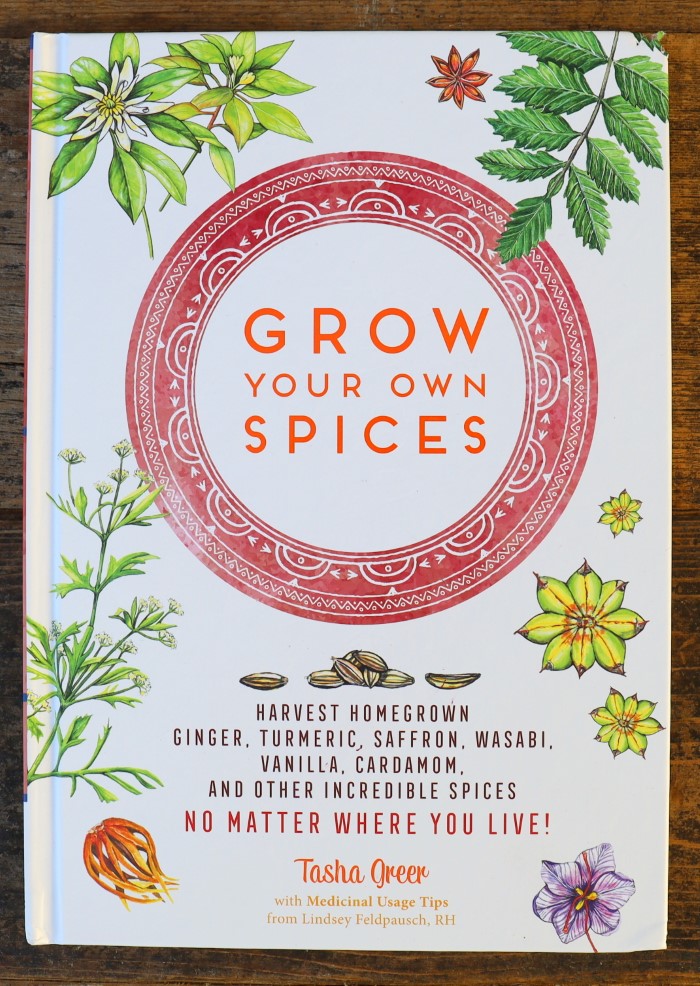 Attainable Sustainable: The Lost Art of Self-Reliant Living
Attainable Sustainable is by Kris Bordessa, the founder of—you guessed it—Attainable Sustainable. This book is a lifestyle reference all about how to become a backyard homesteader. Inside, you'll find recipes, natural remedies, gardening tips, crafts, and even how to raise chickens. Sustainability exists in the 21st century if we all follow Kris' indispensable advice.
Kris worked on this book for years and it certainly shows! Its pages are packed with pretty much every back-to-basics skill you will ever need in your toolkit. The book came out within weeks of Garden Alchemy. Kris's book and my book were constantly dancing on the top releases list together. What an honour!
To be fair, Attainable Sustainable moved to number 1 and stayed there. But I was able to capture a screenshot the day after Garden Alchemy's release of our books hanging out together online.
Kris also interviewed me for her book launch and that was a lot of fun. Watch our chat here and see me crack up after getting a bit silly!
Be sure to check out Kris on Instagram, Twitter, and Facebook.
Giveaway begins March 12.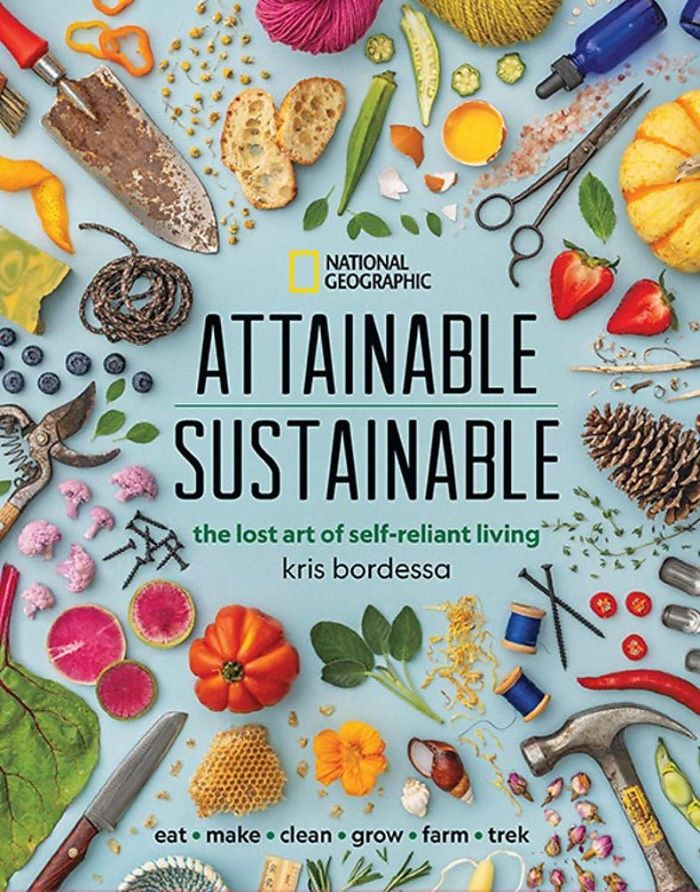 Micro Food Gardening
Tiny house lovers, meet micro gardening. In Jen McGuinness' new book, Micro Food Gardening, learn how you can grow a variety of food in the smallest of spaces. Growing your own food in a small space isn't limited to herbs and microgreens; you can grow tiny cabbages, strawberry plants, and even baby beets with the insights in this book.
Find Jen on her website Frau Zinnie, Instagram, Twitter, and Facebook.
Giveaway begins April 30.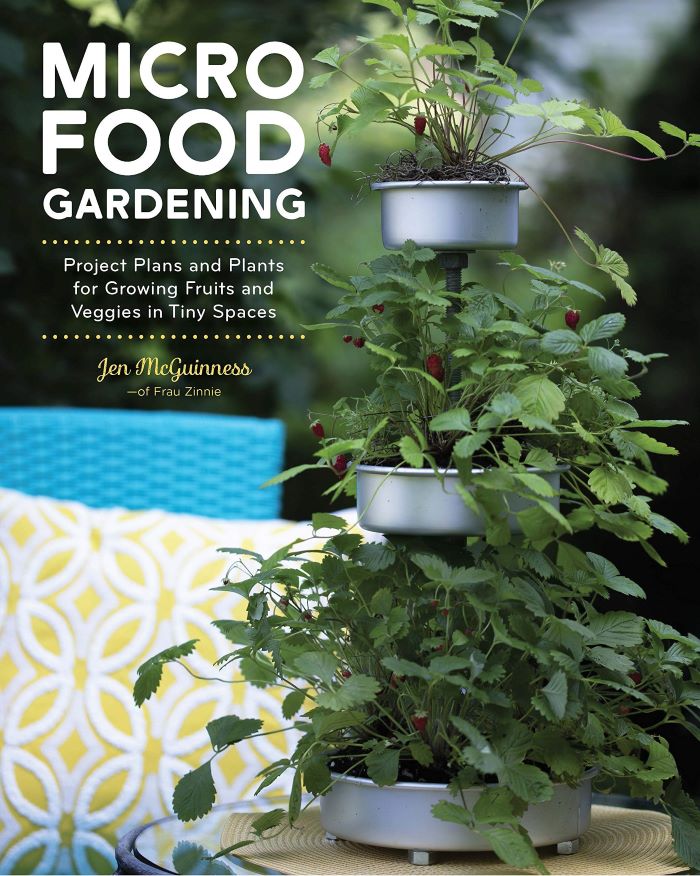 Grow Your Own Mini Fruit Garden: Planting and Tending Small Fruit Trees and Berries in Gardens and Containers
Grow Your Own Mini Fruit Garden by Christy Wihelmi is an amazing resource for fruit lovers with small gardens. Many have grown their own vegetables but fewer have grown their own fruit. Whether you plant a tree or have a bustling container garden, Christy teaches you how you can enjoy delicious fruit from your own garden.
Follow along with Christy on her website, Gardenerd, Instagram, Twitter, YouTube, and Facebook.
Giveaway begins April 23.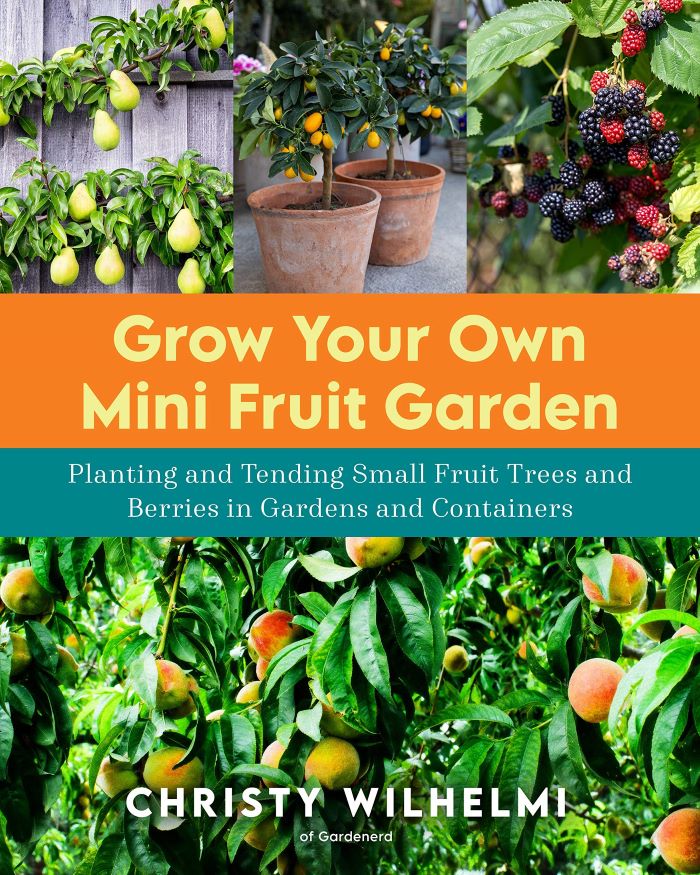 12 Weeks of Gardening Giveaways
So now the moment you have been waiting for…the giveaways! To celebrate Garden Alchemy's birthday, I have partnered with the twelve authors above to give away a copy of Garden Alchemy and a copy of their book once a week for twelve weeks.
The giveaways will take place on Instagram, so make sure you're following me there to know when each giveaway goes live. Every Thursday, join me live on my Instagram where I'll announce the week's winner at 12 PM PST.
Garden Alchemy Grand Prize
Since I know not everyone is on Instagram, I also wanted to give you another amazing opportunity to win! Two lucky blog readers will win a copy of Garden Alchemy, its companion workbook, an enrollment to my Garden Alchemy Masterclass, AND a one-on-one, 30-minute zoom session with me to get personalized advice on your very own garden. So start writing down your questions!
This giveaway is now closed. Congratulations to Kim Lennie and Nicole Redden!
Please note that this contest is open to the US and Canada (except Quebec and where prohibited) only.
Projects and Ideas Inspired by Garden Alchemy: