Do you ever find yourself wishing that spring could come earlier? Well, my friends, I'm here to tell you that it can—indoors! With a few simple techniques, you can force bulbs to grow early and create a spring garden right in your own home well before they are ready to flower outdoors. You can make gorgeous varied arrangements to display on your dining table or other surfaces and you'll be feeling sunnier in no time. Grab some bulbs and get ready to welcome spring!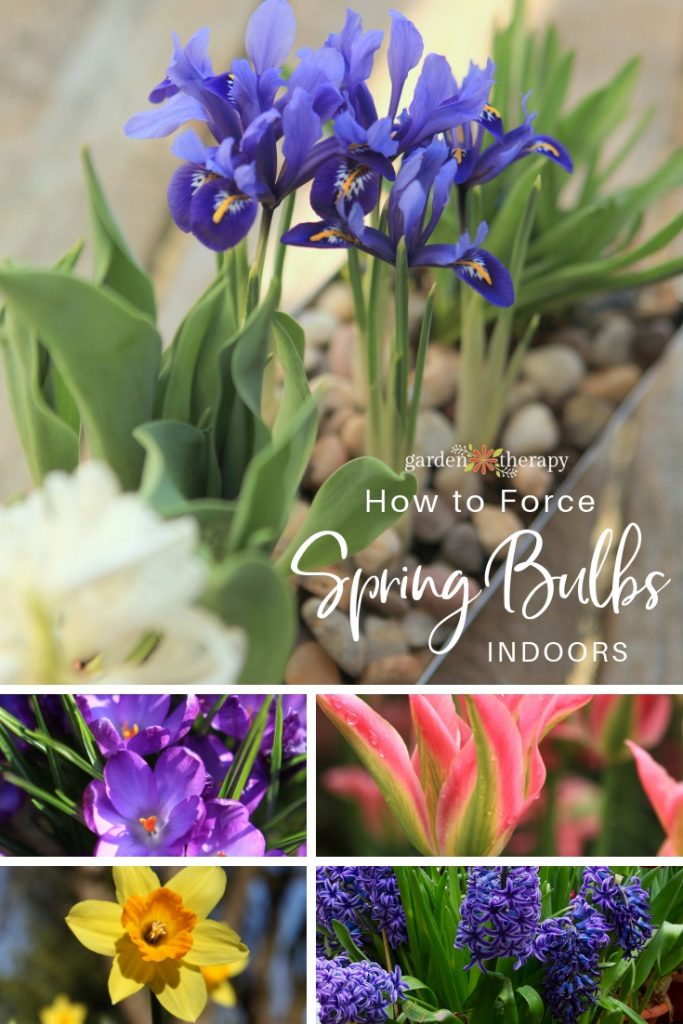 Choose Your Bulbs
It's important to pick bulbs that take well to forcing. These ones are easy to force indoors and produce gorgeous spring flowers that will brighten up your home.
Crocus
Dutch iris
Hyacinth
Muscari
Narcissus
Tulip
Choose Your Container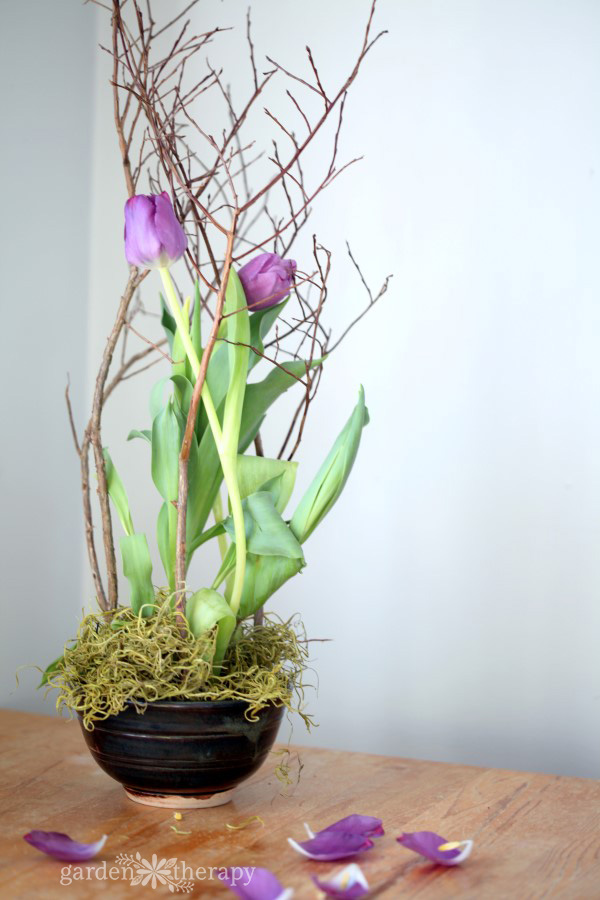 Bulbs can be forced in a wide variety of containers, so pick something decorative that will complement the flowers that you've chosen. Shallow dishes and pots make good containers for many bulbs, as do simple Mason jars. You can find containers specifically made for bulb forcing, too—they have a wide dish at the top that narrows before widening out below again into a vase shape, so that the bulb will sit in the top above the water in the vase part.
Prepare and Plant
Forcing bulbs and other plants is a way of tricking them into thinking it's time to flower earlier than they naturally would. In order to do this, you have to put the bulbs through a false "winter."
Bulbs naturally go through a period or dormancy over winter, and in the spring when the soil is warmed enough by the sun, the bulb knows that it is time to come up and bloom. What we're doing is recreating this effect indoors and on our own time, so that we can have beautiful spring flowers blooming early.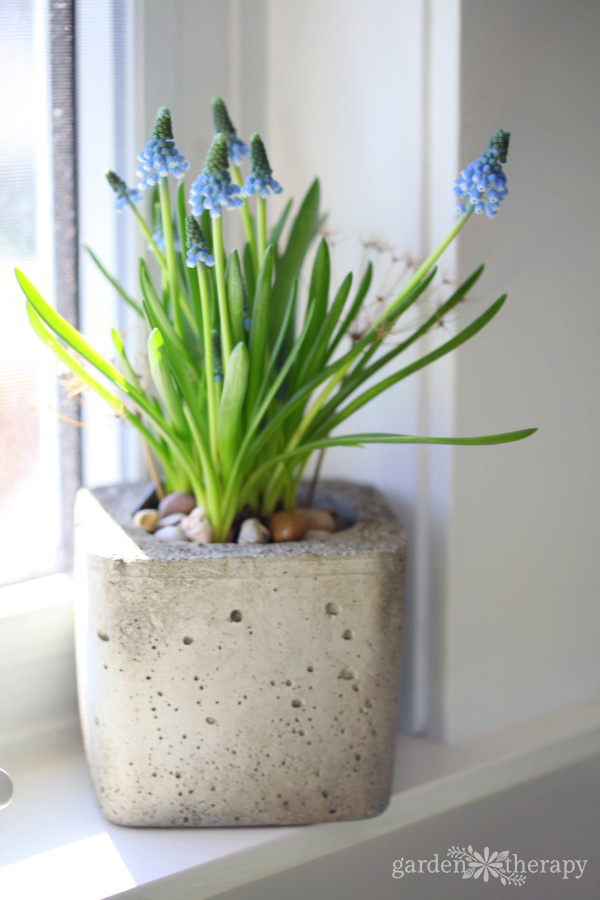 To do this, you need to mimic the bulb's natural life cycle by chilling it at 35-45 degrees Fahrenheit (or 2-7 degrees Celsius) for about 8-15 weeks. This creates an artificial winter. You can chill bulbs in a cool, dark spot like a root cellar or unheated garage. You can also put the bulbs in a brown paper bag in the refrigerator as long as you give them their own drawer away from fruits and vegetables that release ethylene gas. If you don't have the time to do this, you can buy bulbs that have already been chilled for you. Once the bulbs have gone through their cold period, you can plant them indoors and the transition from cold to warm will signal to them that it is time to grow and bloom.
If you are using a Mason jar or other deep vessel, fill the container up with small pebbles or marbles. Nestle the bulb into the pebbles or marbles with the pointy end facing up. About half of the bulb should be buried while the top half remains exposed. Add enough water to the container so that the bottom quarter of the bulb is submerged, but the rest of the bulb is above the water.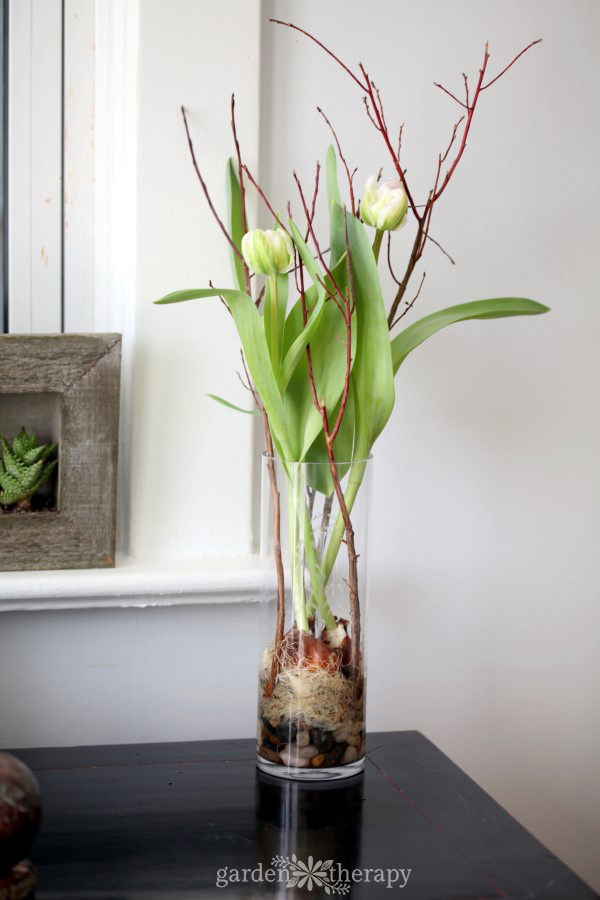 If you are using a shallow dish or pot, add a few pebbles to the bottom for drainage and add potting soil to the container. Plant the bulbs in the soil (again, pointy sides up) and add a little more soil on top so that they are just covered. Water thoroughly. Check the soil often and keep it moist with frequent watering.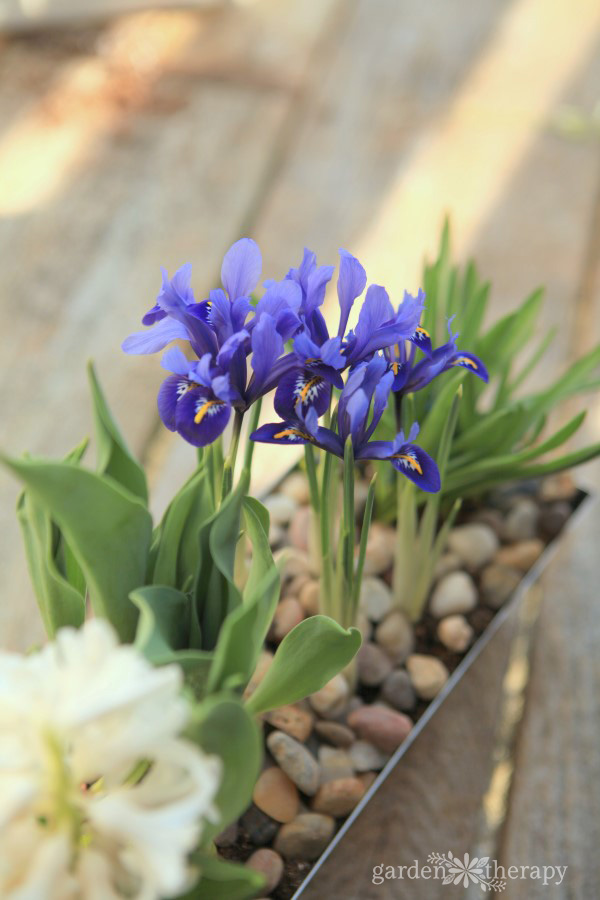 If you have a forcing vase, simply fill the bottom part with water and rest the bulb inside the wide dish at the top. The roots will grow down into the water.
Decorate!
Give your arrangements a little something extra by adding reindeer moss, polished pebbles, or flat glass marbles around the base of the plants, and consider including some delicate deciduous branches for added structure. If you are forcing your bulbs in soil and not just water, you can plant a few pretty annuals such as violas or primulas in the same container for some variety.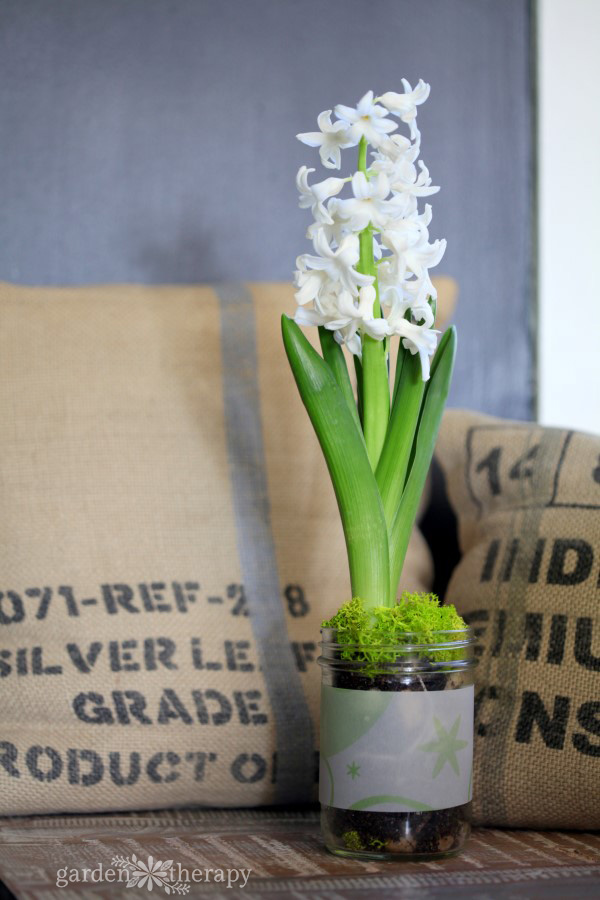 Plant Again
After the bulbs have finished flowering and you have enjoyed your indoor display to the fullest, you can plant the bulbs out in the garden and watch them flower again for years to come.
You Might also like these Posts: