Evergreen Pressed Herb Candles
These DIY pressed herb candles are perfect for anytime of year because they are created with evergreen herbs which are always available. Using beeswax or soy wax, canning jars, evergreen clippings, and essential oils, these candles make for beautiful handmade gifts and home decor that brings the outdoors in.

Since I began working at a local apothecary here in Portland, Oregon, I've fallen in love with candle making. Last year I made up some Pressed Herb Candles using lavender and mint from my garden and they turned out beautifully.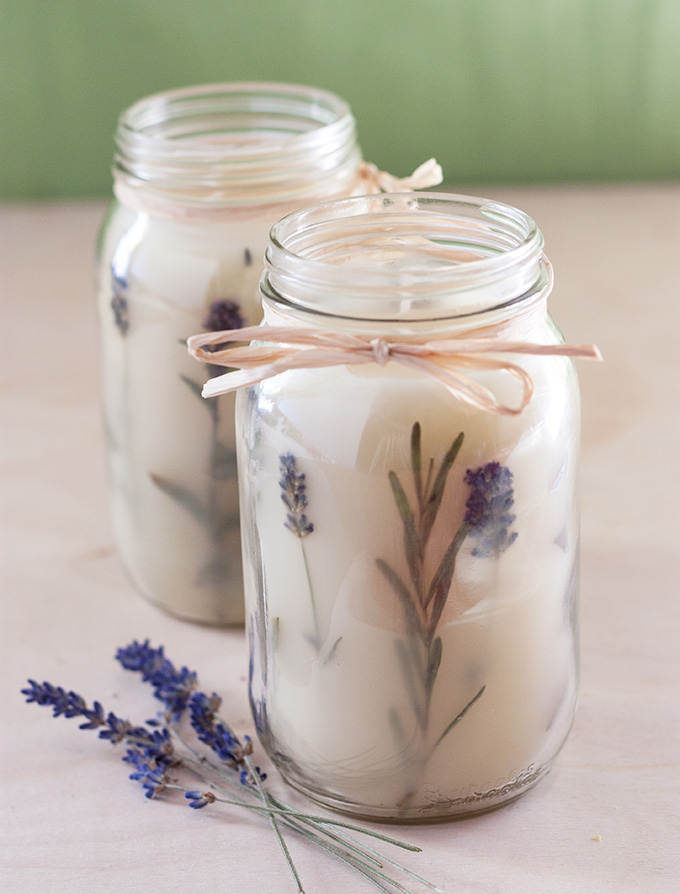 A Note on Safety: the rosemary candles in this project look beautiful but should not be burned unattended, just like any candle. The key is to press whatever herb you choose as flat as possible and use the wax to stick it to the edge of the jar. That way they will stay against the glass jar and away from the flame. The rosemary I used was quite large and didn't press completely flat. The herbs did burn and so I  prefer to use thinner-stemmed rosemary and make sure it is pressed flat at attached to the side of the jar like my lavender candles (shown above). Please always use your common sense with any DIY project, especially when candles are involved. We can show how we make the projects but can't monitor your home safety so that is up to you! 
Pressed Herb Candles
I'm starting my holiday gift making early this year and decided to make up some more but with a 'winter' twist using pressed rosemary and essential oils to create an evergreen scented candle. As it turns out, I think they would be welcome in my home (and by my friends!) any time of year. They should even do a pretty good job at keeping mosquitoes at bay in the summer.
Materials
(Makes 2 8oz candles)
Additional Tools
Metal wax pitcher (or tin can)
Saucepan (to create a double broiler)
Pliers
Clothespins
Popsicle sticks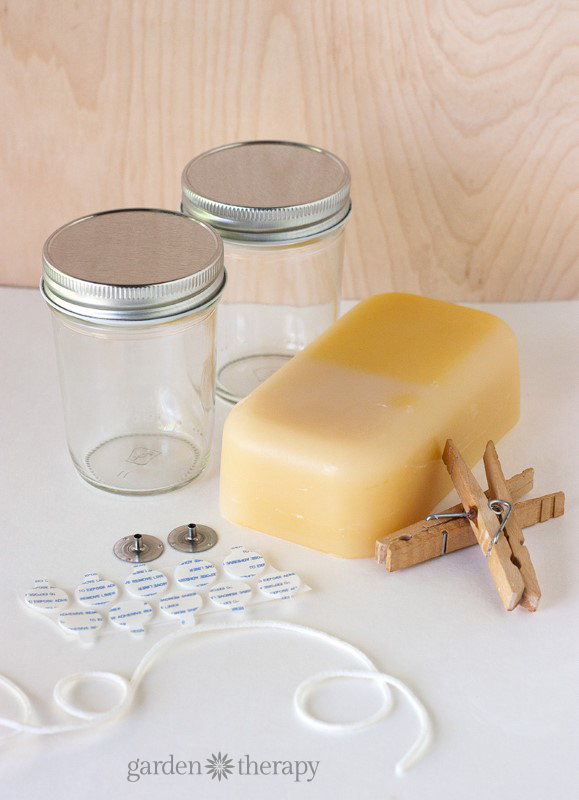 Make it!
Before you make your candles, you need to press the herbs. Harvest some young rosemary sprigs from your garden and press them between heavy books or a wooden press for about a week or so, until they are pressed flat and dried. See how to press leaves in a homemade wood flower press here.
Next you'll want to cut the rosemary sprigs to fit the height of the jars. Be sure to get then as close to the edge of the jar as possible.
When making candles, you can use anywhere from ½ to a full ounce of essential oils per pound of wax. When creating your own blend, keep in mind that approx. 600 drops = 1 ounce. I used about ½ an ounce or 300 drops to create an evergreen scented blend.
125 drops fir needle essential oil
75 drops bergamot essential oil
75 drops Himalayan cedarwood essential oil
20 drops juniper berry essential oil
Once you have the pressed herbs and essential oil blend ready, it's time to start making candles! Create a double boiler using a saucepan with an inch or two of water and a metal pitcher or tin can. Place the wax into the pitcher and let melt completely.
While the wax is melting, use tongs to dip the rosemary sprigs into the melted wax and then place them into the jar. The wax will help hold the herbs into place. Cut your wick to size and use pliers to attach a metal tab. Then add a glue dot to the bottom and place into the center of your jar. Use clothespins to secure the wick and keep it centered.
Once your wax is melted remove from the pan and use a popsicle stick to stir in the essential oils. Then pour the wax into each prepared jar. Let dry.
Just before the top of the candles dried, I sprinkled on some ground rosehips to add just a touch of red just for fun. This step is completely optional. I've also tried adding glitter to the tops of my candles and had great results.
Once completely cooled, trim the wicks with scissors and enjoy your own evergreen pressed herb candles!
For more homemade gift ideas, please see Handmade Gifts from the Kitchen!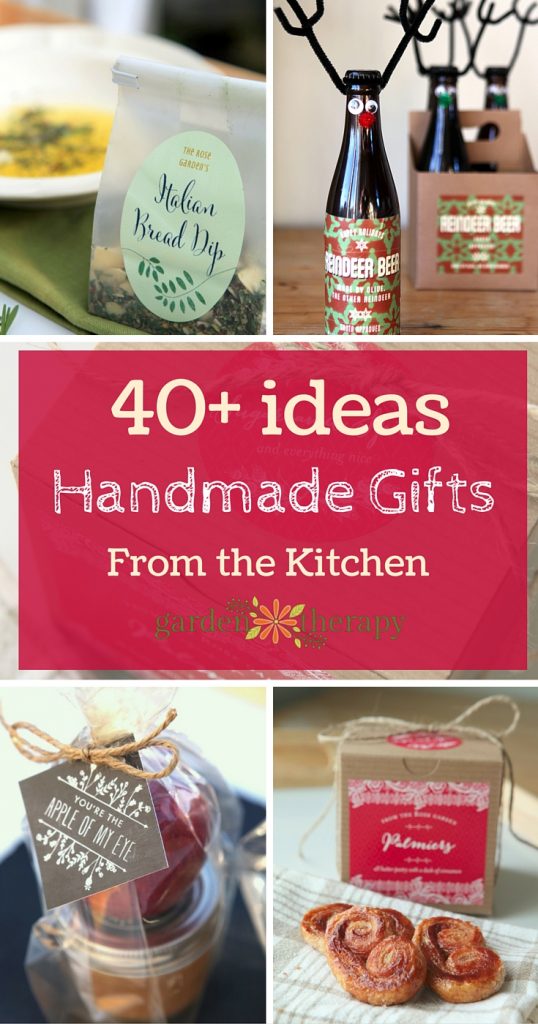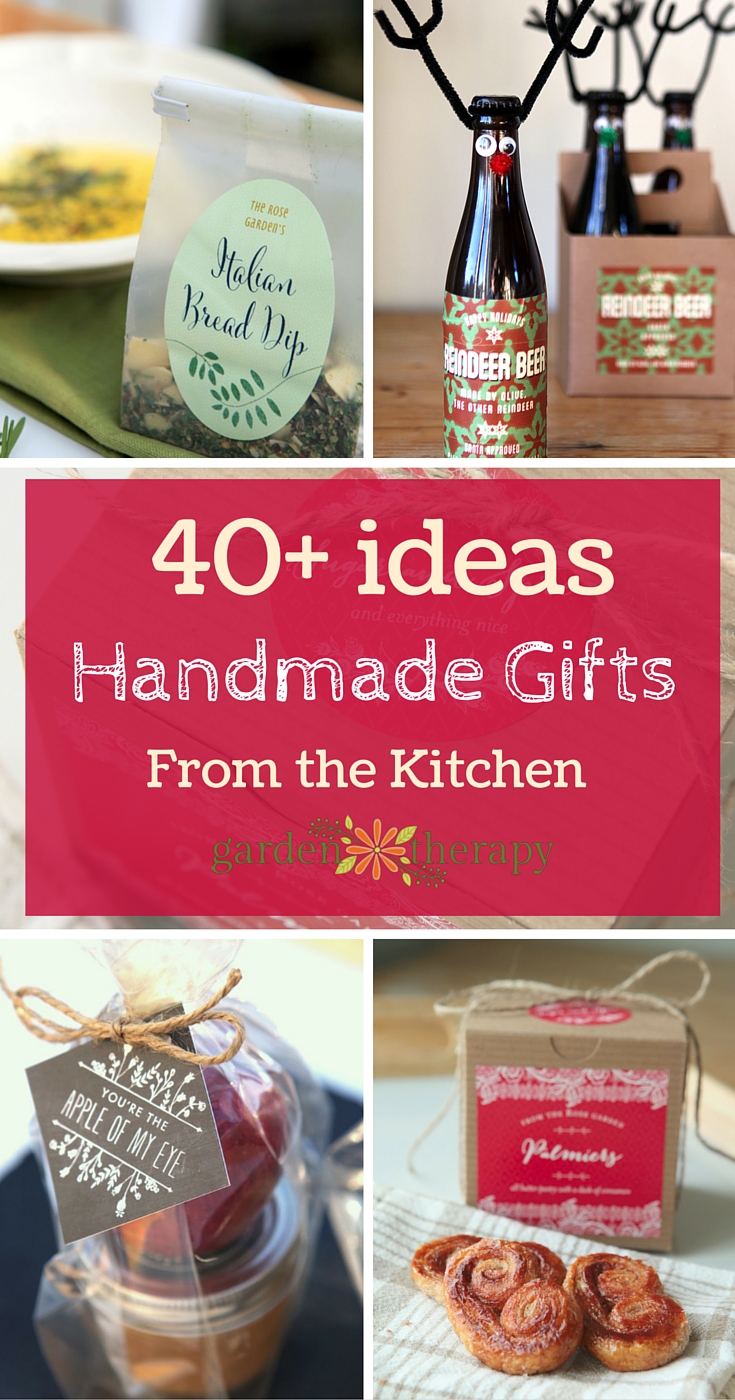 Disclaimer: This website contains general information about gardening, natural beauty, crafts, DIY projects, and recipes. The information is not advice, and should not be treated as such. While we do our best to provide useful information, any reliance you place on such information is strictly at your own risk and not a substitute for medical, legal, or any other professional advice of any kind.