As the garden has been filling out all summer with luscious blooms and cheery bees, it started to highlight that the garage at the back of the property was pretty sad looking. Luckily, all it took was some paint to transform this space from glum to glam. Now the garage space has been reinvented as the perfect gardener's She Shed!

She Sheds are all the rage; a space set aside for creativity no matter what your gender. This She Shed started as a studio space at the back of the garden. My garden is very urban, so to even have a bonus space for indoor potting and rainy day craft projects is a luxury. In the summer, it also offers cool solace from the daytime sun. Its large windows look up at the garden and there is even a covered bench to sit and listen to the birds.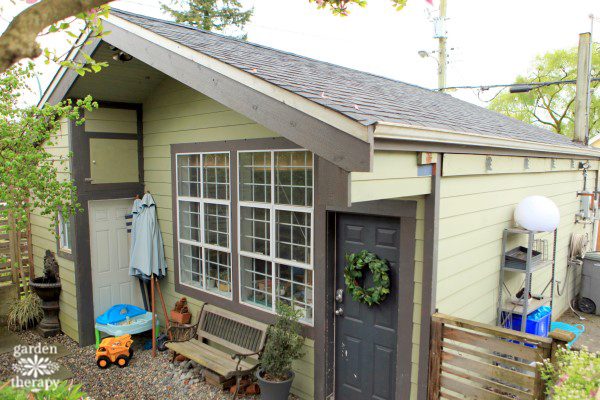 The color that was on this garage/garden studio was a dreary green. The exterior was grimy, cracking, and rotting and was a welcoming home to bug infestation—and not the beneficial kind! Gray-green paint, charcoal gray trim, and a gray door was not very cheery when there are gray Vancouver skies for half of the year. It really needed some brightening up.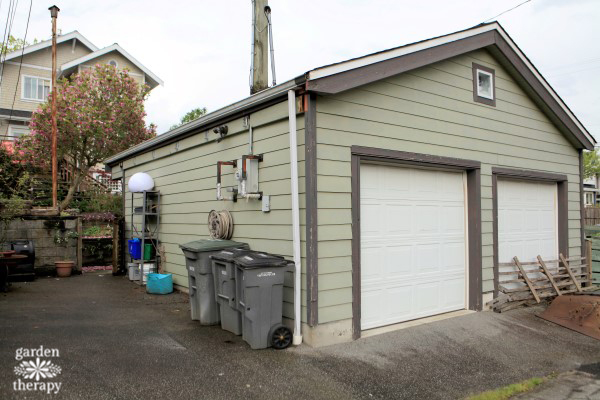 The paint colors that we chose were not incredibly different from the ones that were currently on the studio; however, changing the shade makes a huge difference. Replacing the sad green and with a warm gray brightened up the whole space and turned the garage into a neutral backdrop for the blooming gardens in front.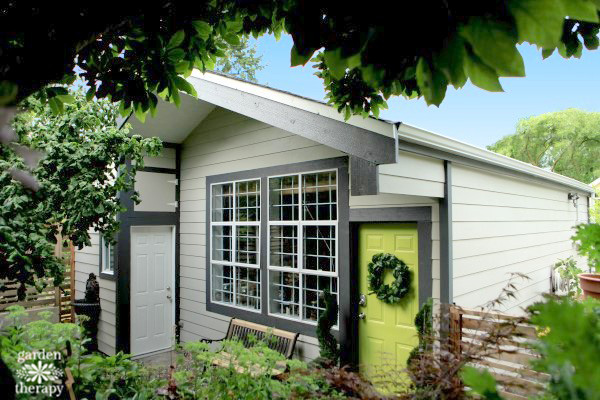 Now that it's had a makeover, the She Shed a creative space that can be used by the whole family: shes, hes, and even a tiny canine.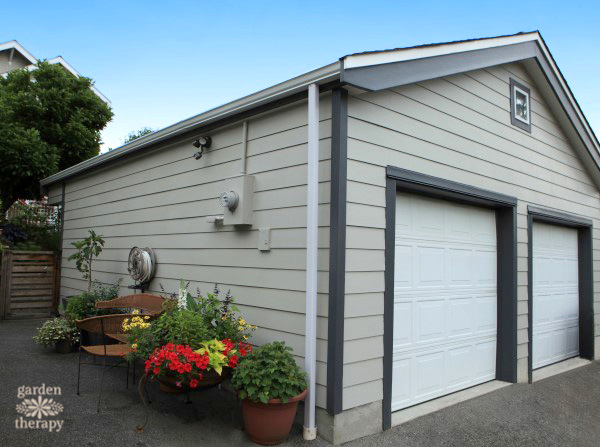 Disclosure: A big thank you to two awesome companies for helping to make this project! Sherwin Williams provided the paint for this project and HomeRight provided the Power-Flo Pro 2800 Airless Paint Sprayer. All opinions are my own.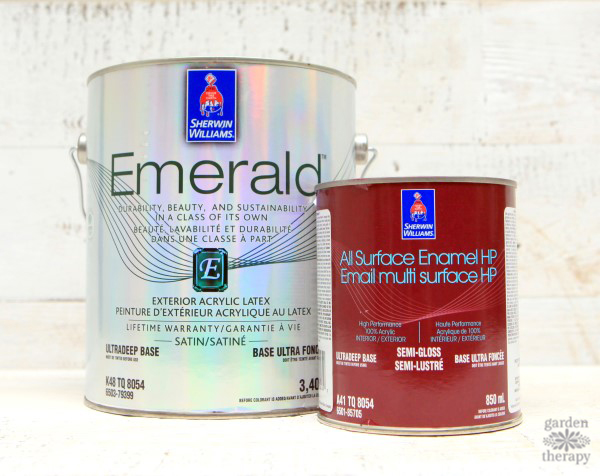 For this She Shed project we used Sherwin-Williams' Emerald Exterior Acrylic Latex Paint for the siding, soffits, and trim and All Surface Enamel Latex Base for the gutters and metal doors. We chose a satin sheen for the wood surfaces because it balances the benefits of a flat finish that is easy to clean. We chose a semi-gloss sheen for the doors.
Walls: Mindful Gray – Satin – Emerald Exterior Acrylic Latex
Primary trim: Peppercorn – Satin – Emerald Exterior Acrylic Latex
Window trim: Pure White – Satin – Emerald Exterior Acrylic Latex
Main door: Parakeet – Semi-Gloss – All Surface Enamel Latex
Secondary door: Pure White – Semi-Gloss – All Surface Enamel Latex
Gutters: Pure White – Semi-Gloss – All Surface Enamel Latex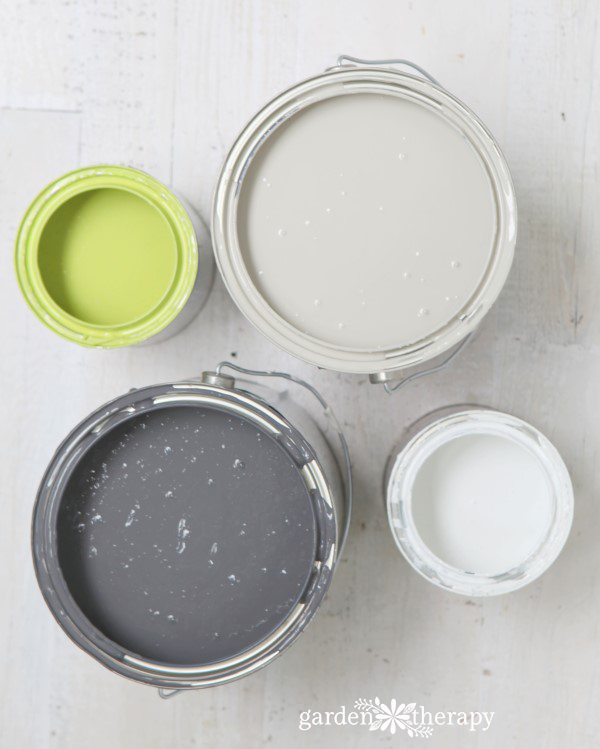 Now, whether the garden is blooming in the middle of summer or the skies are gray and the garden is asleep, the She Shed will add a bright pop of color to match any season.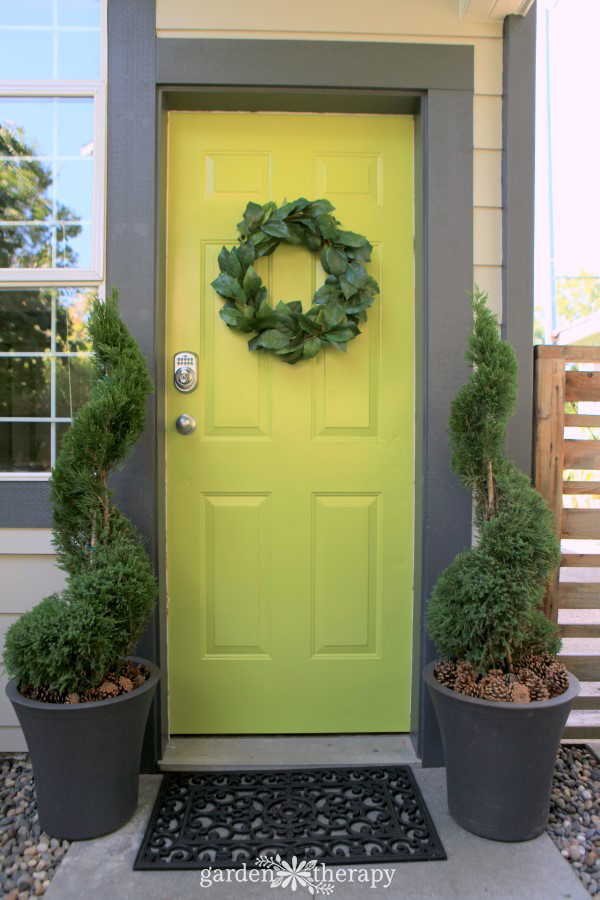 Materials
Surface preparation
Pressure washer
Paint scraper
Exterior spackle
Epoxy filler
Paintable exterior caulk
Backing rod
Paint stripper
Dust mask
Painting
Stain-blocking primer if sealing in stains or paint is not self-priming
Paint brush and rollers
Drop cloth
Plastic sheeting
Ladder
Cleanup rags
Surface Preparation
The key to a good-looking and long-lasting paint job is to carefully and completely prepare all surfaces for painting. Depending on the current condition and size of your shed, this can range from a relatively quick task to a very large job.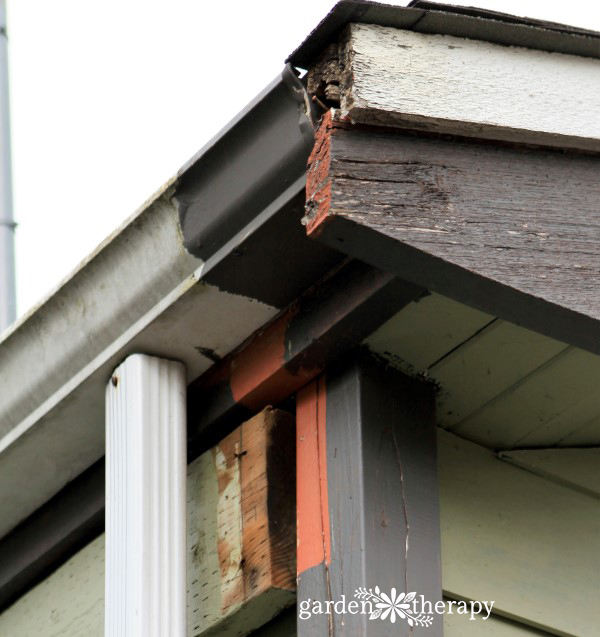 Before you start a painting project, clear your work space by removing all fixtures, outdoor furniture, planters, and hoses from and around the shed. Place drop cloths on the ground where you will be painting and to cover anything that can't be removed, such as bushes.
Clean the structure so the fresh paint will adhere properly. This involves:
Washing away surface contaminates such as dirt, algae, mildew, spider webs and so forth with a pressure washer and a cleaning agent such as TSP.
Sanding and scraping loose and failing paint.
Sanding glossy surfaces dull.
Sanding exposed wood to a fresh surface.
Allowing time for the surface to dry.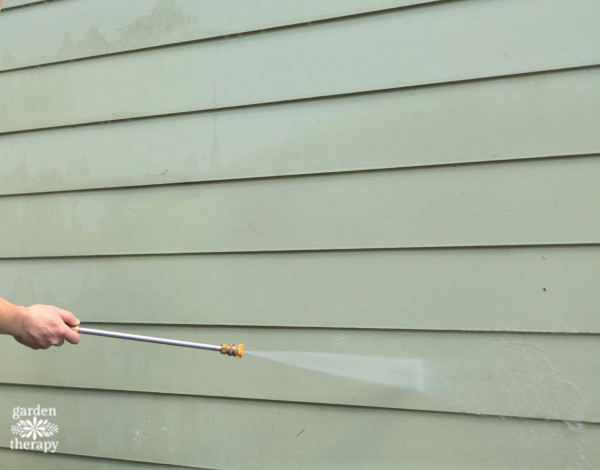 It can be tempting to skip the preparation phase, but attention to the details can make or break the finished project. Seal all cracks and gaps to form a uniform surface. The eye is very good at picking out imperfections. Patching and sealing will prevent moisture and air leaks, thus increasing the energy efficiency of your structure, and limit pest infestations by removing ingress.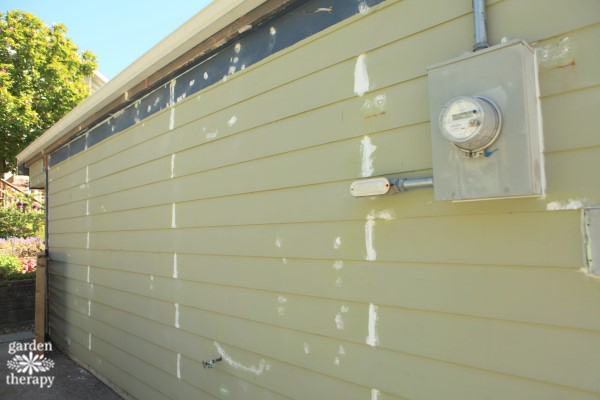 Fill all cracks, holes, and gaps in wood boards with spackle, wood filler, or epoxy and sand smooth. Boards with decay must be repaired by removing all unsound wood, saturating the cavity with wood hardener and rebuilding the board with epoxy or polyester wood filler, or replaced with new boards. Make the joints and seams watertight by sealing them with caulking.
Warning: if you have an insect or rodent infestation, eliminate the pests first before sealing them in. They will either eat through the sealants or find another way out, thus creating more damage to your structure. We were lucky enough to notice carpenter ants in the shed before they did major damage. Now the trick is keeping them out. They are tenacious little critters!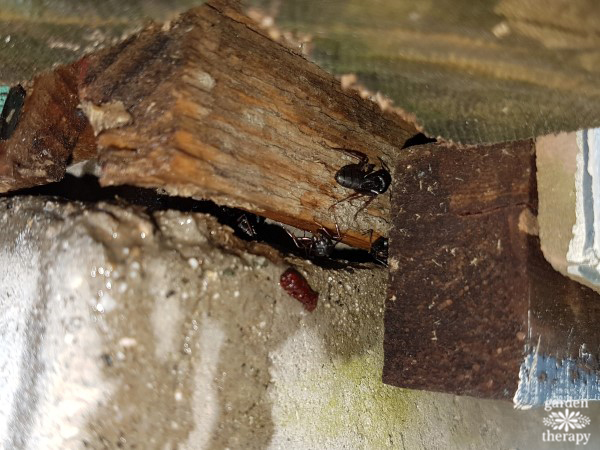 When preparing metal surfaces such as gutters and metal doors, remove all rust and mill scale with sandpaper or steel wool. Fill dents and holes with epoxy filler and sand smooth. Bare metal must be primed the same day it is cleaned or else you will have to clean it again. Doors are a major focal point. When painting doors that already have several coats of old paint it is best to strip it completely in order to obtain a smooth and even finish. With doors, it is best to first remove them, take off the hardware, and lay them down flat to be painted.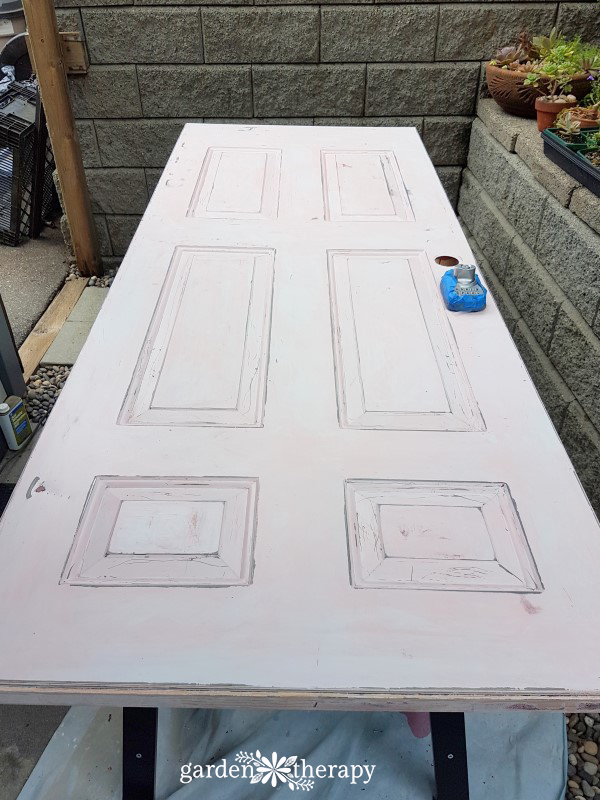 Once the surface is clean and sound cover any windows, doors, and fixtures with plastic sheeting and painter's tape. Finally, prime any stains, bare wood, and metal to prevent stains from bleeding through your paint job and to ensure the paint will bond to the surface.
Paint it!
Calculate how much paint you will require to complete the project using surface measurements and the coverage listed on the can of paint. Take into account surface dimensions, surface texture, and number of coats. Once you have your measurements and paint colors, you can take them into a Sherwin-Williams store and they will help you pick out the right paint for the job and the proper amounts. Paint when there is very little moisture in the air and when the temperature is above 50 degrees Fahrenheit and, ideally, you should paint out of direct sunlight on a cool surface.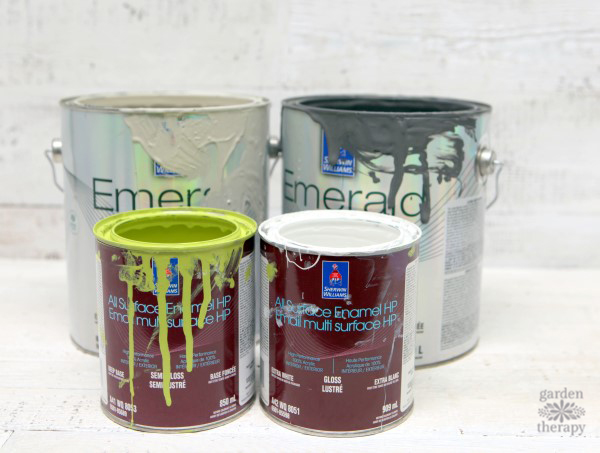 Start at the top and work your way down the building, catching drips on the unpainted surfaces and drop cloths. Start with fascia and the soffits and then work your way down the walls and finally the trim, windows, and doors.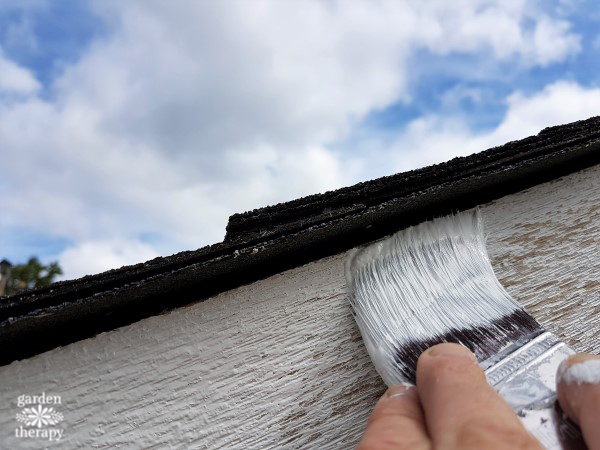 For small surfaces and detailed work you will want to use a brush, but for larger surfaces such as fascia, soffits, and walls and you can speed up your project by using a roller or paint sprayer. For the She Shed makeover we used brushes and the Power-Flo Pro 2800 Airless Paint Sprayer.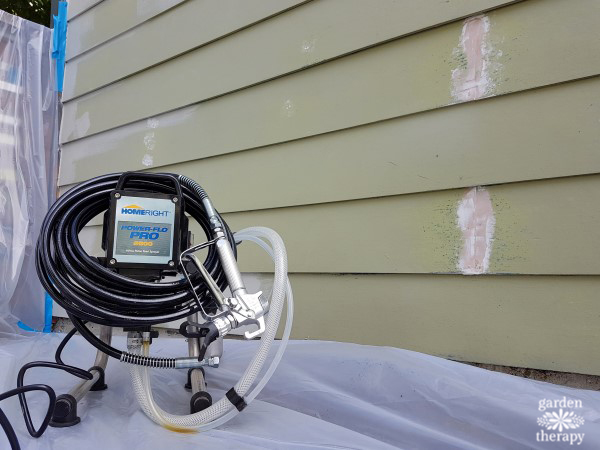 Using a paint sprayer requires some practice and finesse, but once you get the hang of it, it applies paint much more rapidly than using a roller or brush. We highly recommend learning how to properly use a paint sprayer and practicing on a large piece of cardboard before using it on your garage. Properly tarp any surface that you want to protect from overspray.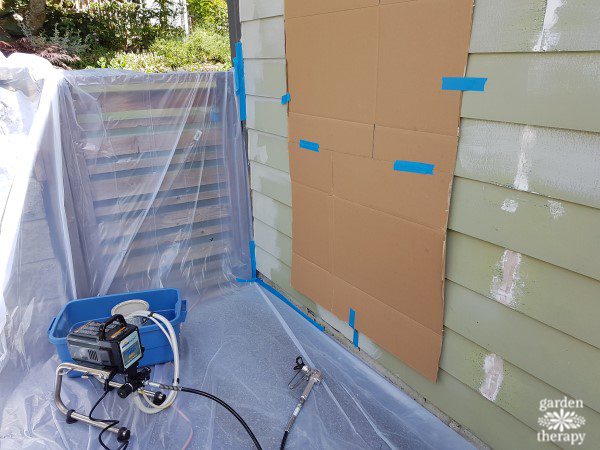 If you drip paint on the ground, clean it up as soon as possible with a wet rag. If it dries you can still remove it by scrubbing it with soap and water using a bristle brush. As a last resort, you can apply paint remover to loosen it and then pressure wash it away.
Use the wall color to cover fixtures that you don't want to highlight (like the gas meter),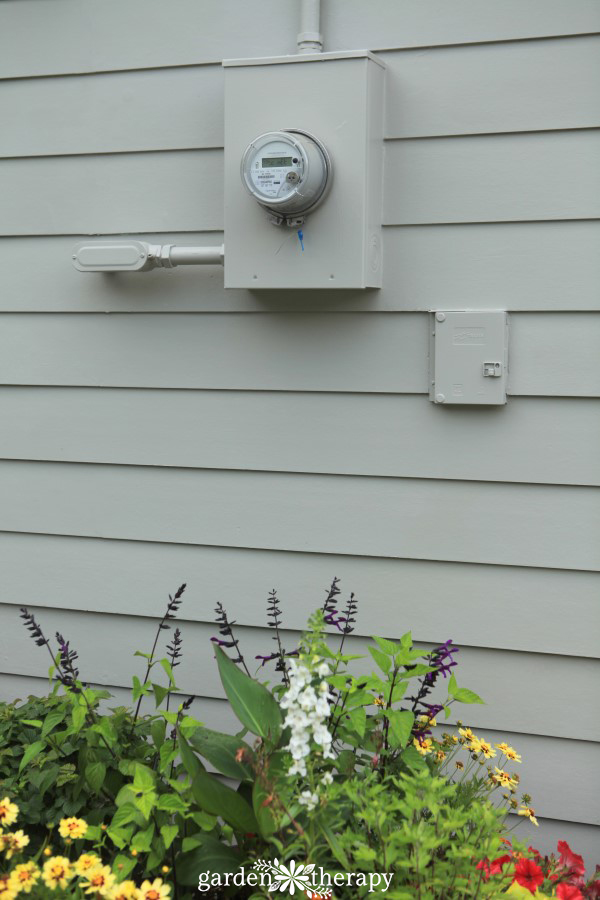 and use complimentary colors to break up large surfaces and create interest (like the garage doors).
We are so pleased with our She Shed makeover! The space is bright and fresh, and now it blends in perfectly with the garden.