Before you head out in the sun, do you make sure that you cover your skin with sunscreen? What about your lips? Applying sunscreen meant for your skin directly to your lips doesn't taste very good. Plus it dries out your lips and dulls the shine. Instead, try this homemade sunscreen lip balm. It will protect your lips, make them kissably soft, and it's made of all-natural ingredients!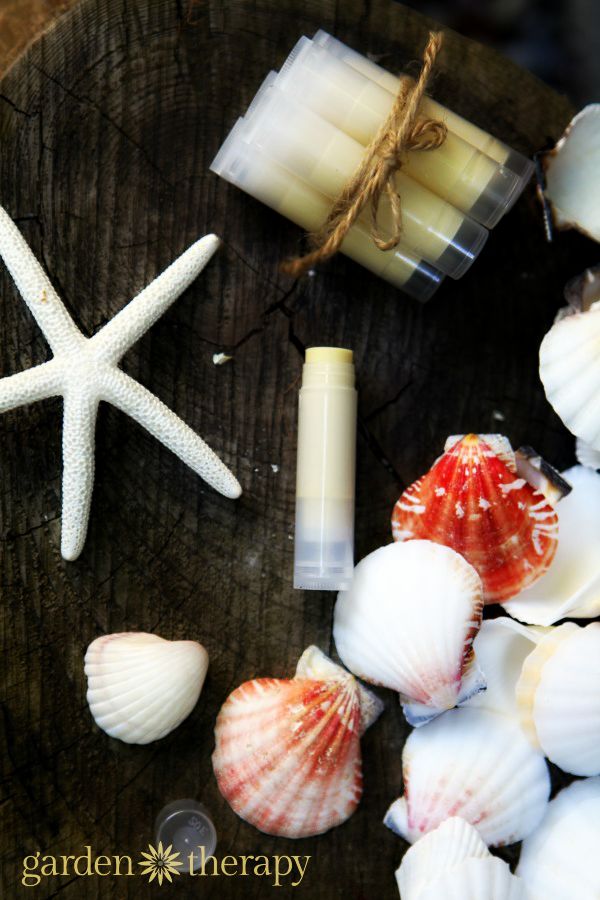 Most of the lip balm recipes I make have some sun protection inherently in the oils and wax. Most days of the year I am confident that my lips are protected just by using these. But in the hot summer months when the UV levels are through the roof, I bring out the big guns: this sunscreen lip balm recipe.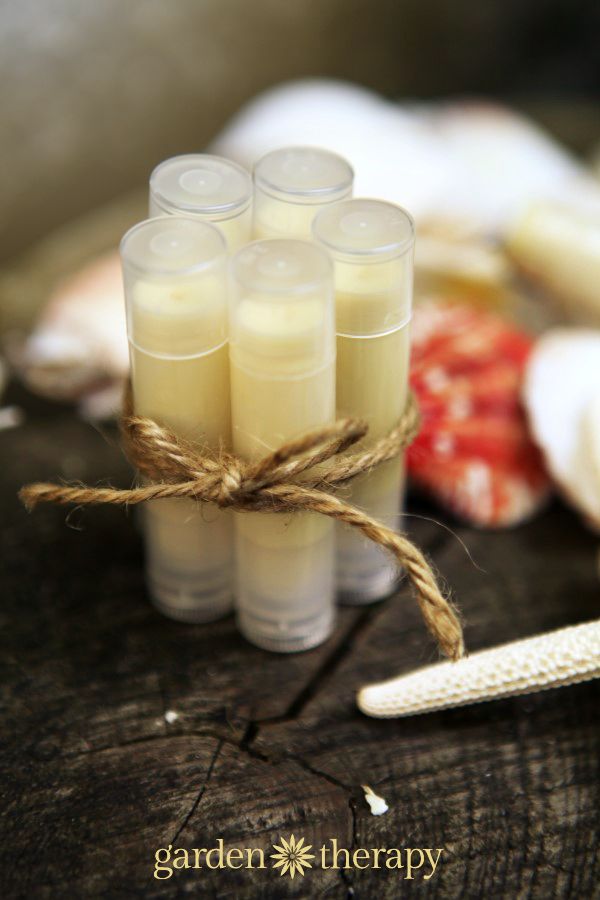 Many ingredients that are used in natural lip balm recipes provide a degree of SPF. Some oils add sun protection properties such as raspberry seed oil (natural SPF of 28-50) and carrot seed essential oil (SPF can be as high as 40). This recipe is made from a basic lip balm recipe with soft oils like wheat germ and jojoba as well as shea butter, each of which has SPF properties themselves.
It's important to also note that there are ingredients that can cause the sun's effects to be accelerated. Phototoxic essential oils typically run in the citrus family (lemon, lime, bitter orange, mandarin leaf, and grapefruit). Sweet orange oil, however, is generally considered not phototoxic.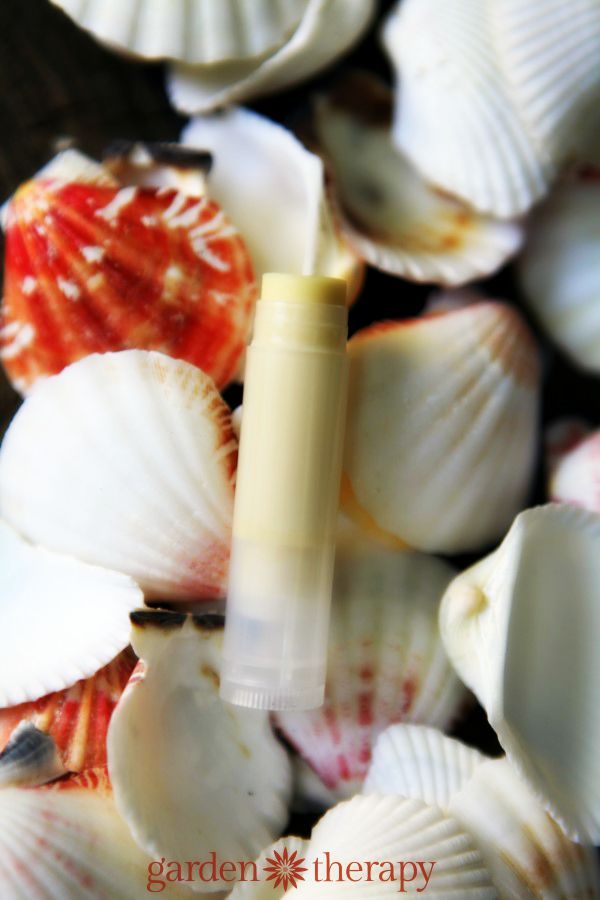 DIY VIDEOS
Making sunscreen or sun protection products at home is a solid way to add sun protection and one that I use for my fair, freckly (read: easily burned) skin. Even so, I would not venture a guess as to what the SPF is of a homemade recipe. I can say that I have been using this recipe on my own lips for years and have not burned them once. Plus, I can feel good about the ingredients that go into the recipe and on my skin. My general rule of thumb is to stay out of the sun when the UV is strongest and take the steps to protect my skin (and lips) as naturally as possible.
As with all home recipes, test a bit on your skin and see how you react. Those with sensitivities, who are pregnant or breastfeeding, and for use on children should take caution and check with their health care professional.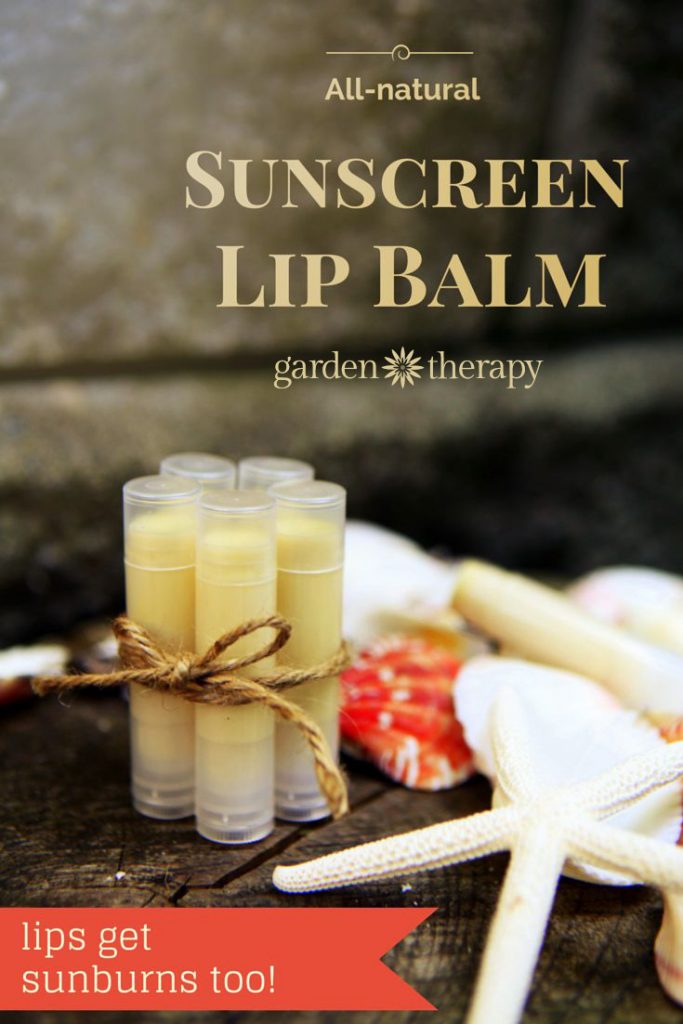 Sunscreen Lip Balm Recipe
Makes six tubes
Ingredients
Materials
Make it!
First, infuse olive oil with calendula by following these instructions.
Measure all of the ingredients into a small double boiler or a Turkish coffee pot. I like to use the Turkish coffee pot because it has a pour spout. I can heat the oils up quickly and then pour them easily into the tubes.
Once the oils, waxes, and butter have all melted together, turn off the heat and add in the essential oils. Stir well with a small spatula.
The optional addition of titanium dioxide offers yet another layer of protection for those hot, sunny summer days. It offers strong sun protection as it is not absorbed into the skin. It sits on top as an opaque barrier. It is considered safe to use in lip balm, although breathing it in large doses can be an occupational hazard for those who work with it commercially.
If you do include titanium dioxide in the recipe, it can be difficult to mix into the lip balm. Of the half teaspoon that is called for, some does get mixed in and can be seen in the final opaqueness of the lip balm. There will be some left in the bottom of the oil after you finish pouring all of the lip balm tubes, so it's best to just throw away the last bit as it will mostly just be chalky and gritty.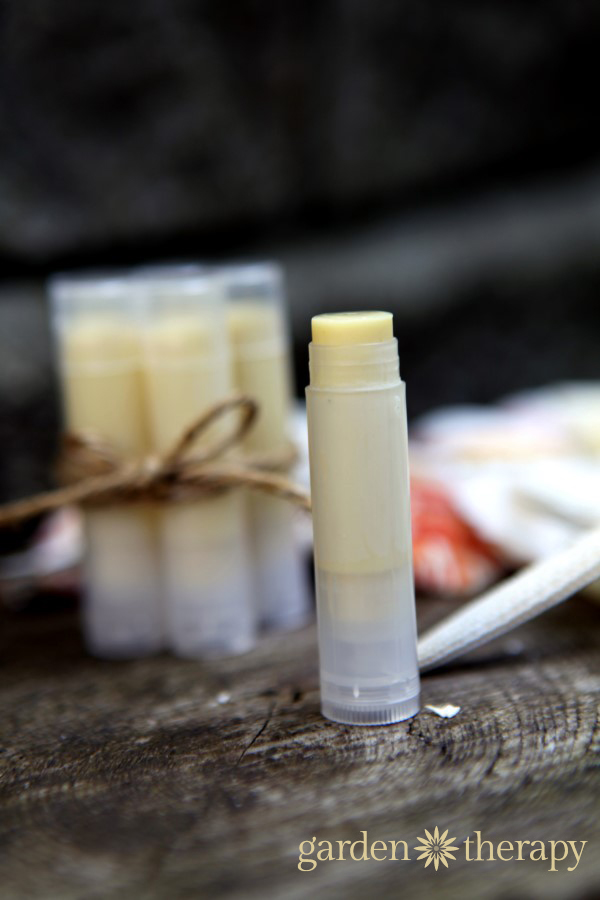 When everything is thoroughly mixed, use the spout on the Turkish coffee pot to pour the lip balm into the tubes. Fill each tube to just above where the center screw is. Let the lip balm cool and then warm up the remaining mixture in the pot so that you can top off each one of the tubes. Filling the lip balm tubes in two steps ensures that you won't have a large depressed area with a hole in the center of the lip balm. If this still happens, then you can always add a little bit more lip balm onto the top of the depressed area and use a lighter to melt it onto the rest of the lip balm. If this recipe is just for your own use (and you don't really care what it looks like) then just fill up each one of the tubes the first time; it won't affect the final product's function or usefulness.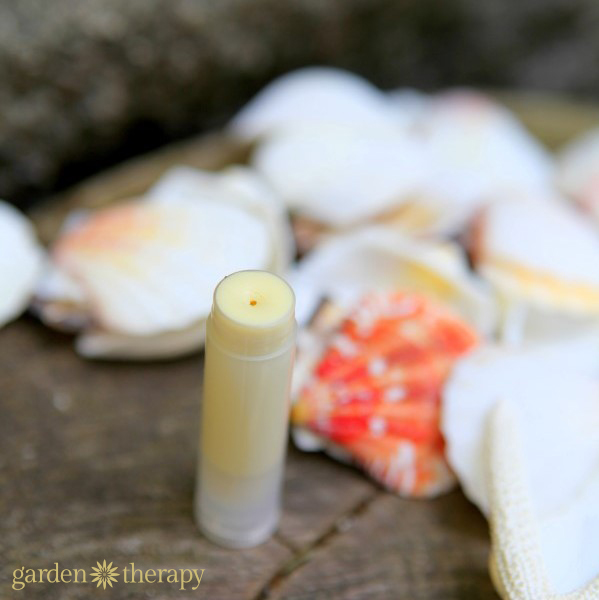 If you already sunburned your lips and need something to soothe them, whip up this healing after-sun lip balm.
If you sunburned your skin, then try this natural aloe remedy for relief!