Want to put your hardworking herbs to yet another use? Making herbal oil is just the thing to try! Infusing herbs from your garden in oil will help extract all those helpful properties of each herb. You'll be left with a powerful tool that can be used in your DIY beauty recipes. Learn 3 simple methods for making herb oil plus the different ways you can use it!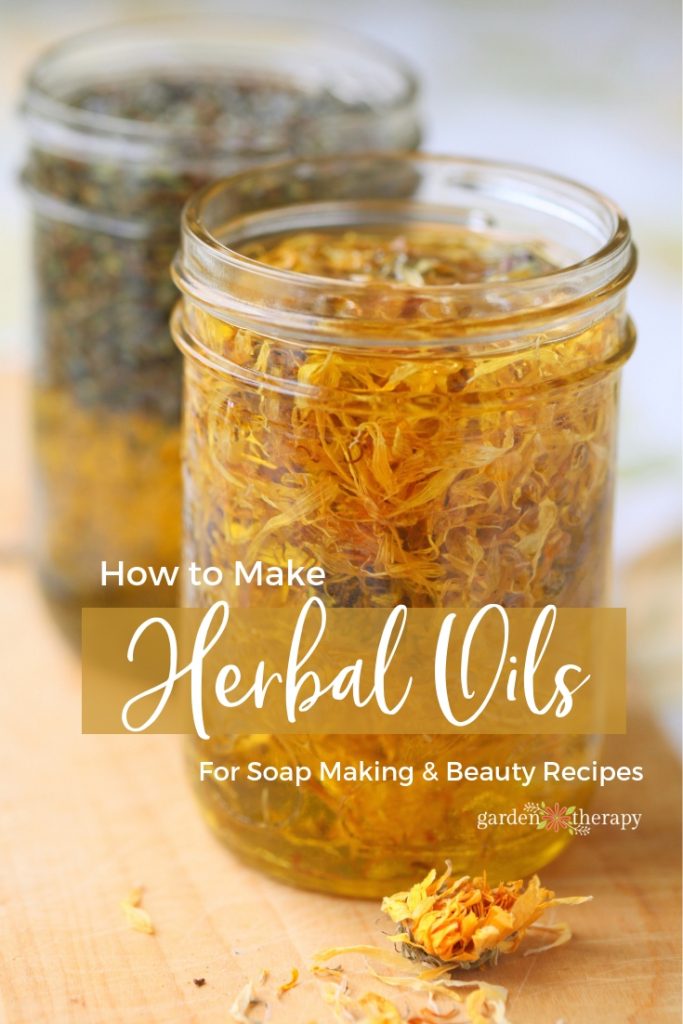 Infusing oil with herbs is a great way to add color, scent, and beneficial properties to natural skin care and soap recipes. As home skin care recipes almost always starts with good quality oils, adding herbs allows you to enhance the oils and design customized and unique recipes for massage bars, bath melts, lotions, soaps and more.
Using homegrown herbs harvested from your own organic garden is a fun way to personalize your products, but you can also purchase bulk herbs from reliable sources that will be just as effective.
No matter how you do it, adding herbs to oils make your beauty products uniquely herbalicious!
In this post, we will cover:
It All Starts with the Oils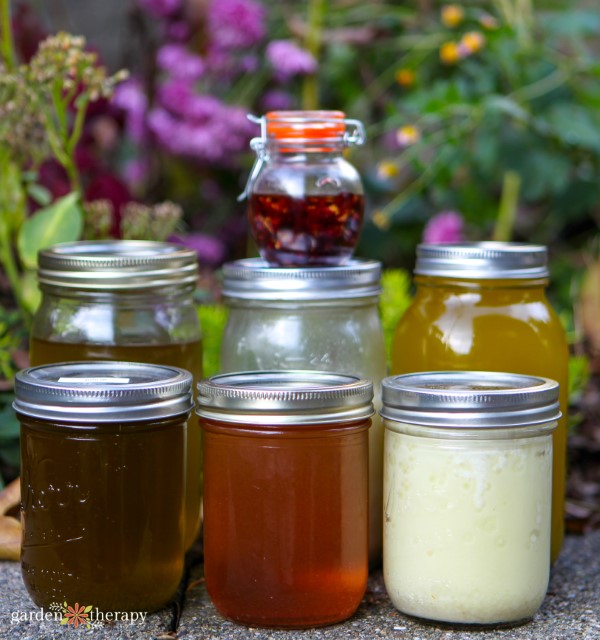 Infused oils can be substituted in most recipes for natural beauty: soap, body butter, lip balm, and scrubs. You can typically decide on the oil of your choice. Some good options to infuse are:
I would recommend staying away from other oils such as canola and vegetable oil.
Adding Herbs for Healing
Turning your oils into herbal infusions allows the oils to absorb the beneficial properties of plants. Some herbs that are good for infusing are:
Herbal Oils vs Essential Oils
Making herbal oils is not the same as making essential oils. Essential oils are made from extracting the oil component of a plant that contains a very condensed set of properties from that plant. Essential oils are usually used in small doses.
Infusing herbs into oil still maintains the properties of the oil that you're using as a base but helps to extract the herbal constituents. Gently heating the oil encourages the herbal properties to infuse into the oil within a few hours.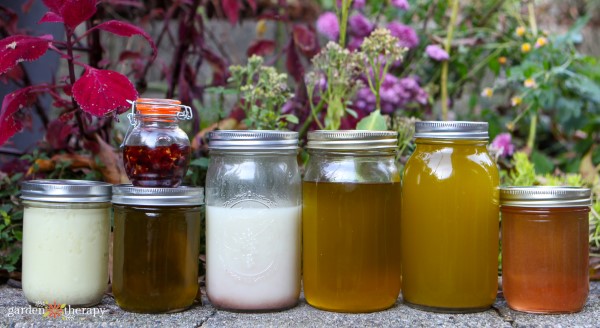 Three Ways to Make Herbal Oils for Natural Beauty Recipes
My journey and infusing oils started when making calendula and chamomile oil for really gentle bum balm for my son's diaper rash and I'll admit that it's expanded to a bit of an obsession. It's quite fun to try new recipes with different herbal infusions to see the benefits and the natural colors that are produced.
Simply soaking herbs in oil isn't enough to infuse the oil; it needs to be heated. Luckily, there are a few ways of doing this so you are sure to find one that suits your needs. The following describes how to infuse oils using the stovetop, a slow cooker, or the sun!
The common thread to all methods is to pack as many dried herbs as you can fit into a container, and then pour over the oil so that the herbs are completely submerged.
Choose herbs that are completely dry (moisture and oil don't mix). When the infusing is finished, strain the herbs from the oil with a fine strainer over a large bowl, then pour the oil through a coffee filter or cheesecloth-lined fine sieve.
Next, follow one of the three methods listed below: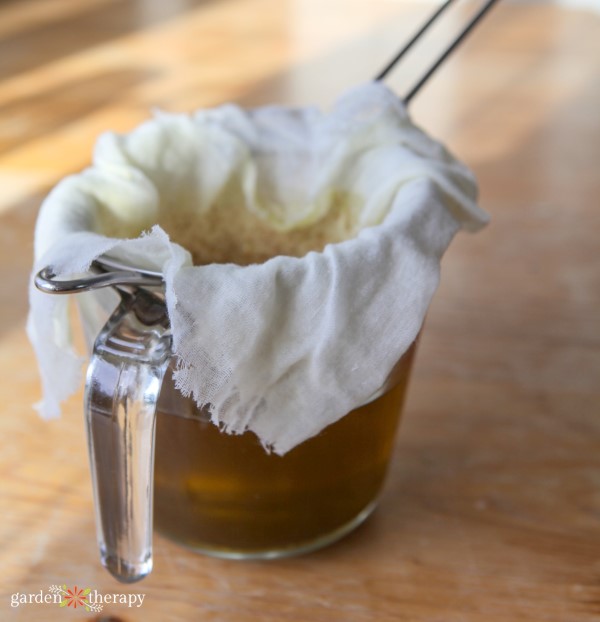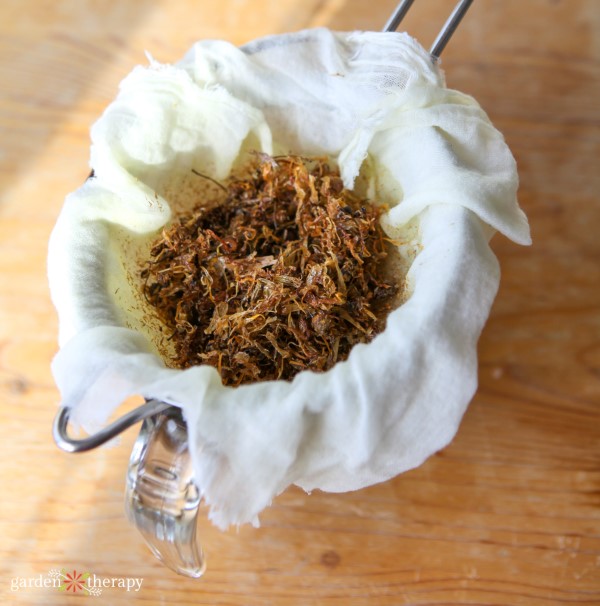 Stovetop Oil Infusing
Use a double boiler to slowly heat the oil and herbs. Pack a handful of herbs in the top of a double boiler, and pour oil over. If you are using coconut oil, which is solid at room temperature, then melt the oil first before adding the herbs.
Fill the bottom pot with an inch of water and set the double boiler on medium-low heat to warm up, then turn it down to low for a few hours or until the oil becomes aromatic.
Slow Cooker Oil Infusing
The slow cooker method takes longer but it requires less attention than the other methods. Just set it and forget it!
If you have a small slow cooker, or you are doing a large amount of oil, you can add the herbs right into the ceramic bowl and set it on the lowest setting for 8-12 hours.
Note: When making her herbal oils in a crock pot the biggest thing to watch out for is condensation from the lid of the crock pot. If condensation drips into the oil, then it can introduce mold and bacteria. If you're putting the oils and herbs directly into the crock pot then leave the lid off while you infuse the oils.
To do a number of different herbs in separate oils, you can put the oil/herb combination in mason jars and set those in the slow cooker. Put a lid on each of the jars and leave the lid off the slow cooker. Infuse for the same timing: 8-12 hours on low.
Sun-Infused Oil
Pack herbs into mason jars and pour oil over them. Screw on a lid and set in the sun for 8 hours. The summer sun can be very hot, so this method is best used in cooler months and with large jars.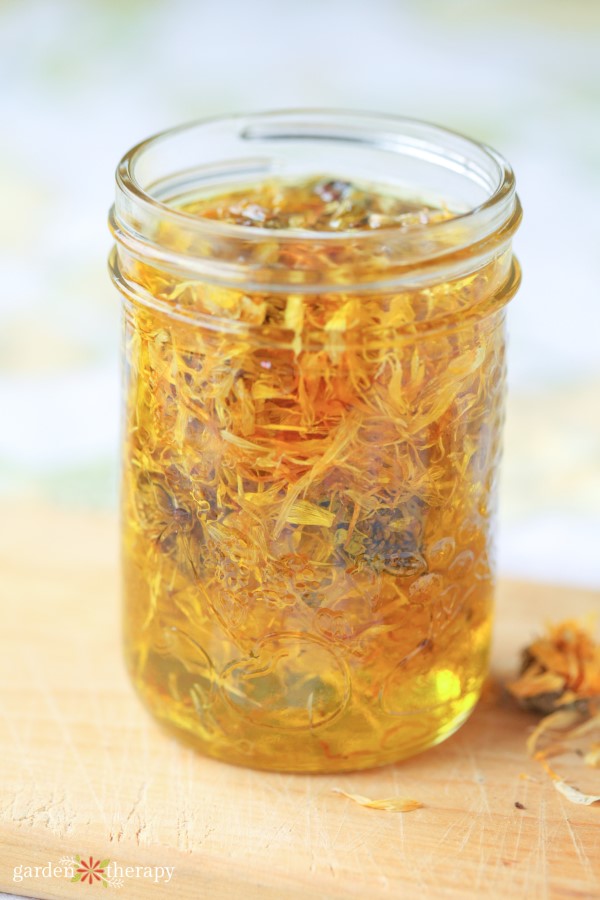 Overheating the oils can remove some of the beneficial properties and this method is one you will have to watch more closely. It doesn't use any power beyond the sun so you can infuse oils right out in the garden as you harvest your herbs!
Storage
Store the oil with a tight-fitting lid in a cool, dark place. Generally, infused oil will last up to the best before date on the original package label.
Olive oil should last for 2-3 years and coconut oil will last for many years, although spoiling could happen more quickly if contaminants were introduced in the infusing process.
Recipes Using Herbal Oils
Now that you know how to infuse your own herb oil, let's talk about what to do with it! Here are some simple, effective recipes for you to try: