Here is a small batch of pickled red beets that will be gone in a flash. If you choose to make enough to stock the pantry, they taste even better after a few weeks.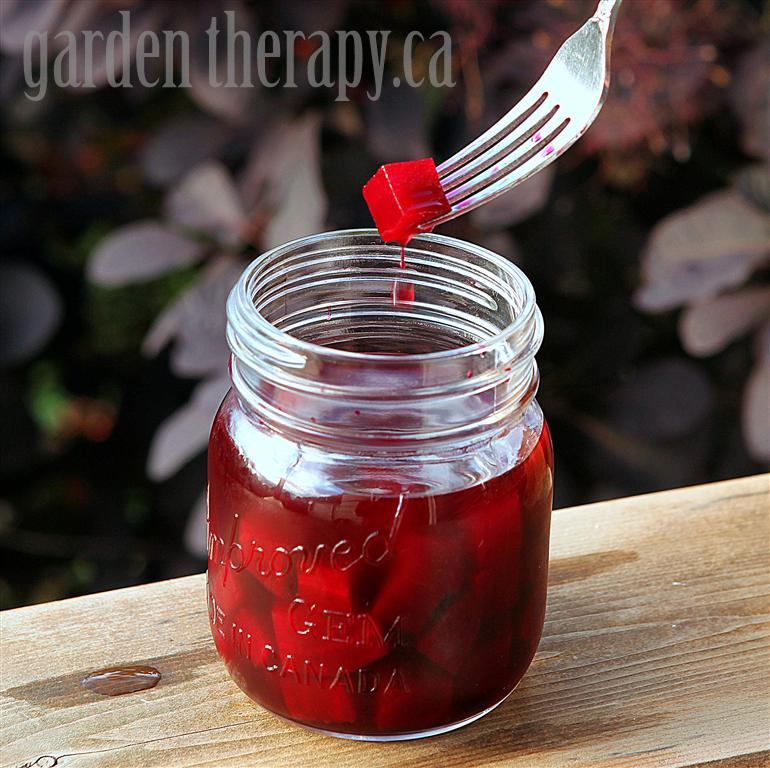 Ingredients:
3 large red beets
3/4 cup white wine vinegar
3/4 cup white wine
3/4 cup water
1/3 cup brown sugar
1 tsp fresh chopped tarragon
2 whole cloves
1 bay leaf
Directions:
Clean and trim beets. Cover with water in a large pot and bring to a boil. Reduce heat and simmer until beets are tender, about 45 minutes. Rinse and cool. Using a vegetable peeler or scrubber, remove the skin then cut the beets into 3/4" thick cubes. Pack chopped beets into 4-5 sterilized 250ml canning jars.
Add all other ingredients to a saucepan and bring to a boil, stirring regularly until sugar is dissolved. Simmer uncovered for 10-15 minutes or until you have the depth of flavour you like. Immediately pour hot pickling liquid over beets leaving 1/4" of headspace.
Seal jars and process in a boiling water canner for 20 minutes.