Leaf Imprint Stepping Stones
Things are pretty crazy around here these days, but I didn't want to miss writing up a Weekend Project considering I set a goal to put up one garden-related project each weekend.  The very first post from October 1, 2011 was a book review on  Concrete Garden Projects: Easy & Inexpensive Containers, Furniture, Water Features & More
 and I showed the end products of two projects I tried from that book.  One was these great leaf imprint stepping stones which I made with a friend.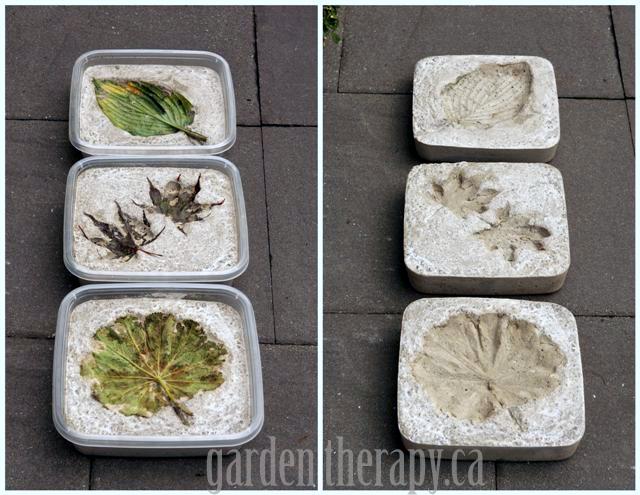 I showed the photos back then but not the full instructions.  It was a simple task of picking plastic containers, oiling them, mixing concrete, then pressing a large leaf on the top.
I weighed the leaves down with river stones and after 24 hours removed them from the moulds and voila!
My friend make some with leaves and foam letters we bought at the craft store. Aren't they cute?

Well it's a simple project and a quick tutorial, but even though I'm busy I didn't want to miss Weekend Project #37 – wow 37!  I still have many ideas and projects on the books.  I never did set out a goal to do it for a full year, but since I'm more than halfway there, why not?  Stay tuned each weekend for another crafty garden-related project that will hopefully inspire a little garden therapy…for 15 more weeks or who knows?  Maybe I'll just keep going.


style="display:inline-block;width:336px;height:280px"
data-ad-client="ca-pub-2008610541549994″
data-ad-slot="5302597541″>