If you find the sights and scents of the garden uplifting, then this fun little project is a great way to bring a little of that garden therapy feeling with you wherever you go. Aromatherapy pendants can cheer you up, and maybe even help with a headache or boost your immunity by using the therapeutic properties of essential oils. This is a wonderful way to diffuse your favorite fragrances wherever you please. I love wearing my aromatherapy pendant when I travel so I can inhale comforting, familiar scents and feel at home no matter where in the world I am.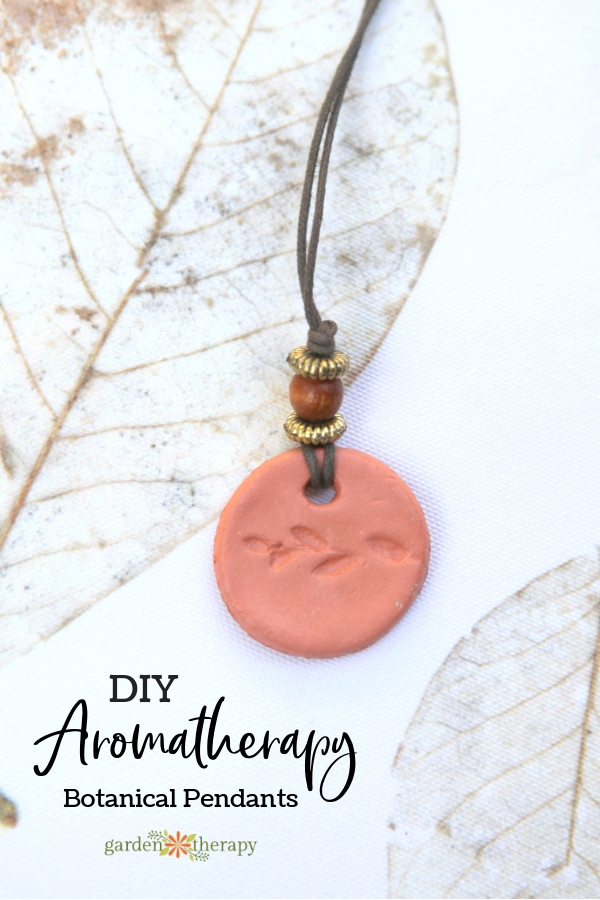 Clay is porous, making it the perfect pendant material for absorbing and slowly releasing scents. These aromatherapy pendants feature clay imprints from garden plants to make a decorative form of aromatherapy that you can wear. Whether you just want to look and smell good or take a remedy on the road, these pendants are a pretty DIY project to try.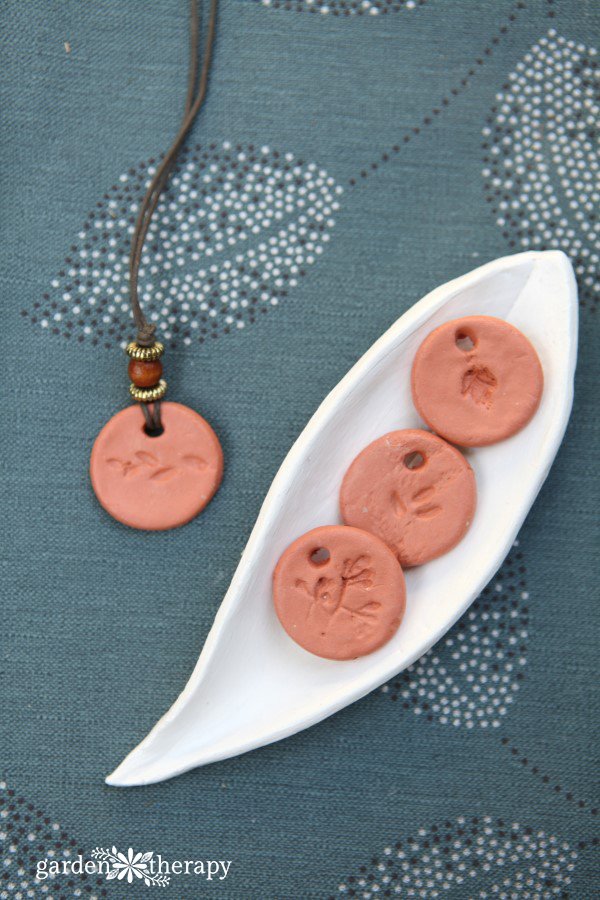 Aromatherapy Pendants
Materials
Dental floss
Organic materials for imprints: leaves, seed heads, mini pinecones
Bottle cap from a plastic bottle
Bamboo skewer
Make it!
Start by removing a section of clay from the block using string or dental floss. Wrap the string around your two index fingers the width of the block apart and use it to pull through the clay to cut off a chunk. Start at the back and pull towards you.
If they clay is fresh from the package and in good condition, you should be able to just roll it out of the slab you just cut. If the clay is dry or cracked or lumped together, it's best to knead it using wet hands to rehydrate it and get out all the bubbles.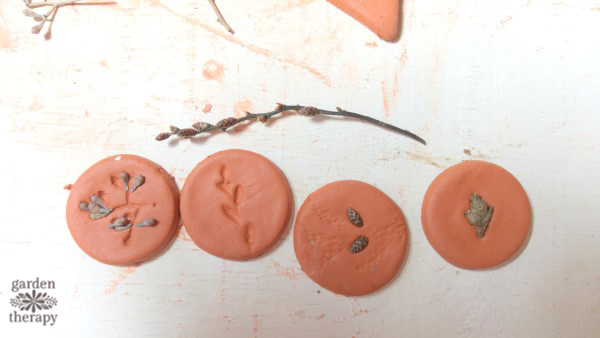 Roll out the clay to 1/4 inch thickness and use a bottle cap to cut out circles for the aromatherapy pendants. Of course, you can cut oval, square, triangle, or any other shape you want, but a bottle cap makes a nice-sized, round pendant. Place the pinecones or seed heads gently in the clay to imprint them. You are looking for an imprint with a few areas that are a bit deeper so that there is a place for the essential oils to pool in as it absorbs onto the clay. You could also use letter stamps for a monogram pendant.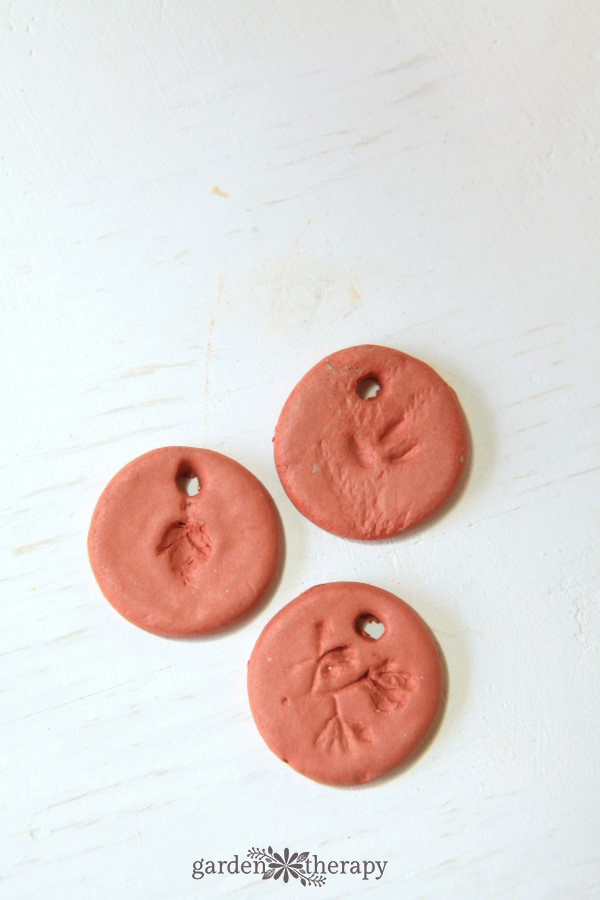 Use the bamboo skewer to make a hole in the top of the pendants.
Allow them to dry completely.
To make a necklace from the pendant, cut a length of satin cord and bend it in half. Feed the folded end from the back of the pendant hole to the front and create a loop. Feed the two ends of the cord through the loop and pull them to tighten. Add a few beads and tie a knot to keep them in place.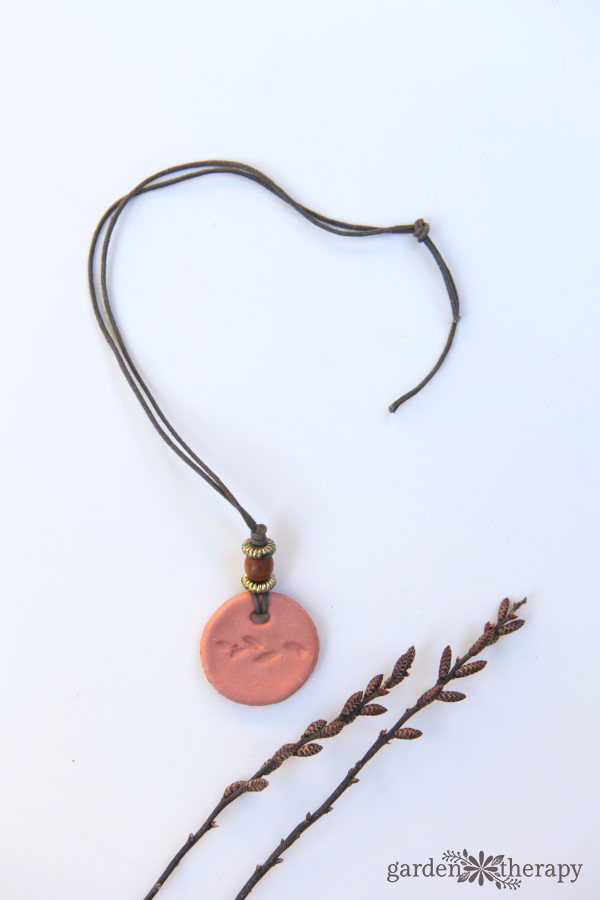 To make the ends of the necklace adjustable, tie one end in a knot around the other end of the cord. Don't tie the two ends together, instead lay one end flat and tie the other end around it. This can take a few tries to get right, but once you get it, you can slide the knot up and down the other end of the cord and adjust the necklace length easily. Tie another knot on the other side and trim off any extra cord. Adjust the length of the necklace by sliding the knots farther from each other for a shorter necklace, or closer together for a longer necklace.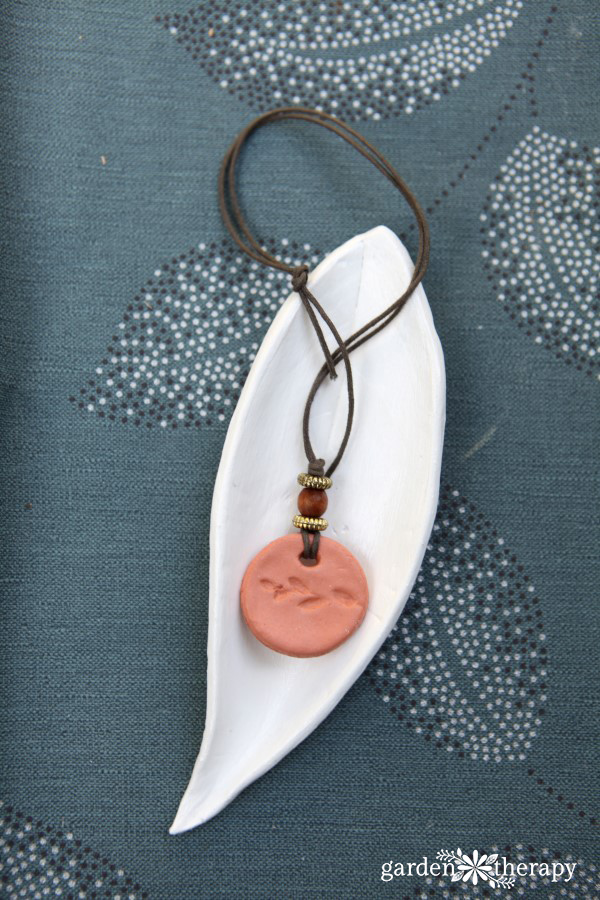 To use the aromatherapy pendants, add a few drops of essential oil into the impression made by the plants. It will absorb into the clay and release slowly over time as you wear it. I like to use lavender for its calming properties or peppermint for headaches and stress, but there are some fabulous essential oils blends that can find as well. Have a look for immunity booster, calming, or energy blends to tailor your scents to your daily well-being.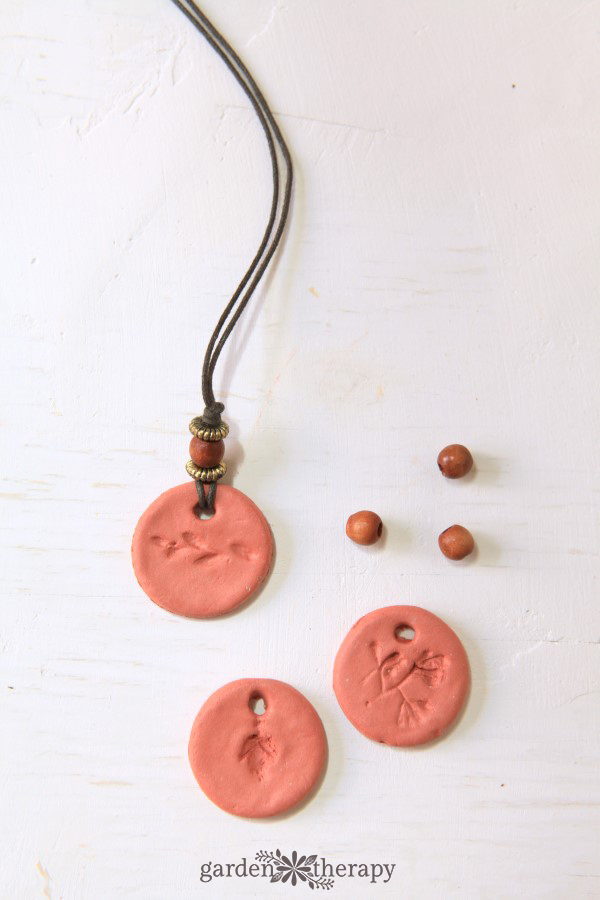 More crafty garden clay projects:
Clay is a fun material to use in garden crafts and projects! Check out some of my other clay projects that have come out of the garden.